In the throes of the digital era, e-commerce has garnered immense significance, revolutionizing buying and selling practices. With e-commerce platforms like Shopify, you can now effortlessly create your online shop. The ease of use and personalization that Shopify offers have contributed to its growing popularity among entrepreneurs. 
However, to boost your sales and optimize your shop's management, integrating the best support applications is indispensable. In this article, we delve into the "best Amazon application for Shopify", aiming to enhance your selling experience and help you manage your business effectively.
Why Integrate Amazon into Your Shopify Store?
Amazon is one of the largest online marketplaces globally, boasting a massive customer base. Before delving into the hunt for the best application, it's crucial to understand why integrating Amazon into Shopify is a beneficial strategy. 
The integration of these platforms can broaden your reach, increase your sales, and enhance the efficiency of managing your online store.
What Makes a Good Amazon Application for Shopify?
Before we start our ranking, it's important to understand what constitutes a good Amazon app for Shopify. A quality app should :
Be easy to use
Offer features that facilitate managing your products on both Amazon and Shopify
Ensure smooth synchronization between the two platforms.
What are the Best Amazon Applications for Shopify?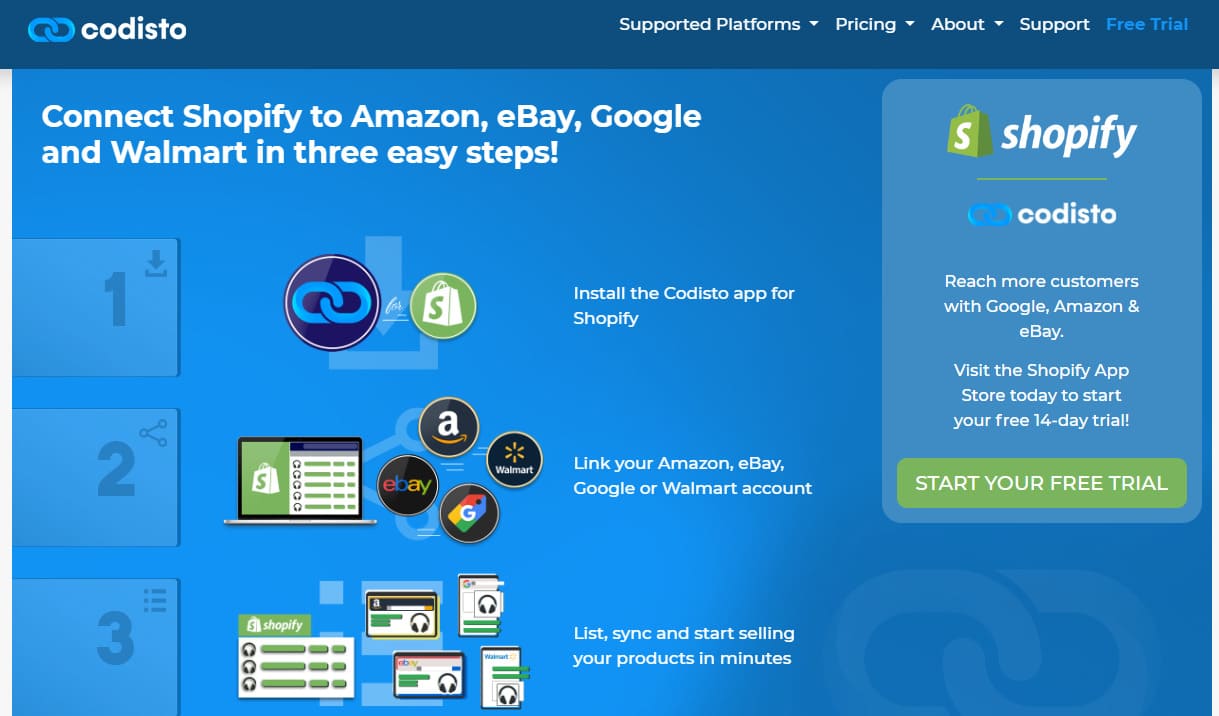 Codisto LINQ is an app that stands out for its ease of use and powerful features. It allows you to list your products on Amazon directly from your Shopify interface and synchronize your inventory in real time.
Pros and Cons of Codisto LINQ
Ease of use
Real-time synchronization
A bit expensive for small businesses
Customer support sometimes slow
Codisto LINQ offers a 14-day free trial period, after which prices start at $29/month for small businesses.
ByteStand : Best Amazon Apps for Shopify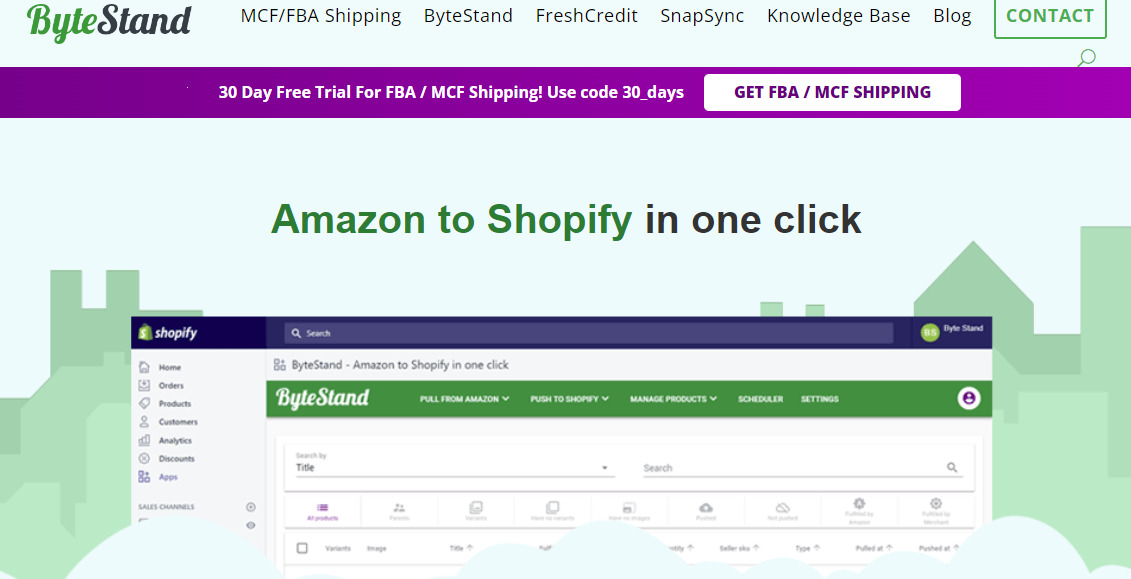 ByteStand is an innovative app that imports your Amazon product listings into your Shopify store. It also facilitates inventory synchronization between the two platforms.
Pros and Cons of ByteStand
Easy import of product listings
Efficient inventory synchronization
Requires some familiarization
Slightly high cost
ByteStand offers a 7-day free trial period. After this period, the base plan starts at $20/month.

Amazon Channel is Amazon's official application for Shopify. It provides direct integration and ease of use, although it may lack some advanced features.
Pros and Cons of Amazon Channel
Direct integration with Shopify
Ease of use
Lacks some advanced features
Customer support can be slow
Amazon Channel is a free app, but Amazon charges a commission on each sale made through their platform, typically starting at 15% of the product's selling price.
Best Amazon Apps for Shopify : Spreadr App

Spreadr App is an app that facilitates dropshipping from Amazon to Shopify. It also provides interesting product customization features.
Pros and Cons of Spreadr App
Suitable for dropshipping

Product customization features
Slightly high cost

May require some familiarization
Spreadr App has a 7-day free trial, then the basic plan starts at $5/month.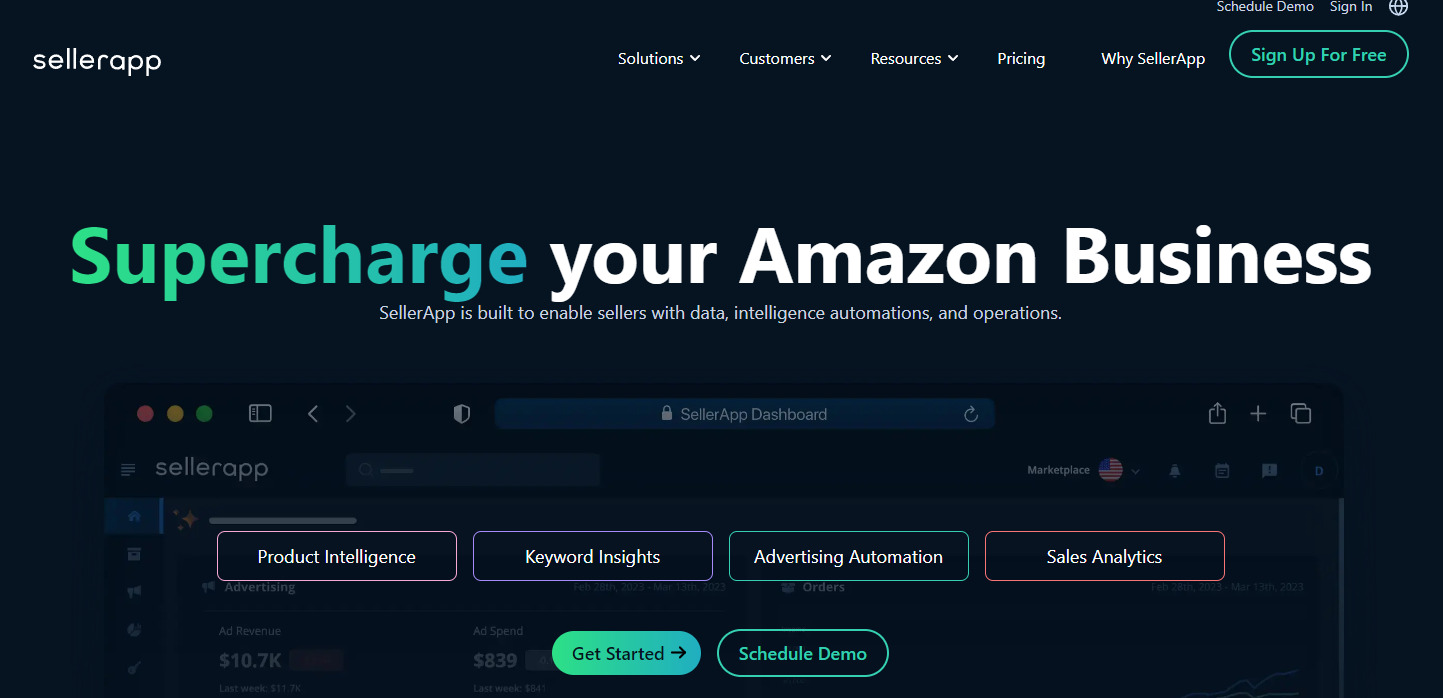 SellerApp is a comprehensive app that offers powerful data analysis tools, helping you optimize your sales on Amazon. However, it can be a bit complex to use for beginners.
Pros and Cons of Codisto LINQ
Powerful data analysis tools

Optimizes sales on Amazon
Can be complex for beginners

Slightly high cost
SellerApp offers a variety of plans starting at $49.99/month after a 7-day free trial period.
| Applications | Ease of Use | Features | Support | Price | Overall Score |
| --- | --- | --- | --- | --- | --- |
| Codisto LINQ | 4.5 | 4.5 | 4 | 4 | 4.2 |
| ByteStand | 4 | 4 | 4.5 | 4 | 4.1 |
| Amazon Channel | 5 | 3.5 | 3.5 | 5 | 4.2 |
| Spreadr App | 4 | 4.5 | 4 | 3.5 | 4.0 |
| SellerApp | 3.5 | 5 | 3.5 | 3.5 | 3.8 |
Navigating among the many apps that help integrate Amazon and Shopify can be daunting. However, with the right tool, you can simplify the process and effectively increase your sales reach. 
The apps featured in this article, namely Codisto LINQ, ByteStand, Amazon Channel, Spreadr App, and SellerApp, all offer unique features that can aid your business's growth. 
The choice of the app that best suits you will depend on your specific needs in terms of cost, ease of use, and features.
What are the best Amazon applications for Shopify?
Here is a list of the best Amazon applications for Shopify:
Codisto LINQ
ByteStand
Amazon Channel
Spreadr App
SellerApp
What application offers the best value for money?
Although it depends on your specific needs, Spreadr App offers a range of features for a relatively low price.
Do the applications offer free trial periods?
Yes, all the applications mentioned in this article offer free trial periods, allowing you to test them out before committing.
Can I use these applications if I am a beginner in e-commerce?
Absolutely. If you are a beginner, Amazon Channel could be a great starting point due to its ease of use.