"How to properly use Dropispy for product research","How to hunt down a winning product on Dropispy in a short period of time?" are questions that most Dropshippers and e-retailers ask themselves.
Indeed, to find a product with a strong potential, several interesting strategies are to be put in place. We are going to see in detail one of the most common.
This strategy consists of finding Dropshipping products that are currently selling very well on the Internet. We will call these products: trendy products. And to find a trendy product, we will identify ads that promote the product in question. That is to say, ads that are recent and that have a maximum of interactions.
Now, let's simulate the search for a winning product with Dropispy's Adspy tool. At the time of writing this article, it is January 03, 2021.
How to use Dropispy: The best filters
To find the best products online with the Dropispy app, you must use its relevant filters and ad sorting. These are the main aspects that we will cover in this section.
By default, Dropispy's Adspy tool sorts ads by "last seen date" or "last seen date". In other words, ads that were last seen by Dropispy on Facebook.
Even though some of these ads may already meet our initial objective of finding ads that promote trending dropshipping products, we want to refine our search and identify a multitude of ads dedicated to dropshipping. To do this, we need to be able to search Dropispy's database.
We can first click on the "Filters" button: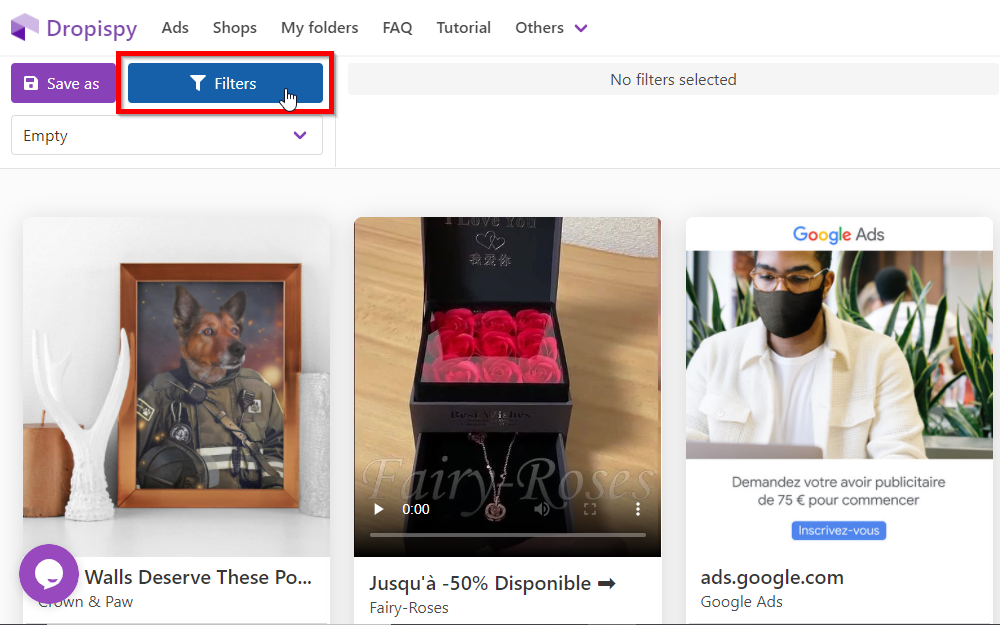 A filter window appears on the screen, It allows us to carry out ultra-precise searches among several tens of millions of ads :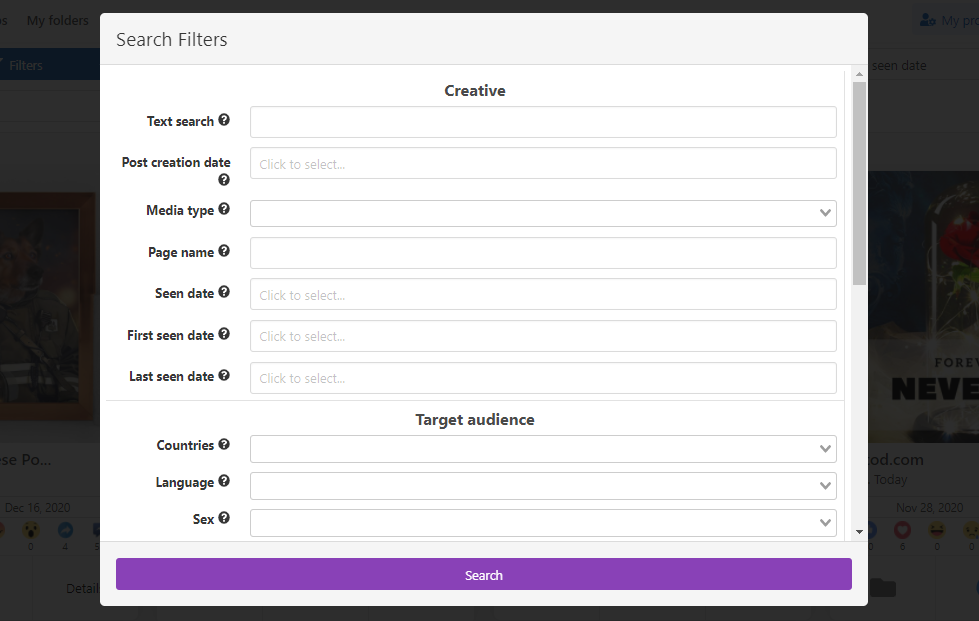 Now that we have covered the precise search window, what about when ads were created ?
First, to find trending products, we need to filter recent listings (Premium only 🔒). The "Post date creation" of the ad filter allows us to select a range, a time interval between two dates.
For example, we may be interested in ads that are less than 20 days old. Today is 03/01/2021, so we have the possibility to select a range from 16/12/2020 to today: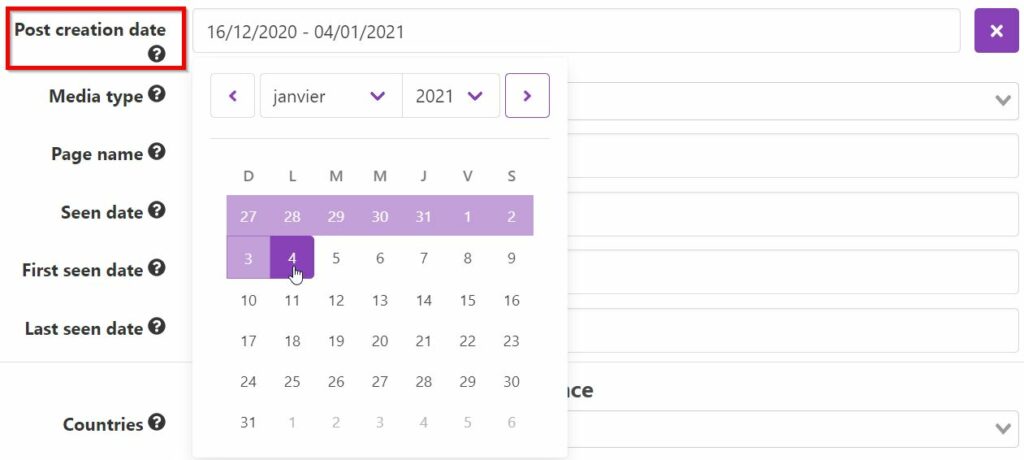 Now let's talk about the « Call To Action » in the process of our search!
Now we can define the CTA, the call to action present on the ad. Generally, ads dedicated to Dropshipping products use "Shop Now". Other interesting calls to action are "Get Offer", or "Apply Now".
Indeed, many Dropshippers position themselves on a promotional strategy to generate urgency in the prospect (potential customer). For this, they do not hesitate to indicate promotions of -50% and this type of CTA.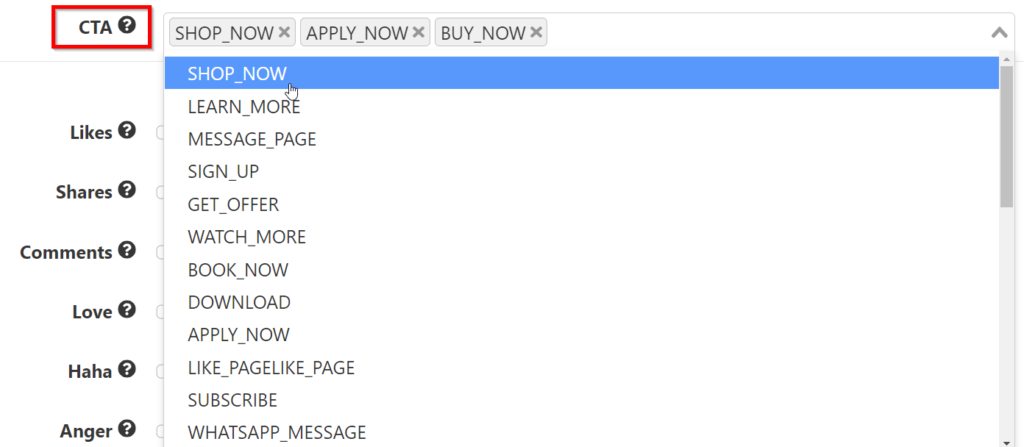 If the call to action helps dropshippers position themselves on a promotional strategy to generate urgency in the potential customer, what shall we say about the ad redirection platform? This is what will guide us to better understand the content management system (CMS).
The Ad redirection platform
Most dropshipping stores have been designed and developed with the Shopify CMS (content management system). For this example, we will target the most popular e-commerce platforms:

As in an app, everything is linked, we cannot have discussed the redirection platform without mentioning the type of media used for advertising.
We can only filter ads in video formats. These are widely used for Dropshipping ads. Indeed, this format is a hit and is very suitable for Facebook to capture the attention of users.

To move forward, we will discuss the target country and the native language used for the ad.
Target country and native language of the ad
For a more detailed search, we can filter by Countries (Premium only 🔒), i.e. the Countries that the advertiser targeted when they launched their ad on Facebook. We can also select the native language of the ad:

After this level, we will say that it remains for us to begin the stage by which we have the possibility of sorting the search results of the ads according to our convenience or according to our previously defined research plans.
Finally, we can sort all search results by clicking on the drop-down list on the right. For example, we can sort everything by the number of likes, comments, shares, etc.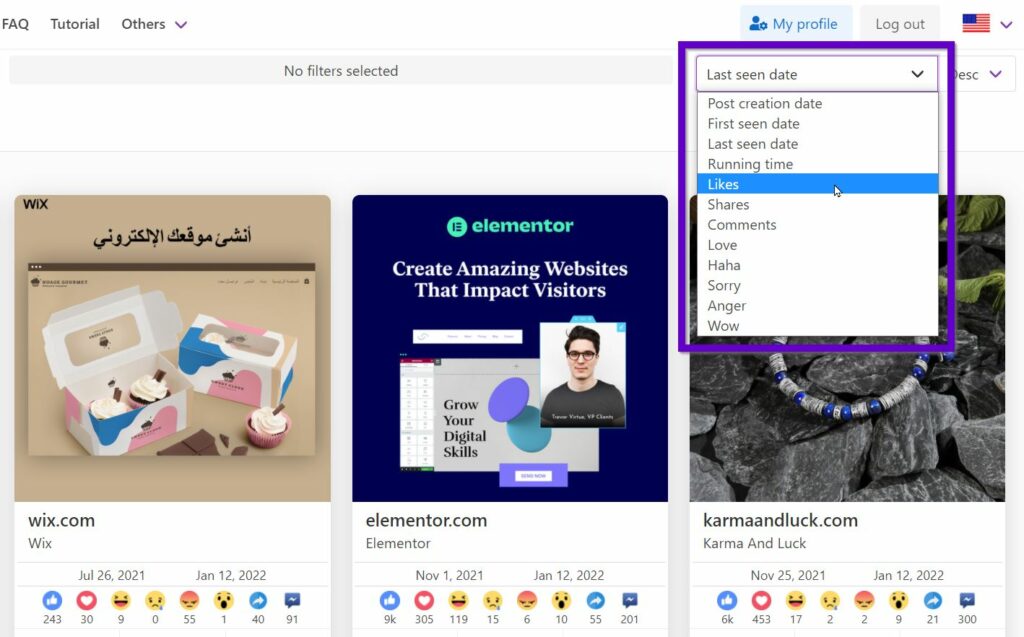 Now, we have targeted ads promoting trending Dropshipping products that are selling in the thousands right now. We can then wander through the search results to find our next Winner!
We could have done the opposite, i.e. filtering by number of reactions (number of likes, comments, likes, etc.) and sorting by date the post was created. In this example, all ads with more than 10,000 likes will be ordered by creation date: from the most recent ad to the oldest.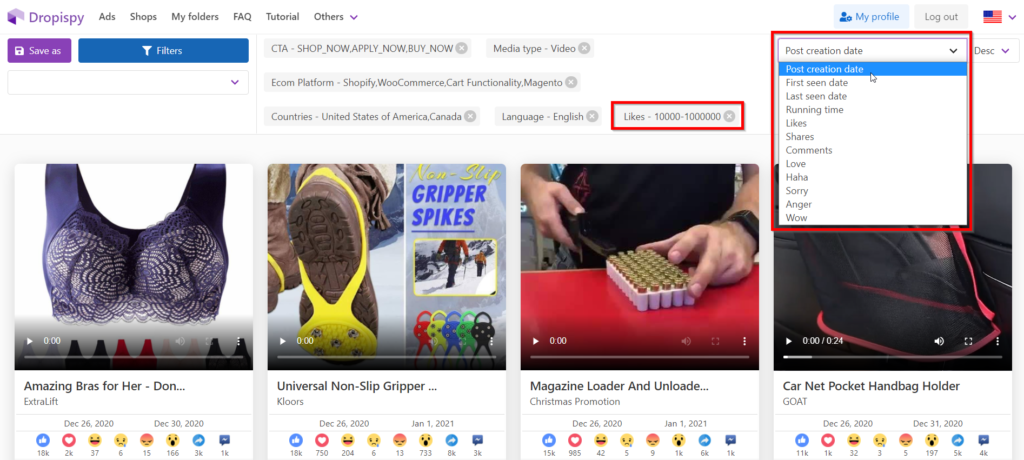 To go further in your product search with Dropispy
Next, Dropispy displays many successful ads promoting trending products that are currently enjoying great success.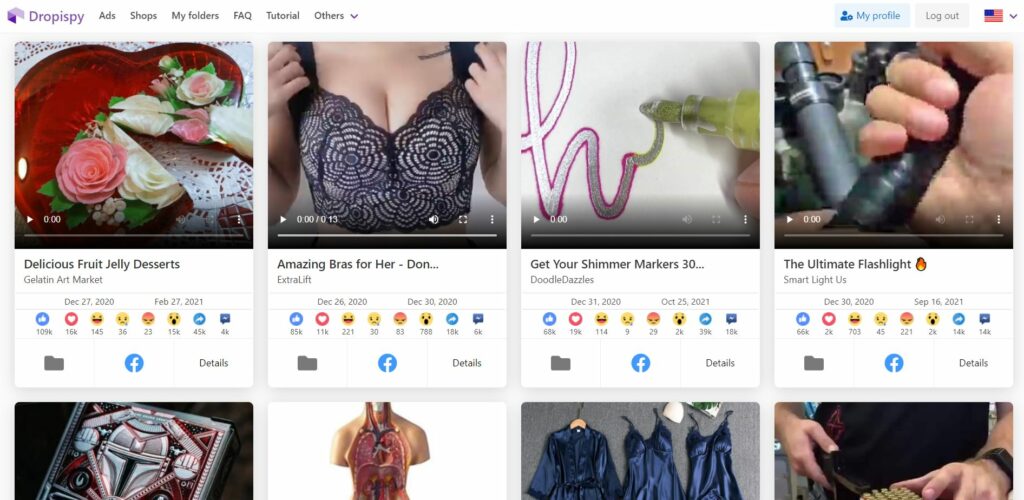 You can click on the "details" button to review the ad and get lots of information about this ad's targets, product details, or selling store.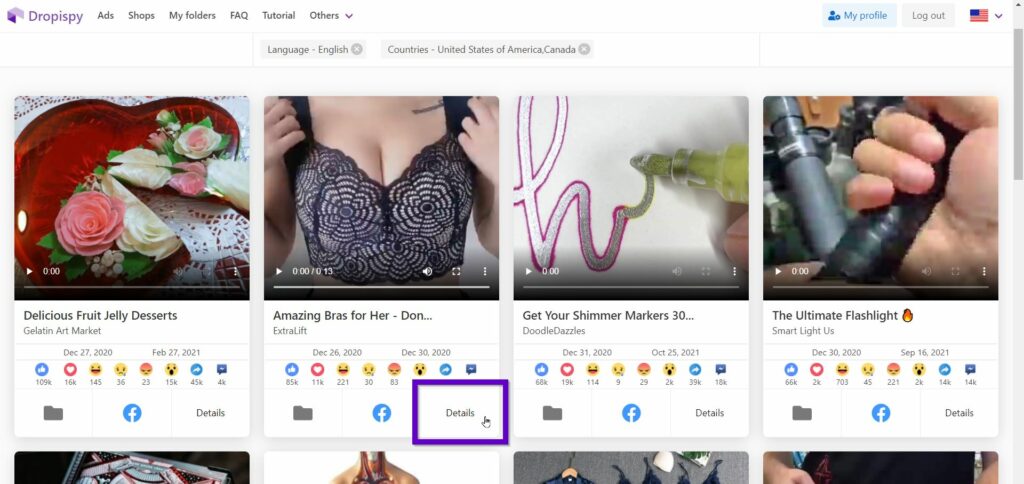 Then you can click on the Facebook redirect link to see the ad in context: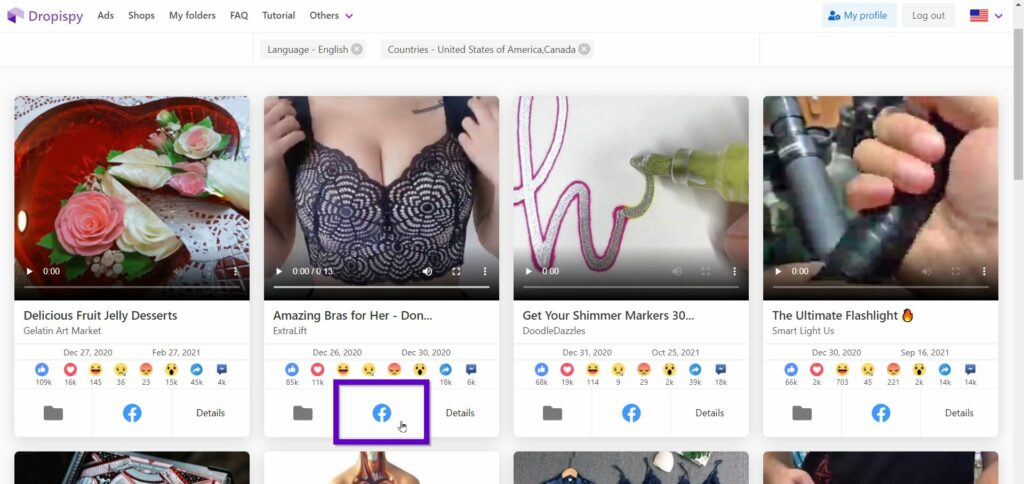 To take it a step further, you can read our article on in-depth ad analysis, once you've got your hands on a winner.
After we have analyzed the ads, let's try to understand how to add a product to your favorites.
Add a winning product to your favorites
Now that you understand how to use Dropispy to find a product, you can save the ads that interest you in your favorites, then find them in the "Folders" section of the tool: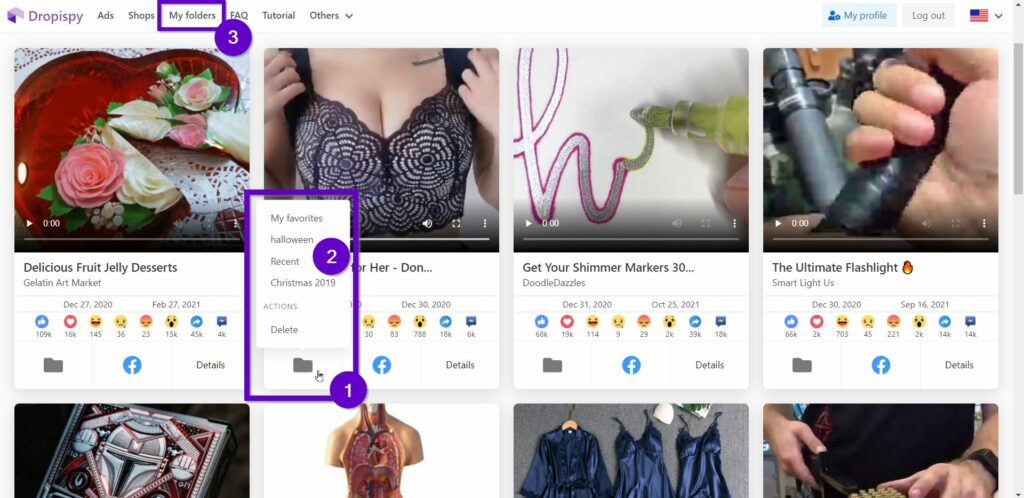 When the product is added to the favorites, you must necessarily save your search. This is what we will try to see in the following.
You can save your usual searches/queries (set of several filters) and not waste time next time. To do this, simply click on the "Save as" button: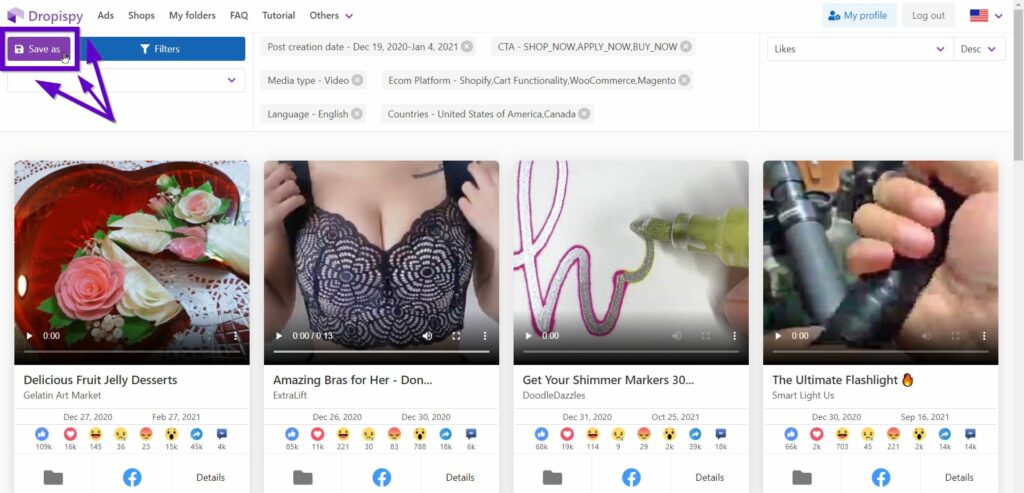 All search filters on Dropispy:
The filters are grouped into several categories. We will list each of these filters category by category.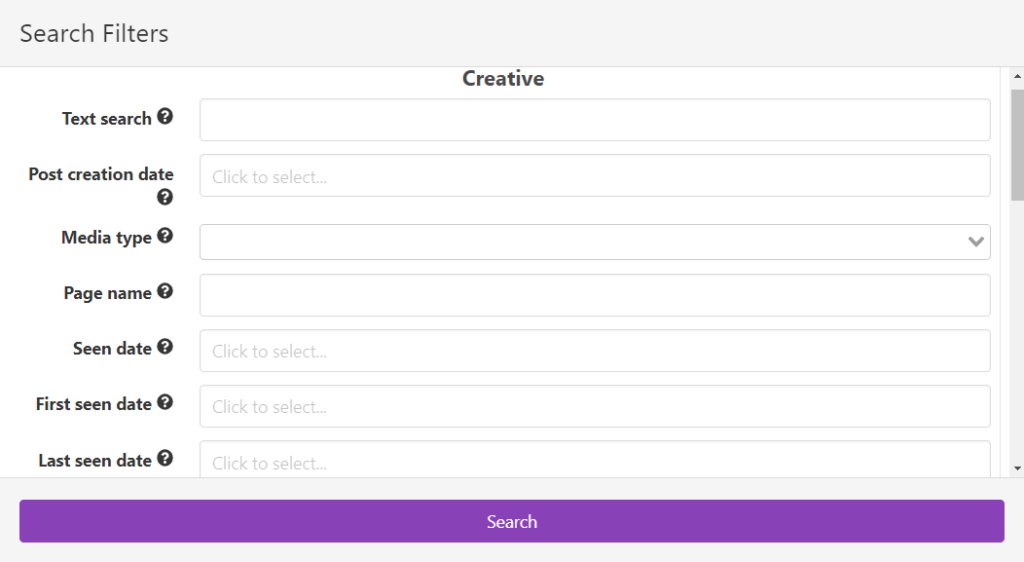 The Creative part is therefore composed of a set of several filters, namely:
Text search: It allows you to carry out searches by keywords to find all the ads which, in their titles or descriptions, contain these words. We can use it, for example, to target our niche.
Post creation date: This is a filter that allows you to select a date range in which the ads were created. We may use it to target recent ads or ads in the past. Indeed, a product that sold well last year can also be a hit again this year.
Media type: It allows to define the media type of the ad, namely: an image, a video, a carousel or an album.
Page name: This is used to distinguish ads from a particular Facebook page. We can use this filter to analyze the ads of a very specific competitor (Example of the Facebook page of a successful store).
First seen date: It lets you know when the ad was first seen on Facebook. In other words, this filter makes it possible to know the date on which the ad was collected by our service from Facebook.
Last seen date: This is the filter that lets you know when the ad was last seen on Facebook. If the ad was seen a long time ago, this one is definitely no longer active. Conversely, if this one was last seen a short time ago, it is probably still running on Facebook.
Here is how the atmosphere of the Target Audience presents itself: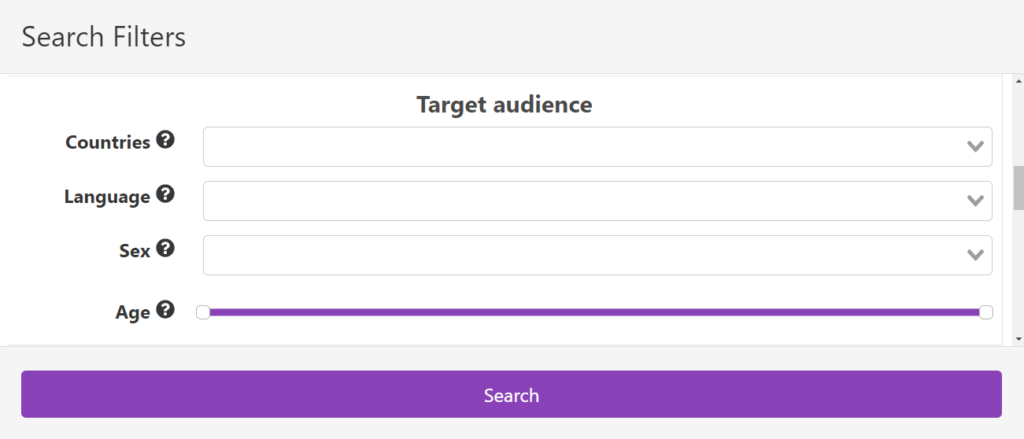 The Target audience part allows you to filter ads according to their audiences. This lists the country, gender and age of the people who saw the ad. For example, we can search for products that have been successful in the USA whose advertising language is English.
The Redirect link part allows either to filter by: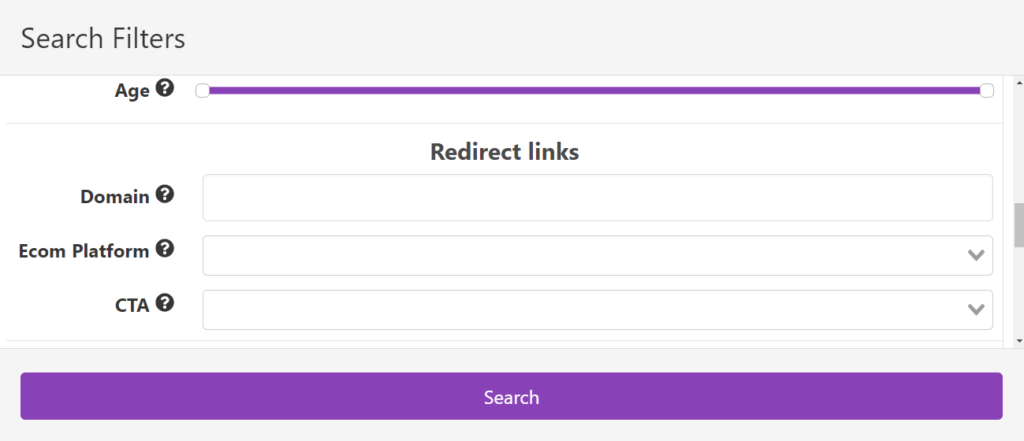 Domain name: We can directly place the domain of a competitor's site "Domain name". Thus, we will be able to walk through all the ads that Dropispy has collected on this site.
Ecom Platform: We can also select the type of destination e-commerce platform (Shopify, Magento, Woocommerce). For example, by filtering e-commerce type platforms, this makes it possible to target only ads promoting e-commerce products.
The type of call to action (CTA) of the ad: This is the button present on the Facebook ad of the type: "Shop now", "Get offer", "Apply now", etc. In the context of e-commerce, it is this button that will direct our prospects to our online store.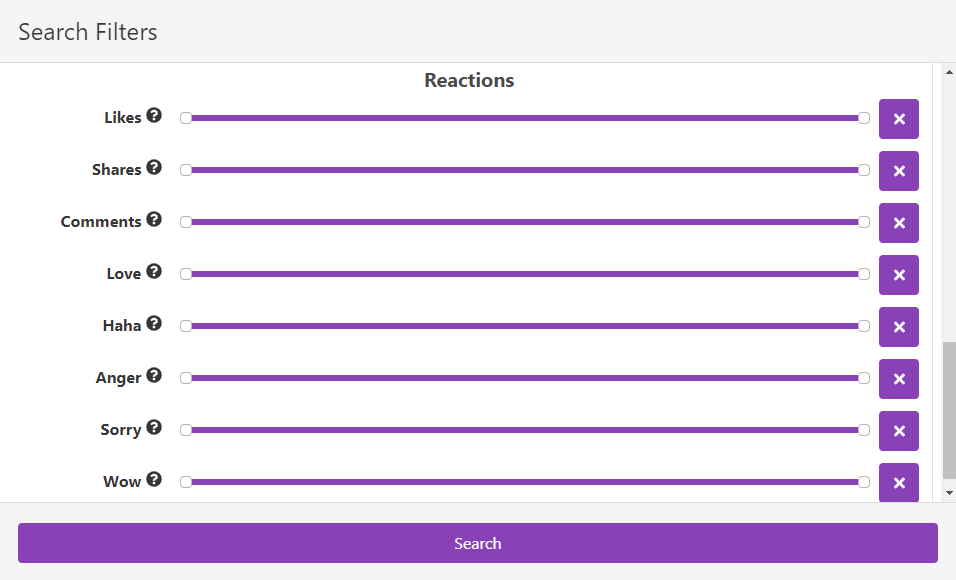 The Reaction section allows ads to be filtered by the specific number of interactions they have. We can filter the number of likes, shares, comments and reactions (Like, Haha, Grr, Wow etc.).
Now that we have understood how Dropispy's ad spy tool works, let's push our curiosity to find out how to use it to effectively search for an ad.
All in all, you now know how to use Dropispy to find a trendy Dropshipping product thanks to the very relevant filter and sorting system of the Dropispy application. In the next article, we will see how to analyze these products.
Now, you don't have to worry about finding trendy products for better profitability in your business.