In the dynamic universe of e-commerce, print on demand has emerged as an essential solution. This innovative business model offers unprecedented opportunities for entrepreneurs. Particularly, combining print on demand with online sales platforms like Shopify allows you to maximize your business's potential. The best Shopify apps are those that meet your business's specific needs while providing practical and cost-effective solutions.
Among the multitude of apps available on Shopify, how do you choose the one that best suits your business? What features should you look for? What's the best way to use these apps to foster your business growth?
In this article, we will delve into these questions in detail. We will also introduce you to our selection of the best Shopify print on demand apps to help propel your business to new heights
The Interest of Print on Demand
Print on demand offers several key advantages that make it an attractive choice for online entrepreneurs.
No stock required:

You don't need to invest in a product stock in advance. This reduces financial risks and storage costs.

Flexibility:

You can experiment with different designs and products at no additional cost.

Efficiency:

Print on demand can improve the efficiency of your supply chain.

Personalization:

You can offer customized products, thus increasing the perceived value of your products.
How to Choose Your Print on Demand Application ?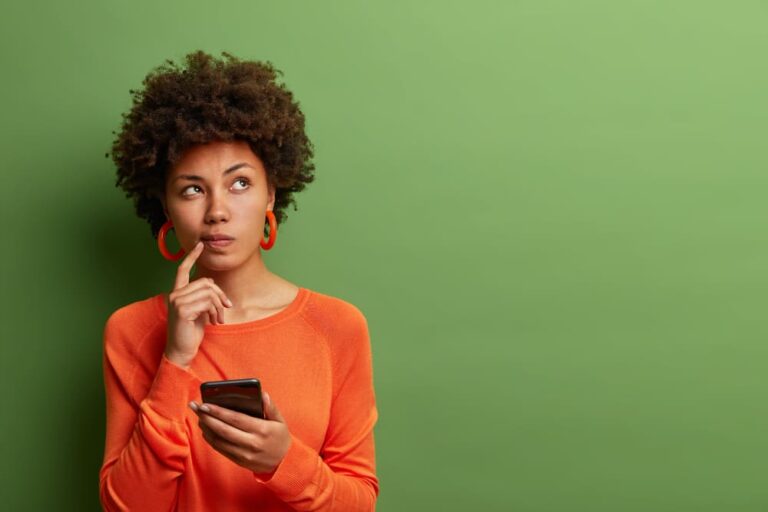 When choosing your print on demand application, it's important to consider several factors. 
First, the quality of printing is paramount. A low-quality product can negatively impact your business's reputation. 
Second, cost is also a factor to consider. Some apps may seem cheap at first glance, but hidden costs can add up.
Finally, ensure you choose an app that integrates well with your e-commerce platform and offers good customer support. To assist you in this process, here are some steps to follow:
Evaluate your needs:

Determine what kind of products you want to sell and what your needs are in terms of volume and variety.

Research options:

Explore the different apps available and compare their features, costs, and ratings.

Test the app:

Most apps offer a free trial or trial period. Take this opportunity to test the app and see if it meets your needs.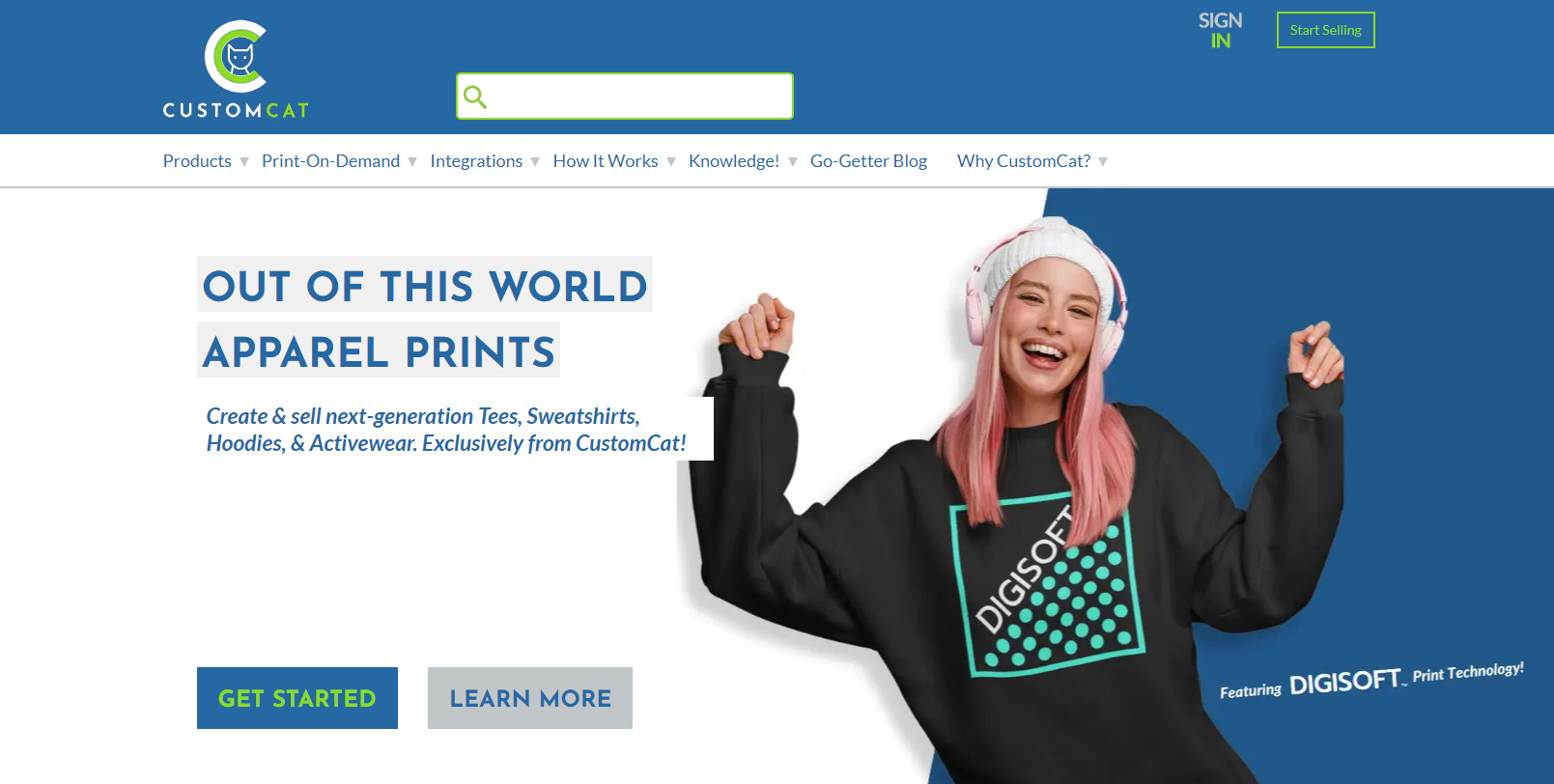 CustomCat is a Shopify app known for its wide range of products, including clothing, housewares, and accessories. It offers reasonable delivery times and a personalization option that allows customers to add names and text to products. 
This app is particularly appreciated for its affordable rates and some of the lowest commissions in the market.
The CustomCat app is free to use.
For printing, the rates are attractive for new entrepreneurs, with t-shirts starting at $9.00, mugs at $5.50, and hoodies at $17.00. 
There's also a paid plan at $20/month offering higher margins and lower product prices.
Advantages and Disadvantages
Wide choice of products (over 350 options)

Low commissions

Personalization tool

Integrations with Etsy, WooCommerce, BigCommerce

Various printing technologies
Delivery time can be long

Their only warehouse is in the USA

No custom packaging
Best shopify print on demand apps - Gooten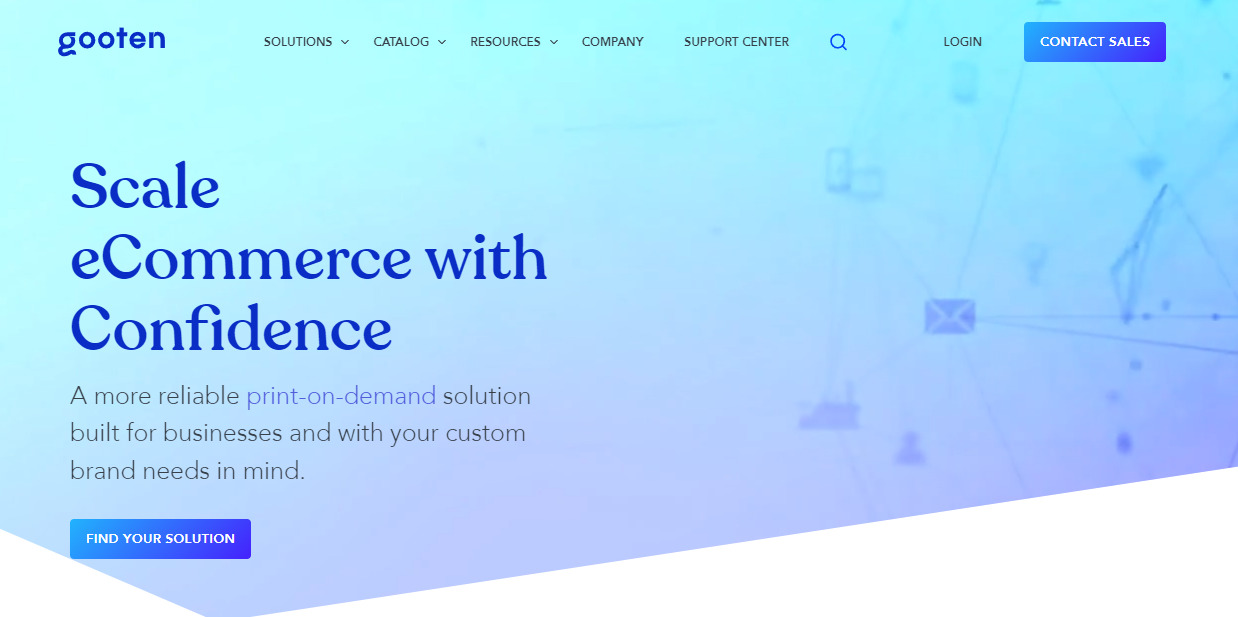 Gooten stands out as more than just a Shopify print-on-demand app; it's a full-fledged logistics platform. The company's vision is to form partnerships with eCommerce shops and supply them with custom products regularly.
Installing and using Gooten is free, with no upfront costs. Product prices are around the industry average, making them suitable for both beginners and growing dropshipping businesses.
Advantages and Disadvantages
Easy-to-use dashboard

Good product range

Automatic order processing, production, and shipping

About 70% of production is located in the U.S.
Mockups could be better compared to competitors

Customer support could be more accessible

Some users have experienced product substitutions
Fuel - Best shopify print on demand apps

If you're looking for print-on-demand Shopify apps with low pricing, check out Fuel. Online reviews suggest this Shopify t-shirt fulfillment service has super affordable prices, perfect for beginners.
This best print-on-demand for Shopify app is free to install and use. Product prices are affordable—S-size, 100% cotton t-shirts start at $7 per item.
Advantages and Disadvantages
Simple to navigate integrations

Robust support

QA team assurance

Fair pricing offers

Wide color spectrum and printing options
Some delays caused by the suppliers

Stock control of their inventory must be done more frequently

Production must be accelerated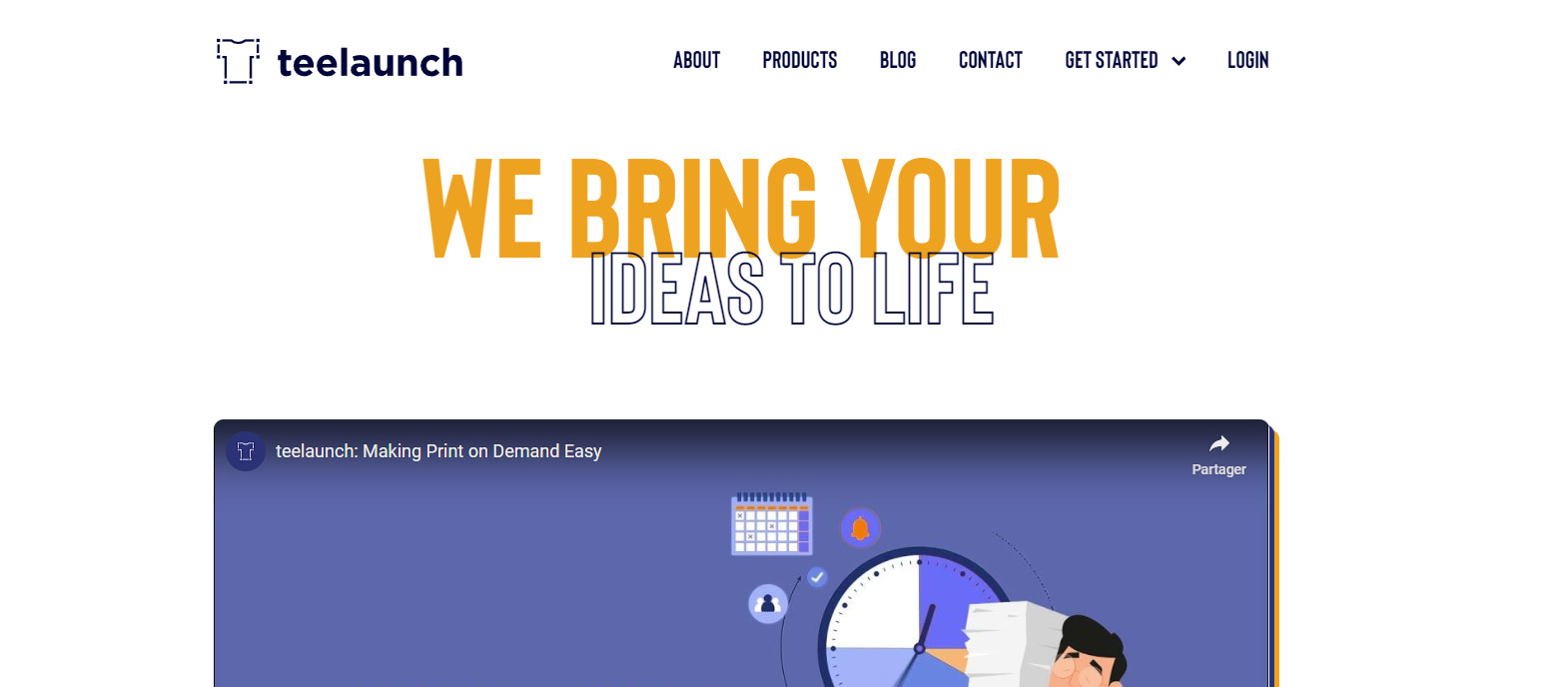 Teelaunch is known for consistently delivering high-quality printing, earning itself generally positive reviews. Besides handling all aspects of print on demand, Teelaunch also allows for the sale of unusual products like shower curtains and soft cover journals.
Teelaunch doesn't charge any monthly or subscription fees. You only pay when you make a sale, and the commission depends on the price you set.
Advantages and Disadvantages
Fast shipping

High-quality mock-ups

Top-notch customer service

Successful Direct-to-Garment (DTG)

Wide range of products

Reasonable pricing for products

Fairly good backend
Account locking has caused some customers problems

Some customers experienced order deletions

Updating the app created some issues
Printify - Best Shopify Print on Demand Apps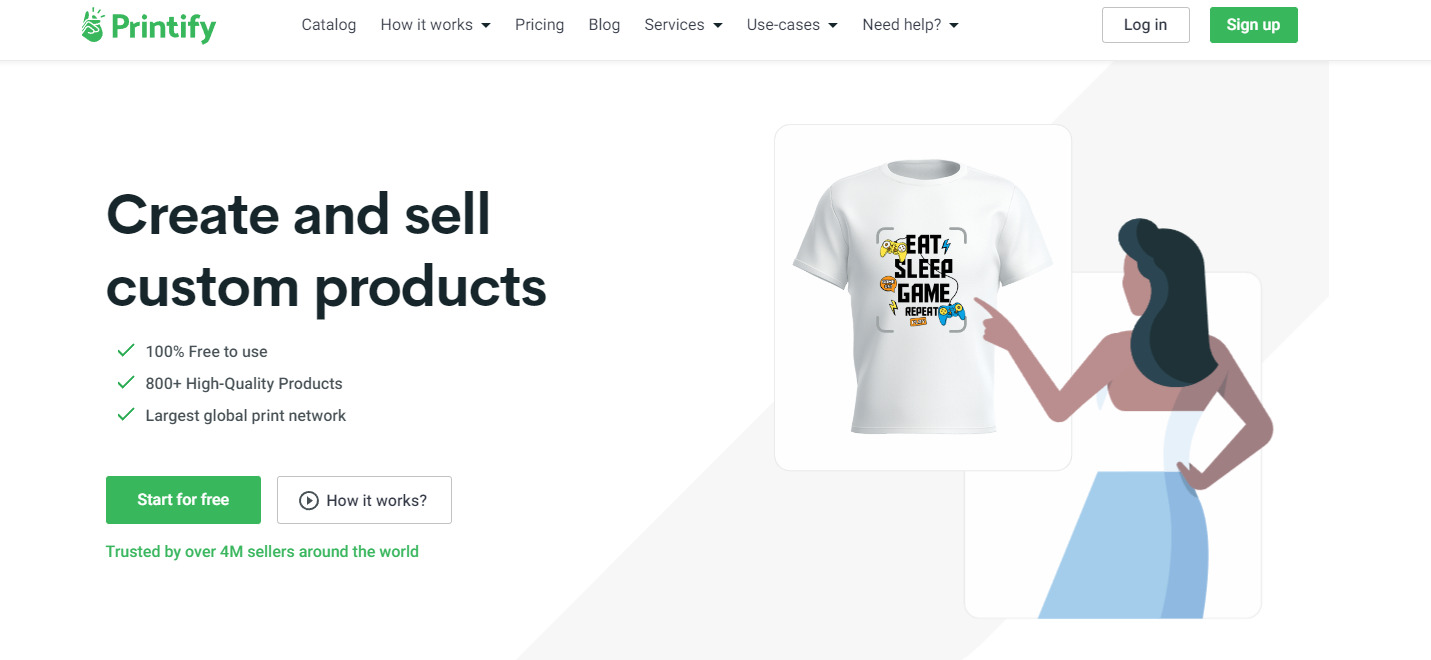 Printify is a good print on demand Shopify app for t-shirt sales. It syncs with a Shopify store within a minute and offers a nice range of clothing products to sell. 
The selection of print providers is excellent—with companies based in the US, Europe, China, and Australia.
You can use Printify for free for 5 stores with all features. The premium plan costs $29/month and is for large dropshipping businesses operating 10+ eCommerce stores.
Advantages and Disadvantages
Easy to adapt

High-quality products

Quick and up-to-date tech

Customization option

Seamless workflow

Excellent customer support

Easy integration

Beneficial financial visibility
Shipping costs need to be tracked

Niche products may cost more than customers anticipated

Their system could be more flexible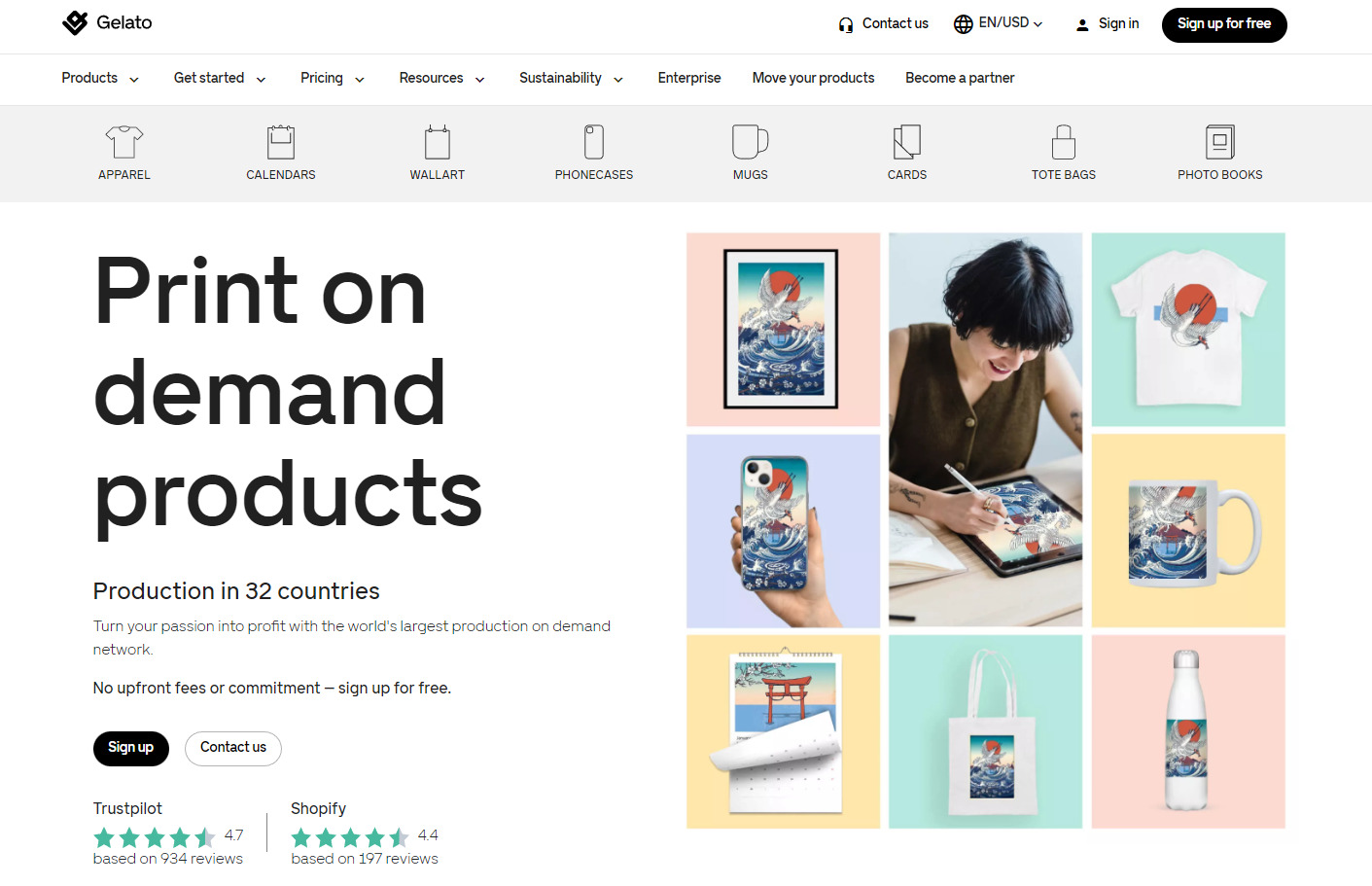 Gelato is a new print on demand Shopify app that quickly managed to get a decent 4.2-star rating. The reason: a big network of suppliers in 30 countries that allows worldwide delivery. Therefore, there's a good 2. How do print on demand apps for Shopify work?
These apps allow you to choose products, customize them with your own designs, and then sell them in your Shopify store. When a customer places an order, the app handles printing and shipping.
chance that Gelato has a supplier in your country or region to deliver your orders.
The Shopify app is free, Gelato takes an average commission for order fulfillment. The shipping costs might be a bit higher, but that depends on the country of delivery.
Advantages and Disadvantages
Intuitive and responsive app

Supportive customer service

Economical pricing costs

Supports many languages

Integrations with different e-commerce websites

Easy refund policy

Helpful tutorials and resources

Seamless process for the most
Some products' quality was not as expected

The IT team should fix several bugs

Frame quality can be improved
Apliiq - Best Shopify Print on Demand Apps

Apliiq is a platform dedicated to the creation of streetwear style clothing, akin to major brands like Supreme. It's one of the top on-demand t-shirt printing services, providing a broad selection of streetwear attire. Moreover, Apliiq provides stitching, labeling, tag creation, and graphic design services.
Using the Apliiq platform is free.
The offered products are affordably priced, with rates starting at $5 for snapbacks, $13 for pullover hoodies, and $3 for t-shirts. 
Apliiq also provides a discount system for bulk buyers or large order purchases.
Advantages and Disadvantages
Product customization available

High-quality prints via Direct-to-Garment (DTG) technology

Responsive and efficient customer service

A varied and well-developed clothing catalog

Support for bulk buying and dropshipping

Attention to product packaging

Assistance from an in-house production artist
Delivery delays

The product catalog is limited to clothing, excluding other items such as mugs or canvases

Certain aspects of the interface and warehouses could be improved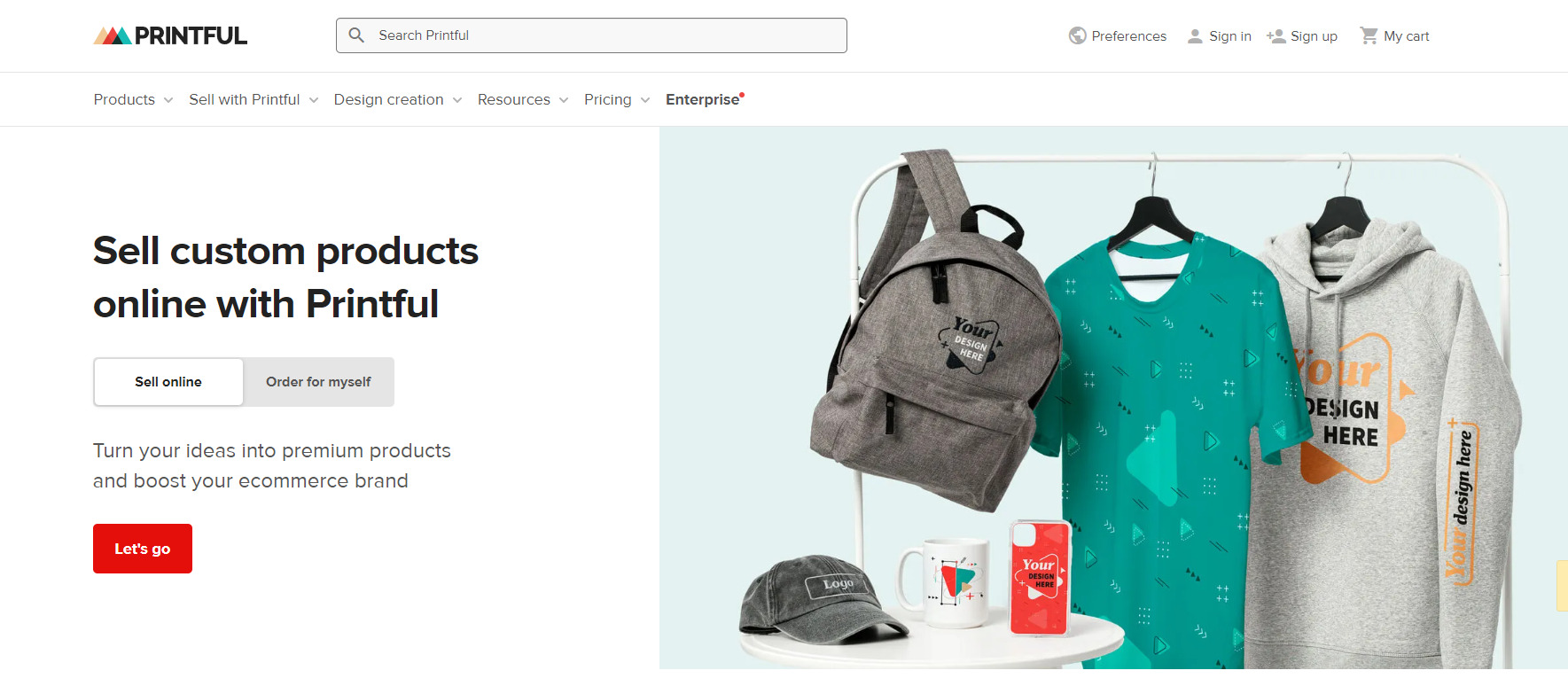 Printful is a company founded by Shopify, greatly facilitating the fulfillment, shipping, and delivery process with just a few clicks. It has been catering to the needs of millions of users for years, enabling them to create and sell custom products online. Additionally, Printful provides tips, ideas, and inspirational articles to its users.
Using Printful is entirely free. You only pay when you place an order, and these fees are only for shipping and manufacturing.
Advantages and Disadvantages
Easy to use and design

Easy to integrate

Allows customization

Good templates are provided

Responsive customer service

Regular updates about shipping delays or other matters

Transparent pricing

Reasonable shipping time frame
The color range could be expanded

The quality of printed products can be inconsistent, and some issues may arise

Shipping costs can be overly high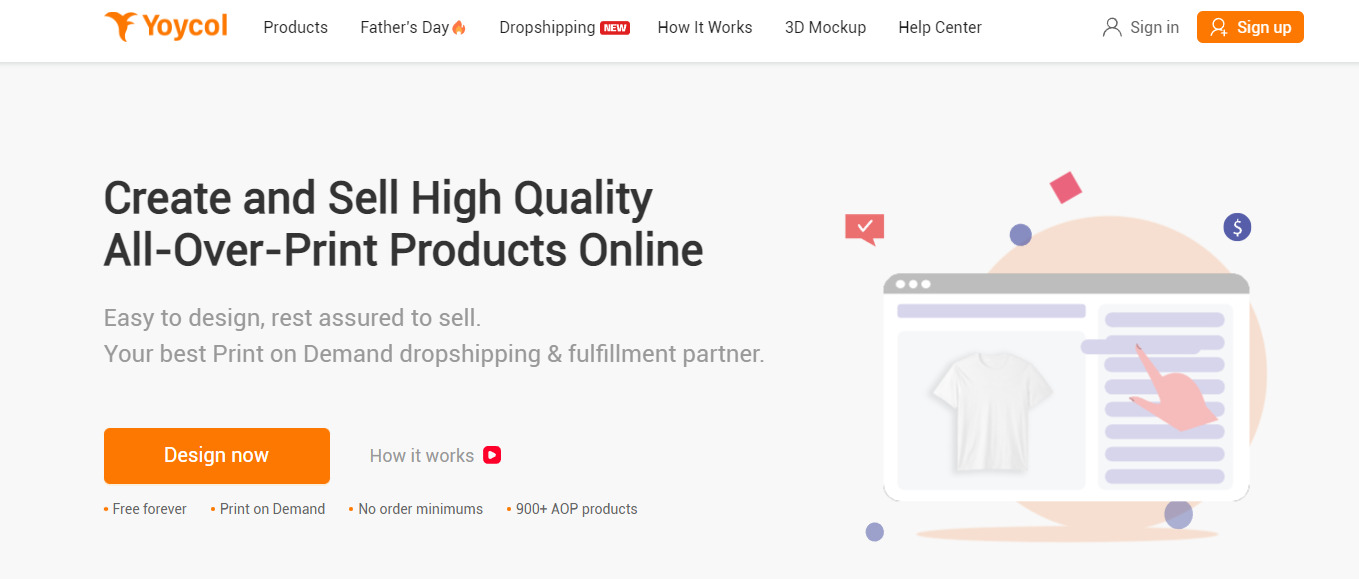 Yoycol is a recent print on demand app on Shopify. It's an easy-to-use tool that allows dropshippers to design their own products in a simple and efficient way. 
Its mission is to allow people to express themselves in every market and to make design easy for everyone. 
Yoycol offers a wide range of high-quality products on which you can create and sell your designs without having to worry about production, inventory, packaging, and shipping.
Using Yoycol is free, you only pay for fulfillment and shipping.
Advantages and Disadvantages
Decent range of over 200 AOP products

"All over" custom print products

Easy-to-use 3D mockup generator tool for product design

Automatic synchronization of products with Shopify stores
As a new app, there might be initial bugs and integration issues

Customer support may need improvement in responding to issues

Shipping times may be longer due to global coverage

Lulu xPress is the print-on-demand arm of Lulu, an online platform for self-publishers. It makes it easy to create and sell your own print products, from books to calendars, that you can customize in a variety of ways. 
It's one of the best print-on-demand services for writers, photographers, educators, and creatives, especially those with an established audience they wish to monetize.
Lulu xPress offers shipping to over 150 countries from fulfillment centers in the US, Canada, Europe, and the UK. Rates start at $3.99 for shipping to the US.
Advantages and Disadvantages
Wide range of printing options

Allows you to sell your books on Amazon, Barnes and Noble, Lulu's marketplace, or even as an ebook

Recommended for authors, teachers, comedians, illustrators, and all kinds of creatives
Shipping fees may apply depending on the destination

Production times can be longer for certain types of products

Print quality can vary depending on product specifications
Our rating on Lulu xPress
Comparison of the Best Shopify print on Demand Apps
| App Name | Ease of Use | Variety of Products | Print Quality | Customer Service | Pricing | Overall Rating out of 5 |
| --- | --- | --- | --- | --- | --- | --- |
| CustomCat | 4.5 | 4.5 | 4 | 4.5 | 4 | 4.3 |
| Gooten | 4 | 4.5 | 4.5 | 4 | 4 | 4.2 |
| Fuel | 4.5 | 4 | 4 | 4.5 | 4.5 | 4.3 |
| Teelaunch | 4 | 4 | 4.5 | 4 | 4.5 | 4.2 |
| Printify | 4.5 | 5 | 4.5 | 4.5 | 4 | 4.5 |
| Gelato | 4 | 4.5 | 4.5 | 4 | 4.5 | 4.3 |
| Apliiq | 4.5 | 4 | 4 | 4.5 | 4.5 | 4.3 |
| Printful | 5 | 4.5 | 4 | 4.5 | 4 | 4.4 |
| Yoycol | 4.5 | 4.5 | 4.5 | 4.5 | 4 | 4.4 |
| Lulu xPress | 4 | 4 | 4.5 | 4 | 4.5 | 4.2 |
In conclusion, the choice of a print-on-demand app largely depends on your specific needs. Apps like CustomCat and Printify offer a wide variety of products, while Lulu xPress specializes in books and printed products. For print quality and customer service, apps like Printful and Yoycol stand out.
It's important to do thorough research before choosing an app for your business. Consider not just the price, but also the product quality, customer service, and user experience.
No matter which app you choose, the main goal is to help you succeed in your print-on-demand business. Make the right choice and best of luck with your ventures!
Print on demand is a business model where products are only created when a customer places an order. Benefits include reduced inventory costs and the ability to customize products.
How do print on demand apps for Shopify work?
These apps allow you to choose products, customize them with your own designs, and then sell them in your Shopify store. When a customer places an order, the app handles printing and shipping.
What factors should I consider when choosing a print on demand app?
You should consider factors such as product variety, cost, print quality, delivery times, user experience, and customer service.
Do all print on demand apps offer the same products?
No, some apps specialize in specific products. For example, Lulu xPress is focused on books and other print products, while CustomCat and Printify offer a wide range of products.
What are the best print on demand apps?
These are the best print on demand apps : 
CustomCat
Gooten
Fuel
Teelaunch
Printify
Gelato
Apliiq
Printful
Yoycol
Lulu xPress