Whether you are an e-merchant or a dropshipper, you probably already know that TikTok is the social network of the moment. The social network has experienced a meteoric rise to the point of imposing itself on all sellers on the Internet.
Indeed, it is the best place to start selling online and also the best place to find winning products. And that's what we're going to talk about in this article.
Knowing that we can not talk about product research without talking about Ads spy tools, we will see in this article, the best TikTok ad spy tool. We will also be talking about some free tiktok ad spy tools.
We will see, for each tool, the features available, the advantages, the disadvantages as well as the different pricing plans offered.
Top 5 Best TikTok ad spy tool:
Minea
TikTok Ad Library
BigSpy
PipiAds
Adserea
What is a TikTok Ad spy tool?
A TikTok Ad spy tool or a product search tool on TikTok is software that spy on ads on the TikTok social network and stores them in its database. These ads are made available to users of the tool who use them for their research of winning products.
They just have to dig into the tool's advertising library to choose their winning product based on the characteristics of a winning dropshipping product.
Why you should use a TikTok Ad Spy tool?
It is quite obvious to wonder why one should use a product search tool on TikTok when you can do everything yourself and manually.
In reality, the TikTok news feed is an infinity of videos, and scrolling through it yourself manually will take you forever. You must understand that the competition is increasingly fierce in the e-commerce market. This will mean that it is now the hunt for information.
The earlier you have the information, the better you can use and benefit from it. So, while you spend hours scrolling or manually searching, your competitors use these product finder tools to save time and maximize their chance of finding winning products.
By using the product search tools that we will see in this article, you will save a lot of time in your product search since the algorithms of these software are already spying on social networks for you. You won't have to do it manually anymore.
Of course, these tools have a cost, but if we try to make a small comparison between this price and the time savings you will make, it is better to opt for these tools. Additionally, some of these tools don't just allow product search, some tools even allow you to directly import products to your store, copy product descriptions, upload creatives, and even copy working landing pages. already.
With all these features, there is no reason not to use a TikTok Ad Spy tool.
But how to recognize the right TikTok Ad Spy tool? This is what we will see in the next chapter.
What are the features of a good TikTok Ads spy tool?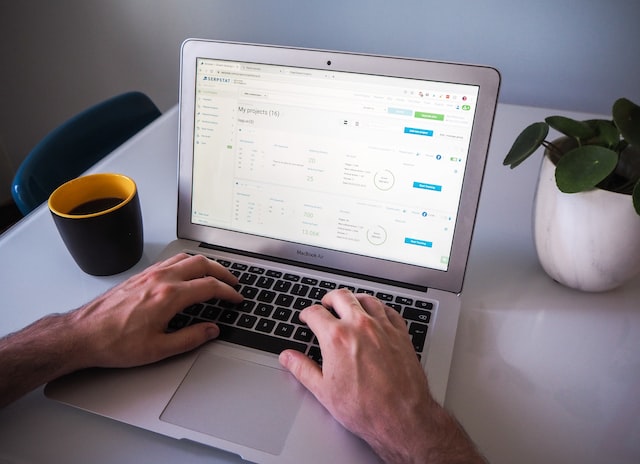 There are 4 factors you should rely on to recognize or choose a good TikTok Ads spy tool.
Ad volume is nothing but the amount of ads collected by the tool on TikTok. In terms of statistics, this is one of the most important characteristics that you must take into account.
On TikTok, several thousand ads are published every day. Indeed, if the tool does not have the possibility of collecting a maximum of ads, it is because you are reducing your chances of finding winning products. The more ads the tool collects, the more varied its database and the more chance you have of finding your winning product there.
A TikTok ads spy tool with a large volume of ads collected is therefore a good sign.
Search parameters and filters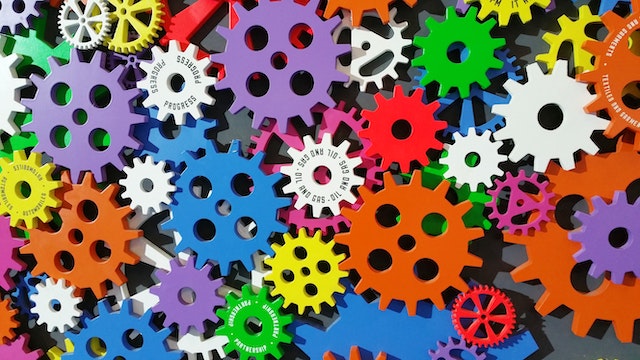 Search parameters and filters are tools built into the ads spy tools database. Their role is to allow the user to optimize his search. Without these search and filter options, using product finder tools would be as cumbersome as searching manually.
As we have seen before, product search tools collect all kinds of ads on social networks. Indeed, you can find in their database, announcements promoting services, digital products or even requests for help. It is therefore not only about announcements of products for sale in e-commerce.
Therefore, thanks to the filtering and search options, you can filter the ads from the database based on criteria that you have defined yourself. For example, you can choose to only see ads that have a certain number of views, likes, comments or impressions. You can also choose to display only ads whose site is hosted on an e-commerce platform.
All this allows you to optimize your searches according to your preferences and product search objectives.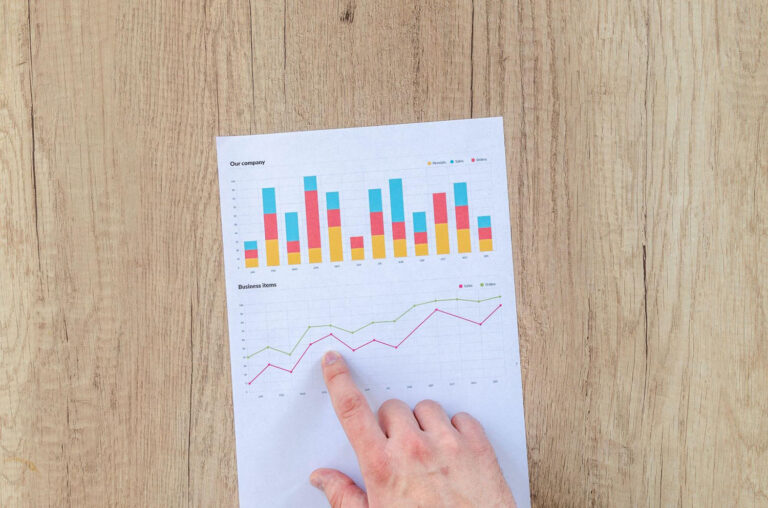 Ads Data is the information that the Product Finder provides for each ad it collects. You should know that in e-commerce, you cannot rely solely on the visual preview of a product to decide to sell it on your store.
Even if the visual effect of the product remains the first criterion for choosing winning products, it is also necessary to rely on measurable data that justifies the performance of the product. Indeed, the data offered for each product varies from one tool to another.
As data, you can for example see the number of views of the ad, its social engagement (Likes, comments, Shares, Impressions…), the date of posting, the number of impressions…
As you will have understood, the more data a tool provides, the easier it will be for its user to find winning products.
The final feature of a good product finder is price.
The price is one of the main factors that users look at before adopting a tool. TikTok ads spy tool is no exception. Prices vary depending on the features offered by the tool.
Depending on your budget, you need to find the balance in order to choose the tool that fits your purse.
Check out our list of the top 5 TikTok Ads Spy tool here.
List of Top 5 TikTok Ad Spy tools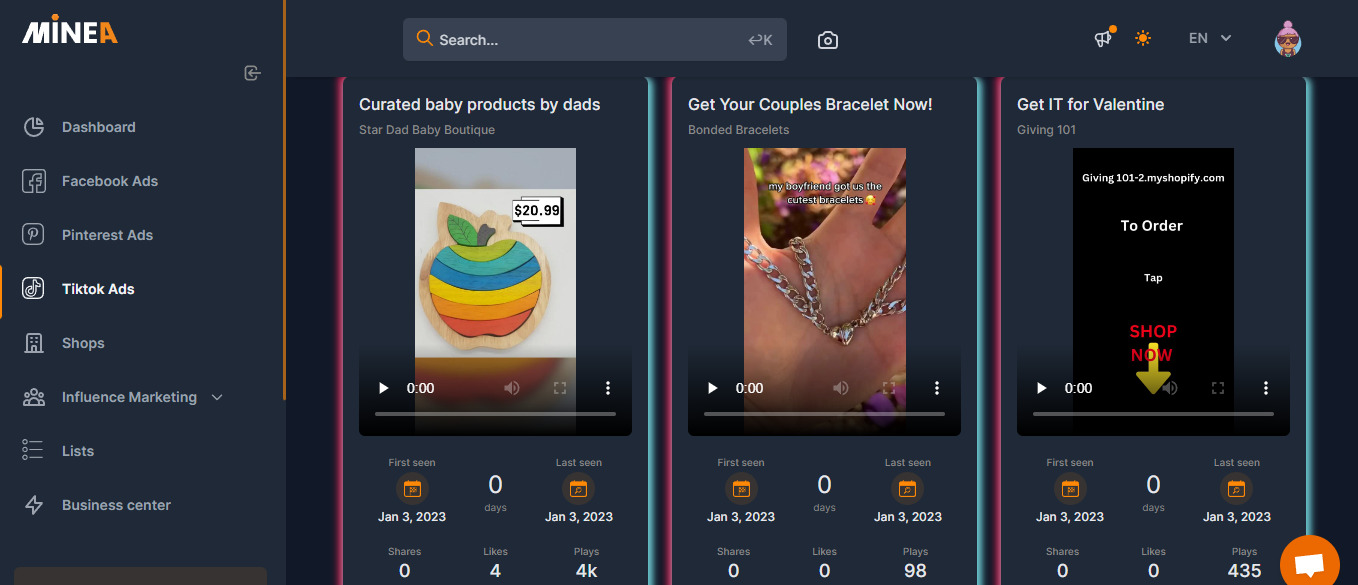 In terms of TikTok Adspy tools, Minea is the most widely used and comprehensive tool in spying on ads on TikTok. This is clearly the place to go to find your winning TikTok product.
Minea offers you a large ad library with several thousand ads that are added every day. The tool has multiple search and filter options that make searching faster and easier, something not always found on other product finder tools.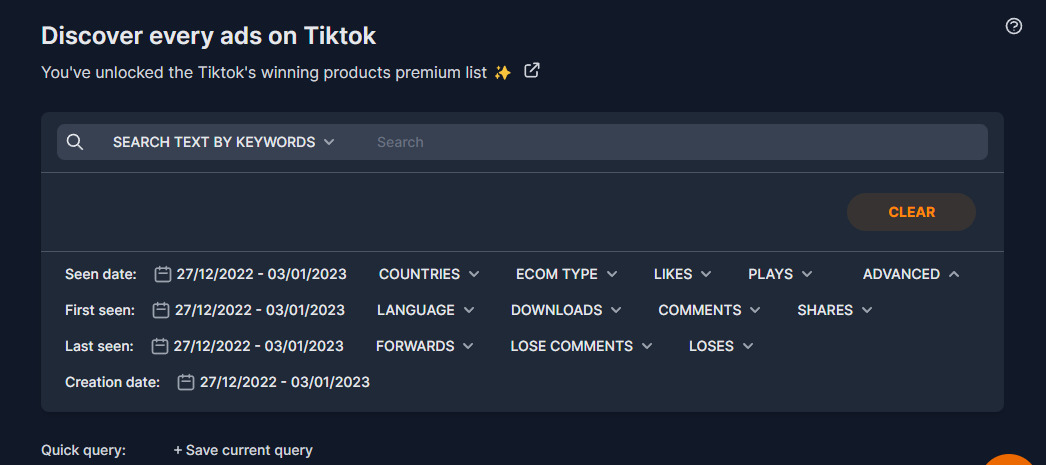 Indeed, Minea makes it possible to search for winning ads by:
Keyword ;
Domain name ;
Upload date, view date;
Country ;
Language ;
Number of Likes, shares, comments;
Type of e-commerce platform;
Number of downloads
Number of views.
When it comes to ad data, Minea is still, by far, the tool that provides the most data for ads. This is why it is easier to find a winning product using Minea.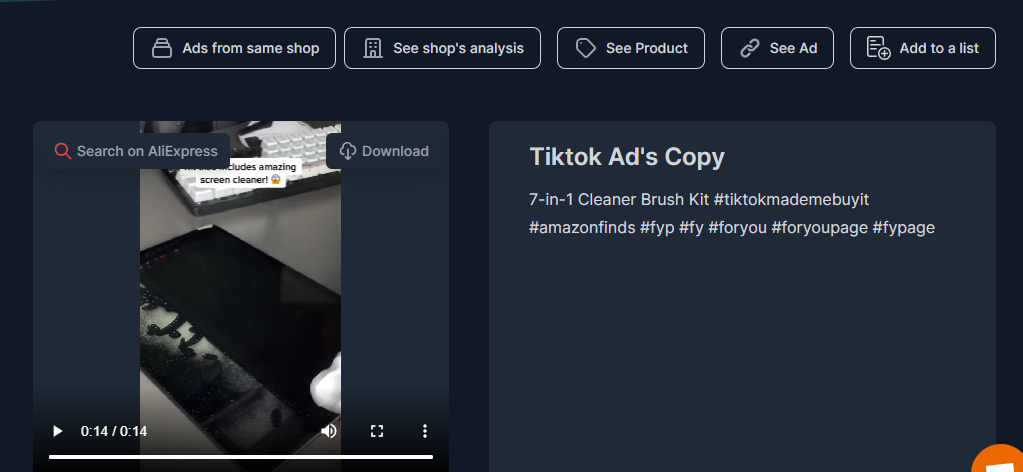 For each TikTok ad you find in Minea's library, you can have information like:
The duration of the online ad;
The social commitment of the ad (View, Likes, Shares, downloads, shares, etc.);
Other listings from the same store;
The complete analysis of the store;
Target audience;
The link to the store.
As a dropshipper or e-merchant, you know that this information is the most valuable you can get on a product. With this information, you can clearly make the right choice of the winning product.
Apart from the product finder for TikTok, Minea also offers several other features which are equally useful. For example, you can use Minea to analyze influence marketing.

You can identify the product placements made by your competitors, the different positioning strategies they use in order to more easily identify their strengths and weaknesses. All of this is possible on Minea.
Regarding the Price, Minea offers two packages. The basic package costs €49 per month and allows you to see ads spied on Facebook, Instagram, Pinterest, and even Snapchat. With this basic version, you will be entitled to 10000 monthly credits which you can use for your product research. The downside here is that you will not be able to access TikTok Ads spy.
To do this, you must take the Premium subscription which costs €99 per month and which entitles you to 100,000 monthly credits. You can access all the features of the tool, even including the influencer marketing analytics tools.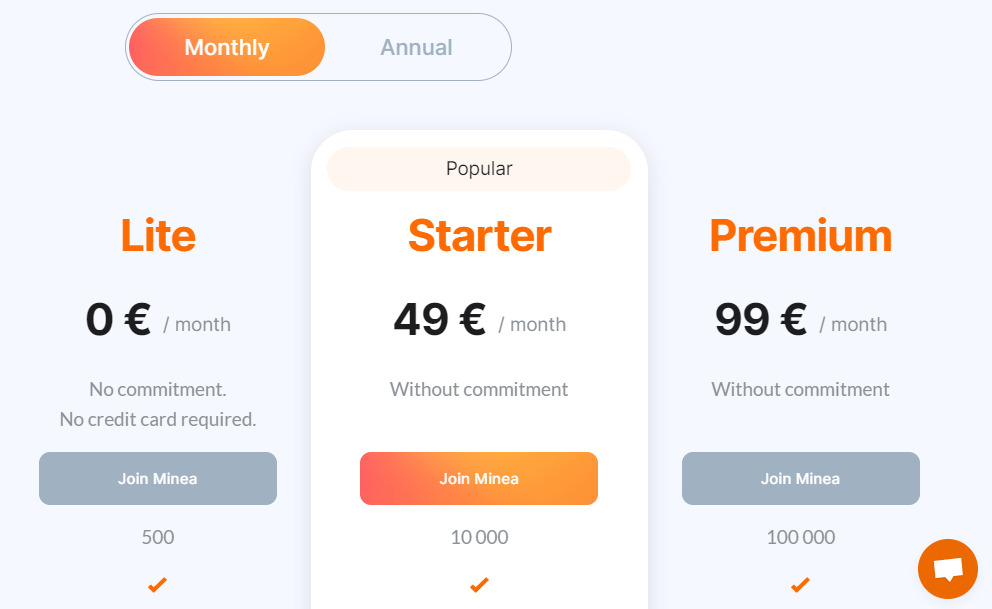 Besides, Minea also has a free plan that you can use to test the functionality of the tool.
Free plan available
Large database
Advanced search settings
Advanced filter settings
Relevant ad data
Shop analytics tool
Influencer Marketing Analytics Tool
Chromium extension
TikTok Ads Spy tool not available on Basic plan
Limited number of searches on the basic plan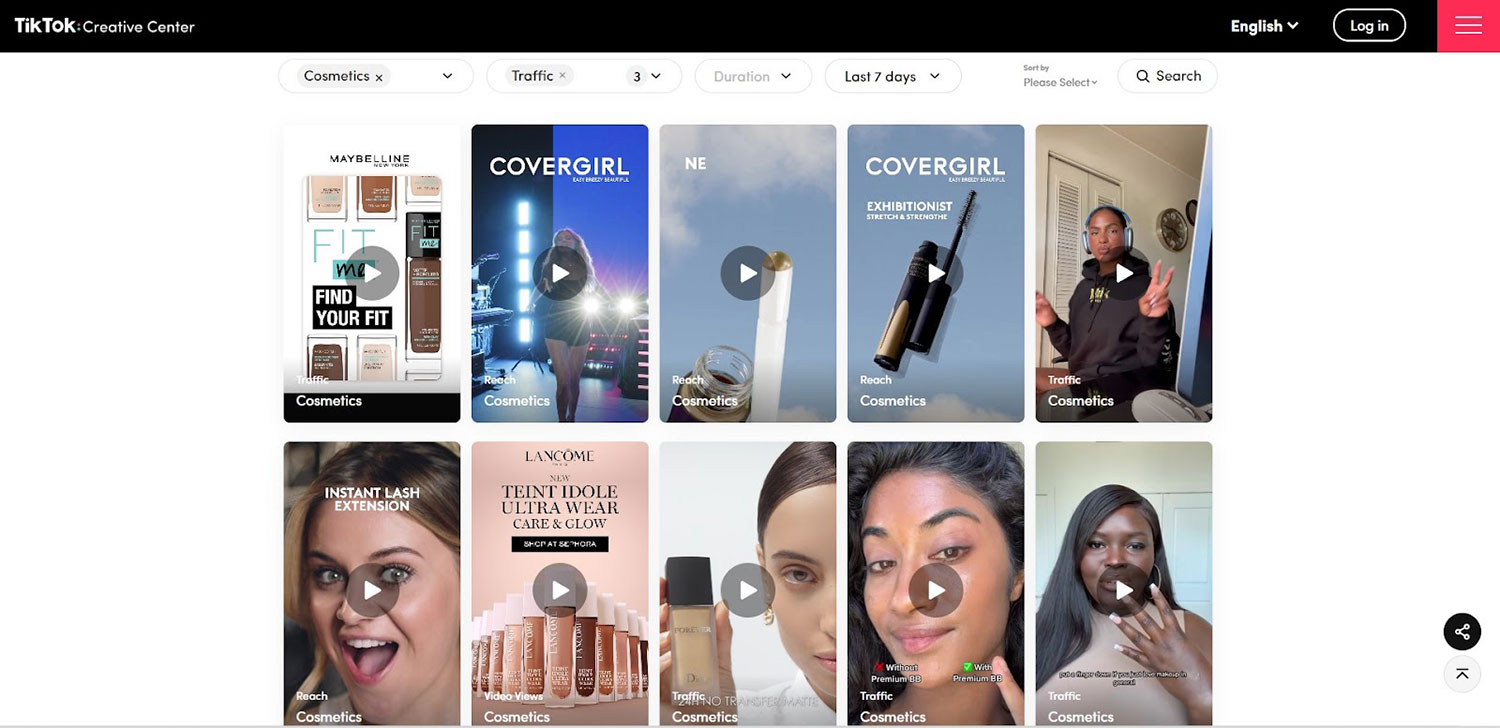 If you want to start advertising on TikTok and you are lacking inspiration, TikTok Ads Library is the best place to start. It is a tool set up by TikTok that allows you to see the best ads or the most successful ads on the platform.
This tool is still called Top Ads and allows you to search for ads by country, by niche, by duration of the ad. You can also filter ads by click-through rate, the view rate per 6 seconds, which represents the number of times the ad was viewed for at least 6 seconds.
That's not all, by clicking on each ad, you can also benefit from some information that tells you about the performance of the ad. Even though this information is very limited, it can still give you an idea of ​​the performance of the product.
For example, you can see:
The country;
The niche;
The click rate, which is calculated by dividing the number of times users clicked on the ad by the number of impressions;
The conversion rate, which represents the ratio between the number of conversions and the number of clicks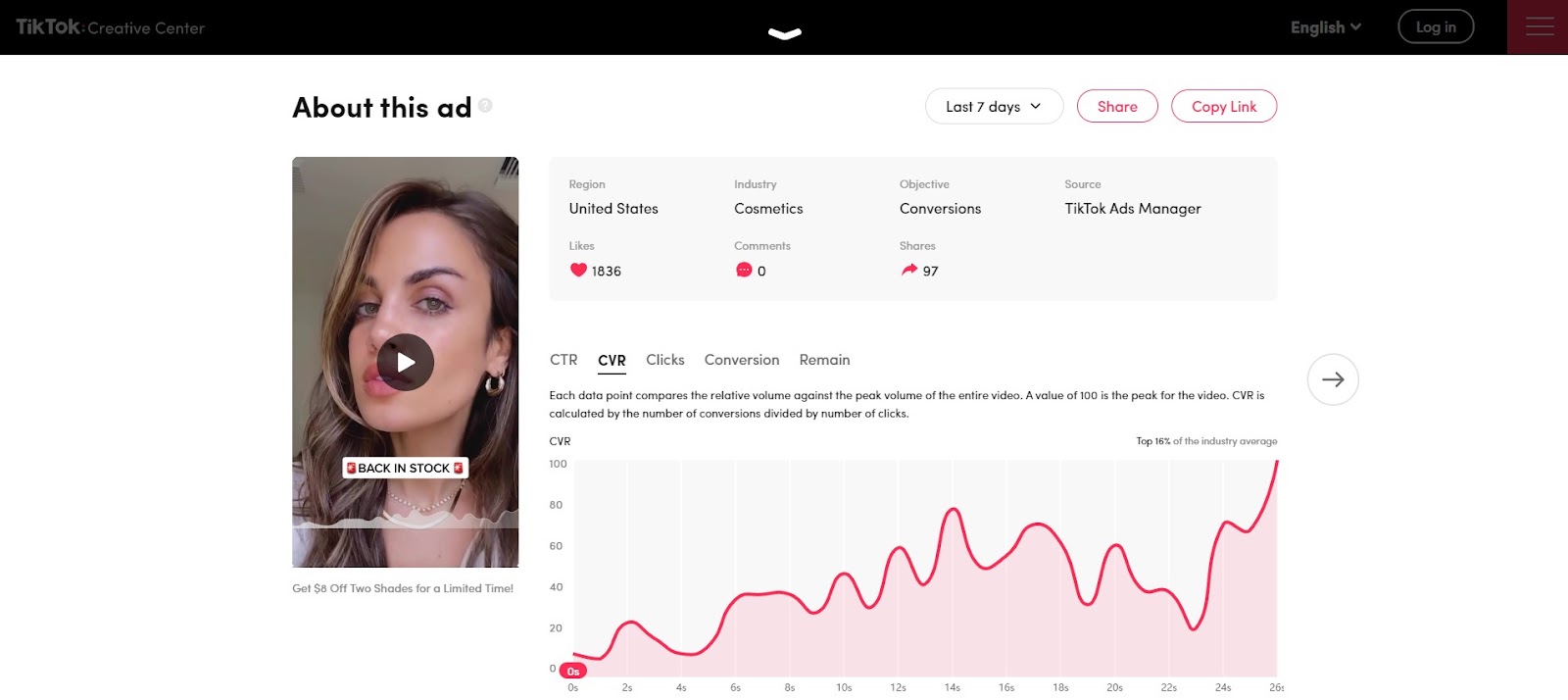 TikTok's advertising library is completely free, and you can use it without any constraints. Here is a summary table of the advantages and disadvantages of TikTok Ads Library.
The Pros and cons of TikTok Ads Library
100% free
No daily search limit
Country search option
Filter option by click rate, conversion rate
Limited ad data
Basic search and filter setting


TikTok Ads is more suitable for beginners who want to get an idea of ​​which ads perform the most on the platform.
This brings us to our third product finder on TikTok.

BigSpy is the third Ads Spy tool that we are going to cover in our list of best winning product research tools. It is one of the most well-known tools that has already proven itself with dropshippers.
It has a large database of over 200 million ads. Apart from TikTok, BigSpy also spy on several other channels namely:
Facebook
instagram
Google
Youtube
Twitter
yahoo
pinterest
Ad Mob
In terms of search filters and parameters, BigSpy allows its users to filter searches by social engagement, language, type of e-commerce platform, type of creative and many other criteria.
The same is true for the data for each ad. Indeed, for each ad, you can get important insights into its performance and engagement.
Regarding the price, BigSpy offers several prices to its users 3 tariff plans. You have the basic plan which costs $9 per month, the pro plan which costs $99 per month, and the enterprise VIP plan which costs around $300 per month.
The difference between the plans basically lies in the platforms being spied on and the search limits. What you need to remember is that to have access to the ads spied on TikTok, you must subscribe to the VIP offer for business which costs $300 per month.
Here is a summary table of the pros and cons of BigSpy.
The Pros and cons of BigSpy
Large database of over 200 million listings
Several channels spied
Over 80 countries covered
Filter and search settings available
Very high price ($300 per month)
Not enough data for TikTok ads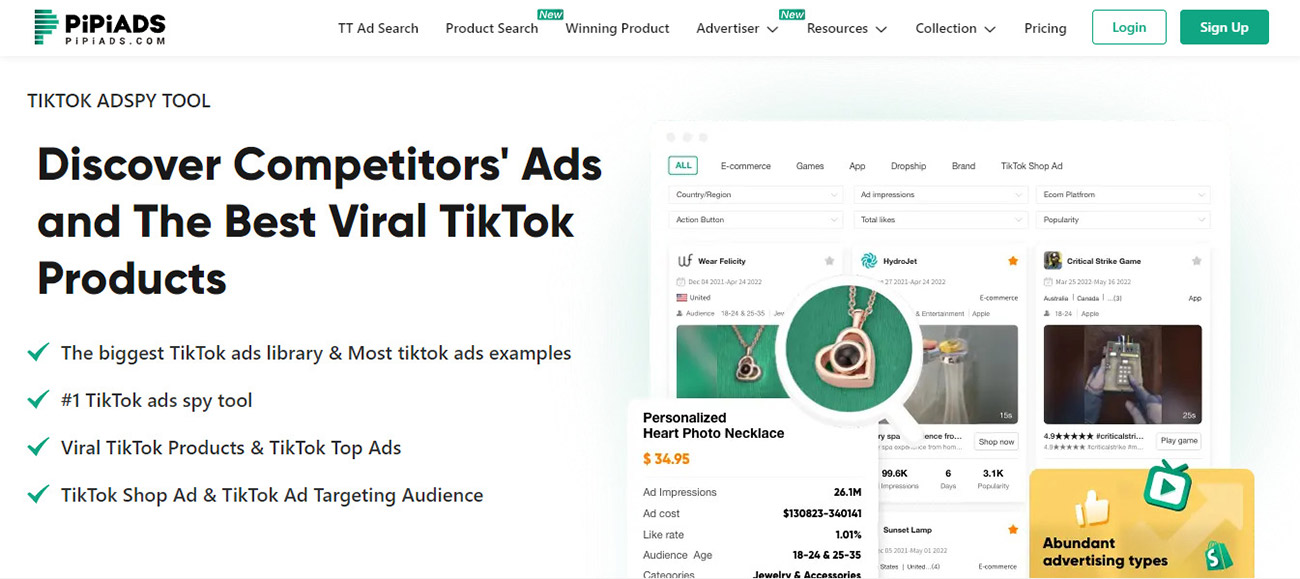 PiPiAds is a tool that is specifically intended for product research on TikTok. In reality, all the product search tools that we have seen previously are more or less generalist tools that spy on several other channels outside of TikTok.
PiPiAds is more of a dedicated tool for spying on TikTok ads. This will mean that the tool does not spy on any other channel. PiPiAds offers 3 great features which are very useful for dropshippers and e-merchants.
In the first feature of PiPiAds called TT Ad Search, you can find all the ads collected by the tool from the social network. In other words, it is the ad library of the tool. You can filter ads by:
The category ;
Keyword ;
The country ;
The type of call to action;
The date of publication and the date of the last view;
The number of impressions;
The number of reactions;
The type of e-commerce platform;
The only downside here is that there is no possibility to filter ads by product niche as Minea offers.
The second tool which can also be very interesting is the Product Search tool. The difference between this one and the first tool we just saw is that here, PiPiAds algorithms only gather new products that are published on TikTok.
You will therefore find in this tab, all the new products that advertisers are testing. The advantage here is that you will be able to quickly find product trends before they hit the market. You will therefore be a step ahead of your competitors.
Another feature that is also very interesting that you can find on PiPiAds is the category of winning products. This is a tab in which the tool brings together the best products of the moment on TikTok.
The algorithms are based on several criteria such as social engagement, number of impressions, number of views, and others to choose the products that are in this category.
These products are clearly potential winners, as they are products that are already working on TikTok. You just have to start testing them, too, on your online store.
What is also interesting is that for each product, you have information such as
The engagement rate;
The number of impressions;
Estimation of the advertising budget spent;
The date of publication of the announcement;
The date of the last view;
Estimated number of orders;
The target country;
The type of e-commerce platform used;
In terms of price, PiPiAds has a reputation of being much more expensive than its competitors. Basically, the tool offers 3 pricing plans:
The VIP plan which costs $155 per month allows you to see up to 1000 ads per search. Of the 1000 ads, you only have the right to see the analysis of only 200 per day. Apart from that, you will have to wait until the next day before you can see the results of the analysis of the ads again.
The Pro plan which costs $263 per month allows you to see up to 3000 ads per search. Unlike the VIP package, here you can scan up to 1000 products per day.
The business package is a package intended for companies with several people. All offers are tailored to your needs.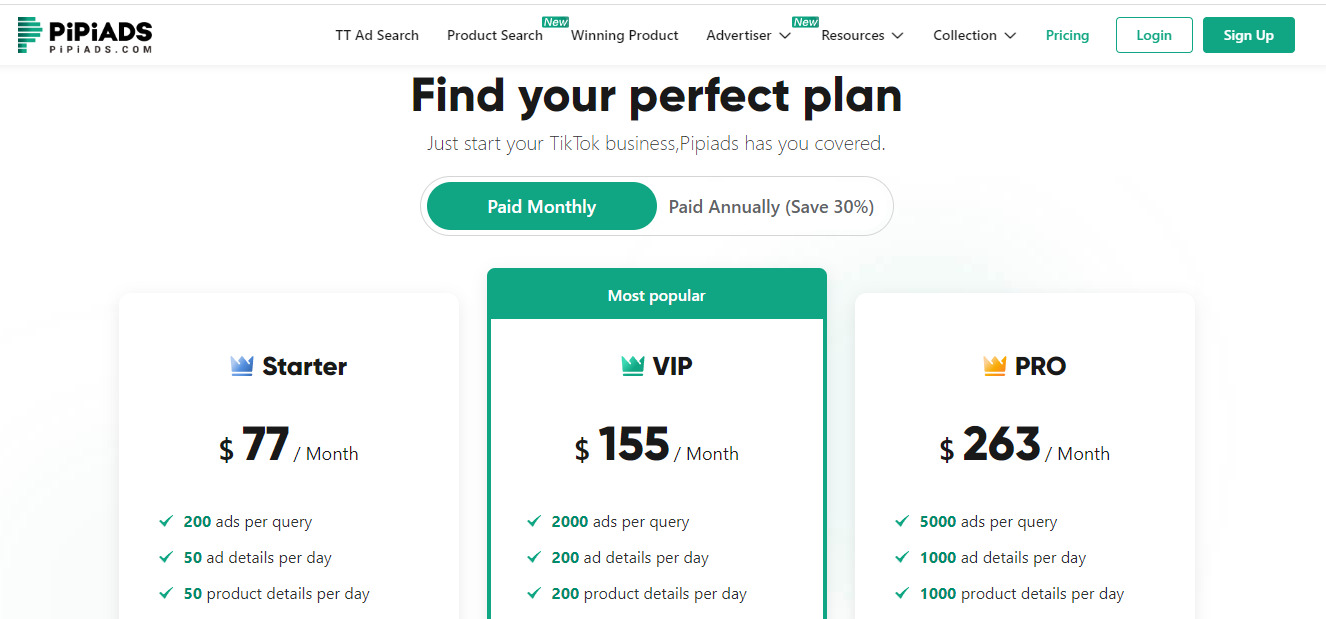 Relevant analytics data
Direct integration with Shopify
Tools for collecting successful products
Spying on Shopify stores
Free trial available
Limited search filters
No spying on other social networks
Influencer marketing analytics tools not available
The last tool on our list of winning product research tools is Adserea which is also one of the best TikTok Adspy tools in the market.
Adserea has several features, but we will mainly rely on the product search feature on TikTok. Like all previous tools, Adserea spy on ads on TikTok and stores them in its ad library.
The tool also has some search parameters and filters that you can use to optimize your searches. Thus, you can optimize your searches by:
Keyword ;
Social proof (number of likes, shares and comments, etc.);
Niche;
Target audience;
Date of posting and view;
Country.
It can be clearly seen that compared to other product search tools, Adserea is very limited in terms of search filters and parameters.
Very advanced analytics data
Direct integration with Shopify
Creatives and advertising text templates for each product
Integrated Supplier Search
Free trial available
Inaccurate search filters
Low ad volume
Influencer marketing analytics tools not available


Best TikTok Ad spy Tool : What to remember?
In this article, we have discussed the best product search tools on TikTok. Each of these tools has its own features as well as its downsides.
You just have to choose what is suitable for your business and especially your stock market based on the criteria we have seen in this article
Frequently asked questions
What is the best TikTok Ads Spy tool ?
Minea
TikTok Ads library
BigSpy
PiPiAds
Adserea
How to Optimize TikTok Ads ?
Update campaign objectives.
Work on the audience and the target audience.
To be creative
Collaborate with influencers.
A/B test to see what works best
Measure and improve performance
How much to spend on ads on TikTok per day?
It all depends on the type of campaign and the type of ad you want to run. But prices can range from $1 to $50 per day, depending on the type of campaign and your audience size.