The year 2022 saw double-digit growth in the e-commerce sector in France, with sales of 146.7 billion euros, according to the report published by Fevad. E-commerce platforms continue to play a key role in the growth of this sector, allowing companies to sell their products online in a simple and efficient way. The opportunities offered by dropshipping via platforms such as BigBuy are therefore worth considering for entrepreneurs looking to get into e-commerce.
In this article, we will conduct a comprehensive review of the BigBuy platform and explore how to dropship with this platform. BigBuy is recognized as one of the leaders in Europe in the dropshipping industry, offering a wide range of original products to sell wholesale. We'll look at the main features of this platform, as well as the potential advantages and disadvantages for entrepreneurs looking for Bigbuy dropshipping for their online business.
What is a dropshipping platform?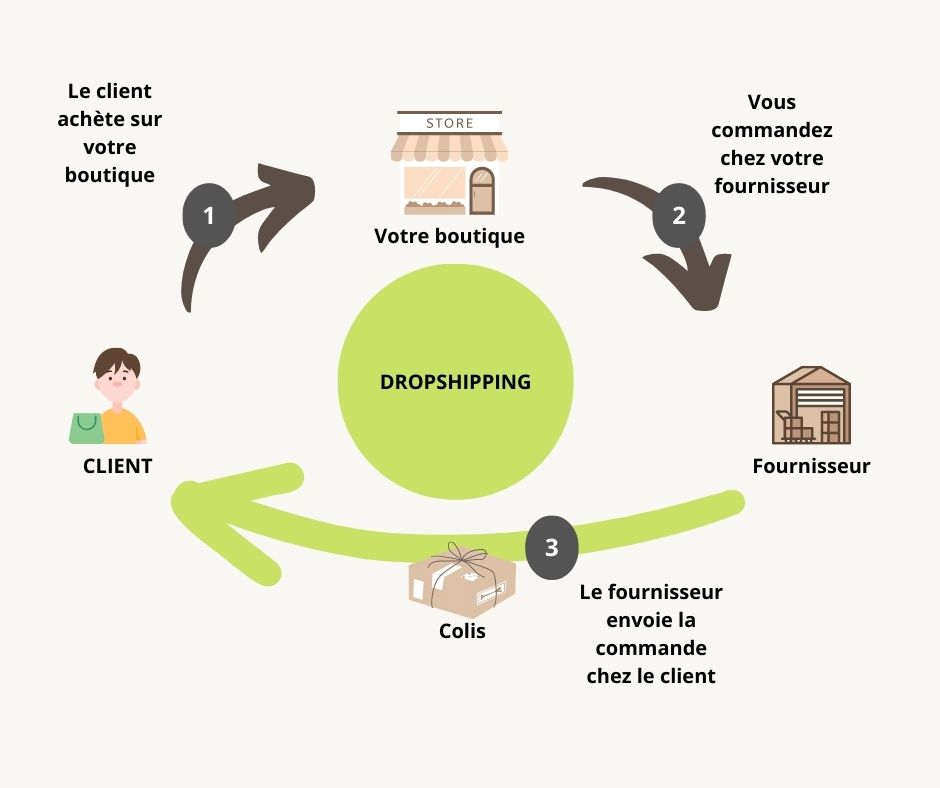 A dropshipping platform is an online solution that allows businesses to sell products without having to store them in a store. Dropshipping platforms offer a number of benefits for people looking to sell products online. Some of the most important benefits include:
Expanded product range: companies can offer a wider range of products without having to stock inventory in stores.
Cost savings: companies do not have to invest in purchasing inventory, which significantly reduces the costs associated with inventory management.
Flexibility: companies can add or remove products from their website without having to worry about the impact on their physical inventory.
Eliminating warehouse management: dropshipping platforms manage the logistics of shipping products for businesses, allowing them to focus on selling and promoting their website.
Scalability: companies can add new products and expand their line without having to invest in new storage space.
Basically, dropshipping platforms offer a flexible and cost-effective solution for businesses looking to sell products online. They allow them to focus on their core business of selling and promoting products, while eliminating the costs and burdens associated with inventory management.
As a reminder, the dropshipping process is as follows:
The online company lists the products of the dropshipping platform on its website.
The customer places an order on the company's website.
The company places the corresponding order with the supplier.
The supplier ships the product directly to the customer on behalf of the company.
The company receives payment for the sale from the customer, deducting the shipping costs and the cost of the product from the dropshipping platform.
Dropshipping allows e-merchants to save time and money by not having to stock products in stores. Moreover, it allows them to offer a wider range of products without taking the risk of investing in excessive inventory.
Dropshipping platforms such as BigBuy also provide a turnkey solution for beginners, handling the logistics of shipping products for them.
BigBuy is a wholesale supplier leader in Europe for the distribution of dropshipping goods. It is the result of a group of Spanish companies that has quickly gained a solid reputation by working directly with many manufacturers and multinationals to offer the best prices to its customers.
BigBuy Dropshipping stands out for its entrepreneurial vision, staff and advanced logistics facilities, such as its 20,000 square meter fully computerized warehouse. The site offers more than100,000 products in categories such as fashion, home decor, electronics, and toys. BigBuy also offers additional services such as product customization, delivery tracking and order management.
Bigbuy reviews: key features
The BigBuy dropshipping provider offers an extensive catalog of products in many categories such as:
House and garden
Computers and electronics
Health and beauty
Perfumes and cosmetics
Fashion and accessories
Sports and leisure, etc.
Plus, with new items added daily, BigBuy makes it easy to expand your product line.
The BigBuy dropshipping also gives you access to bulk purchase prices, including for individual units, which can be very beneficial for dropshipping. This can also lead to good profit margins for dropshipping.
Bigbuy Dropshipping : Delivery times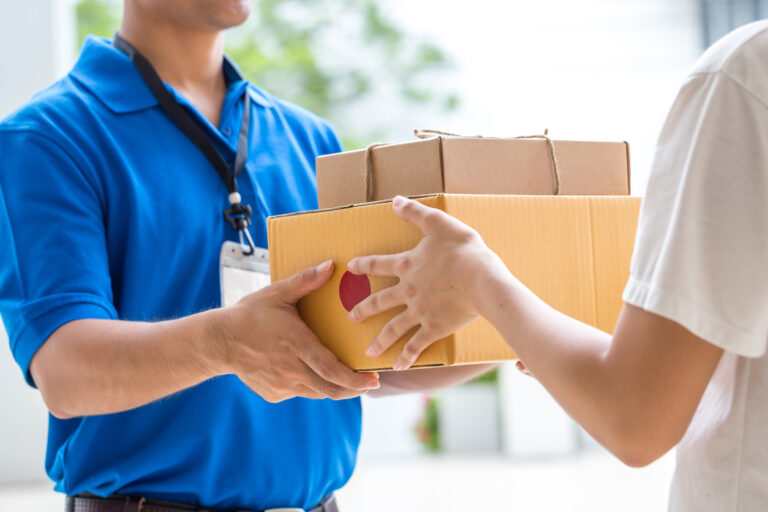 The company offers worldwide delivery, but mainly delivers in Europe.
BigBuy works with rush carriers that can contribute to fast delivery times. Most orders are processed and shipped within 24 to 48 hours.
In addition, with this provider's shipment tracking software, your customers can get real-time tracking and check the delivery status of their orders.
Bigbuy Dropshipping : Returns
BigBuy accepts returns of incorrect products. And it will be BigBuy's responsibility to cover the shipping costs, provided you notify the supplier of the problem within 48 hours of delivery.
It is also important to mention here that in some cases, if your customer requests a return (a low-cost product) because the product arrived in poor condition, BigBuy is more likely to refund the money to your customer rather than send a new product.
Multi-channel integration platform and marketplace integrations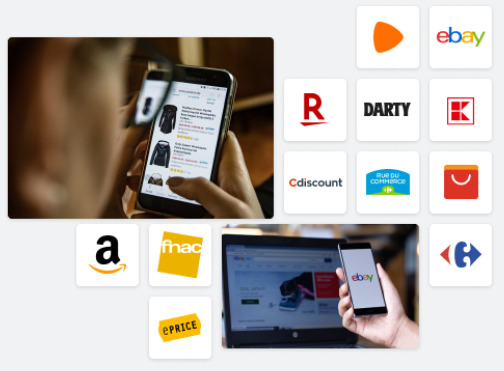 BigBuy is always striving to integrate new sales channels into its multi-channel integration platform. And as you can guess, with BigBuy dropshipping, you can sell on different online marketplaces such as Amazon, AliExpress, eBay, Rakuten, and many others.
Additionally, you can sell through your own dropshipping store hosted on Shopify, WooCommerce, PrestaShop and Magento.
With its multi-channel integration platform, you can manage all these sales channels from a single platform. This makes things much simpler.
Fast shipping of packages
BigBuy offers fast shipping to almost every country in the world. And its product catalog is translated into 24 European languages including English, Spanish, Italian, German, French, Russian, etc.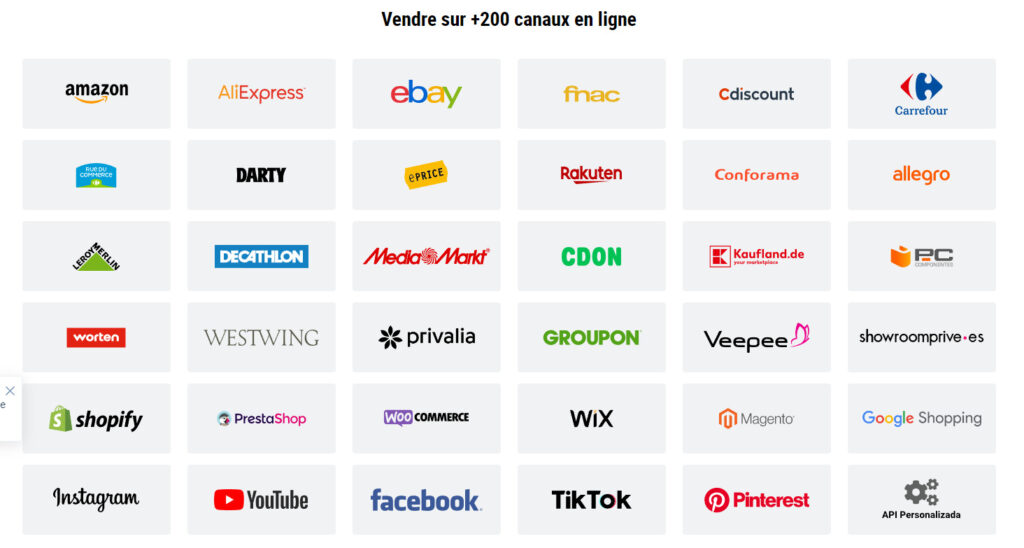 BigBuy helps you centralize the management of your dropshipping activities and sell through different sales channels from a single platform.
In other words, you can manage all your orders from a single platform, whether you sell on an online marketplace or through your own dropshipping store with BigBuy.
Customizable payment and shipping options
You have the flexibility to choose the payment and shipping options that best suit your customers' needs. This can make the checkout process smoother and increase customer satisfaction.
Some payment methods supported by BigBuy include credit cards, PayPal, and bank transfers, among others. You can choose to offer one or more payment methods, depending on your preference.
When it comes to shipping, BigBuy offers several shipping options that you can select from. You can set different shipping methods for different countries, offer flat rate pricing for shipping, or even offer free shipping for orders over a certain amount.
Customer service and technical support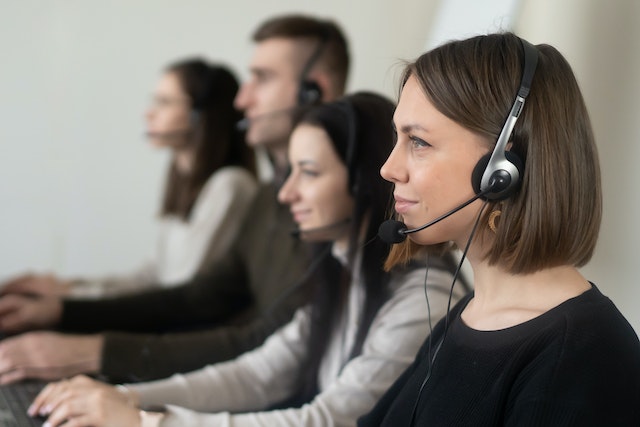 If you have any problems, you can contact the BigBuy support team via email, phone and live chat. The support team is available 24 hours a day, 7 days a week.
BigBuy 360° dropshipping store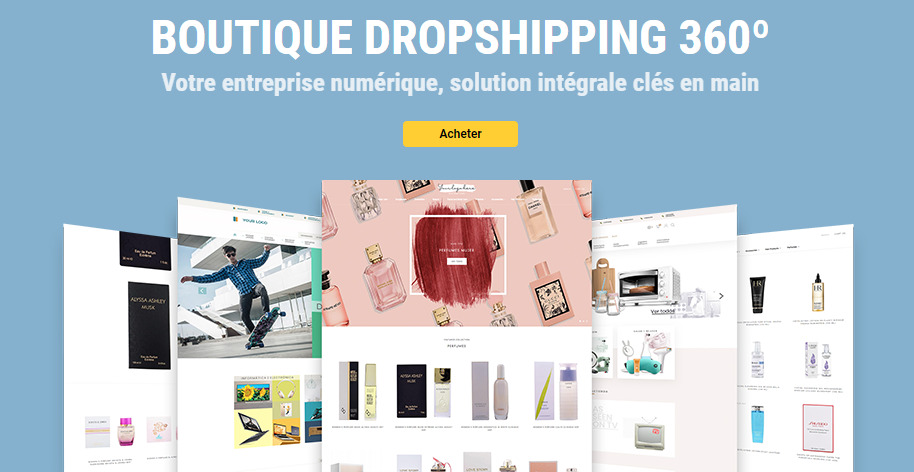 This is a package that includes a turnkey BigBuy dropshipping store created on Prestashop or Shopify.  It includes all the previously mentioned features. You can also choose the theme of the store by opting for a product catalog that is in a certain niche (Perfume, Appliances, Sexshop, etc.).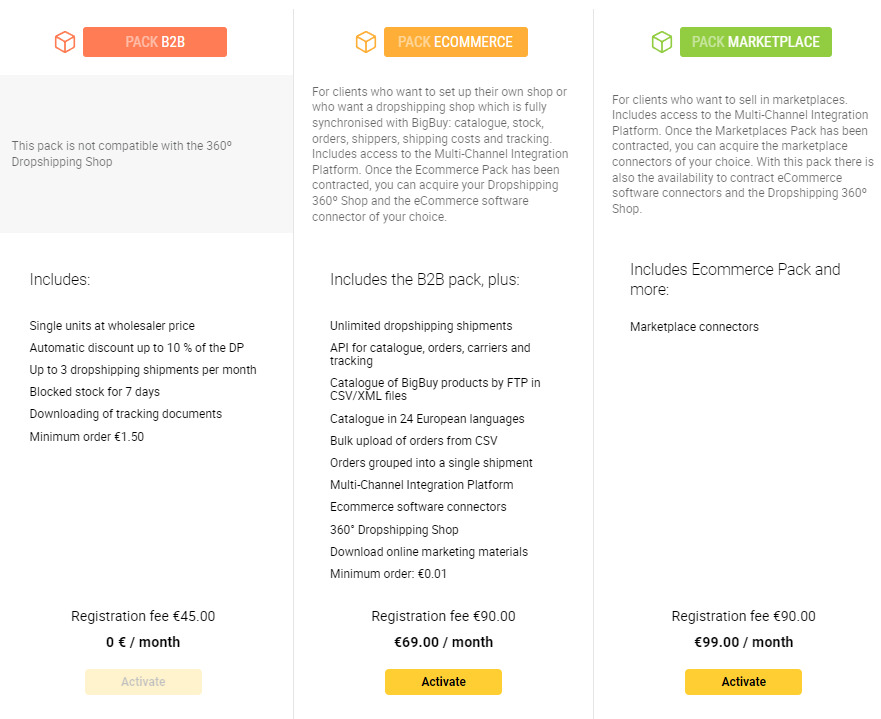 3 price offers are available for people who want to use BigBuy dropshipping:
This pack includes:
Wholesale PVD units
Automatic reduction of up to 10% of the PD
Up to 3 dropshipping shipments per month
7-day stock freeze
Downloading of the follow-ups
Minimum order €1,50.
The e-commerce pack at €69/month
This is an offer for those who want to create their own dropshipping store synchronized with BigBuy, including catalog, inventory, orders, etc. It also includes access to Multi-Channel Integration Platform. After subscribing to the E-commerce package, you can buy your Dropshipping 360º store and connect it to the e-commerce platform of your choice. This package includes :
The B2B package
Unlimited dropshipping
API for catalog, orders, carriers, and tracking
BigBuy product catalog by FTP via CSV/XML files
Catalog in 24 European languages
Massive support of orders via CSV
Grouped orders in one shipment
Multi-Channel Integration Platform
Connectors to e-commerce software
Dropshipping 360º store
Provision of online marketing materials for download;
Minimum order €0,01.
The Marketplace pack for €99/month
This is a package for those who want to sell on marketplaces. It includes access to a multi-channel integration platform and allows you to purchase connectors to the marketplaces of your choice. The Marketplaces package also includes the purchase of connectors for e-commerce software and the Dropshipping 360° store.
In short, this offer includes:
the e-commerce pack
connectors to different marketplaces
Bigbuy Dropshipping: advantages and disadvantages
Large product catalog

Customizable payment and shipping options

Fast shipping and delivery

24/7 customer support
Quickly expensive rates

Regional limitations

Limited store customization
Integration of Bigbuy into an online store
Linking a store to BigBuy is simple and can be done in a few steps. All you have to do is register on BigBuy's website and synchronize your online store with BigBuy's platform using a plugin or a dedicated app. This allows you to take advantage of all the products offered by BigBuy and easily integrate them into your online store.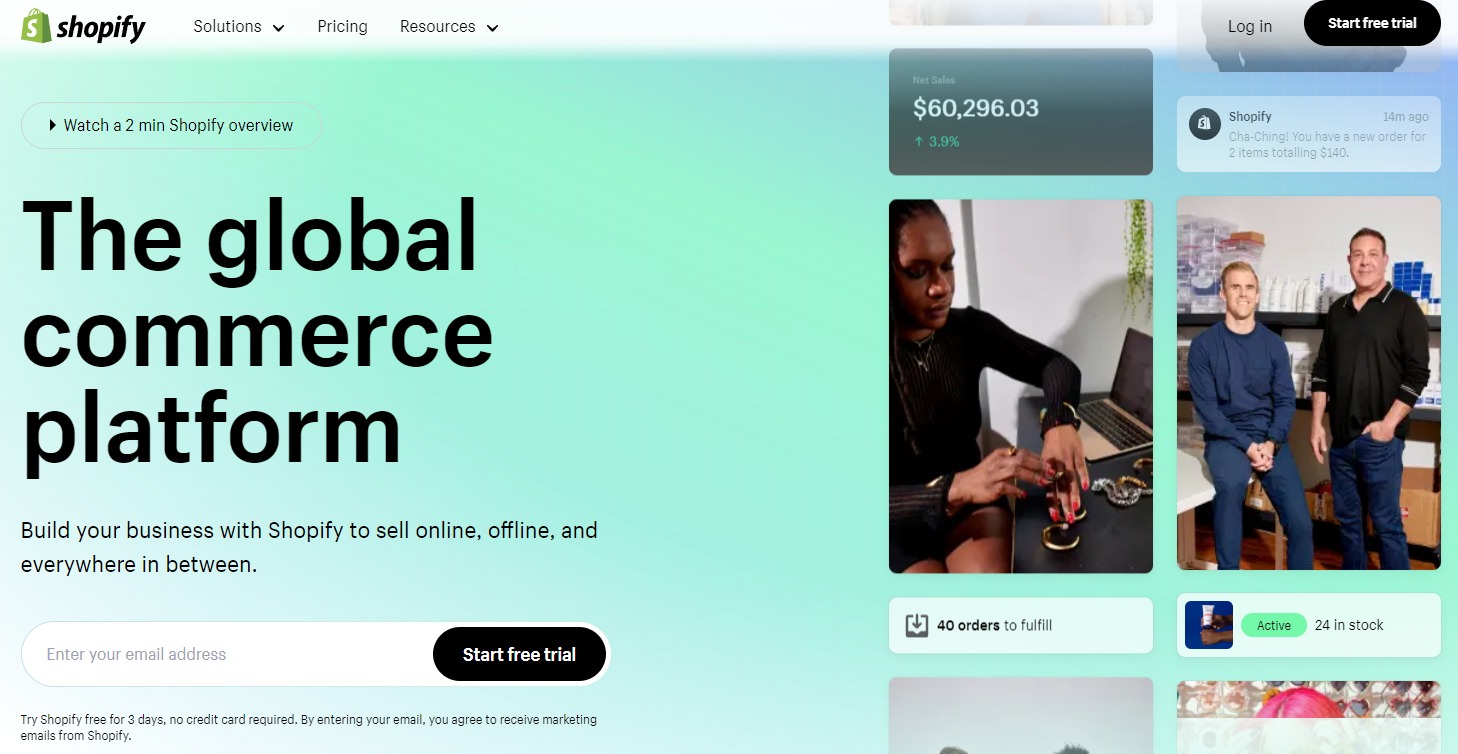 Taking the example of Shopify, the preferred platform for dropshippers, the BigBuy integration process is quick and easy. As previously explained, all you need to do is sign up as a partner on the BigBuy site and configure the delivery settings.
BigBuy products can then be added to your Shopify store with a few clicks. Inventory and price synchronization is automatic, making it much easier to manage your online store.
By the way, thanks to our partnership with Shopify, enjoy the platform for 90 days for only $1 and launch your dropshipping store as soon as possible.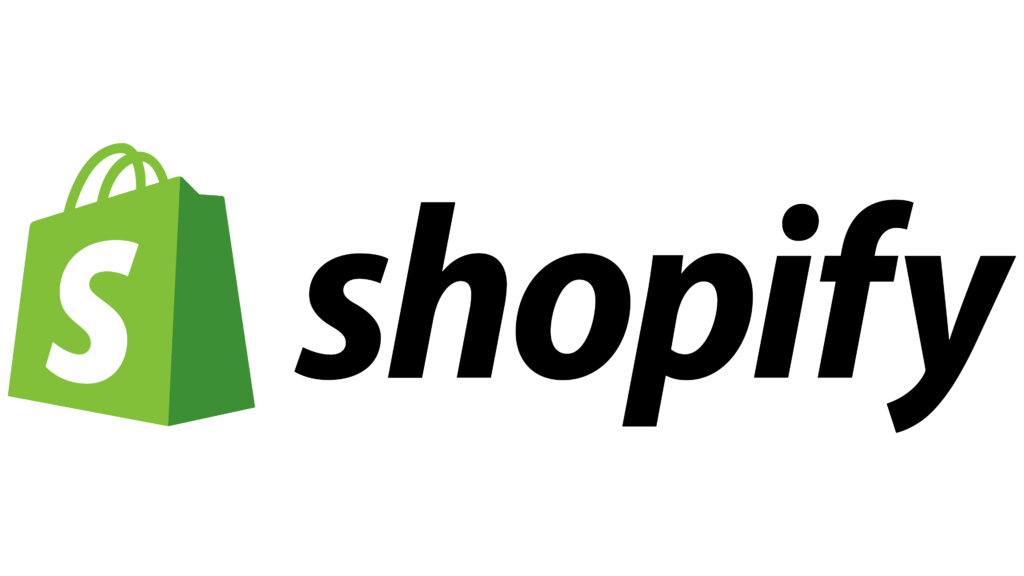 Create your Shopify store for only $1 during 90 days
Handling and customer support
Using a provider BigBuy is quite intuitive and friendly. It offers a clear interface and easy-to-use features. For example, the reseller can choose the products they want to offer to their customers, customize prices, manage orders, shipments and returns, etc.

Although BigBuy is not difficult to learn, the sheer number of features can quickly overwhelm you. However, if you have any concerns about the platform, the customer support is very good.
BigBuy Dropshipping review: conclusion
BigBuy is a provider that offers a wide selection of products and easy integration with online stores. In addition, BigBuy's customer service is known to be efficient and responsive, offering valuable assistance to users to quickly resolve any problems or questions. However, it is important to note that the platform's fees can be high and there may be delays in product delivery. It is also important to research products and suppliers before adding them to your online store to avoid quality issues.
In short, it's a more than decent platform for businesses or people who want to get into dropshipping with BigBuy.
Note that in order to choose the right dropshipping platform, it is important to consider your needs in terms of product selection, cost, and ease of use. It is also helpful to read reviews and comments from other users to get a complete picture of the platform. It is recommended to do a free trial or ask for a demo to ensure the platform meets your needs before making a long-term commitment.
How to integrate BigBuy with Shopify?
To integrate BigBuy with Shopify, you can use a third-party app like BigBuy Connect that allows you to sync products, inventory, and orders between the two platforms.
Register on BigBuy, then install the app from Shopify's app store. You will just need to connect the two platforms afterwards with the help of this app.
Why do most dropshippers fail?
Most dropshippers fail due to poor planning, poor money management (expenses exceed earnings) and lack of marketing skills. In short, lack of testing and analysis puts dropshippers in bad positions.
Is dropshipping still profitable in 2023?
Yes, dropshipping is still profitable in 2023, but the competition is getting tougher and tougher, so it's important to plan well and stand out from the competition by offering unique products and working on marketing strategies.
Who is the biggest dropshipper?
There is no single greatest dropshipper, as it depends on the market, region, product, etc.
Nevertheless, among those who have made a name for themselves through dropshipping, we can mention Yomi Denzel.