How to start a Dropshipping Business with DSers?
If you are looking for ways to start an online business, there are many options, such as affiliate marketing, selling your old stuff, or dropshipping, which we will explore in this post.
Dropshipping is an easy-to-start business model for beginners. Why? First of all, you don't need a product stock to start. Secondly, there are simple but powerful dropshipping tools, such as DSers making the process much more straightforward and easier for you.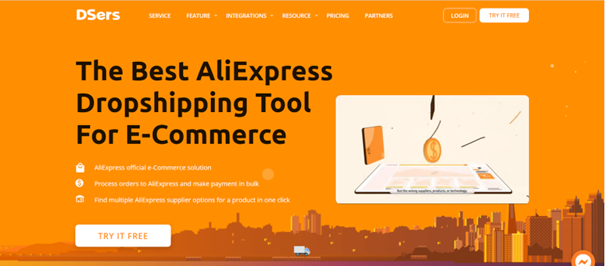 However, many people may be confused about how to start a dropshipping business. No hurry, let's start learning what dropshipping is.
Before exploring ways to start a dropshipping business, you must try your best to ensure this is the right type of business model for you. In order to make the answer clear to you, you'd better understand exactly what dropshipping is and how it works.

In a nutshell, dropshipping is a way of fulfillment enabling you to sell products on your website. However, there is no need for you to be directly responsible for warehousing or shipping. Instead, you purchase products wholesale from manufacturers or dropshipping suppliers, who will complete the order fulfillment for you, when you receive orders from your customer.

With the dropshipping business model, you receive orders from customers, then place these orders to your suppliers, your suppliers are responsible for the shipping and packing. That is how dropshipping works.
DSers is a dropshipping tool making it easy for you to import dropshipping products from AliExpress, add them to your online store and sell them to your customers.
DSers is a free dropshipping solution for AliExpress dropshipping, which helps dropshippers find, import and edit products. Also, dropshippers can earn cash back with the DSers Admitad affiliate. You can manage multiple stores on different platforms through one DSers account and create special bundles and BOGO offers. What's more, with DSers, it's possible for you to place multiple orders on AliExpress in one click, track shipping information automatically, which saves a lot of time for you.
How to Start a Dropshipping Business with DSers ?
There are only five steps you need to take when starting your dropshipping business with DSers.
1. Get a product to sell
Getting the product to sell means you need to define your niche for your online business. Selecting the best dropshipping products can ensure your profits and also have a good beginning of your dropshipping journey.
There are plenty of marketplaces where you can find the goods for dropshipping. Here I recommend the most popular ones among them – AliExpress, Amazon and eBay. To ensure not to make mistakes when selecting products, pay attention to the following significant product factors:
Compelling product description
Attractive product photos
Better customer reviews
Higher product rating
The number of orders
The five factors can help you find the most preferable goods for your dropshipping store.
2. Start your online store
Now you have a product to sell, the next thing is to start your own online store. If you don't have professional techniques, there is no need to create a new website for your e-commerce store. It's costly and time-consuming. You can easily have one store on e-commerce platforms like Shopify, Wix, Etsy, and WooCommerce. The platforms have their traffic and recognition, which will make the store more recognizable and trustworthy. To learn more about steps to start an online store, go here.
3. Connect your store with DSers
After setting up your online dropshipping store, the last step is to add a special dropshipping plugin, such as DSers on your website, which will automatically add chosen products, track orders and keep you up to date easily. The dropshipping plugin is a great tool to run a dropshipping business with ease.
Let's see how to do it step by step:
Sign up
You come to DSers homepage, and click sign up.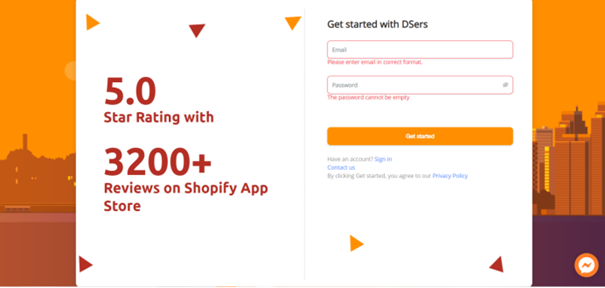 Once you sign up, you will receive a confirmation email. After confirming, you now have your DSers account. Then you come to the dropdown, select the platform you have an online store on. For example, if you start your store on Shopify, then choose Shopify. Next, click add store. Then agree on connecting your website to DSers dropshipping tool.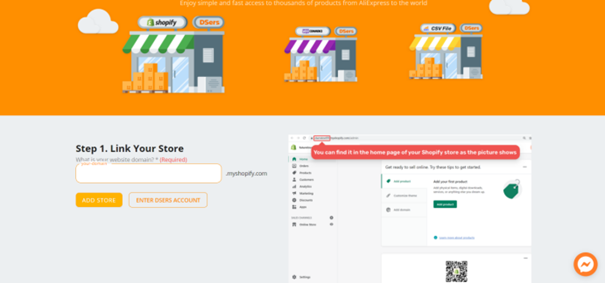 Set-up
Now you sign up for the DSers dropshipping tool, you can set it up. Go to DSers dashboard, there you can see account settings, shipping, pricing rules, tracking settings, and so on.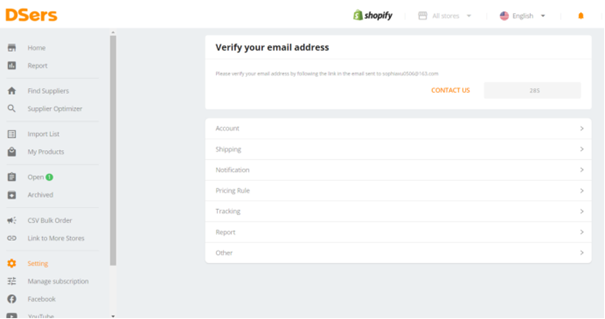 Tip: You'd better set all these things well to make sure everything will go smoothly in the future.
4. Find a supplier
The next step is to find suppliers for your products. It will take you a lot of time since you have to find better and cheaper suppliers for your products to ensure your profits. That's why I mention DSers Supplier Optimizer here. This feature on DSers can help you to find better suppliers from AliExpress in a few seconds.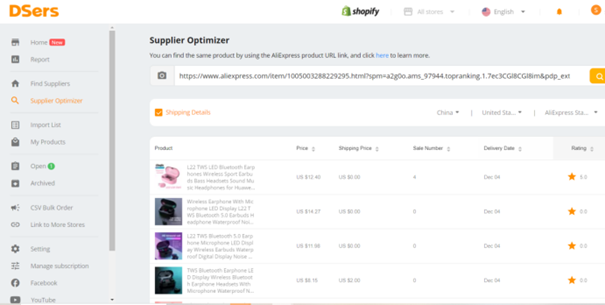 You'd better choose a supplier who is trustworthy. Why? You are not the only one selling this kind of product, a reliable supplier may meet your requirements well.
5. Promote your store
Now you get a store, find a product to sell and obtain a dropshipping solution to help, the last thing is to promote to get sales. The best promotion strategies are:
Blog – Easy to start and cheap
Writing product reviews – large audience base
E-mail marketing – Easy and consistent
Social media – Reach more people and easy to start
You can write something in your blog to tell the readers about your new store. You also can write reviews about the products: pros and cons, latest releases, benefits, price promotions, etc. Social media also can be a great place to publish your post since there are millions of people using social media to share their work and life. After finishing the five steps, now you can start your dropshipping business.
After learning how to start a dropshipping business with DSers, let's summary what it can do for you step by step:

The whole process of dropshipping with DSers are:
Receive orders from your customers
The orders will be synced to DSers automatically
Place these orders together from DSers to AliExpress in a few seconds
Pay for the orders you placed on AliExpress
You have finished
In the process, you actually just need to do something on steps 3 and 4, DSers will finish the rest for you. It's a time-saving tool. Why not start dropshipping with DSers and earn a lot from now?