In the ultra-competitive world of e-commerce and dropshipping, knowledge is power. The more you know about what your competitors are doing, the more informed decisions you can make for your own business. That's where social network spying comes in. 
By learning how to spy on social networks, you can uncover your competitors' strategies, understand what works and what doesn't, and use this information to improve your own marketing efforts.
What is Social Media Spy?
Social network espionage is the art of analyzing and monitoring your competitors' activities on social networks. This can include analyzing their ads, tracking their engagement with their audience, studying their content strategies and much more.
Why is Social Media Spy Essential?
Social Media Spy is an essential tactic for any company wishing to understand and outperform its competitors. Here are just some of the reasons why you should consider social network spying:
Understand your competitors' strategies:

Knowing what your competitors are doing right (or wrong) can help you optimize your own strategies.

Discover new lines of attack:

By monitoring your competitors, you can discover new ideas and creative approaches you might not have considered.

Keep up to date:

Social networks are constantly evolving. Social network spying can help you stay on top of the latest trends and algorithm changes.
How can I spy on social media?
There are many social network spy tools available, ranging from robust paid solutions to free social network spy tools. These tools can help you track your competitors' activities on different platforms, understand their marketing strategies and uncover new opportunities for your own business.
There are many social network spy tools you can use. Some are free, others require a subscription. One of these social network spy tools goes hand in hand with the social network leader itself.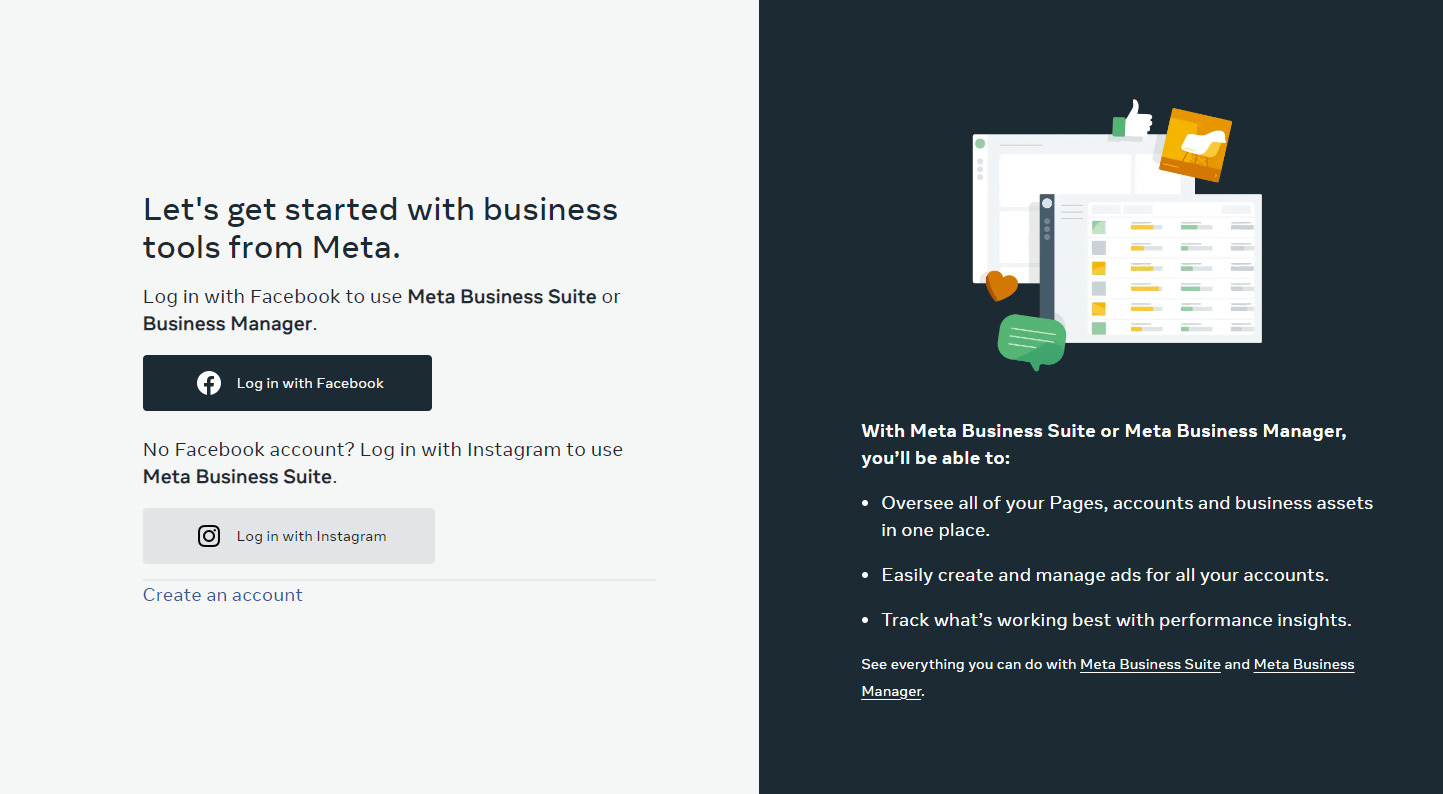 Facebook Business Manager: Facebook's spying tool
Much more than just a social network, Facebook offers companies cutting-edge espionage tools through its Business Manager. This integrated advertising platform lets you run your own campaigns while keeping an eye on the competition.
With Business Manager, you can see competing ads, their content, duration, target audience and even performance. It gives you valuable insight into the advertising strategies adopted by your competitors, helping you to optimize your own marketing efforts.
Facebook Business Manager is therefore a powerful and indispensable tool for any company wishing to effectively spy on social networks and gain a competitive edge in the marketplace.
6 More Social Media Spy Tools to Consider
Here are five social network spying tools you should consider to enhance your digital marketing strategy.
Dropispy: The best tool for spying on social networks

In the world of social media spying tools, Dropispy stands out as a particularly robust option. It's social network spying software specifically dedicated to Facebook.
Dropispy offers a wide range of features, from ad spying to online store analysis. Dropispy's two main features are :
Product search tool:
This "Ads Spy Tool" is an advertising library that collects and stores ads from social networks. Users of the tool can then mine this data to find winning products or creative ideas. Several filters and search parameters are available to facilitate this process.
The store analysis tool:
This feature enables users to spy on their competitors and obtain qualitative metrics on them. Users can filter by domain name, store type, and overall store rank.
Dropispy offers a free spy tool for social networks, thanks to its free plan that lets you test all its features.
If you want to go further, a Premium plan is also available for $29 per month, giving access to the tool's full functionality.
Start your
Winning Products Search

Now on Dropispy 🚀
Do you want to find the best winning products on social networks like Facebook? Try Dropispy, the most effective solution with the largest database of Facebook e-commerce ads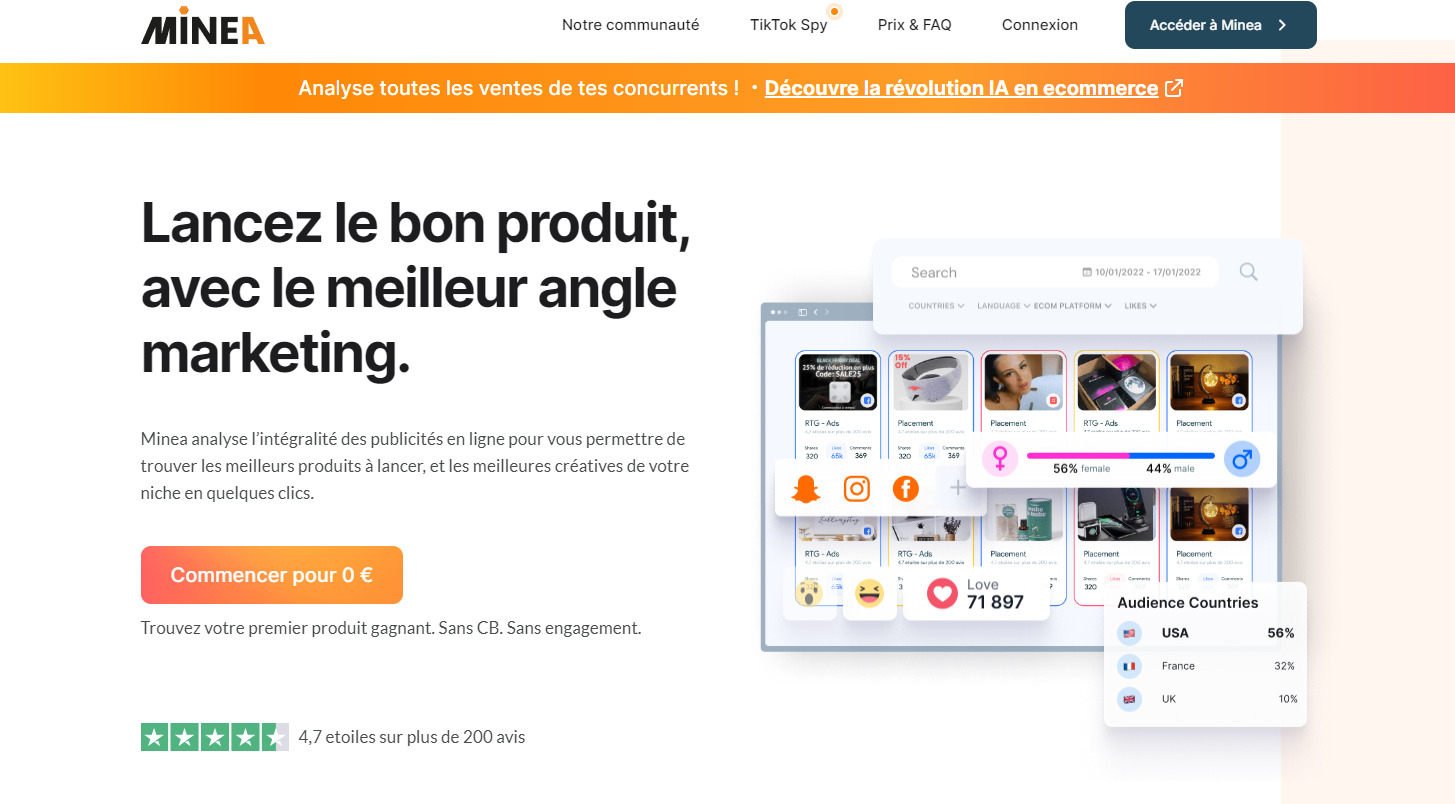 Minea has established itself as the most comprehensive tool for spying on ads on social networks, making it a must-have platform for finding your winning e-commerce or dropshipping product. 
Featuring a huge ad library with several thousand ads added daily, Minea offers advanced search options and a variety of filters for simplified browsing. You can search for winning ads using various criteria, such as : 
Keyword
Domain name
Online date
Country
Language
Number of Likes, shares, comments
Type of e-commerce platform
Minea stands out for the depth of data it provides for each ad. For each ad found, the user has access to :
how long the ad has been online
The ad's social engagement
Other ads in the same store
A complete analysis of the store
Target audience
Store lin
In addition to its core function, Minea offers store spying and influencer marketing analysis tools. These features enable you to study your competitors, uncover the best strategies on the market and identify their strengths and weaknesses.
Minea offers a

basic package at €49 per month

, providing access to ads on Facebook, Instagram, Pinterest, and Snapchat, and 10,000 monthly credits for your product search. 

For more extensive access, including TikTok Ads Spy and 100,000 monthly credits, the

Premium subscription is offered at €99 per month.
A free plan

is also available for testing the tool's features.

Anstrex is another essential tool for spying on Facebook ads. It offers a wide range of traffic sources, monetization techniques and ad formats. 
The tool includes a landing page editor, allowing you to quickly and easily modify any target site. 
Anstrex is particularly useful for CPA marketers and affiliates, enabling them to identify traffic opportunities, analyze industry trends and discover top-performing ads.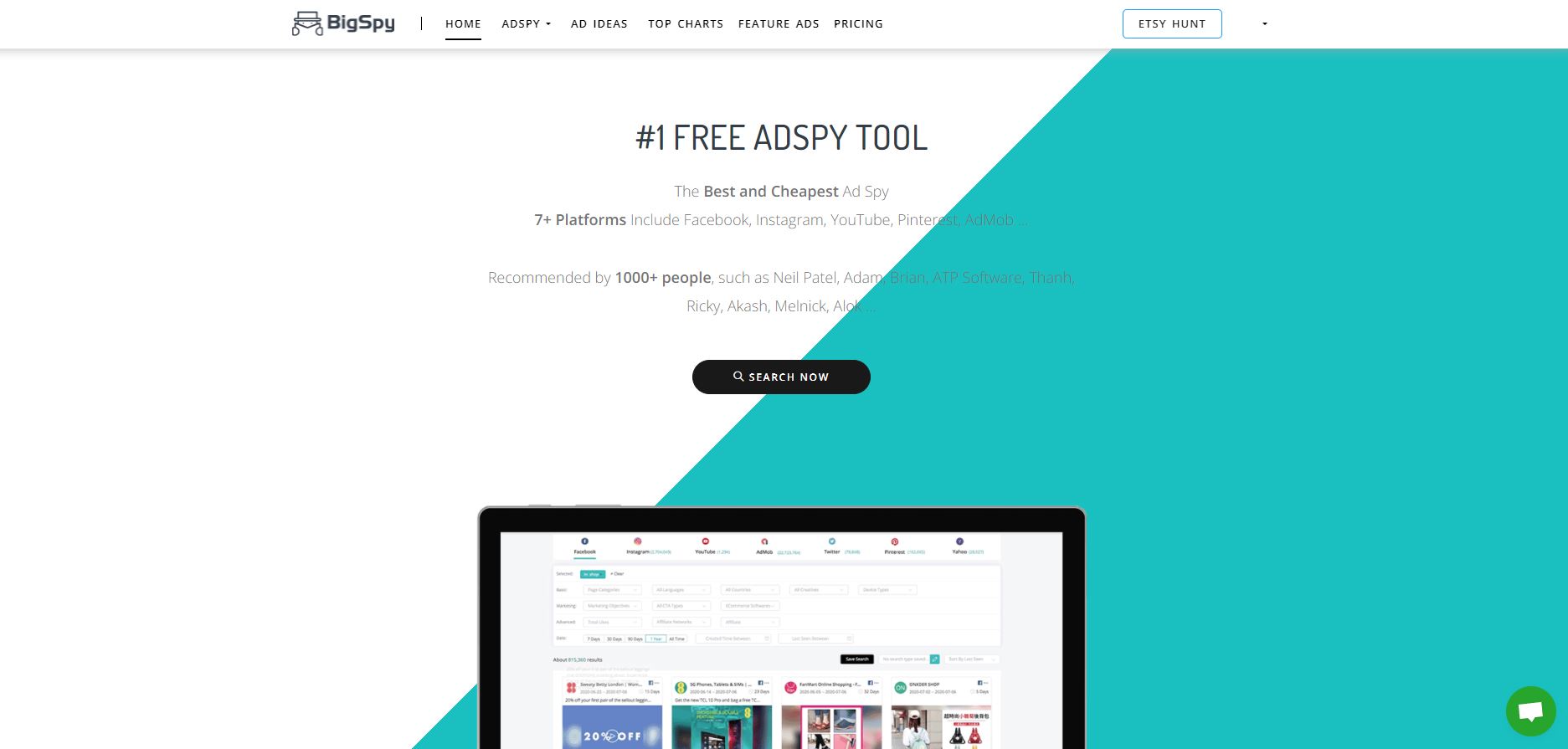 Looking for an effective social network ad spying solution? BigSpy is the right choice. The tool stands out for collecting and updating ads on its ad marketing platform. 
It gives you valuable insight into what your competitors are doing, enabling you to detect what works for them and adapt it to your specific context.
BigSpy doesn't just provide you with information on your competitors' advertising tactics. It helps you keep abreast of daily trends and offers analysis of advertising performance. 
Here's what you can do with BigSpy:
Collect ads on social networks
Access full details of collected ads
Use advanced search to discover top-performing ads and find interesting products for sale.

SEMrush is an all-in-one digital marketing tool that includes features for spying on social networks. Although SEMrush is a paid tool, it offers a free trial to help you decide if it's the right tool for you.
It offers a range of features from competitor analysis to keyword research, making it the tool of choice for any digital marketing professional.

PowerAdspy, another well-known ad spy tool, uses a vast network of sources to collect ads that it makes available to dropshippers and e-merchants. Like the best spy tools on the market, PowerAdspy gives you privileged access to information on your competitors, enabling you to fine-tune your strategies accordingly.
It's important to note that, despite its many features, PowerAdspy doesn't offer as large a volume of ads as some of its competitors. 
One feature that sets PowerAdspy apart is its free plan. It offers a chance to test all the tool's features without exception, providing a valuable opportunity for users to familiarize themselves with the tool and evaluate its potential before committing to a subscription.
Spying on social networks is an essential strategy for staying competitive in the world of e-commerce and dropshipping. Tools like Dropispy, Minea, Anstrex, BigSpy and PowerAdspy make this process accessible to everyone.
These tools are not an expense, but an investment that can transform your business. Their effectiveness depends on their integration into your overall marketing strategy, which must include tactics such as SEO and e-mail marketing.
In short, adapt, learn from your competitors, and don't ignore the potential of social network spying tools. You'll be surprised at the results you can achieve.
What are the free Social Media Spy tools?
There are several free spy tools for social networks, such as Facebook's ad transparency feature. Dropispy also offers a free plan.
Is it legal to spy on competitors' social networks?
Yes, as long as you respect the terms of use of social networking platforms and don't violate privacy laws, spying on social networks is perfectly legal.
How can you effectively spy on your competitors' social networks?
Using social network spying tools like Dropispy, actively monitoring your competitors' activities, and analyzing their strategies are effective methods for spying on social networks.
Dropshipping is a retailing method where a company doesn't keep the products it sells in stock. Instead, when it sells a product, it buys it from a third party and ships it directly to the customer.
What are the best Social Media Spy tools?
The best social network spy tools are : 
Dropispy

Minea

SEMrush

Anstrex

BigSpy

PowerAdspy