In the ruthless world of e-commerce, every detail matters. One such detail, often overlooked, is the abandoned cart. According to a study by the Baymard Institute, about 69.8 % of online shopping carts are abandoned. 
In other words, more than two-thirds of potentially interested shoppers leave your online store without finalizing their purchase. As a Shopify store owner, you know that an abandoned cart can mean a lost sale.
Luckily, among the best Shopify apps, there are many tools to help recover these potential sales. In this article, we will explore the best abandoned cart app for Shopify.
Why is it necessary to have an abandoned cart application?
Abandoned cart applications play a crucial role in reclaiming customers who have abandoned their purchases halfway. These applications can:
Send automated reminders via email or SMS
Offer discount codes to encourage completion of the purchase
Provide detailed analytics on reasons for abandonment
Recover Cart Pusher (Beeketing)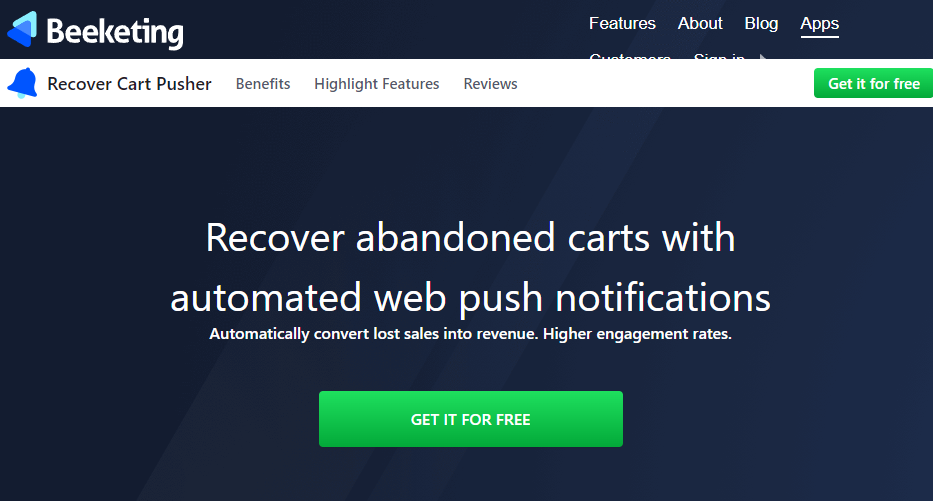 Recover Cart Pusher is an innovative application that allows Shopify store owners to easily recover abandoned carts. It stands out for its ease of use and automatic push notifications that reach your customers even when they are not on your site. What's more, Recover Cart Pusher is a free app.
Automatic push notifications

Easy to use

Free
No 24/7 support

Limited features
RecoverMyCart : Best Abandoned Cart Apps for Shopify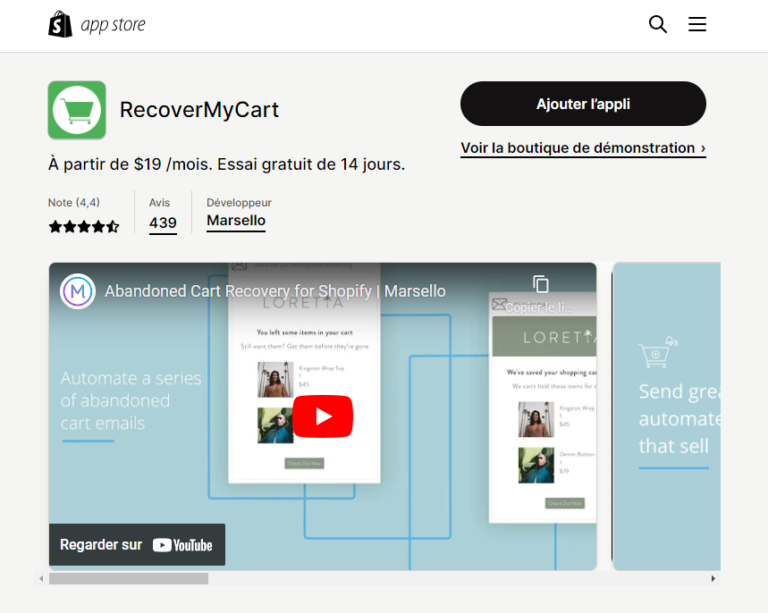 RecoverMyCart is a versatile application that offers RecoverMyCart options via email and SMS. It offers unique features like real-time tracking and automated recovery emails.
RecoverMyCart offers affordable pricing starting at $19 per month after a 14-day free trial.
Real-time tracking

Automated recovery emails

14-day free trial
No live chat option for support

Complex user interface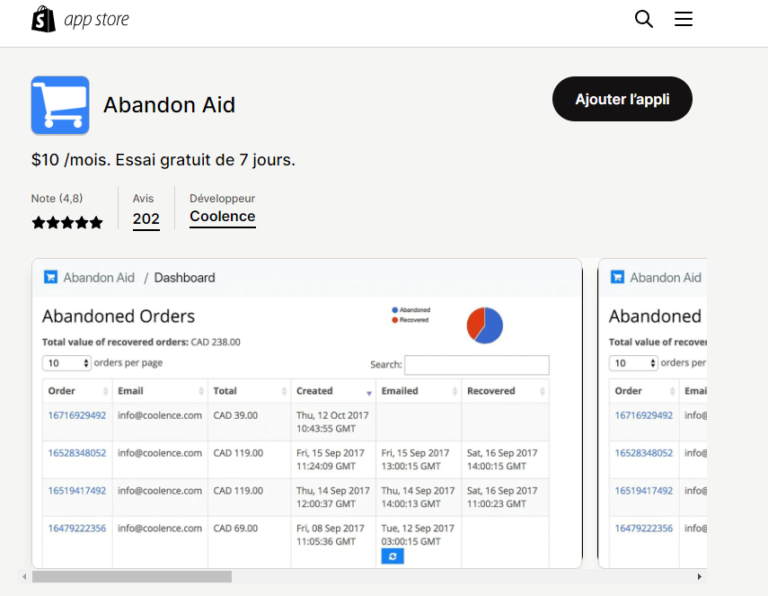 Abandon Aid is a simple yet powerful app that focuses on sending reminder emails for abandoned carts. It is known for its ease of use and transparent pricing policy.
Abandon Aid costs $10 per month after a 7-day free trial period.
Ease of use

Transparent pricing policy

7-day free trial
No SMS option

Limited features
Best Abandoned Cart Apps for Shopify - PushOwl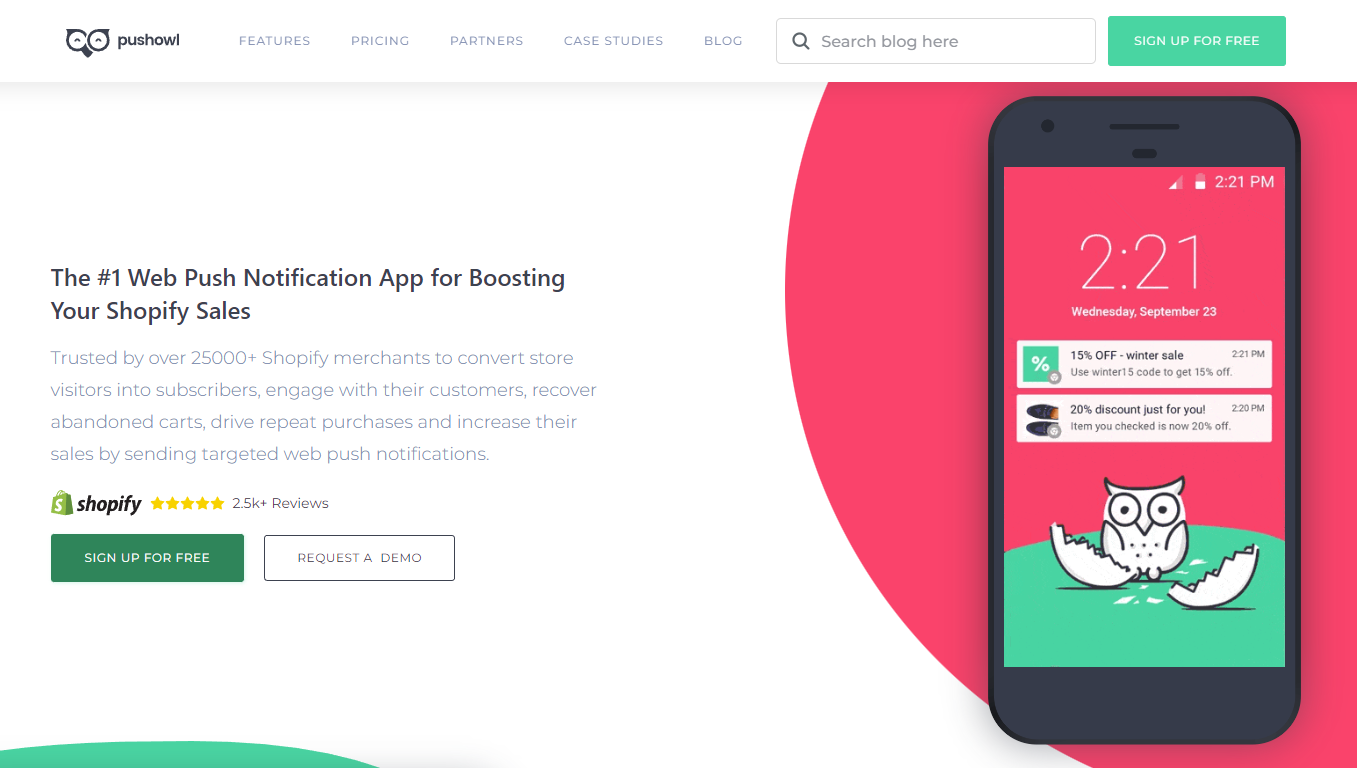 PushOwl stands out for its use of push notifications to recover abandoned carts. This application also provides detailed analytics to help merchants understand why customers are abandoning their carts.
PushOwl offers a free plan with paid options starting at $19 per month.
Push notifications

Detailed analytics

Free plan available
No email option

High cost for advanced plans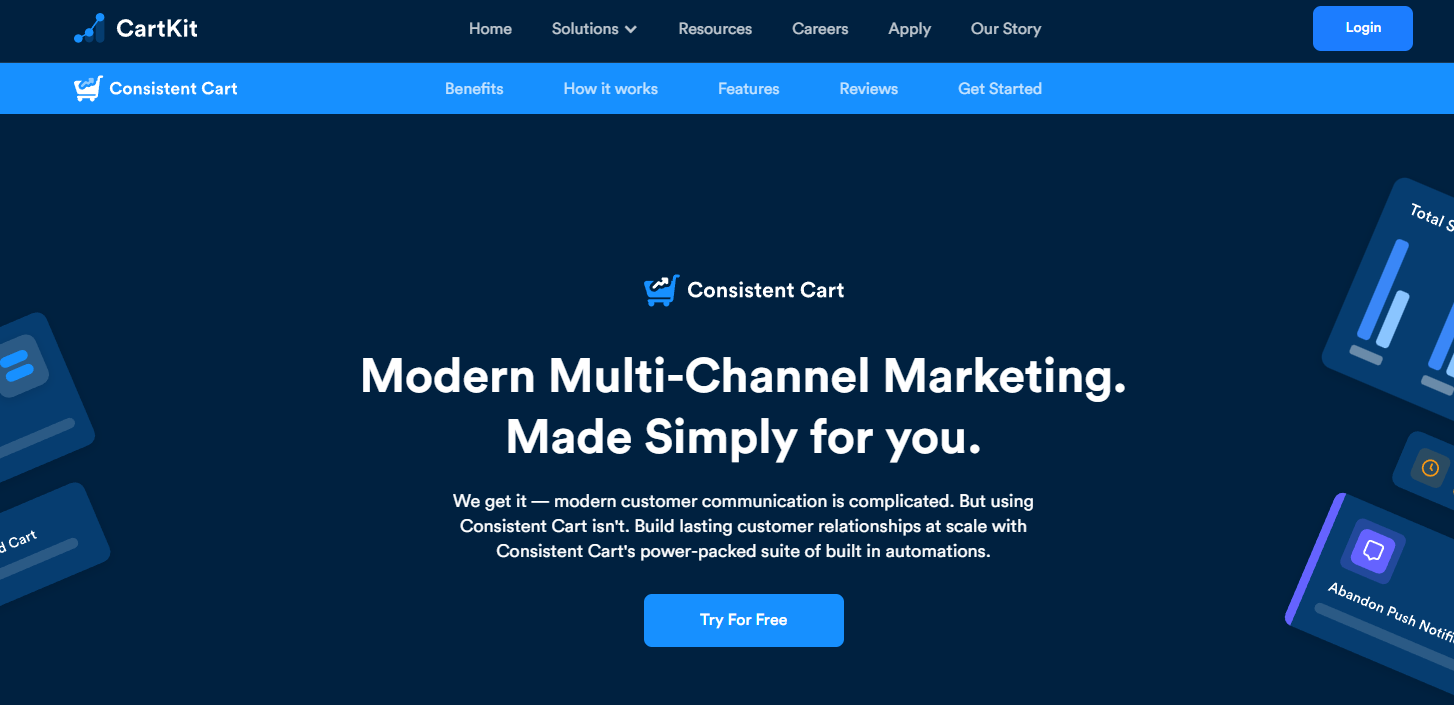 Consistent Cart is a robust solution that not only offers RecoverMyCart but also other features like email marketing and coupon management.
Consistent Cart offers pricing starting at $15 per month after a 7-day free trial.
Integrated email marketing

Coupon management

7-day free trial
Complex user interface

No push notifications

CartHook is a premium application that not only offers RecoverMyCart but also a customizable checkout platform to improve conversions.
CartHook offers customized pricing, details can be obtained directly from their sales team.
Customizable checkout platform

Conversion optimization

Responsive customer support
Non-transparent pricing

No free trial
Comparison Table of the 6 Best Abandoned Cart Apps for Shopify
| Application | Base Price (Monthly) | Free Trial | Email/SMS/Push Notification | Total (/5) |
| --- | --- | --- | --- | --- |
| Recover Cart Pusher | $0 | ✅ | Email, SMS | 4.0 |
| RecoverMyCart | $19 | ✅ | Email, SMS | 3.9 |
| Abandon Aid | $10 | ✅ | Email | 4.1 |
| PushOwl | $19 | ✅ | Push Notification | 4.3 |
| Consistent Cart | $15 | ✅ | Email | 4.2 |
| CartHook | Custom | ❌ | Email | 4.5 |
The best abandoned cart app for Shopify actually depends on your specific needs. All seven applications featured in this article have strengths that could suit different e-commerce strategies. For an email-focused approach, Recover Cart Pusher and RecoverMyCart are excellent choices. If you favor push notifications, PushOwl is your best bet.
However, if you're looking for a more comprehensive solution, Consistent Cart and CartHook could be right for you, offering a range of features from coupon management to a customizable checkout platform. For the final choice, it's important to weigh the benefits against your priorities, whether it's price, ease of use, or diversity of features.
To sum up, the best app for your Shopify store will be the one that best fits your budget, meets your needs, and, most importantly, enhances your customers' shopping experience.
What is an abandoned cart?
An abandoned cart is an e-commerce term that refers to a situation where a customer adds products to their online shopping cart but does not finalize the purchase.
Carts are typically abandoned due to high shipping costs, a complex checkout process, site issues, or simply because the customer was not ready to buy.
How can abandoned cart apps help?
Abandoned cart apps can help by sending automatic reminders to customers, offering discounts to encourage purchase, and providing analytics to understand why carts are abandoned.
Are all abandoned cart apps similar?
No, different apps offer different features. Some can send emails, others push notifications, some offer detailed analytics, and still others have unique features.
What are the best abandoned cart apps?
The best abandoned cart apps are : 
Recover Cart Pusher
RecoverMyCart
Abandon Aid
PushOwl
Consistent Cart
CartHook