Shopify is an excellent platform to start in online business by creating your own ecommerce store.
With the explosion of the e-commerce market, more and more people are embarking on this entrepreneurial adventure. To facilitate their access to this activity, many firms have launched e-commerce platforms.
Today we are looking at one of the sheet metal workers, Shopify, one of the most popular online store creation solutions in the world.
Shopify is praised by many users, articles, and sites as a great platform suitable for everyone, especially beginners. But would it really suit your expectations and needs?
You will find, in this article, a complete Shopify evaluation. You will discover among other things: its features, its advantages, its disadvantages, its prices and its alternatives.
Founded in Canada in 2006, Shopify is an online tool or software that allows you to create an online store. In order to adapt to several types of business, niches and in particular to the branding (brand image) of each, it offers a large library of themes that you can apply to your store.
The e-commerce platform makes it possible to sell not only physical products, but also digital products.
Since it is intended for a very wide target, mastery of coding techniques is not necessary. However, it remains open to developers, as it provides full access to its various codes (Liquid, CSS, and HTML) for further customizations.
Throughout these reviews of Shopify, you will learn about its different features and how to integrate them into your online business.
Shopify Reviews: Why Choose It?
We would be tempted to tell you in this reviews for Shopify, since over 2 million people are doing it, why not you? But that would be a lame and unsatisfactory answer.
The first reason is the ease of handling this e-commerce platform. A perfect beginner without essential computer skills would be able to set up their online store and make it evolve on Shopify.
The plurality of applications, extensions and functionalities provides endless customization possibilities on each store. For each task and each action that an e-merchant would like to integrate into their store, a dedicated application surely exists in the large catalog of the Shopify App Store.
The essence of a brand is its uniqueness or its ability to distinguish itself from its main competitors. Shopify's theme library contains over 50 templates, all of which are customizable.
Apart from all the visual aspects, Shopify is a platform that allows you to manage the characteristics specific to online sales. This ranges from promotion, through inventory management to customer follow-up.
To meet the needs of as many people as possible, Shopify has several pricing offers suitable for both beginners with limited means and companies with a substantial budget.
In short, the reasons to choose Shopify are:
the creation of an online business in a few clicks
the easy digitization of your activity if you already have a physical store
easily migrating your business from another platform to Shopify
Shopify customer and community support for easy setup of your store
You'll learn more about this e-commerce platform by reading the rest of our Shopify review.
Shopify review: the features
In order to provide all the tools necessary for the proper functioning of an online store, Shopify comes with many features.
The creation of ecommerce websites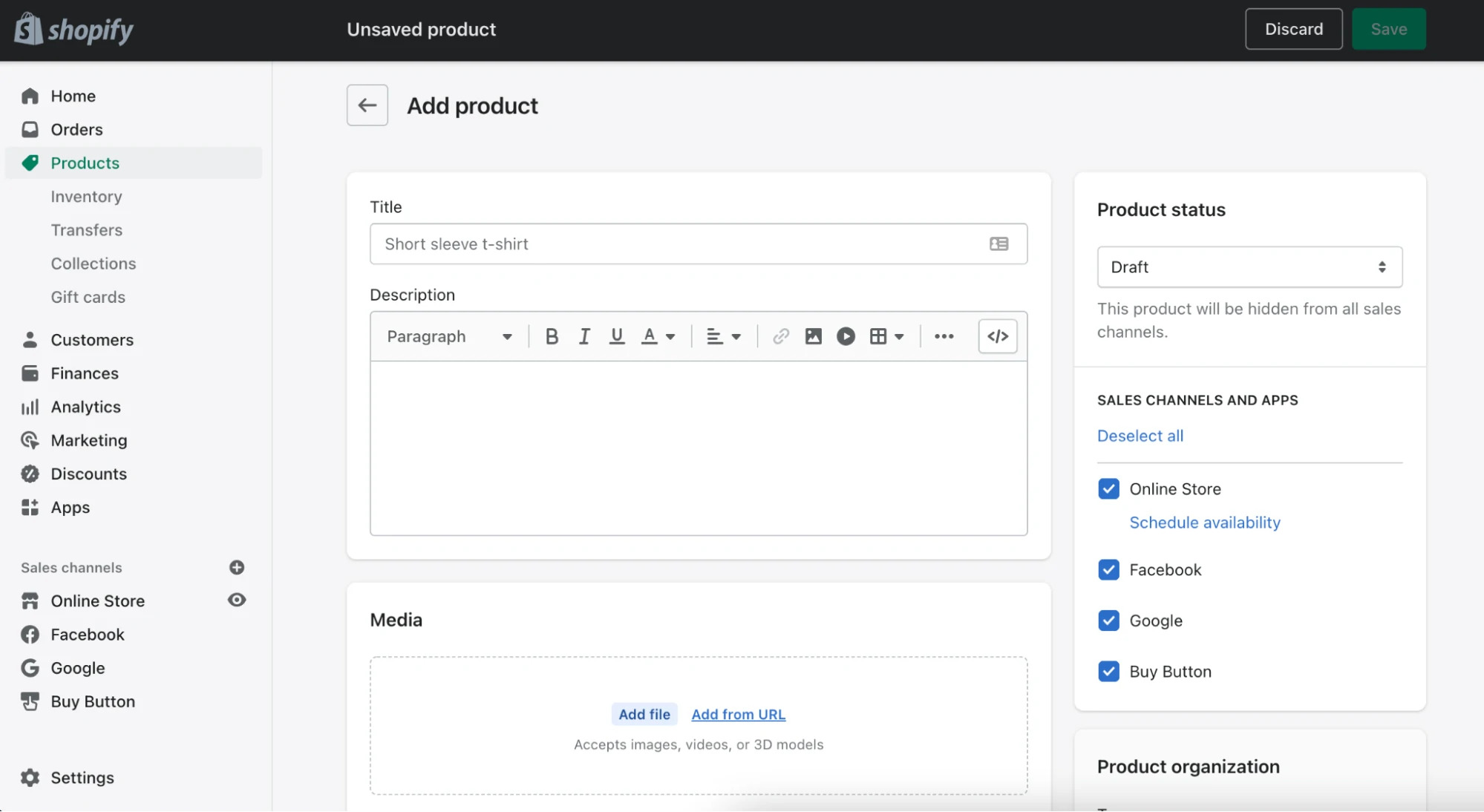 Most of the operations on Shopify are done in a few clicks. In addition, various guides, documentation and tutorials for beginners are present on the platform for an easy and quick start. The arrangement of the various contents in itself is extremely intuitive.
A large catalog of themes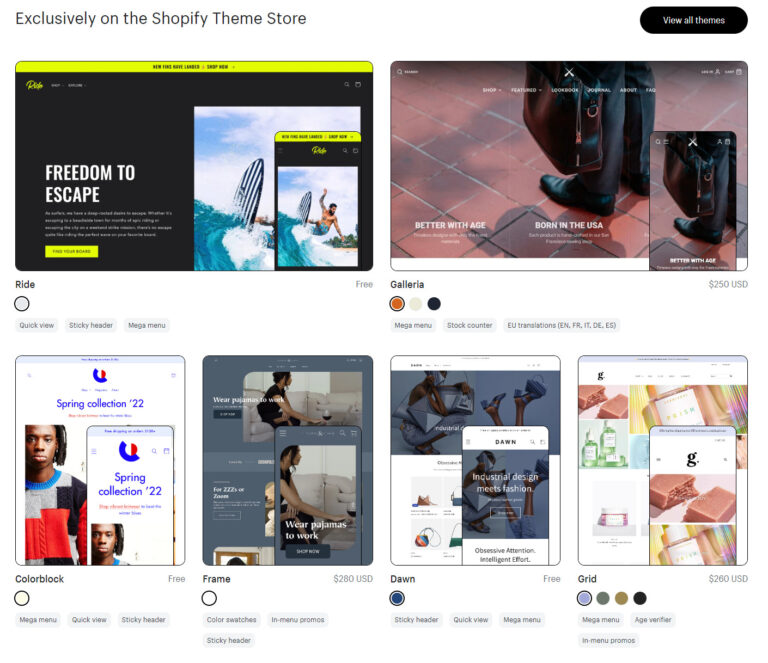 One of Shopify's strengths is the number of themes that the e-commerce platform makes available to you. On the templates and themes store alone, you will find 11 free themes and a hundred paid themes, all customizable.
You can also import your own theme and if you find the customization possibilities are limited, it is possible to touch the code of each page.
For more information, we have put together an article dedicated to the different Shopify themes.

Ignoring the mobile display of your online store means losing nearly 42.9% of your turnover.
Responsive design is at the heart of editing pages on Shopify. One click allows you to simultaneously see the display of your store on a mobile device, you can even edit it directly in this format.
Modification by drag and drop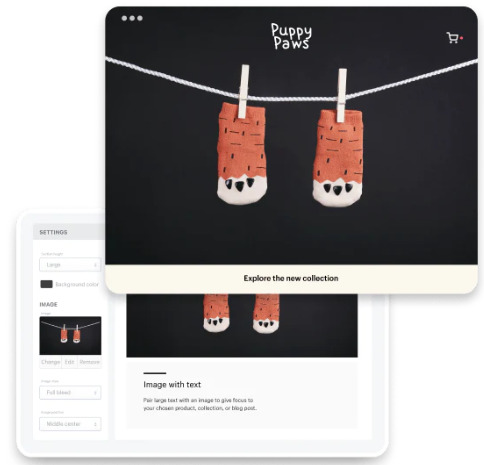 The website editor works on the principle of drag and drop, you only have to drag blocks to modify the appearance of the pages of your online store. And to modify the content of each block, you just have to click on it.
Deep personalization through coding
For programmers, full code access is available. It is possible to add new features through the Shopify API or App Store.
As you will have understood throughout these reviews of Shopify, you have two options for customizing your online store. The first is changing the theme of your store using the editor's drag and drop system. The second by touching the code.
Tip: If you have no coding knowledge, you can always hire a freelancer to program it for you. It is also possible to copy bits of code easily found on the internet to add functionality to your website.
A complete blogging platform
Shopify provides a platform to create and publish your articles. You can then document your online shop and share content with the aim of attracting traffic through SEO (search engine optimization).
However, since Shopify is mainly focused on the "sales" aspect of your business, do not expect to have a platform as sophisticated or more advanced than a CMS like WordPress.

Shopify takes care of hosting your website. You don't need to search for another platform, it's part of your subscription.
You can also search and purchase your domain name directly from Shopify. If you bought it elsewhere, you can also easily link it to your store.
Promoting your online store
Shopify allows you to optimize your content to rank better on search engines. You will find a blogging platform that allows you to modify and edit the different titles (H1, H2, etc.) and the content of your texts.
Sell on Facebook and Instagram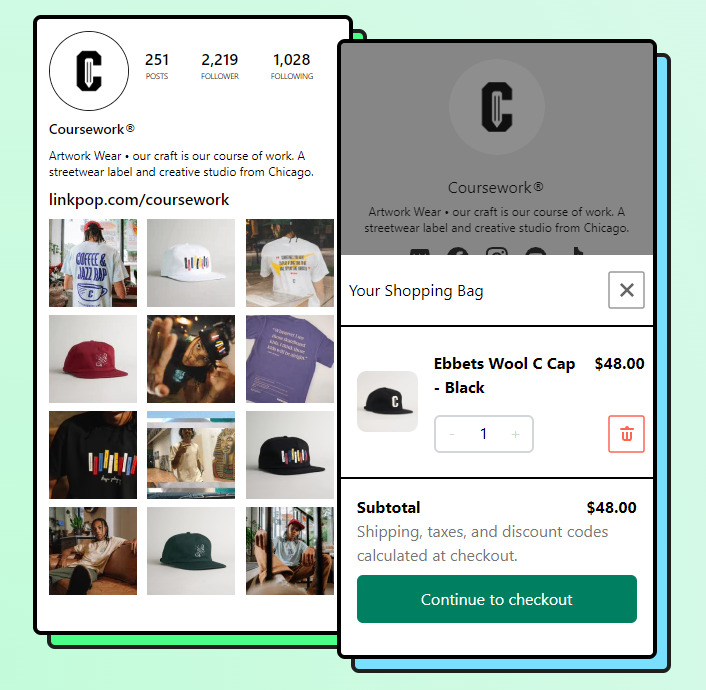 You can create a tab on your Facebook page where users can see and buy your products.
You can also add a "purchase" function to your Instagram posts. And during your advertising campaigns on Meta platforms, you can integrate a button leading directly to your website or your product page.
This Shopify review aims to highlight the different sales techniques through the different channels. This platform will allow you to sell directly on your various social networks without having to go through your store.
For every $25 ad spend on Google Ads, you get an additional $100 ad credit.
In order to boost your conversion rate by engaging your customers, it is possible to create a section reserved for customer reviews. This greatly contributes to the SEO of your web visit.
To learn how to add reviews on Shopify, take the time to read this article.
Integration with social networks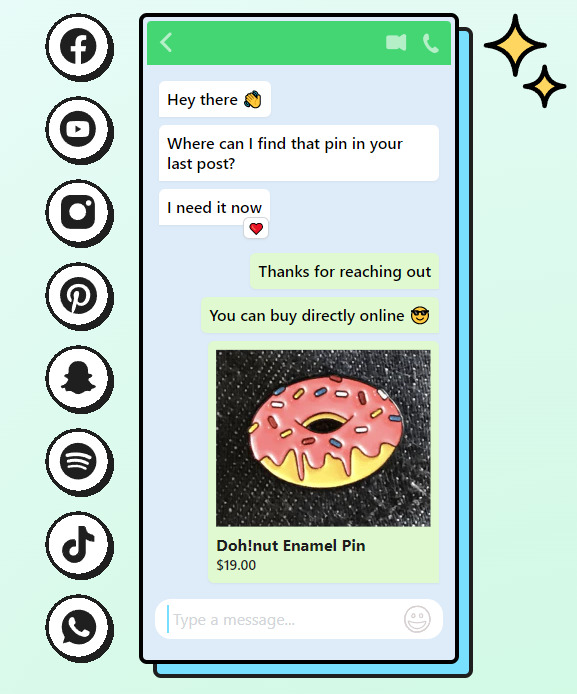 Shopify integrations aren't limited to Meta Group networks. You can also go through Pinterest, Twitter or Tumblr.
As on competing platforms, it is possible to create discount codes. However, you can take it a step further on Shopify by creating discounts such as "2 for the price of 1".
You can also sell gift cards on your Shopify store for customers who want to offer it to someone else, for example. You can also use them as credit notes.
Full management of your business
Shopify allows you to fully track all of your inventory. You have features for automatic counting and stopping product sales when out of stock.
There is no limit number or limit product types that you can offer in your e-shop.
The platform allows you to classify your products according to their category, type, season, promotions applied, etc. With a smart collections feature, products can be categorized automatically.
Import and export via CSV file
Whether you go directly through Shopify or one of the applications offered in the App Store, you can import and export your products in the form of a CSV file.
Shopify is not limited to selling physical products. Your customers can order and download your products from your online store.
The file size limit of the products you can sell on your store is 5 GB. If that's not enough, you can always use third-party apps to host much larger files.
No matter how many visitors or volumes of traffic will visit your online store pages, Shopify won't charge you for it.
If you buy your domain name on Shopify, you will enjoy unlimited email forwarding. You will be able to create professional e-mail addresses (contact@nomdusite.com, etc.) and e-mails sent to them will be automatically redirected to your own address.
The SSL certificate is a security system protecting your customer information and business data.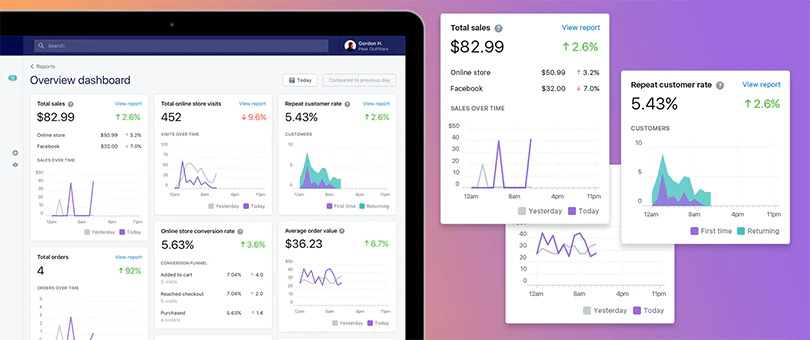 In the back office of your Shopify store, you will have access to a dashboard summarizing all the important data of your store. You will find there: the number of orders, the origin of the orders (on a map), your sales, your traffic, etc.
You will get accurate data on the growth of your store. You will be able to identify your dead weights as well as your bestsellers.
Shopify offers you all kinds of reports, namely:
Sales reports
Customer reports
Marketing reports
Research data reports
Financial reports
Abandoned cart reports
By inserting your Google Analytics key in your Shopify store settings, you can track your sales, visits, and referrals through Google.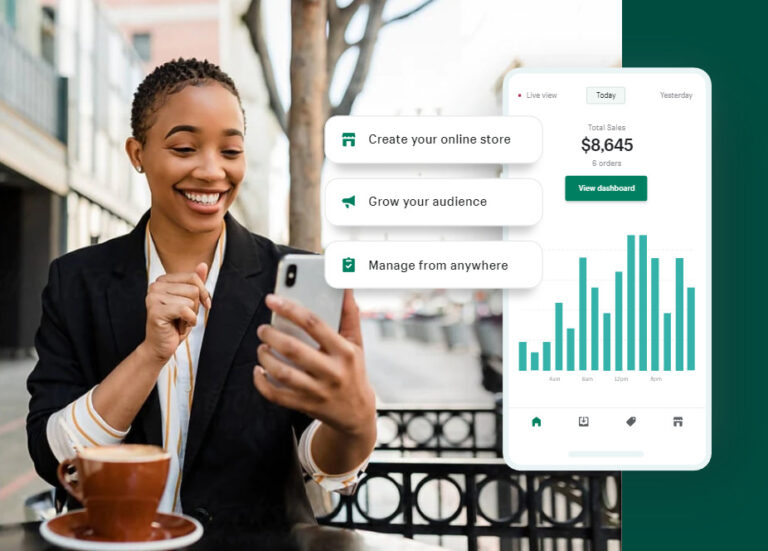 For this review for Shopify, we tried to see all the practical points necessary for new e-merchants. In the era of Web 3.0, mobility is an essential element in productivity. To answer this problem, Shopify allows you to manage your store remotely thanks to its mobile app.
Order processing can be done with just one click on your smartphone.
For quick access to essential store data, you can track your business trends at a glance.
Communication with customers
By consulting the profiles of your customers, you can contact them instantly by phone or e-mail using your smartphone.
You don't need to go through your computer to add new products, change prices or manage your stock. Everything is possible from your mobile application.
Information about your products, inventory, orders, and customers is automatically synced between your Shopify app and your online store.
Shopify provides you with an internal application store that offers thousands of free and paid applications (more than 8,000).
These allow you to modify the appearance of your store, to add new features (bundles, upsells, etc.), to facilitate the management of your activity (import of products, invoicing, etc.) and others.
In order to meet your needs, these applications add specific functionalities to your online store. They also make it possible to operate and integrate with other key business tools, such as applications for:
data capture
accountability
abandoned cart recovery
multi-currency sales
advanced reports
more advanced email marketing.
If you want to know more, read our dedicated article on the best apps on Shopify.
Email management is an essential, even vital point in the management of an online business. Emails serve you not only in customer relations, but also as a marketing asset in your communication strategy.
During this Shopify review, we came across this key feature built into the software to strengthen customer relationships and your marketing. Shopify provides you with an integrated email marketing tool. It allows you to create and send emails or newsletter to your email list.
It is also an excellent tool for recovering abandoned carts by sending reminder emails.
If the features of this tool do not satisfy you, you can access dedicated software such as Getresponse or Mailchimp through the Shopify application library.
You can have several versions of your website in several languages ​​in order to reach different targets. You can go up to 5 versions in the first 3 Shopify pricing plans, if you opt for Shopify Plus you can go up to 20 languages.
Shopify has excellent customer support, and it is available in 21 languages ​​and can be reached 24/7. You can send them an e-mail, chat or call them by phone.
If the questions are extremely technical, experts can answer you in the Shopify community forum. This can be considered to be the only real weak point of customer support, fortunately this solution exists.
Our opinion on Shopify regarding its features is generally positive, thanks to the plurality and effectiveness of these.
Discover our evaluation of the Shopify tool. It is based on all the parameters we have analyzed throughout the article.
Basic, Shopify and Advanced plans

Shopify offers the following 3 plans:
The Basic plan at $24/month
The $69/month Shopify Plan
The Advanced formula at $299/month
The 3 formulas include the following features:
An e-commerce website and blog
Unlimited products
24/7 customer support
Multi-channel selling
Manual creation of orders
Discount codes and gift cards
Recovery of abandoned carts
Customer segmentation
Marketing Automation
The free SSL certificate
Unlimited contacts
Shipping charges calculated by a third-party service, and the collection of import duties and taxes, are only available for the Advanced plan.
E-commerce automations (automation of manual tasks and creation of workflows) are available on the Shopify plan and the Advanced plan.
Apart from these points, here are the features that differentiate the three formulas:
| Features | Basic | Shopify | Advanced |
| --- | --- | --- | --- |
| Employee accounts | 2 | 5 | 15 |
| Stock locations | Jusqu'à 4 | Jusqu'à 5 | Jusqu'à 8 |
| Reports | Basic | Standard | Advanced |
You can try any of the three plans for free for 3 days before you start paying for the corresponding subscription.
If you opt for the Basic plan, after the 3 days of free trial, during the first 3 months of use, the subscription is $1/month.
Although Shopify prices include generous specifics depending on the level chosen, whether you are a beginner or already have a small business running, we advise you to turn to the Basic plan. It offers all the features you will need to create and manage your e-commerce store.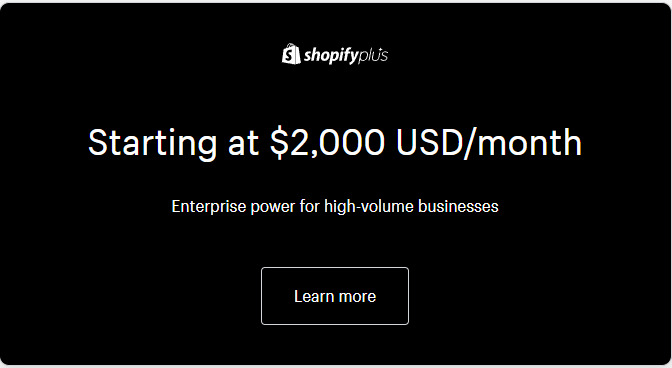 Apart from the 3 basic offers, Shopify offers a plan suitable for large companies. This plan offers professional solutions for large companies or merchants managing very large volumes of transactions.
Shopify Plus is available from $2000/month, pricing changes based on your business specifics, please contact Shopify for details.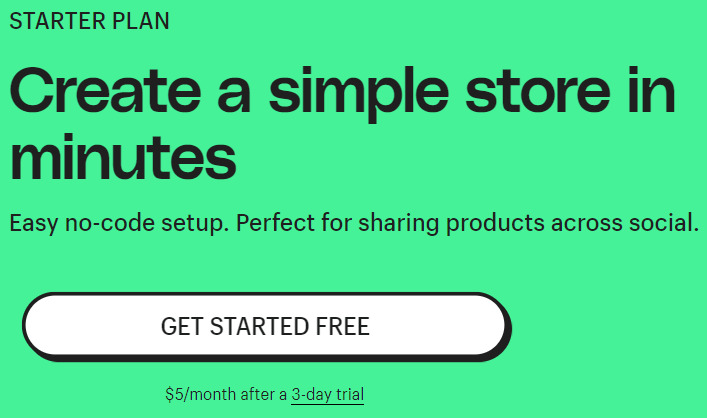 Available at €5/month, the Shopify Starter plan is the simplest version of Shopify.
This package allows you to create a Starter store. This is a package best suited for selling on social media, email, SMS, WhatsApp, and anywhere else you can share a link to your products.
It's a mobile-optimized offer, so you can manage everything from your smartphone. From order management to data analysis, everything is within smartphone reach.
This Shopify review aims to show you the different paths you can take to get started in e-commerce. You do not have to go through the creation of a dedicated sales site to sell online.
However, if you want to scale your store faster or have more features, opt for the Basic plan and its first three months.

Shopify's Buy Button feature allows you to turn your blog or showcase site into an e-commerce store. This feature also costs $5/month.
Shopify Reviews: The Pros and Cons
This reviews for Shopify offered us a long list of features, you will have understood that Shopify delivers a bit of everything to help its users. However, not everything is rosy and you will see in this part the strengths and weaknesses of Shopify.
The Pros and Cons of Shopify
Ease of use
An intuitive interface
The plurality of themes
The responsive design
The abandoned cart recovery feature
Multilingual and multi currency shops
The hyper-comprehensive application library
Blogging features for SEO
Rates adapted to each type of business
Advanced reports only available on the Advanced plan
The transaction fees on the Starter package are very high (5%)
Using payment gateways other than Shopify Payment adds transaction fees
The number of free themes is limited compared to the number of themes offered
If the 3 days of free trial accompanied by the subscription priced at $1 / month are not enough for you, know that you can use Shopify for free over a longer period.
Indeed, thanks to the partnership of Dropisy and Shopify, you benefit from a free 90-day trial period through our link.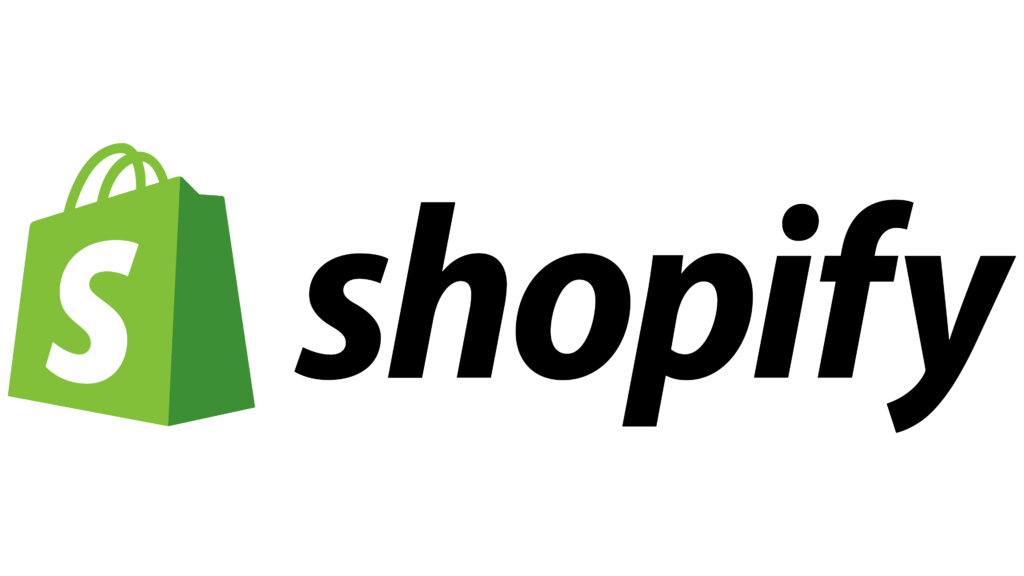 Create your Shopify store for only $1 during 90 days
You want to launch your e-commerce site as soon as possible, but you don't know how? Here is a guide on how to use Shopify.
Shopify review: the alternatives

With over 8 million users, Wix is ​​an attractive alternative to Shopify.
Wix is ​​also an e-commerce platform for people who do not have coding skills to create their online store.
Just like we saw in these reviews for Shopify, Wix is ​​also a hosted solution. You will therefore not have to pay for an additional hosting solution. And the domain name is free if you pay an annual subscription to one of the Wix plans.
Here are some of the features of Wix:
A website editor by Drag and Drop
A store of more than 250 applications
Over 500 professional themes
Free domain name for 1 year
An SSL security certificate
Unlimited products
A blogging platform
Wix is ​​a more than serious competitor to Shopify, and it offers very similar features. However, it does not feature as many third-party integrations and apps.
It has a more developed blogging platform for SEO optimization of your online store.
However, it is less suited to the scalability of your online business. Although it can theoretically accommodate an infinite number of products, the management that goes with it is much less practical than on Shopify.
For online business and creating e-commerce stores, Wix offers 3 pricing plans:
Business Basic at $17/month
Business Unlimited at $25/month
Business VIP at $35/month
All packages include the following features:
Secure online payments
Plans and recurring payments
The custom domain
Free domain for 1 year
Removing Wix Ads
Unlimited bandwidth
Custom reports are only available in the Business VIP plan.
Other differences between the three Wix plans are in the following features:
| | Business Basic | Business Unlimited | Business VIP |
| --- | --- | --- | --- |
| Storage space | 20 Go | 35 Go | 20 Go |
| Hours of video | 5 hours | 10 hours | unlimited |
| Customer service | 24/7 customer service | 24/7 customer service | Priority customer service |
The pricing offered by Wix is ​​cheaper than Shopify, but this is due to fewer features.
Wix is ​​a very good e-commerce platform for SMEs and beginners, it is not suitable for more developed companies or merchants with a large volume of transactions.
Do not hesitate to re-read our Shopify review if some points are not clear. The main difference between the two is that Shopify specializes in creating online stores, while Wix is ​​more generalist.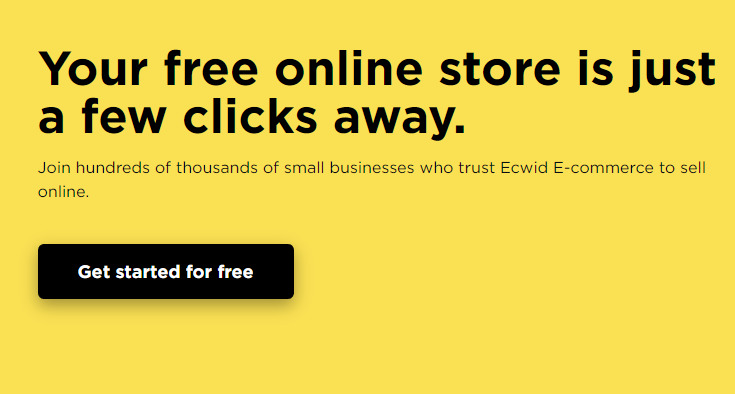 If you already have a website, and you are not looking to recreate a new site from scratch to sell a handful of products, Shopify may not be the best solution for your needs.
Ecwid is not only a website builder, but also a plugin that you can integrate into an existing website. It allows you to attach an internal store to your site.
If you only sell very few products (10 items), you can even use Ecwid for free without fear of additional transaction fees. This is a very affordable e-commerce solution for beginners or businesses on a budget.
Like its competitors, Ecwid has many practical e-commerce features:
A website editor
An application library
A stock manager
A web-based dashboard
Multi-channel selling
Integration with other platforms (Wix, WordPress, etc.)
Product management
Ecwid offers 4 pricing plans:
Free at $0/month (10 products)
Venture at $19/month (100 products)
Business at $39/month (2500 products)
Unlimited at $99/month (unlimited products)
The free formula allows you to create a shop, but limited to 10 products. You will also not be able to sell on other sales channels, you will be limited to integration with your website. The mobile application is also not accessible.
Gift cards, coupons, app market access, inventory tracking, email marketing, custom domain and all other more advanced options are only available on offers paying.
Thanks to its features and prices, Ecwid is an e-commerce platform suitable for small online stores.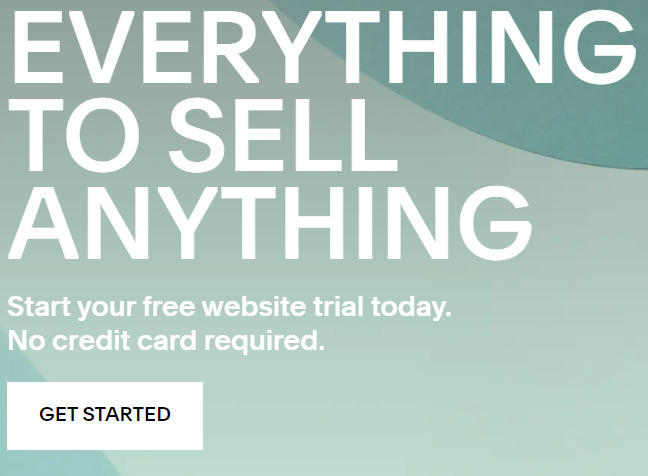 Addressing our Shopify review without mentioning one of its main competitors would be a mistake. Like Wix or WordPress, Squarespace is a website editor with which you can create an online store.
Squarespace offers hundreds of customizable templates and a large catalog of sales and business management apps. The platform being a more advanced CMS than Shopify, you will be able to optimize your various texts in order to benefit from a much better SEO.
If you want to launch an e-commerce site, Squarespace offers you the following different features:
The Website Editor by Drag and Drop
The complete blogging platform
Email marketing tools
Sale of physical and digital products
Stock management
The subscription sale
SEO tools
Social media integrations
Squarespace offers 4 plans (annual pricing):
The Personal plan at €11/month
The Business plan at €17/month
The Commerce Basic plan at €24/month
The Commerce Advanced plan at €36/month
No free plan is available, but you can test the platform for free for 14 days without needing a credit card.
Squarespace is an e-commerce platform focused on a very advanced brand strategy, so it is perfectly suited to companies fond of advanced customizations.
There are other alternatives to Shopify, but if you want to learn more, read our dedicated article instead.
During this evaluation of Shopify, you noticed that the e-commerce platform is quite complete. Its different functionalities, its customizable templates and its large library of applications allow you to create a tailor-made store that meets the different needs of e-merchants.
Although the platform provides blogging tools, this is not really its forte. Instead, turn to dedicated CMS such as WordPress, Wix or PrestaShop.

User reviews on Shopify are generally very positive, the platform is successful with its users.
The rates offered by Shopify, considering the features offered, are quite affordable. The Shopify Plus formula being intended for larger firms with greater resources is also considered in this observation.
However, if you use a lot of apps, the charges can add up pretty quickly. Take the time to choose your applications carefully if you are limited in terms of budget.

The real strength of Shopify is its ease of handling, greatly aided by its hyper-intuitive interface. Our opinion on Shopify is that it is an excellent choice for beginners wanting to get into e-commerce as well as established companies wanting to evolve their business.
Is it worth getting into Shopify?
If you are looking for an e-commerce platform that provides a multitude of features and many themes, as well as offering simple use and easy to get started, Shopify is more than worth it. In addition, the prices offered are quite affordable.
Shopify is used by more than 2 million e-merchants around the world. It is one of the most secure e-commerce platforms in the world in terms of data processing and confidentiality.
What are the disadvantages of Shopify?
One of the main disadvantages of Shopify is related to transaction fees. If you do not use Shopify's payment gateway, you will be subject to high commissions.
Using multiple apps on your online store can add up to the cost of your monthly subscription very quickly.
Is Shopify suitable for beginners?
Getting started with Shopify requires no coding knowledge. The interface is intuitive, each feature is accessible in a few clicks and the editing of the online store is done by Drag and Drop. Shopify is beginner-friendly.