Would you like to sell on the internet without having stock?
Do you want to take advantage of the growth of e-commerce to build your online sales business?
Do you like high ticket products?
If you answered yes to any of these questions, high-ticket dropshipping may be a good alternative for you.
Surely you have already heard of dropshipping, how it works and its most profitable niches. Indeed, the dropshipping of high-ticket products is quite special. Since you will be dealing with a unique and very limited customer base, you must therefore use strategies that are not applied in the sale of standard products.
In this article, we'll cover the top 7 things you need to consider for successful luxury dropshipping.
Define your audience and niche
Spy on competitors
Types of product for sale
Do a product search
Find a supplier
Set up a shop
Use social networks
Provide impeccable customer service
Define your audience and niche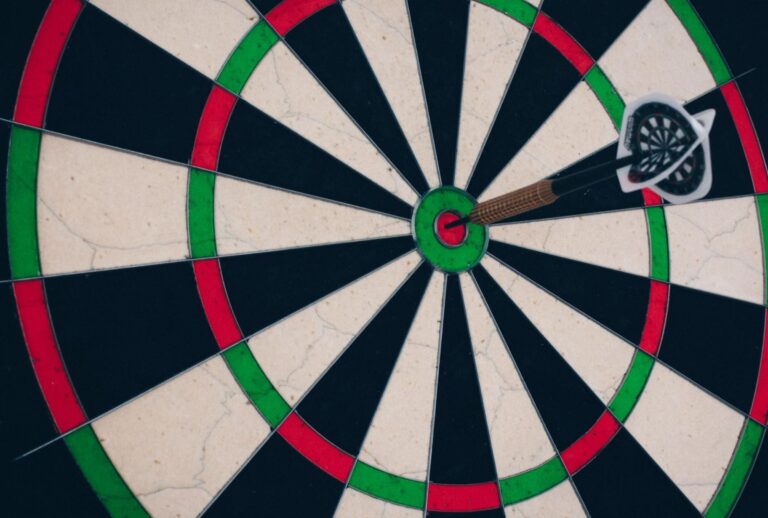 Above all, it must be recognized that luxury products are the most complex products to sell online. First, because the audience is very small, which makes the promotion of the product quite complicated, and on the other hand because of the price of these products which is generally very high.
It is difficult for the average person to spend €1000 to buy a product on the Internet. In most cases, people prefer to go directly to the store and touch the product with their fingertips.
At best, they prefer to make this type of purchase in major brand stores where they have more confidence (Gucci, Louis Vuitton, Puma, Nike, etc.).
You must therefore do a lot of targeting work to identify the audience to whom you are going to present your product.
However, it is observed that high ticket products that were once reserved for people in their forties are now widely consumed by young people. Most of them do not buy these products for their features or performance, but rather to belong to the social groups of users of this product.
This is an example of iPhone brand products.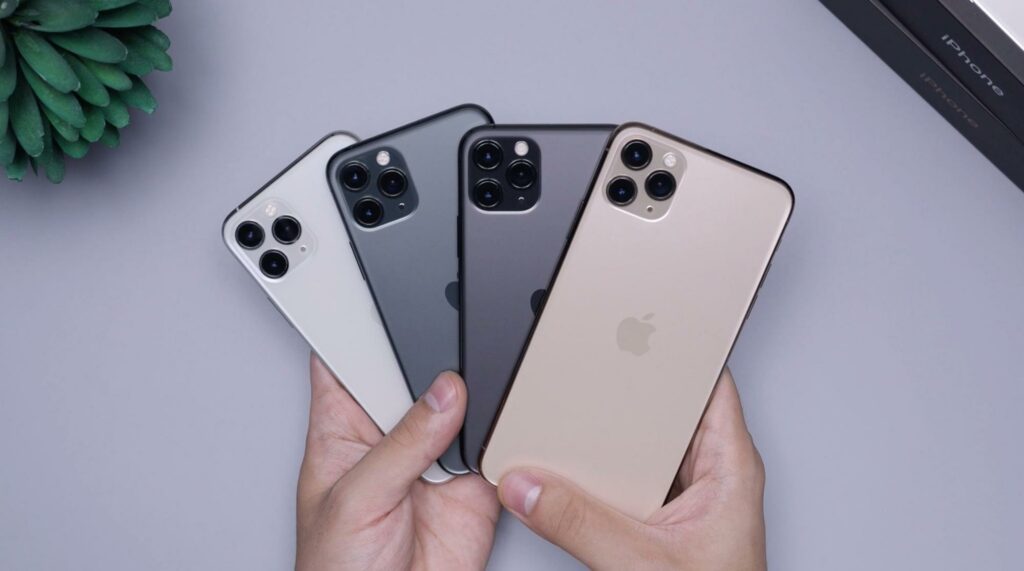 For the dropshipping of luxury products, the ideal is not to focus only on high-end products at the beginning. You will have enough difficulty defining your audience and establishing your marketing.
Instead, we recommend starting with mid-range products that feel like high-end products. By doing so, you will have a wider audience, because your products will no longer be excessively expensive and therefore affordable to a certain social stratum.
For example, there are ordinary watches that cost 10 or €20 while luxury watches cost tens of thousands of euros.
It is therefore quite possible to look for middle-class watches and sell them for 100 or €200. These watches will sell more easily in dropshipping than high-end watches. The first secret to succeeding in the dropshipping of luxury products is to find mid-range products that have high potential and substantial added value and pass them off as luxury products.
In the following chapters, we will see how you can find products with high potential.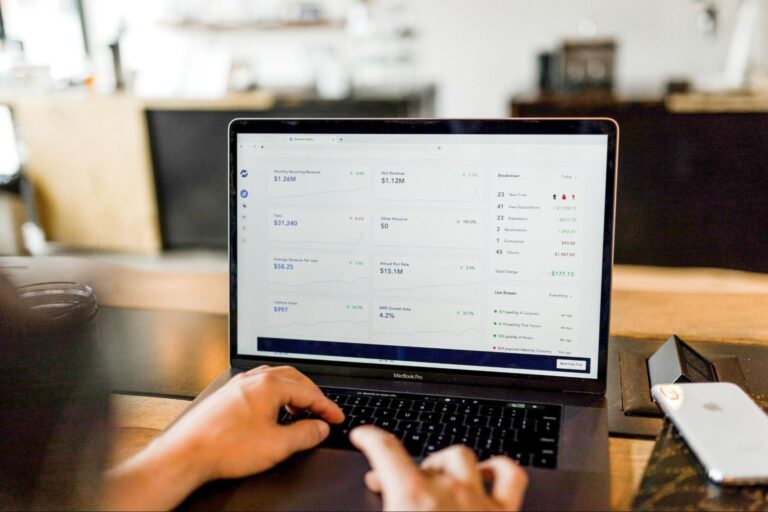 As in all other niches of online sales businesses, it is important to already see what others are doing in the market. In dropshipping, it is quite difficult to invent something that no one else does.
It is better to take inspiration from what your competitors are already doing and find ways to improve them.
To do this, look for online stores and identify those that sell products you want to sell. A spy of these different shops will allow you to understand the various marketing strategies that they use.
You can use Dropispy as a tool, which is basically a product research tool, but which has an e-commerce store spy feature: the Shop Spy.
With Dropispy, you can therefore identify the best dropshipping shops in a given niche and also obtain relevant information on these shops. This is the surest way to be able to find your competitors very quickly.
High-Ticket dropshipping : what to sell?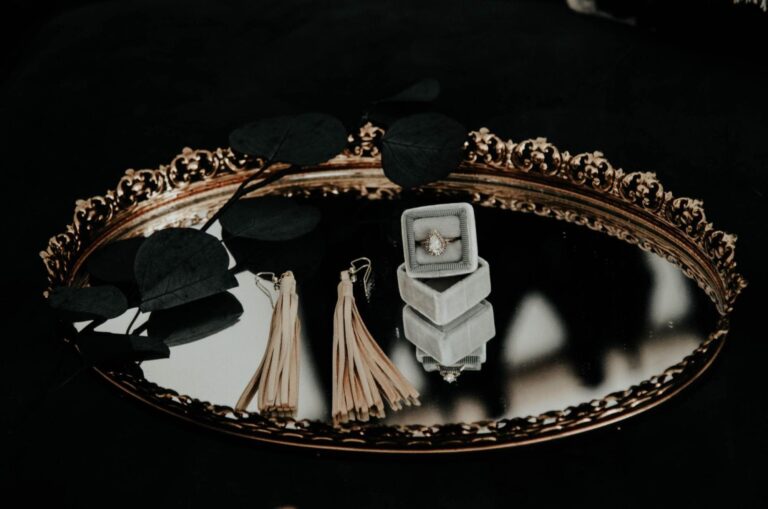 When we talk about luxury products, we tend to quickly think of a certain product category (clothing, watches, jewelry, sports cars, perfume, wine, etc.). However, all the ordinary products that we use in our daily lives also have their counterpart, which is a luxury product.
Indeed, in luxury goods dropshipping, you can sell any type of ordinary product. You just need to find the luxurious equivalent of this product.
In this image, for example, you can notice the difference between an ordinary faucet and a luxury faucet.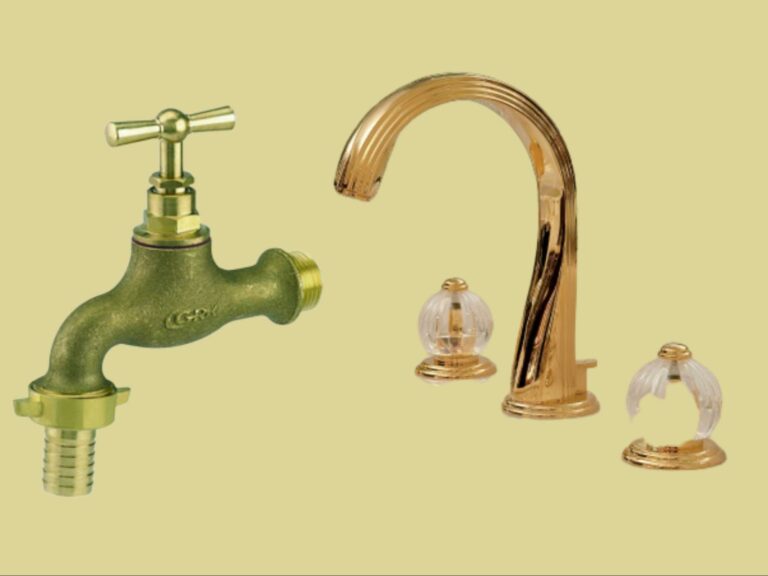 Always keep in mind that luxury goods are not necessarily necessities, and those who buy them mostly do so because of the appearance of these products.
Your products must therefore reflect quality and make people want to buy.
Find your high-ticket dropshipping product
Now that you have identified your audience and know the types of products you need to dropship, you can now start your product research.
In luxury dropshipping, product research is quite different and more complex. As mentioned earlier, you need to find luxurious versions of ordinary products.
Indeed, the first thing to do is to first identify middle-class products. For this first product search, you can either use the traditional search methods which are quite tedious, or you can use the product search tools which are faster and more efficient.
In this regard, Dropispy is the best product search tool that can allow you to find your winning product in dropshipping very quickly.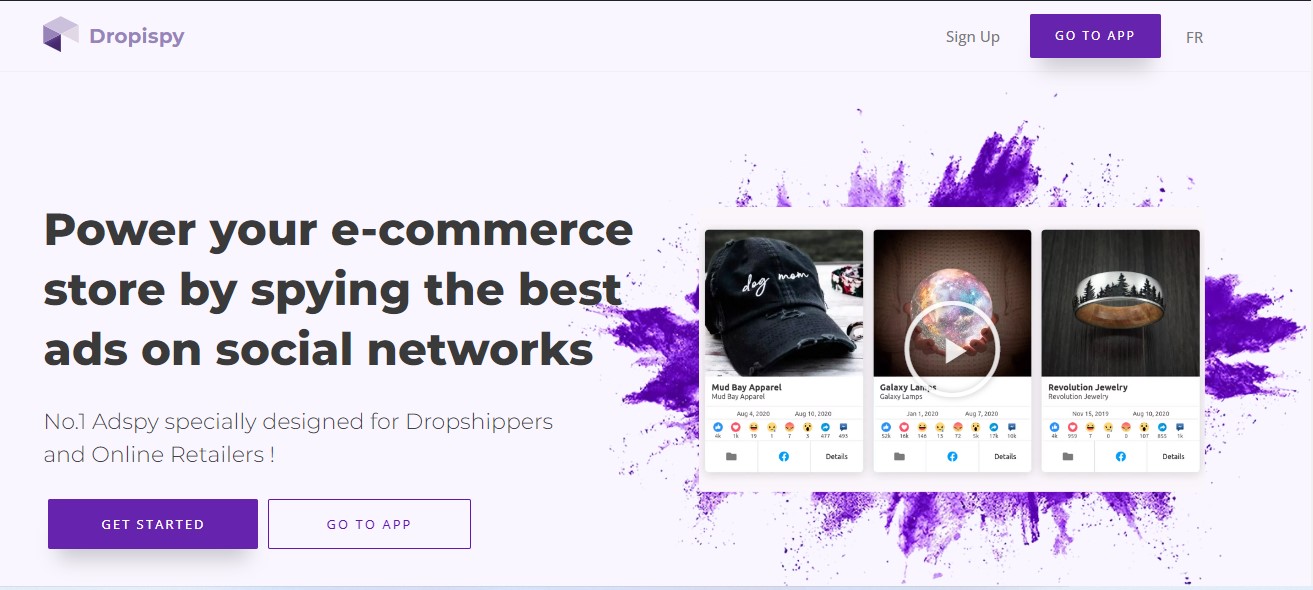 It is a winning product finder tool with very advanced features that allows you, in just a few clicks, to see the best-selling products in the market.
Using the tool's filters, you can optimize your results by filtering by keyword, language, country, and publication date…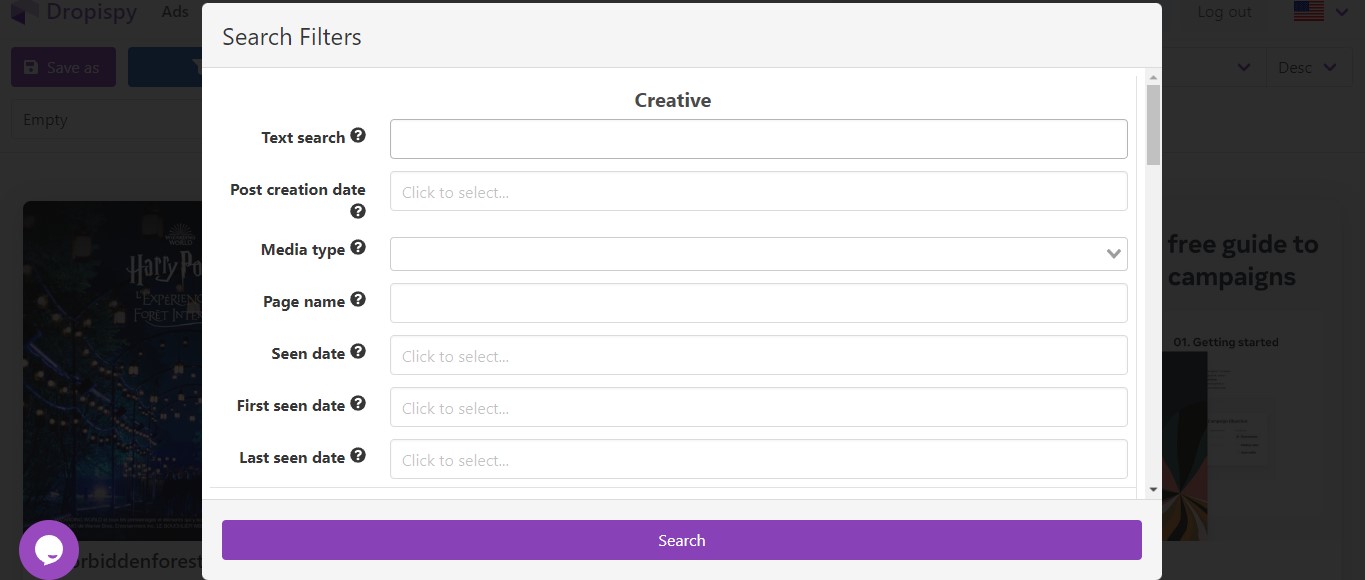 Start your
Winning Products Search

Now on Dropispy 🚀
Do you want to find the best winning products on social networks like Facebook? Try Dropispy, the most effective solution with the largest database of Facebook e-commerce ads
Do not hesitate to test Dropispy to find your next winning dropshipping product.
Once you find a product that meets the characteristics of a winning dropshipping product, you can now try to find an upgraded or luxury version of that same product by going to major marketplaces like Amazon.
You can also search on Google by typing the name of the product found followed by the keyword "luxury".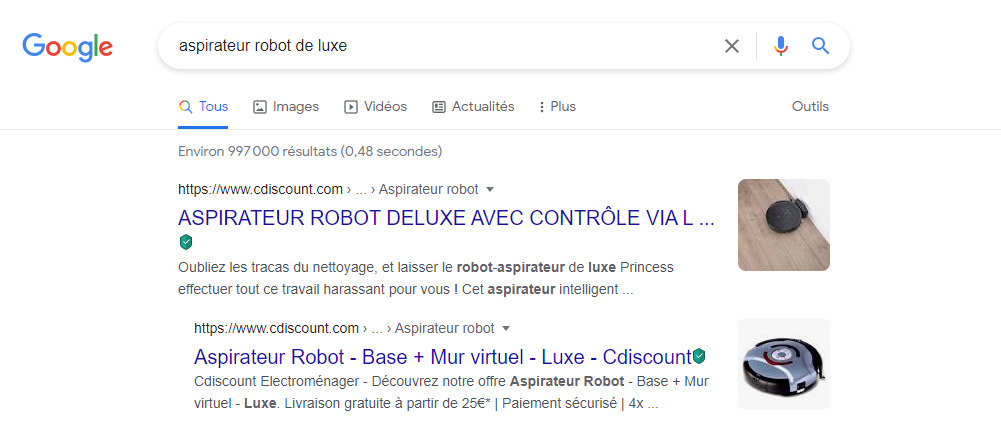 This search will show you all the online stores that offer this type of product in an improved or luxurious version. You can go from there and select the version that speaks to you the most.
Do not hesitate to spend the time necessary on this step and search as many shops as possible to find the ideal product.
Find the right dropshipping supplier of high-ticket products
In the dropshipping of luxury products, the search for a supplier is quite tricky. You are preparing to market products that are quite expensive, so you need to make sure that your supplier is actually producing the right quality for your products.
The more your supplier delivers quality products to your customers, the more they trust you, and the more your shop grows.
Generally, most dropshippers choose Chinese suppliers using the AliExpress platform. But, as you know, products coming from China are not necessarily the best product qualities.
We recommend that you opt for US suppliers instead.
The best way to find suppliers who ship the products you want to sell is to spy on competitors.
Find 2 or 3 dropshipping shops that sell the same product you want to sell in your store, and then order the products they sell.
The idea here is, first, to check the quality of the products delivered by the suppliers and also to be able to identify them thanks to the product return technique.
After receiving the products, ask to send the products back to the suppliers. This will allow you to obtain the identifiers of the sender and therefore of the supplier.
You can then contact them and discuss a possible partnership.
But for you, we have made a selection of the best luxury product suppliers that you can consult here.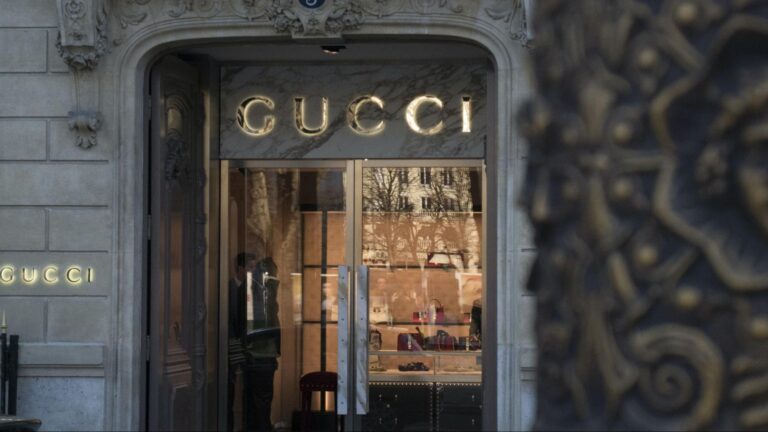 In the physical world, shops selling high-ticket products are recognizable from afar. This is due to several factors:
The decoration
The materials used
Colors…
All these elements make it possible to differentiate these shops from other shops selling ordinary products. It's exactly the same principle when you sell online.
Apart from the basic principles that all e-commerce stores must respect, your store must feel a certain quality and give a good first impression. This is what will make you different and give confidence to your buyers.
You have to do some real work for the design of your store. Don't put too many colors like other online stores. Prefer colors that are rather cold or that reflect luxury.
For this, it is better to entrust the creation of your store to a professional in order to have a quality rendering.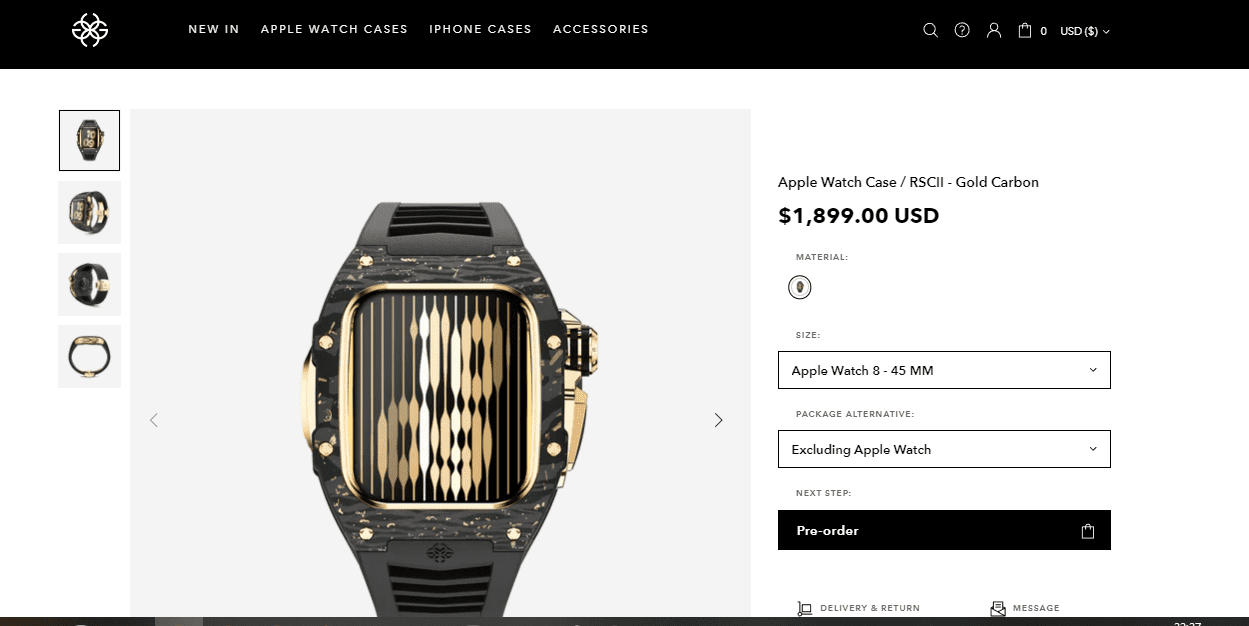 You also need to work on your product sheets. Emphasize the benefits of buying the product you are selling. Use the right words to get your buyer to take action.
Make sure to make navigation on your store as smooth as possible so that your prospects don't get lost.
Avoid flashing calls to action everywhere or promotional banners that diminish the user experience. You should know that people who buy high-ticket products are not attracted by excessive promotions.
These can even be a barrier for them.
Do not hesitate to take inspiration from other luxury boutiques that are already operating and making sales.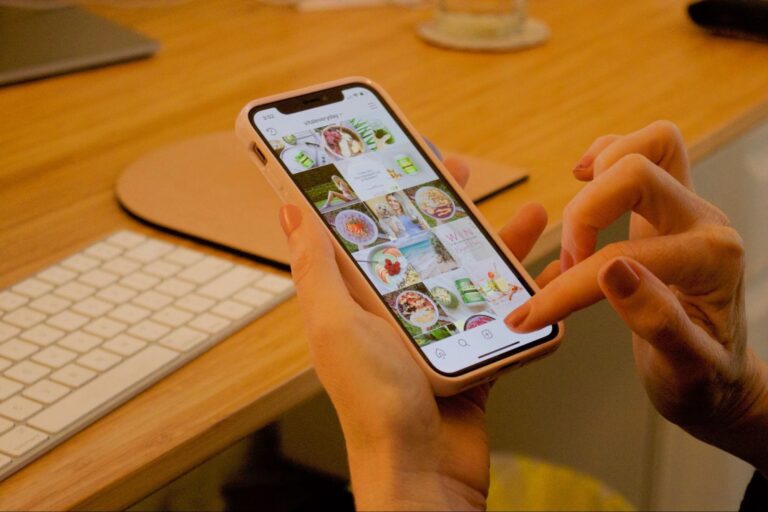 You cannot pretend to do high-ticket dropshipping and not master the workings of social networks.
As mentioned in previous chapters, young people are increasingly interested in luxury products to show off or to follow a certain fashion trend. Indeed, social networks remain the best place to show products to a young audience.
If you have to opt for social networks, I would recommend that you prioritize Instagram and TikTok. These are the networks on which users are more likely to share their expensive products or goods.
These networks are therefore the ideal place to promote high-ticket products. You can start by testing products through paid advertising.
Don't forget to configure your ads properly so that they are seen by the right audience. If you do not have the technical skills to mount advertising campaigns, it is better to opt for a marketing agency.
This will prevent you from making mistakes and losing money.
Provide impeccable customer service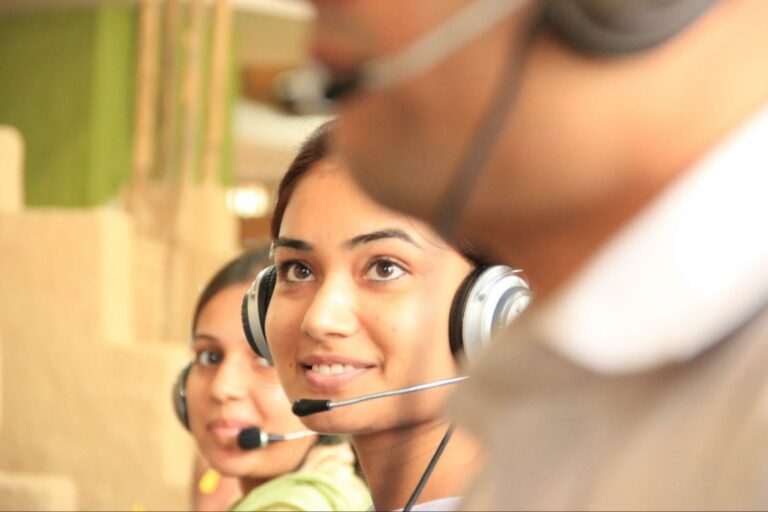 Customer service is generally neglected in e-commerce. The majority of internet sellers only focus on selling products to their customers without really caring about customer concerns after purchase.
Don't make the same mistake if you want to do high-ticket dropshipping. Already that the prices of your products will be higher than the average, you must make sure to have a very responsive customer service that is available 24/7 to answer all the concerns of your customers.
In this article, we have covered all the necessary aspects to consider in order to successfully dropship luxury goods.
You don't have to start selling high-end products that cost several thousand dollars when you're just starting out. Instead, prefer middle-class products that have great potential.
Regarding your store, it must be qualitative and really reflect a store selling high-ticket products.
Frequently Asked Questions
Can we do high-ticket dropshipping?
The answer is yes. You can of course do high-ticket dropshipping. You just need to do good product research and understand the psychology of your potential buyers in order to offer them the right products.
What type of luxury product to sell in dropshipping?
Just like regular products, there are several categories of luxury products that you can dropship. You can sell clothes, jewelry, and fashion accessories, decorative items, kitchen utensils, perfumes, and many other products.
Is the dropshipping of high-ticket products profitable?
The luxury goods niche is one of the most profitable niches in dropshipping. When you find a product with great potential, you can resell it for a much higher price in your store.