Many people are currently getting into online business in order to either make ends meet or with a view to achieving financial freedom. The Internet has amply helped these web entrepreneurs thanks to the many tools it provides combined with the plurality of business models that one can put online. Dropshipping, the most popular form of e-commerce. Nevertheless, understanding the principle of the business is one thing, to create a dropshipping store is another.
As you search the internet, you will come across a lot of information or platform suggestions that can be undigestible and confuse you even more about how to build a dropshipping store. This article is intended to help you understand the nuts and bolts of this online business, outline the steps you need to take in setting up a dropshipping store, and introduce some of the tools you can use to set up a wholesale store.
Dropshipping is an online business model that involves selling products without having to store them. In other words, you don't need to manage a warehouse or worry about shipping the products you sell. Instead, you can focus on promoting and selling your products online.
In short, you play the role of intermediary between your target customers and your suppliers. Your main efforts will be focused on :
marketing of your products
the image of your brand
customer relationship
management of your sales site
That's why it's important for you to understand how to make a dropshipping store, but especially how to make it last. 
What is an e-commerce platform?
As you can see, building a dropshipping website requires tools. An e-commerce platform is, in the simplest terms: the software that will allow you to create your online sales site.
An e-commerce platform is an online software that allows the creation, management, and sale of products online. It provides tools to manage inventory, payments, deliveries, and customer relations.
Some e-commerce platforms are specifically designed for dropshipping, which allows businesses to sell products without having to store them. The main features of an e-commerce platform include:
order management
payment integration
inventory tracking
delivery management
data analysis
site customization
The benefits of using an e-commerce platform for dropshipping store creation include:
simplification of the store's management
reduction of inventory costs
the flexibility to sell products without stocking them
What are the steps to follow to launch a dropshipping store?
Now that you know how dropshipping works and what tool you need to use to create a store, it is important to know all the steps to follow to build your dropshipping store.
Indeed, as mentioned earlier, to create a dropshipping store can be a great opportunity to start an online business without having to invest a lot of money in inventory. However, setting up such a store can seem complex.Here are the steps to follow to create a dropshipping store successfully:
Choose a product or a niche
When creating a dropshipping store, choosing a niche and product is a key element to success. It is important to find a niche that has a defined target audience and a strong need or interest in the products you want to sell.
It is also important to choose products with a sufficient profit margin to cover your costs and generate a profit. It is advisable to focus on products that have stable demand, rather than ephemeral trends.
You can also research the competition to avoid choosing an over saturated niche. Finally, don't forget to check the quality and reliability of suppliers to avoid delivery or customer service problems.
You can use online tools to research popular product trends and find niche opportunities. By the way, on this point, Dropispy is surely the best tool you can use when searching for your winning product to sell on your drop-shipping store.

Dropispy is an adspy tool. As the name suggests, it is a software that allows you to spy on advertisements of other competing dropshipping stores. This way, you can identify trending products through the creatives of promotions on social networks and gauge the appeal of the product by basing you on the engagement rate of these ads.
Dropispy also allows you to spy on your competitor's stores, so you can optimize your product pages as well as your dropshipping store based on the already functional shops.
Start your
Winning Products Search

Now on Dropispy 🚀
Do you want to find the best winning products on social networks like Facebook? Try Dropispy, the most effective solution with the largest database of Facebook e-commerce ads
Search for reliable suppliers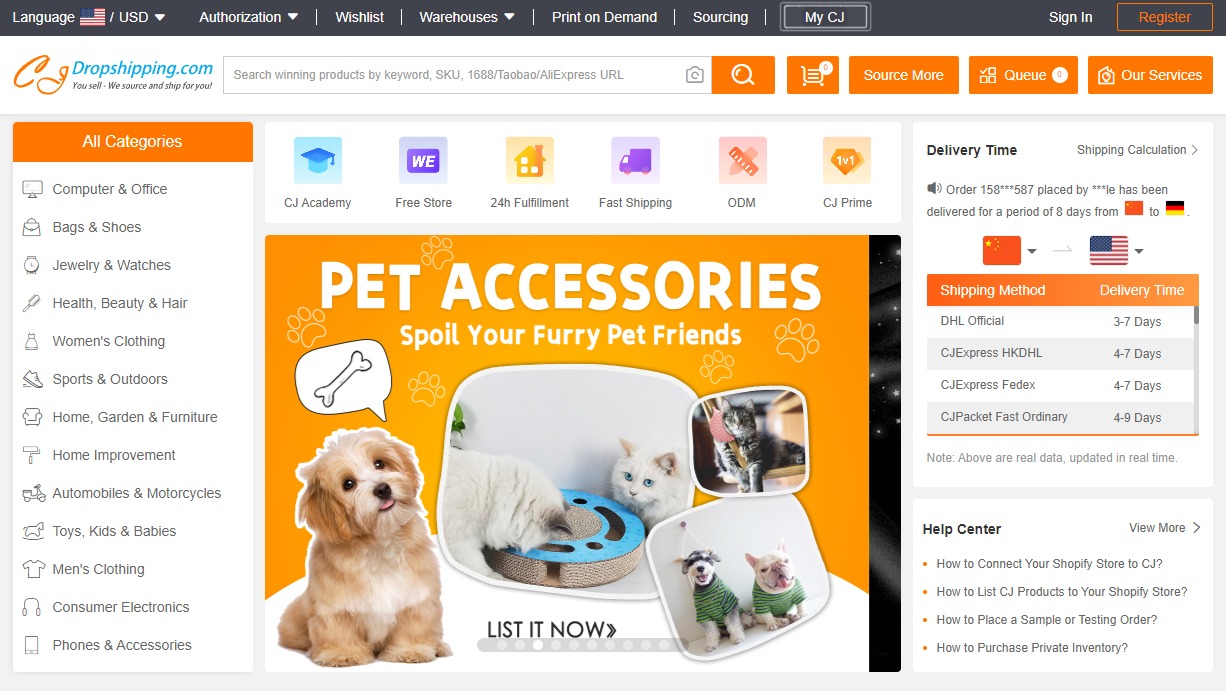 Finding a product is one thing, knowing where to get it is another. Since in dropshipping, it is the supplier who handles more than la half of the work, it is important to work with reliable suppliers who can guarantee the quality of the products and the speed of delivery.
Whether you are going through marketplaces such as AliExpress and Alibaba or if you are using services such as CJ Dropshipping, it is advisable to check reviews and claim rates before committing to a provider. Consider comparing different providers, contact them, ask them how they operate and by what means you can communicate with them and pay their bills. 
Configure your online store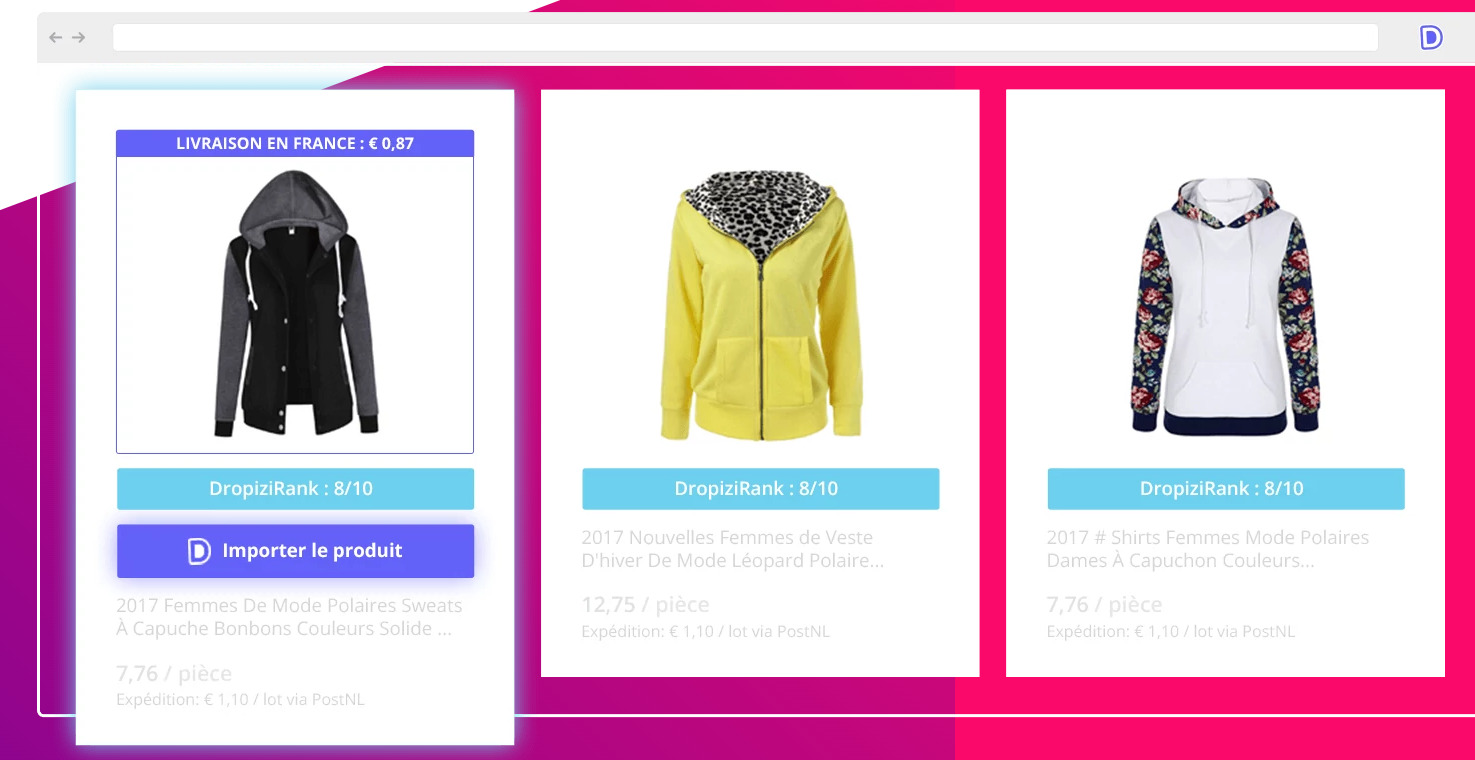 You have your product, you have found a reliable supplier, now you have to present the product in a professional shop. When we say professional, we are talking about creating a beautiful interface with a good customer experience and one of the marketing arguments to sell.
Remember that you yourself will not buy from a shady site that does not reflect any professionalism. So make an effort when building your e-shop.
Making a dropshipping store, you don't need to hire a webmaster to create a store, you will just need to choose the right e-commerce platform with a good editor. This way, you will be able to create a professional store by yourself, and you will be able to say, "I managed to build my dropshipping store all by myself!".
If you don't have any technical skills, and you don't know how of setting up a dropshipping store, you can create your store quickly with the Dropizi platform. In the rest of this article, we'll see more details on how this platform works, its advantages and its prices.
Create a brand name and logo
A dropshipping store, apart from its internal process, is an online store like any other. If you want to stand out, you need to set up a point of differentiation, you need to create a brand and ideally a good logo.
Of course, it's not essential to do it from the beginning, especially if you don't have the budget for it… Focus your funds and attention on product testing. Nevertheless, make sure that the visual identity of your e-shop is consistent, use a logical store name related to your product and maintain that impression of professionalism towards your target customers.
Configure your delivery and payment settings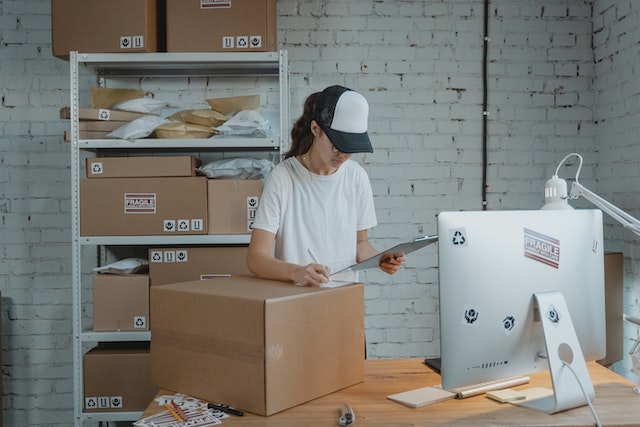 Stores are not known for their fast delivery times, due to the fact that products are usually shipped from China. Nevertheless, you can negotiate shorter delays by talking directly with your suppliers. At the level of your store, don't forget to configure the shipping cost so that they don't block your customers in the conversion tunnel.
Payment is a crucial point for your dropshipping shop, you can't sell if you can't receive payment. Remember to install gateways that accept credit cards as well as payment services like Paypal so that you don't limit your conversion rate.
Import the product(s) into your dropshipping store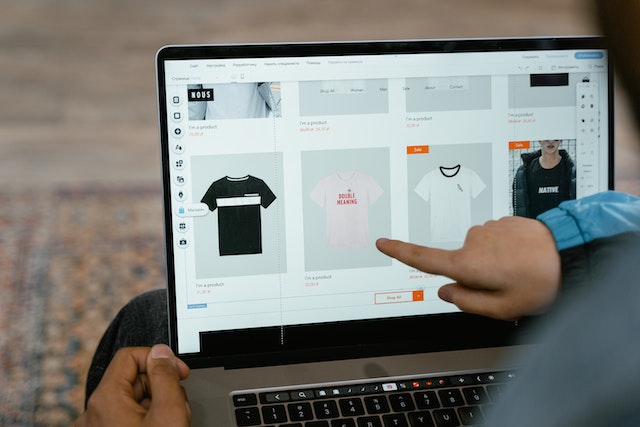 Once everything is ready, you now need tot import the products into your store so that you can present them for sale. This is where you need to create good product pages with good sales pitches. Don't forget to use quality images to present your products.
The import can be done manually depending on the platform you use. You can also automate the process.
Optimize your website for search engines
This is something that is often overlooked by dropshippers, but it is possible to make sales without spending any money on ads. Natural SEO allows your product pages and site to appear in the top position in search engine results. SEO allows you to generate organic traffic that generates you more sales.
Promote your product and your dropshipping store
To get customers to come to you, you need to advertise. This is usually done on social networks such as Facebook through sponsored postings or Meta business manager.
You can also opt for partnerships or product placements with influencers on social media to talk about your store and promote your products.
If you want to see some dropshipping store examples, we have an article for you, dealing with the best dropshipping stores.
What is the best dropshipping store creation tool?
As you will have understood, there are many dropshipping store creation tools. To help you in your choice, we have prepared a list including the 5 best dropshipping store creation tools.

Dropizi is a turnkey solution dedicated to dropshipping, launched in 2018 by the French group WiziShop. It is aimed at online business creators who want to earn money without having products or technical knowledge in digital. The Dropizi platform is a SaaS that centralizes all the tools for the management of a business. In addition, it offers the creation of various product catalogs, all in an intuitive interface.
Here are the key features of Dropizi for dropshipping:
Order management –

order tracking and processing in one place.

Product synchronization –

automatic synchronization with trusted suppliers.

Customization of the online store –

ability to customize the site to match the brand.

Import/Export products –

import and export products quickly and easily.

Sales tracking –

real-time tracking of sales and performance.

Market Analysis –

analysis of market trends for better decision making.

Cart abandonment –

tool to recover abandoned carts.

Email marketing –

email marketing campaigns to drive sales.

In addition to its features, Dropizi also offers free training included in each offering including:
Explanatory videos to discover the techniques of dropshipping
a close accompaniment with its experts in dropshipping and e-commerce to help you achieve your goals in dropshipping

Dropizi offers three subscription options: Standard, Pro, and Advanced.
The Standard

subscription costs

€37/month without commitment

and

€27/month with annual commitment,

offering the

basic options with 2% transaction fee on sales

.

The Pro subscription

costs

€97/month without commitment

and

€77/month with annual commitment

, with

more options and 1% transaction fee

.

The Advanced subscription

costs

€347

/month with no commitment and

€297/month with annual commitment

, offering

all Dropizi

features and

0.5% transaction fee.
Pricing may be considered high, but Dropizi offers a free 15-day trial period to allow users to make up their own minds before committing.
Advantages and disadvantages
Easy to use turnkey solution

Catalog of various products

Personalized support with dropshipping experts

Free online training

Affordable rates
Transaction fees

French interface only
Dropizi is an excellent choice for web entrepreneurs who want to start dropshipping. Its turnkey solution, its varied product catalog and its personalized support make it an almost complete tool.
Discover our evaluation on Dropizi. It is based on all the parameters we have analyzed throughout the article.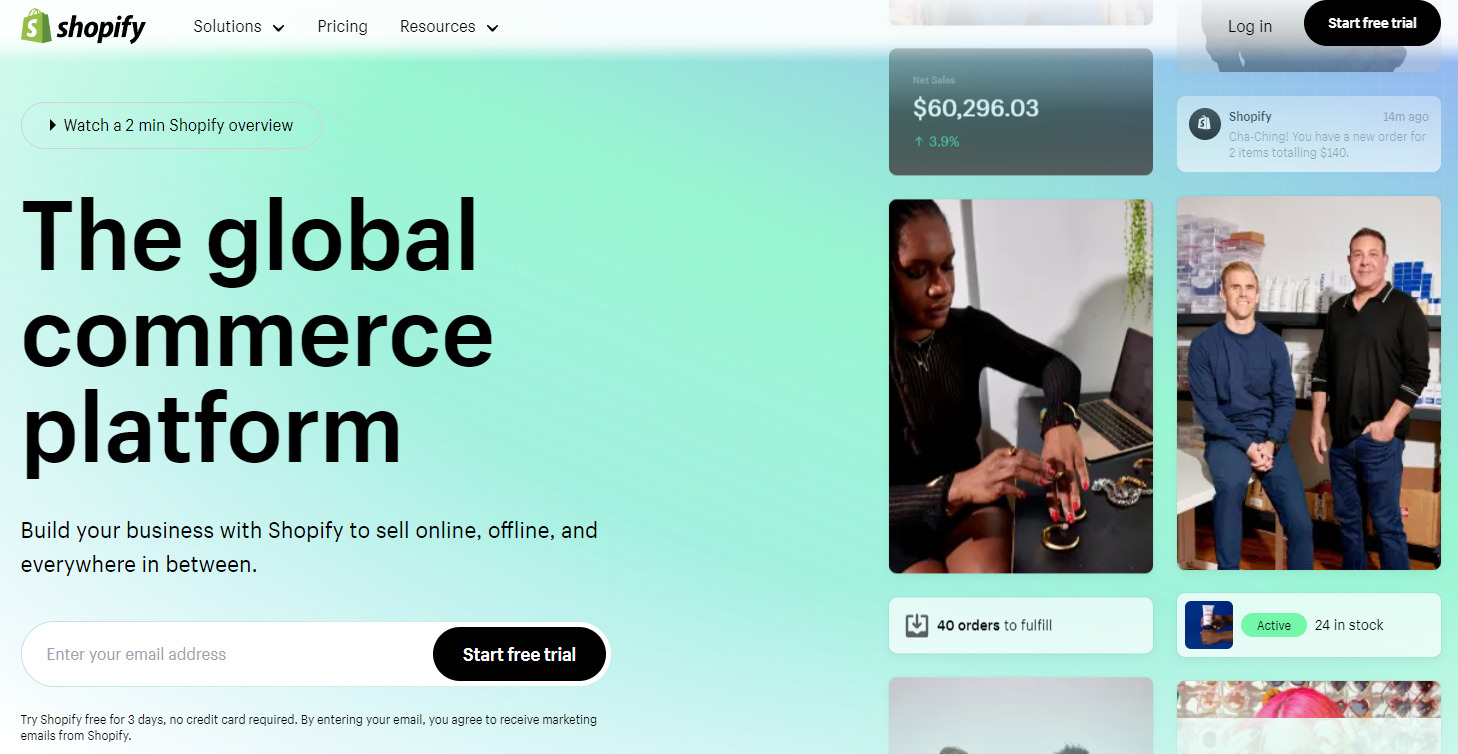 How can we talk about dropshipping without talking about Shopify, the preferred platform for dropshippers? Shopify is a CMS platform that helps e-merchants create and manage their online business site.
Founded in 2006 in Ottawa, Shopify is now used by over 2 million customers in 175 different countries. It is designed to be accessible to all levels of expertise, making it an ideal solution for e-commerce beginners.
Shopify offers a wide range of features for e-tailers and dropshippers, including:
A catalog of products
Order and delivery management
Online payment security
An analysis of the commercial activity
Customization by drag and drop
Third-party applications to add additional functionality
24/7 customer support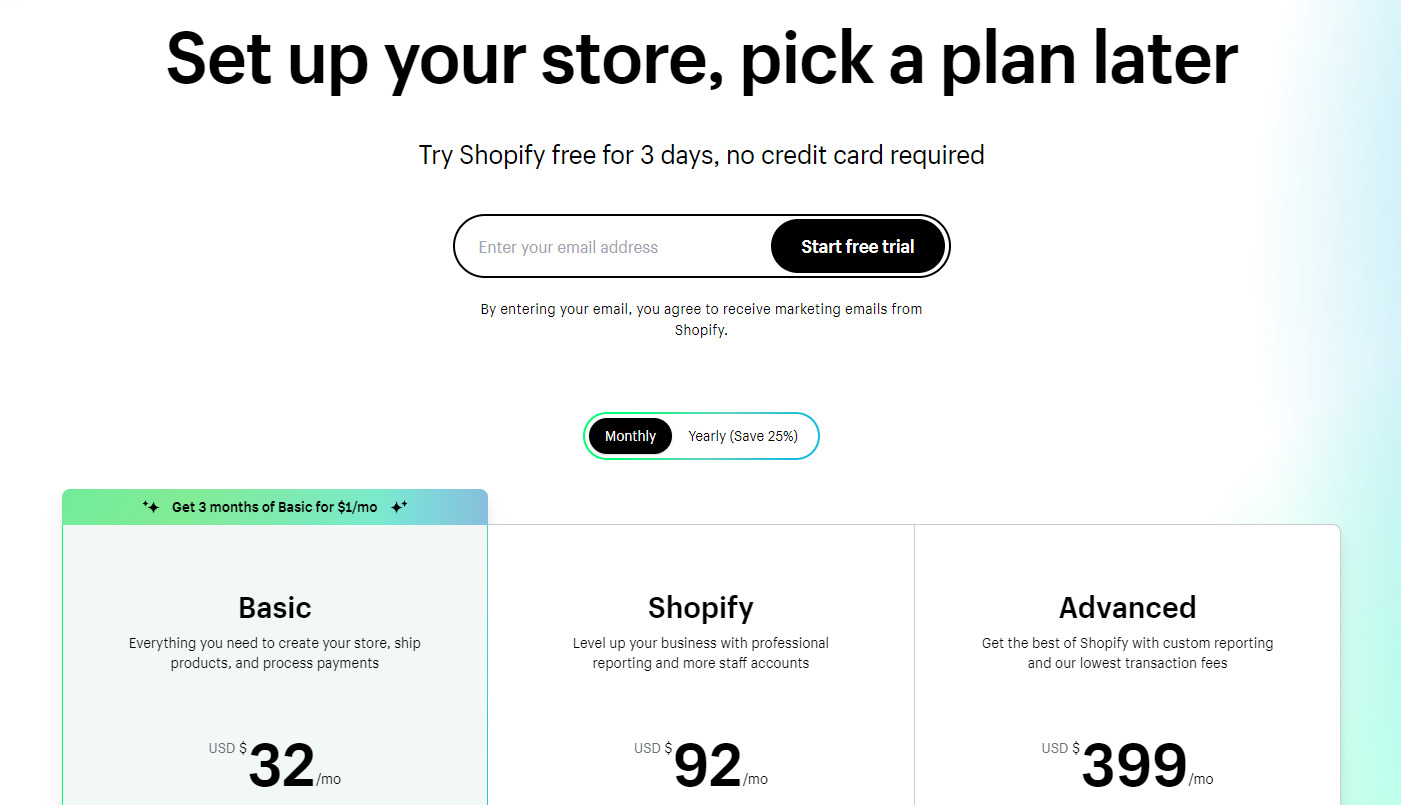 Shopify used to offer plans ranging from $29 to $299 per month. But as of this year (2023) the rates go from $32/month to $399/month. The previous plans are still available, but only for an annual commitment.
The basic offer, however, is available at $1/month for the first three months, and you can try any plan for free for 3 days for free.
If that rate still seems too expensive, thanks to a partnership between Dropispy and Shopify, the basic offer is available at $1 for 90 days.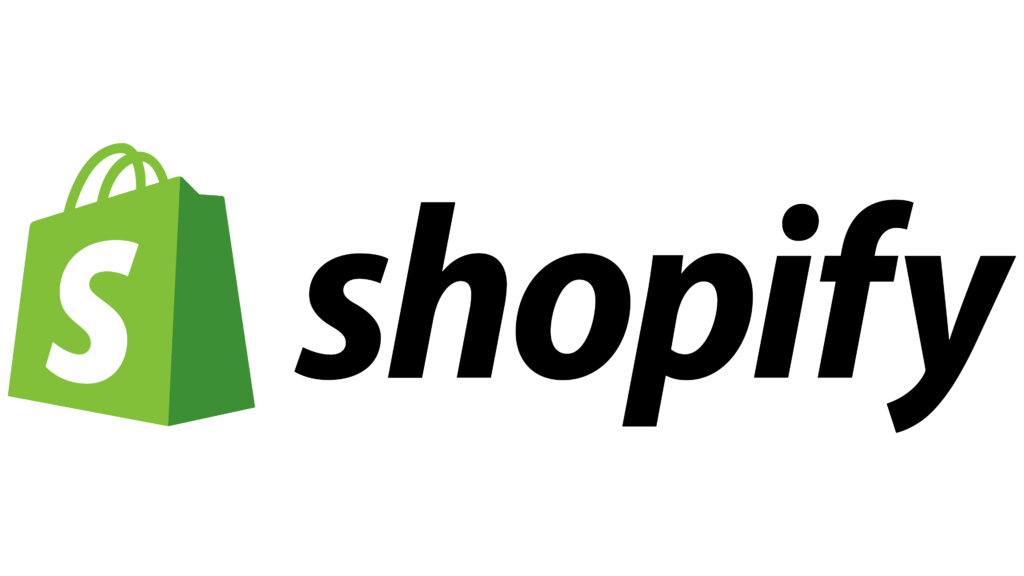 Create your Shopify store for only $1 during 90 days
The advantages and disadvantages of Shopify
Easy to use

Drag and drop editor

Third-party applications available (integrated application store)

24/7 customer support

Online payment security
Rates may be higher than other available options

Some features may require additional expensive applications

The limitations of customization can be a drawback for more advanced users
Shopify is a great option for beginner or experienced e-tailers, especially for those who want to start a dropshipping business. 
Discover our evaluation on Shopify. It is based on all the parameters we have analyzed throughout the article.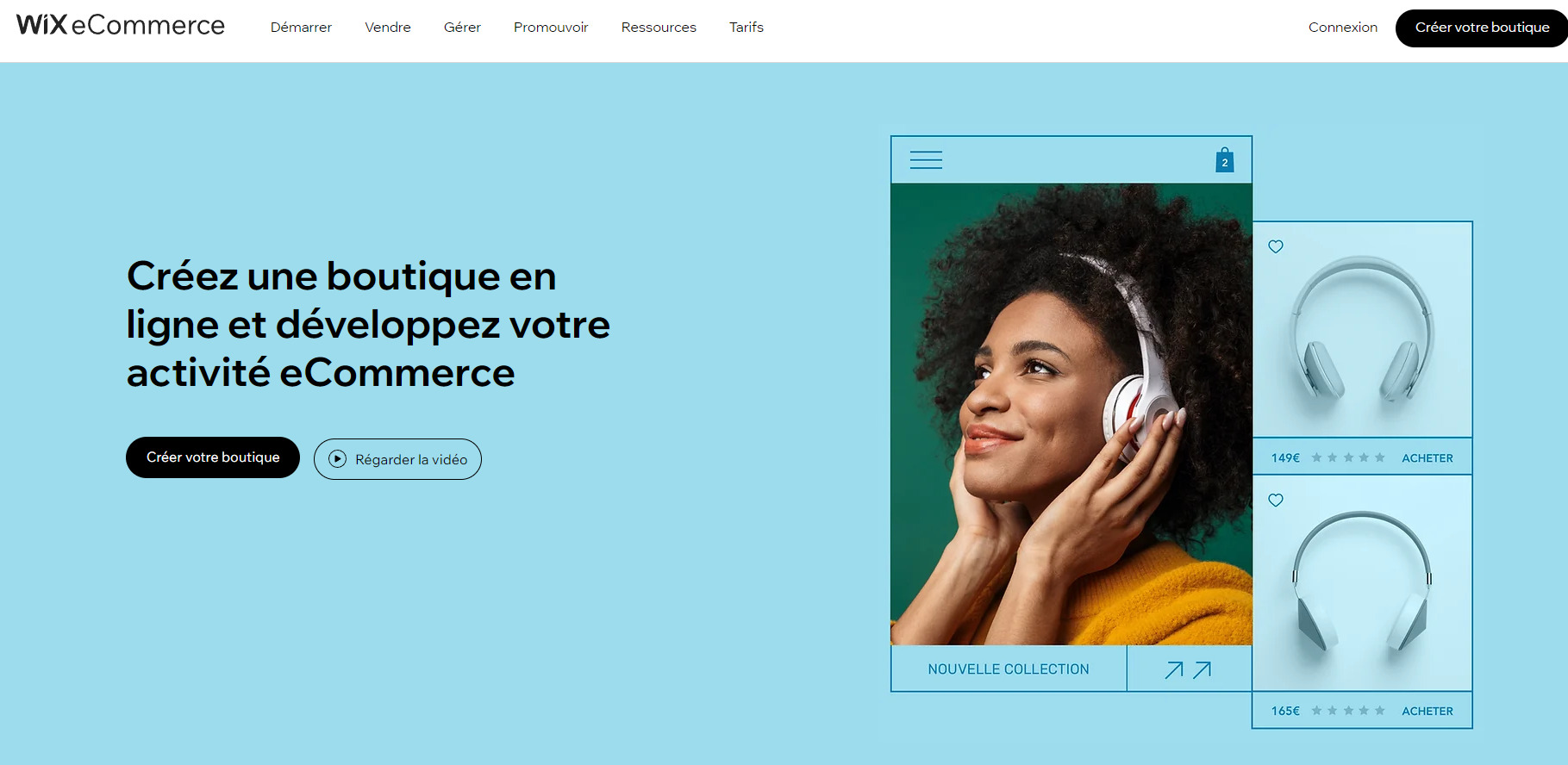 Wix is a CMS created in 2006, very popular and easy to use for beginners. It is ideal for launching an online store or a dropshipping store thanks to its customization requirements and its internal application store to customize your sales site.
Wix offers its own CMS features combined with its e-commerce platform faculties, you will find among others :
Publication of text, image, and video content
Blogging
Creation of an online store
Make an appointment
Collection of customer information
Mobile-optimized showcase
More than 500 templates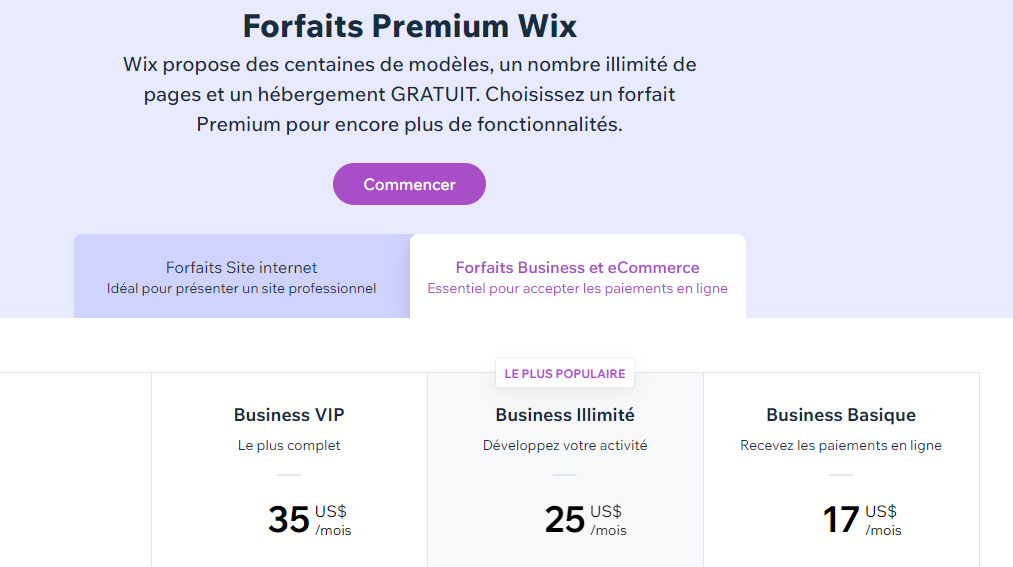 Wix offers 3 packages for e-commerce sites:
Basic at $17 / month
Unlimited at $25 / month
VIP at $35 / month
It is important to note that only the VIP package allows dropshipping with the Modalyst application and multiple currencies. All packages can be refunded within 14 days and the free version of Wix is unlimited in time, but does not allow customization of the domain name or freedom from Wix ads.
Advantages and disadvantages
Easy to use for beginners with a free version

Ongoing maintenance with an application store

Websites hosted on Wix have a high level of security

Support available by e-mail or telephone

Efficient and design templates

RN Assistant

Powerful to develop a blog

Encompassing core functionality
Less efficient for a purely e-commerce or dropshipping site

Not very advanced features
Wix is an easy to use tool to launch an online store. It offers many basic features and reasonable prices. However, it is less efficient for pure dropshipping sites.
Discover our evaluation on Wix. It is based on all the parameters we have analyzed throughout the article.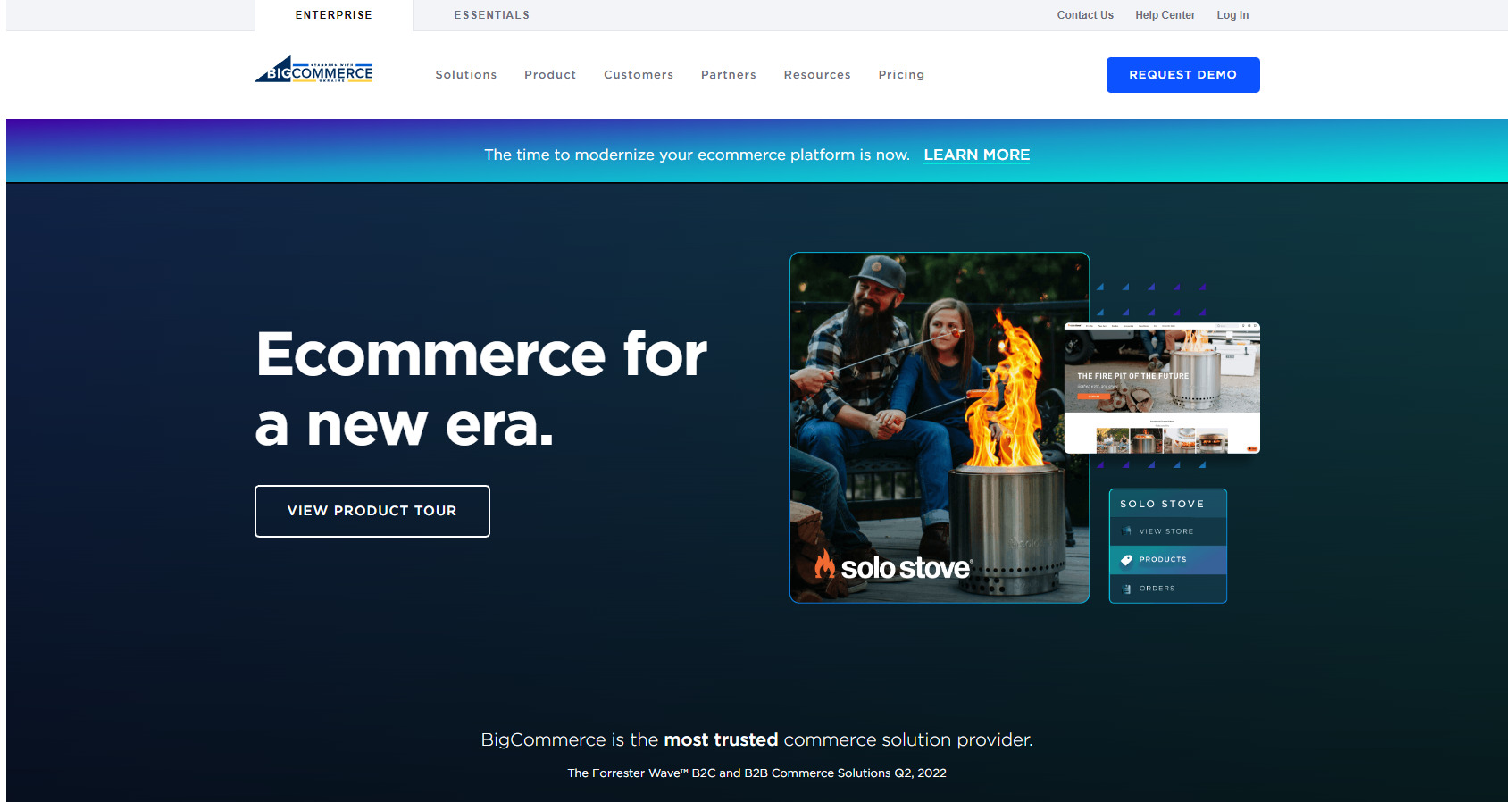 BigCommerce is a paid e-commerce solution that allows e-tailers to create an online store and sell their products on the web. It is self-hosted and runs on its own servers, which means you don't need to buy web hosting or install any software on your computer. You can build and manage your store from anywhere.
BigCommerce offers many key features, including:
Customizable website builder
Easy product management
Various payment options
Customized shipping
Flexible tax system
Dropshipping features
Intelligent product rules
Email marketing tools
Advanced search engine optimization.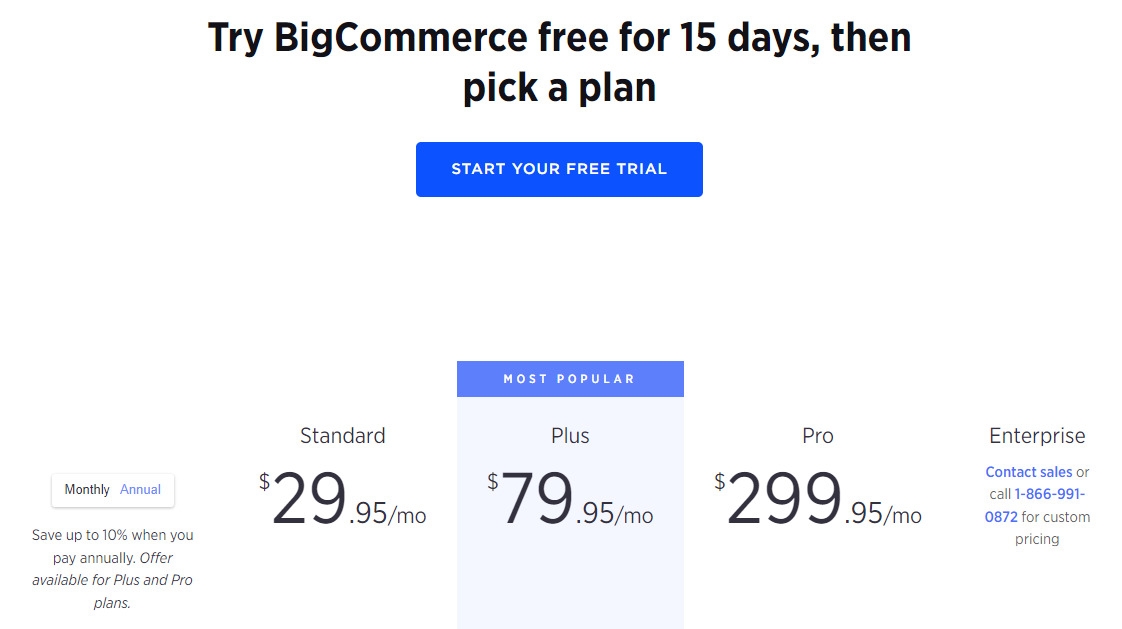 BigCommerce pricing varies depending on the plan you choose, ranging from $29.95 to $249.95 per month. There are also free offers and a 15-day free trial period for new customers.
The advantages and disadvantages
Advanced dropshipping features

Customizable website builder

Various payment options

Advanced marketing tools

Search engine optimization (SEO)
Insufficient functionality to justify the cost

Insufficient update of the functionalities

Some features designed primarily for US customers
BigCommerce offers a wide variety of features to help businesses start their dropshipping business. But some customers complain about the lack of feature updates and the high cost for other tools that aren't entirely useful.
Our rating on BigCommerce
Discover our evaluation on BigCommerce. It is based on all the parameters we have analyzed throughout the article.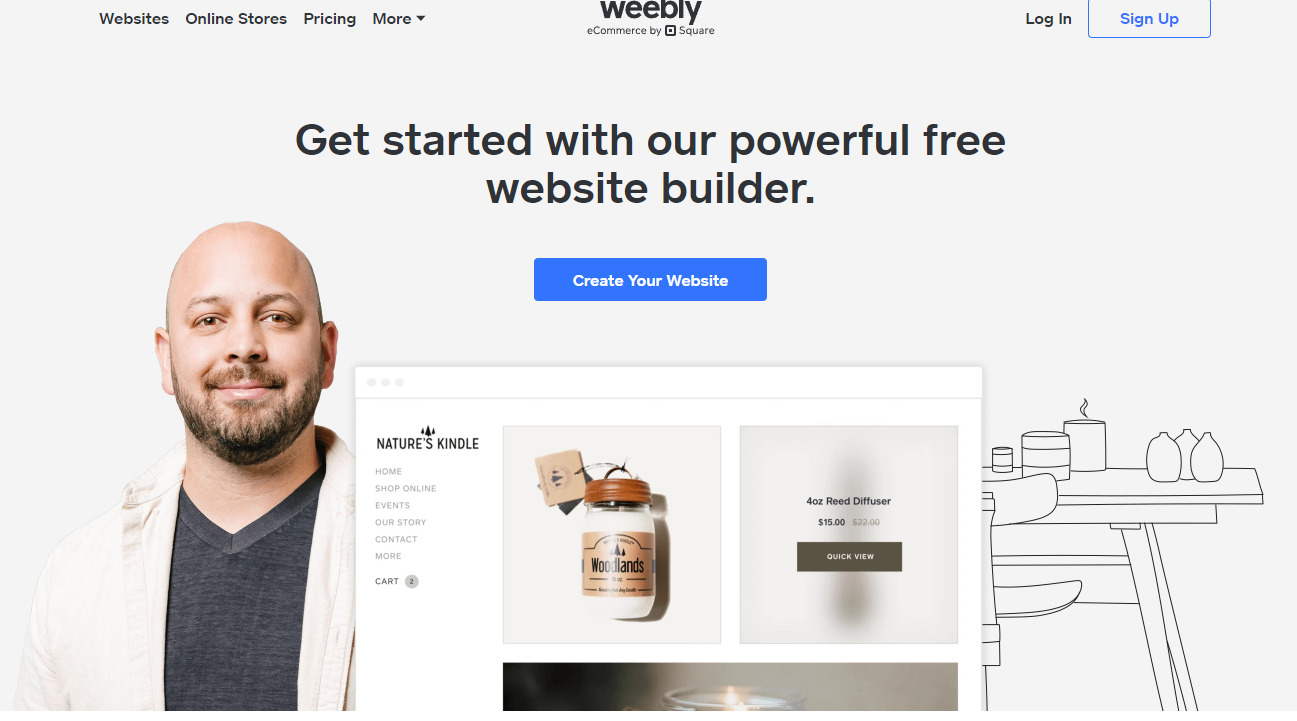 Weebly is a website creation tool designed for small to medium-sized businesses that want to sell online quickly. It requires no programming knowledge and is easy to use thanks to its drag-and-drop feature. More than 40 million small businesses have already used it to promote themselves on the Internet.
For creating a dropshipping store with good branding, Weebly offers as features:
Image editing
Attendance statistics
Video backgrounds
Customizable headers
Product pages
Integrations with different payment providers
Delivery and inventory management options
Customizable website and online store templates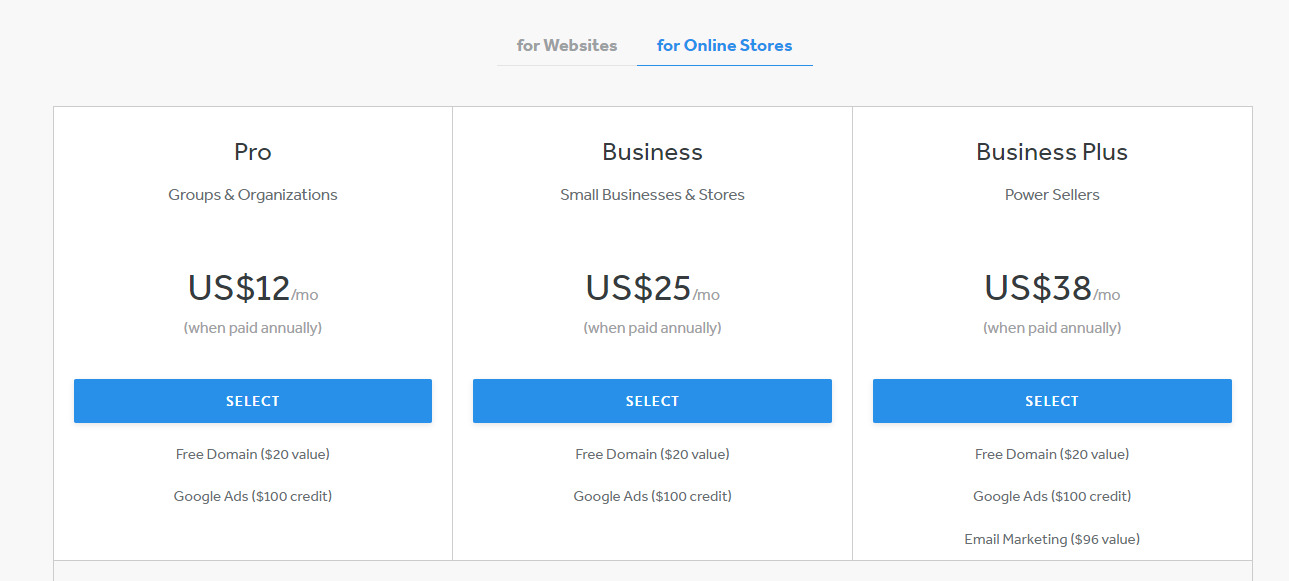 For the creation of an e-commerce store, Weebly offers 3 paid packages ranging from $12/month to $38/month. The functionalities evolve according to the chosen offer.
The advantages and disadvantages of Weebly
Ease of use

Good ergonomics and clear interface

Integration with different payment providers

Detailed statistics to monitor site performance
Limited functionality compared to other website creation tools

Limited dropshipping features
Weebly is a great tool for small and medium-sized businesses wanting to sell online quickly without getting lost in the technical details. It offers a variety of features to customize your site and track its performance. However, the lack of features and compatible applications will limit you in creating and managing a dropshipping store.
Discover our evaluation on Weebly. It is based on all the parameters we have analyzed throughout the article.
Comparison table of the best dropshipping store creation tools
| Tool | Ease of use | Features | Rates | Integrations | Overall rating |
| --- | --- | --- | --- | --- | --- |
| Dropizi | 4 | 4 | 4.5 | 4 | 4.1 |
| Shopify | 5 | 5 | 4.5 | 4.5 | 4.8 |
| Wix | 4 | 3 | 2 | 3 | 3.0 |
| BigCommerce | 4 | 4 | 4 | 3.5 | 3.9 |
| Weebly | 3.5 | 3 | 2.5 | 3 | 3.0 |
Dropshipping has become a very popular business model in recent years because of its flexibility and simplicity. Setting up a dropshipping store can seem daunting, but there are many tools to help you get started.
To help you in your search, we have provided you with a short list. According to our analysis, among the best e-commerce website builder tools, Dropizi and Shopify are the most popular and reliable. They offer powerful features and an easy-to-use interface to create and manage an effective online store. By using one of these tools, you can launch your store in a few simple steps and start selling your products online without having to manage warehousing or shipping.
Remember that the key to success in dropshipping is planning, research and perseverance. If you follow these steps, you can create a dropshipping store that can be profitable and help you reach your financial goals.
What budget to start dropshipping?
There is no minimum budget to start dropshipping, but it is generally recommended to have a few hundred euros (around €500) to cover startup costs such as subscription fees to an e-commerce platform, advertising costs and shipping costs.
Almost anyone can do dropshipping, as there are no barriers to entry such as capital investment, storage space or inventory management. However, to succeed in dropshipping, you need marketing, sales and business management skills.
How to dropshipping Shopify?
To dropship on Shopify, you must first sign up for a Shopify account, select and import products from wholesale suppliers, set up shipping and payment options, and then start promoting your online store. It is also recommended to use apps such as Oberlo to automate the ordering and delivery process.
How to start dropshipping?
To drop:
First, you need to select a product to sell and find a reliable supplier who can ship the products directly to your customers.

You need to build an online store or use an e-commerce platform to sell the products. It is important to make sure that the profit margin is sufficient to cover the costs and generate a profit.

You need to promote your online store effectively to attract customers and generate sales.