When you start in e-commerce or clothing dropshipping, you are usually focused on product research to the point of forgetting after the product, you also have to find good dropshipping clothing suppliers.
Indeed, one thing is to find the ideal product and the other is to find a reliable supplier. You have no chance of making numbers on your store if you can't find the right supplier.
In this article, we will mainly discuss dropshipping clothing suppliers. By following the advice we share in this article, you will have no difficulty in choosing the ideal supplier for your business.
If you want to learn more about dropshipping clothes, you can check out this article in which we share all the strategies and methods to create a profitable online clothes selling business in a short time.
Can we sell clothes in dropshipping?
It is obvious to wonder if it is possible to sell clothes in dropshipping. In dropshipping, there are several types of products that should not be sold. But, clothes are salable products in dropshipping.
According to figures from statista, the ready-made clothing niche has seen an increase of more than 24.2% in its turnover from 2020 to 2022 and around 50% over the last 5 years.
This is therefore a phenomenal growth and it is more than ever the time to start selling clothes online.
Moreover, this increase in the trend has also given rise to an increased development of competitors. The market is more and more challenging and you have to do better and more than the others to sell.
What type of clothing to sell in dropshipping?
The clothing niche is quite large and there are several categories of products that you can sell. Men's clothing; women's clothing; for children… There are enough of them.
You need to find what works best in order to increase your chances of getting clients more easily. Here are three things to consider when choosing the right product category to sell in this niche.
It is always better to start the choice of products to sell in dropshipping by listing products that you like. The more you like a product, the more you know it and the more you can use the right words to describe the product's advantages and sell it more easily.
If you have a passion for women's fashion, then you can opt for women's clothing. Also, in this category, you can also filter by subcategory until you find the essential that suits you.
Check the product's trend
There are several categories of clothing that are trending products that only sell in a specific time of the year. For a start, it is not advisable to start by selling seasonal products.
This is why after identifying the type of clothing you are going to sell in your store, it is very important to check its trend to see if the product is selling on the Internet.
For this, you can use Google Trends and search for keywords related to the product to analyze the trend. A rising curve is a good sign.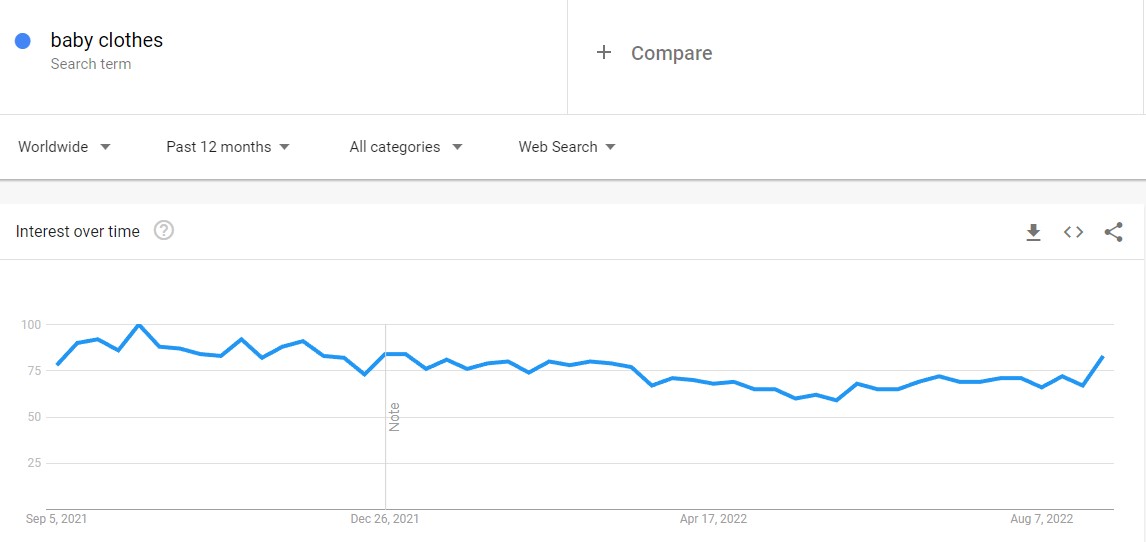 You can also go to major marketplaces like Amazon, AliExpress, eBay and check if the product is among the top sellers. If so, you no longer have any doubts about this product.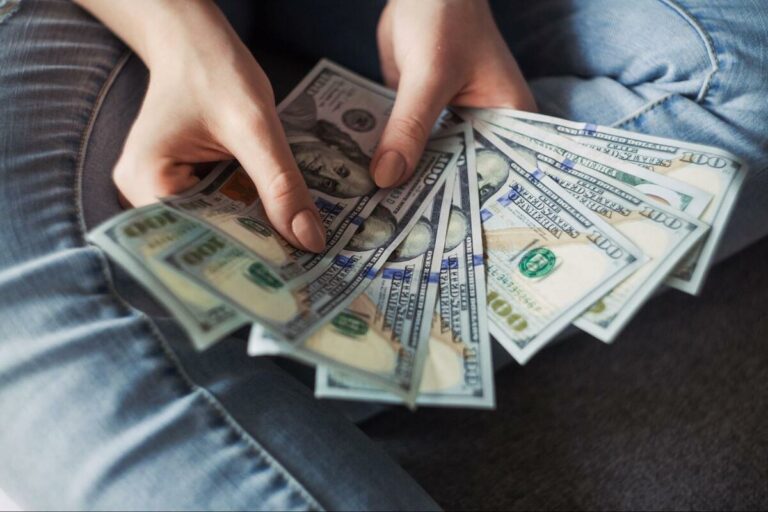 To be profitable in dropshipping, you must sell products with which you will be able to make a good profit margin. Generally, in dropshipping, the products are sold for 3 times more than their purchase price.
Indeed, for each product, compare the purchase price (the price on marketplaces) and the resale price (the price on other e-commerce or dropshipping stores). This will allow you to get an idea of ​​the price of the product on the market and your potential profit margin.
You can use the Dropispy tool to find the best dropshipping stores in a given niche.

You can thus see the products that sell better in these stores in order to compare the purchase prices and already identify your potential margin if you start selling these same products.
We recommend that you only sell products with which you can make a net profit of at least 20%.
Start your
Winning Products Search

Now on Dropispy 🚀
Do you want to find the best winning products on social networks like Facebook? Try Dropispy, the most effective solution with the largest database of Facebook e-commerce ads
What is a good dropshipping clothing supplier?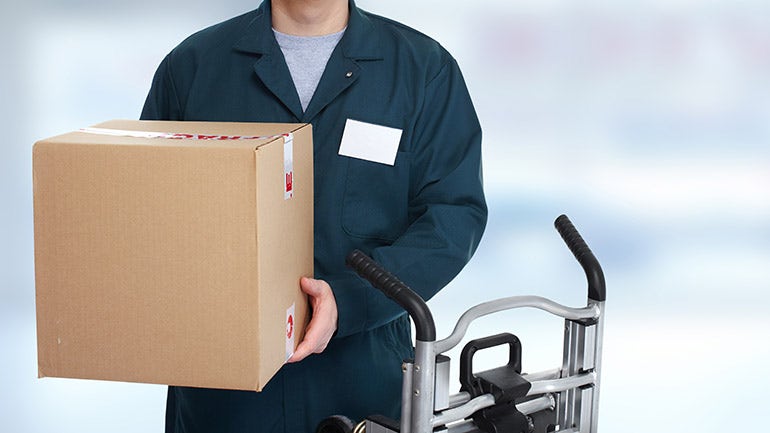 As mentioned above, the supplier is of paramount importance in dropshipping. If you have a good product and you don't have a good supplier, all your marketing efforts to promote and sell that product will be for naught.
It is therefore very important to choose, from the beginning, a good supplier who can deliver all your orders as soon as possible.
Indeed, here are the criteria that you absolutely must take into account before choosing your supplier:
The average supplier rating and customer reviews
If you go to a marketplace to choose your supplier, you can see directly on the latter's store that a certain rating is assigned to it for each product sold. In reality, this rating is only an average of the rating obtained from its customers.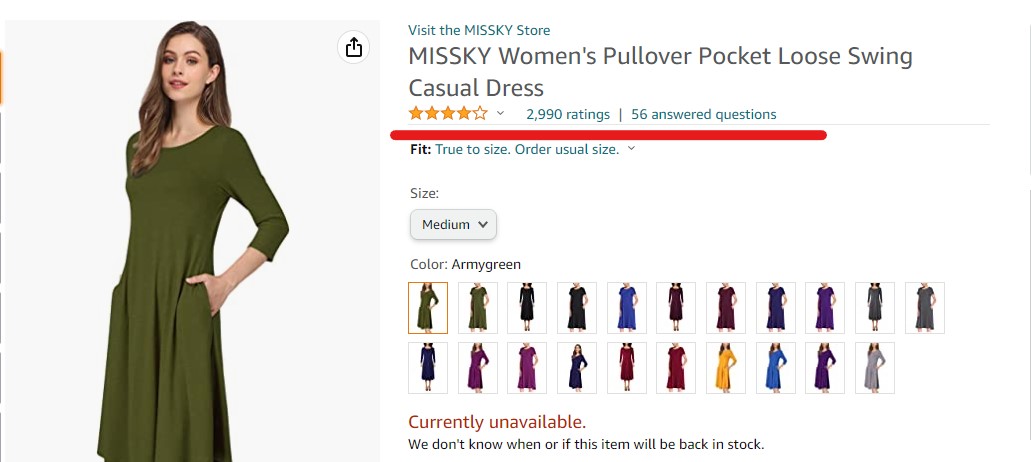 Indeed, the higher the score, the more trustworthy the supplier. As for customer reviews, you can usually see them also in the competitor's shop.
These reviews mainly allow you to learn more about the quality of the products delivered by the supplier—the more positive feedback you have on a vendor's store, the better.
In dropshipping, delivery times are a parameter that you should not neglect. This is fully involved in the development of your store. You should know that the majority of online shoppers want to have their products as soon as possible.
Indeed, if you sell the same product with a competitor, and the latter offers better delivery times, there is a good chance that all your customers will buy from them.
Therefore prefer suppliers with the shortest possible delivery times.
Here is a list of dropshipping clothing suppliers.
Top 20 Best Dropshipping Clothing Suppliers
Here is our list of the top 20 clothing suppliers you can trust for your dropshipping business.
1. My Online Fashion Store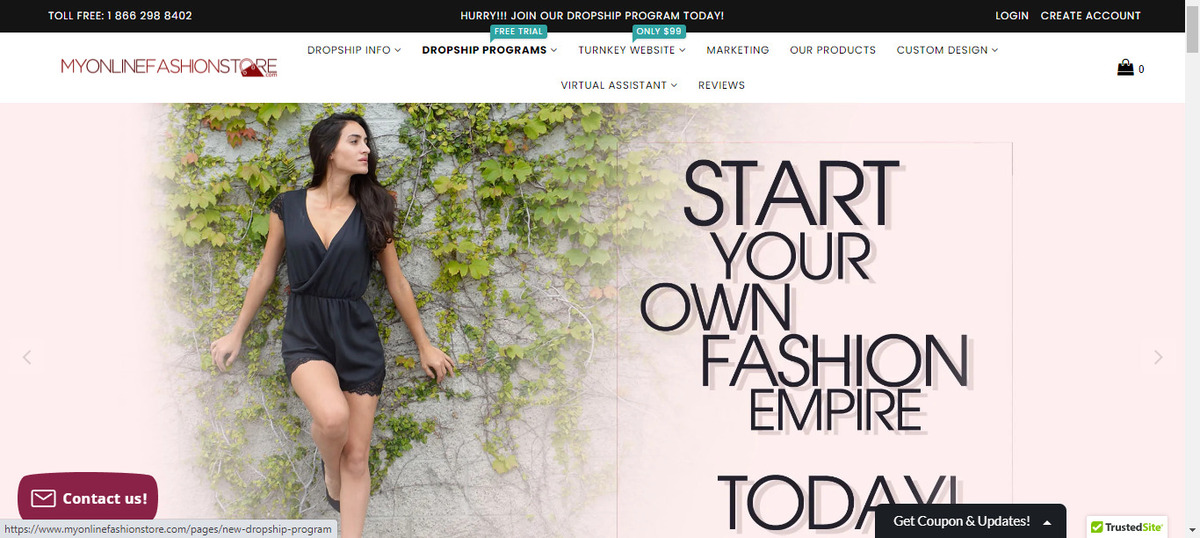 My Online Fashion Store is one of the best dropshipping clothing suppliers. They are located in the United States and are well known for their fast shipping.
The subscription costs only $29 per month and gives you access to a large catalog of women's clothing. With very responsive customer support, we recommend this supplier.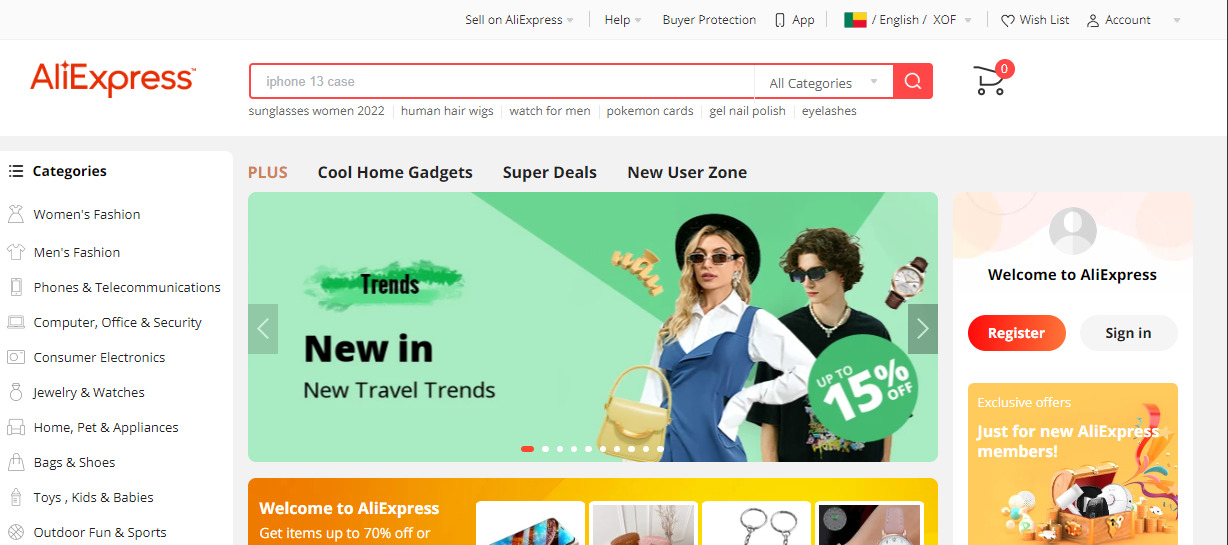 We cannot talk about a dropshipping supplier without mentioning the Chinese giant AliExpress. AliExpress is a marketplace on which the majority of dropshippers go to select their suppliers.
You will find on this platform all the categories of products that can be sold in dropshipping and dozens of suppliers for each product. You just have to know how to make the choice and for that, you can base yourself on the characteristics of a good supplier discussed above.
The platform is free, and they ship their products all over the world.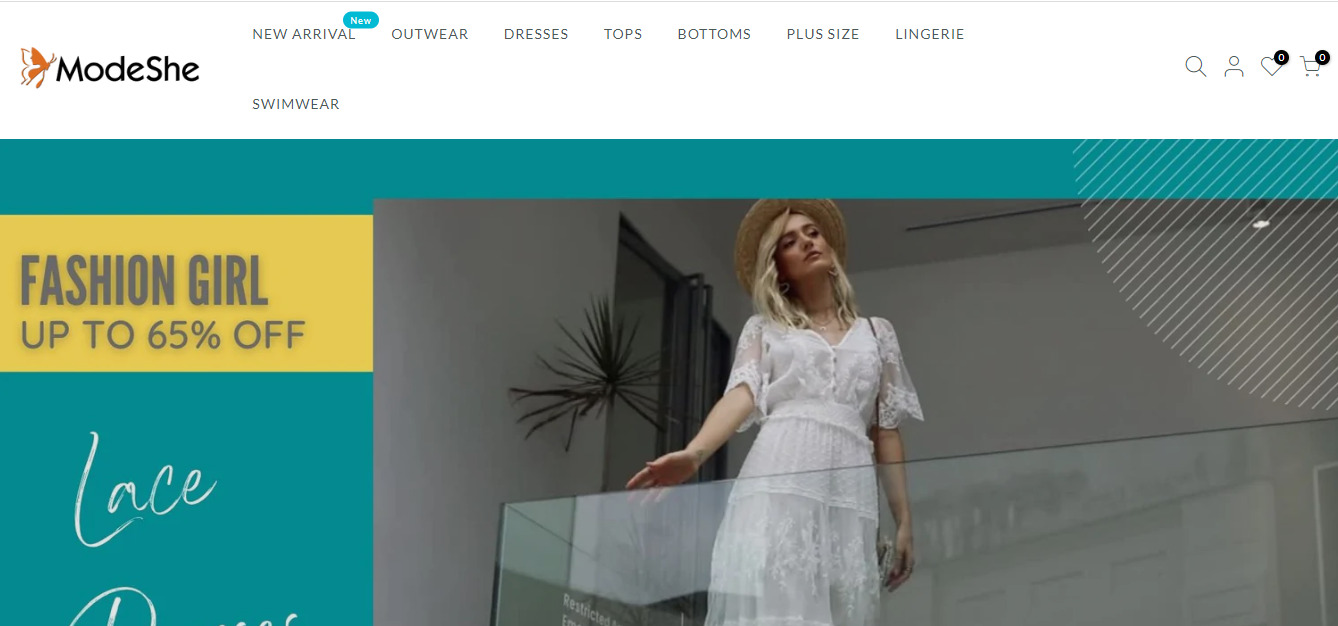 As the name clearly indicates, ModeShe specializes in the sale of fashion clothing for women. These are tops, bottoms, dresses and even swimsuits. They also have a return policy that allows your customers to return the products if they are not satisfied.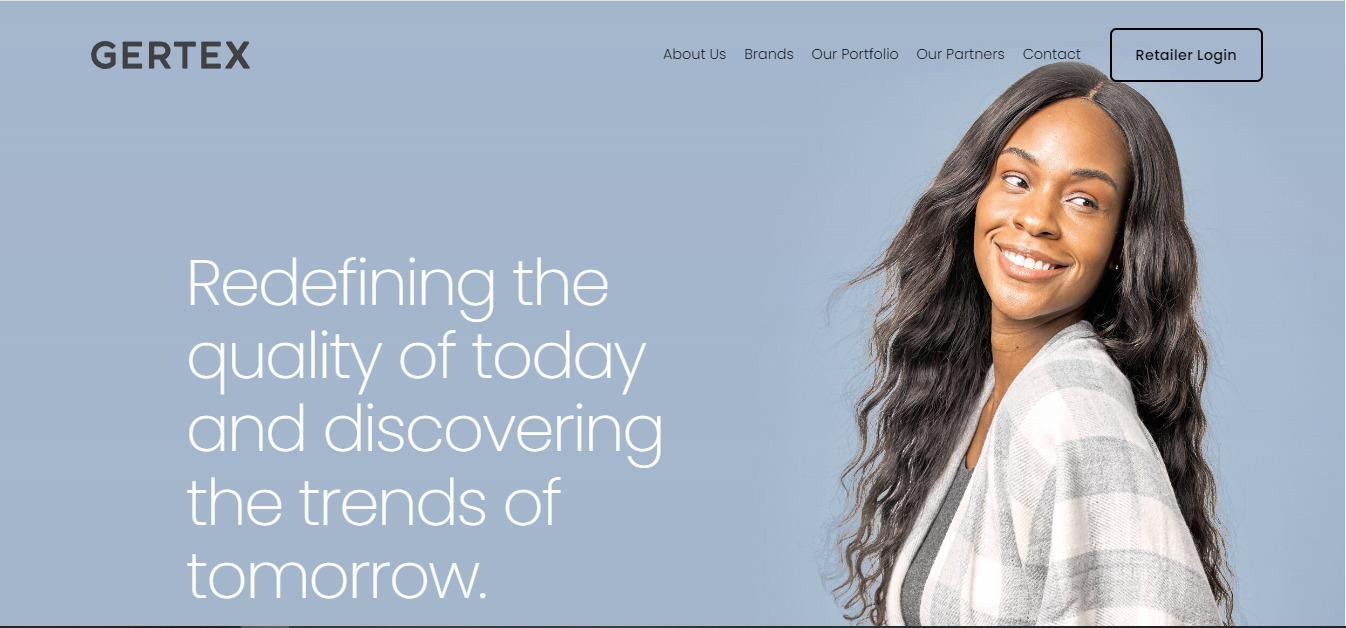 Gertex is based in Canada and is a specialist supplier of loungewear and fashion accessories. With this supplier, you have the possibility to customize your products according to your expectations.
Gertex takes care of the packaging and shipping of your products. Gertex is one of the best dropshipping clothing suppliers in Canada.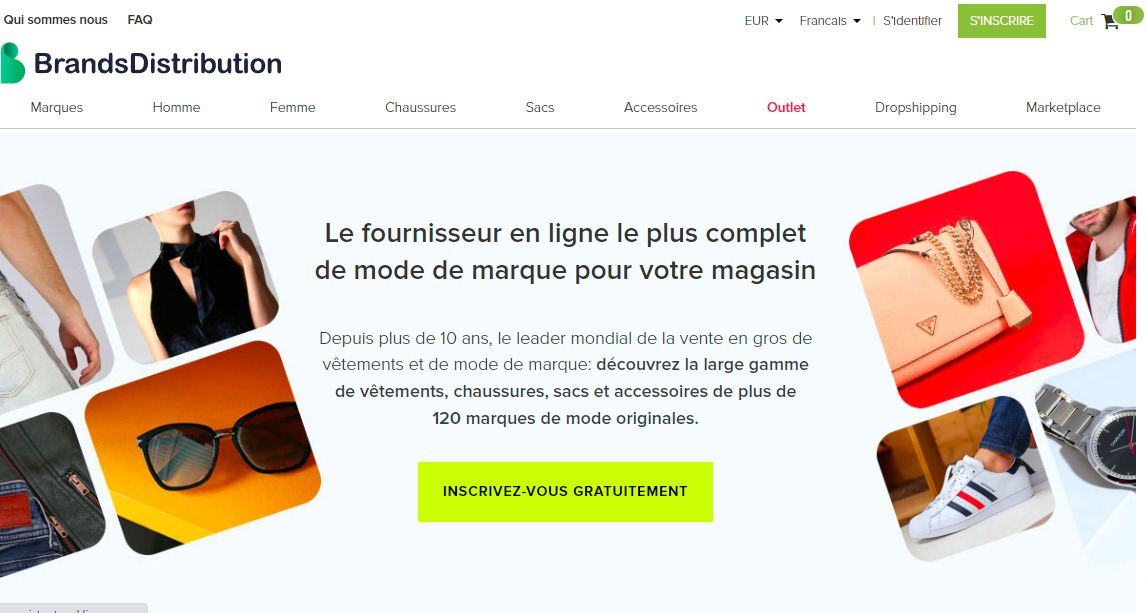 BrandsDistribution is an Italian supplier that has a catalog with more than 500,000 products from major brands. Its advantage is that you can buy products from big brands and market them without problems, because the supplier gives you the Reseller License.
For €99 you will have access to the complete catalog of all products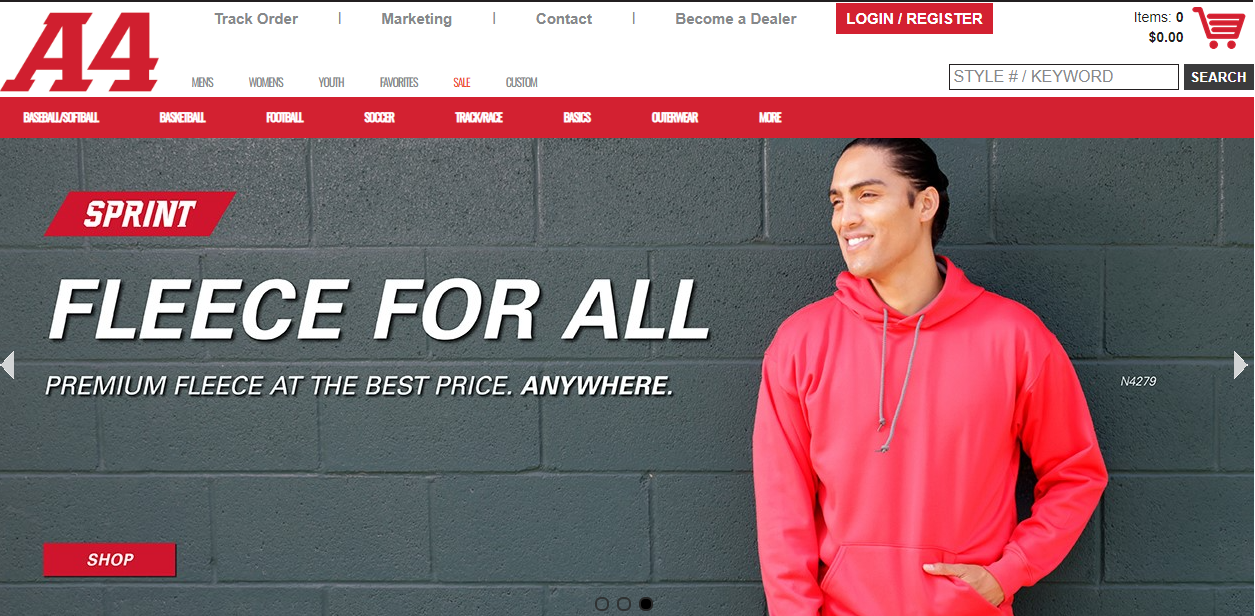 A4 is an American clothing supplier specializing in outdoor and sportswear for men and women. If you are a dropshipper who wants to sell custom clothing, you can trust A4, which is one of the best US suppliers.
As clothing, you can find at A4, t-shirts, hoodies, workwear and many more.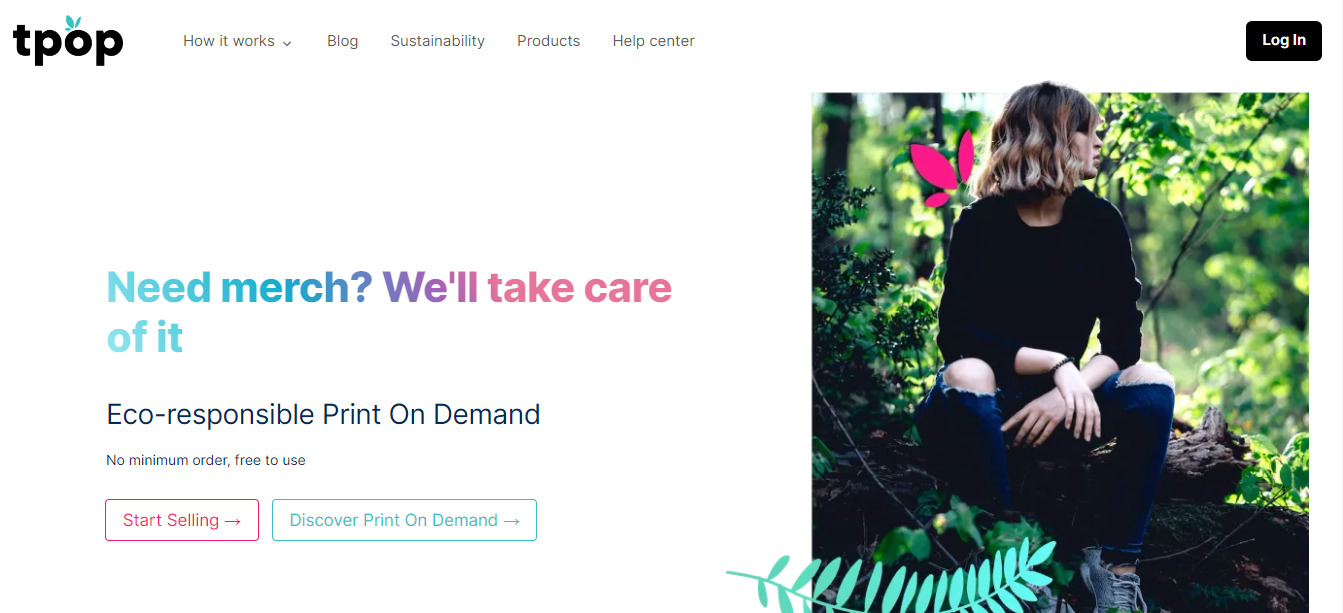 If you want to sell organic clothing or items made from natural materials online, T-Pop is the supplier we recommend. T-Pop is a French supplier who has enough experience in the market.
Its articles are unique and are clothing options that you will not find in all online stores, which can be very interesting because you are going to be able to bring something new and easily stand out.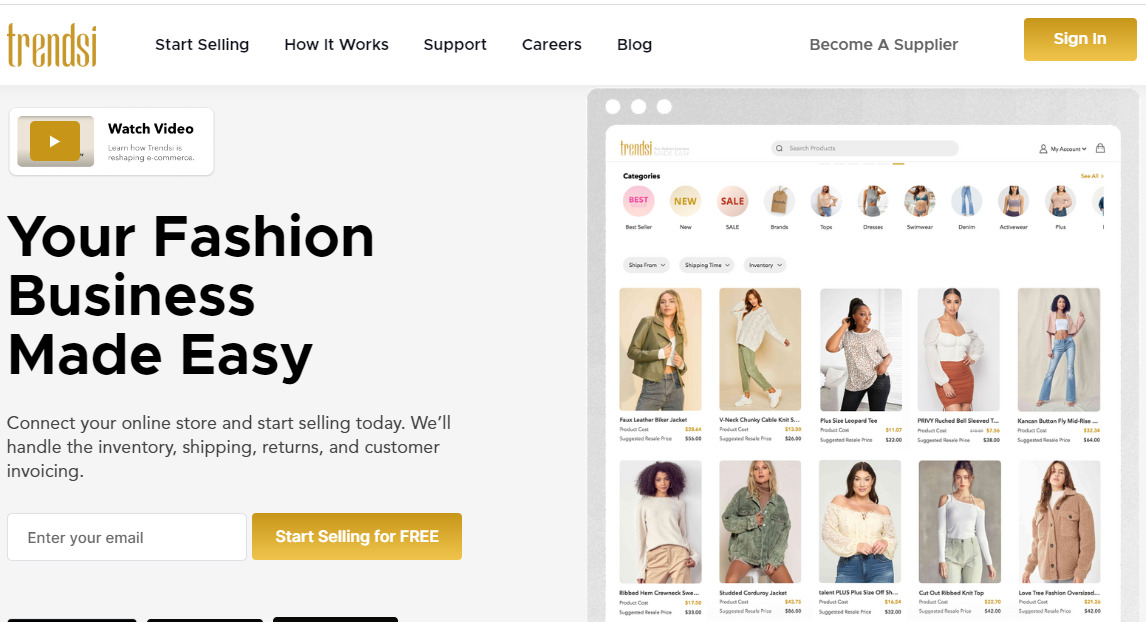 Trendsi is a dropshipping supplier located in the United States that specializes in selling women's clothing. The platform is entirely free. Moreover, they offer you dropshipping training.
If you're a beginner, this is the best place to start working with a vendor.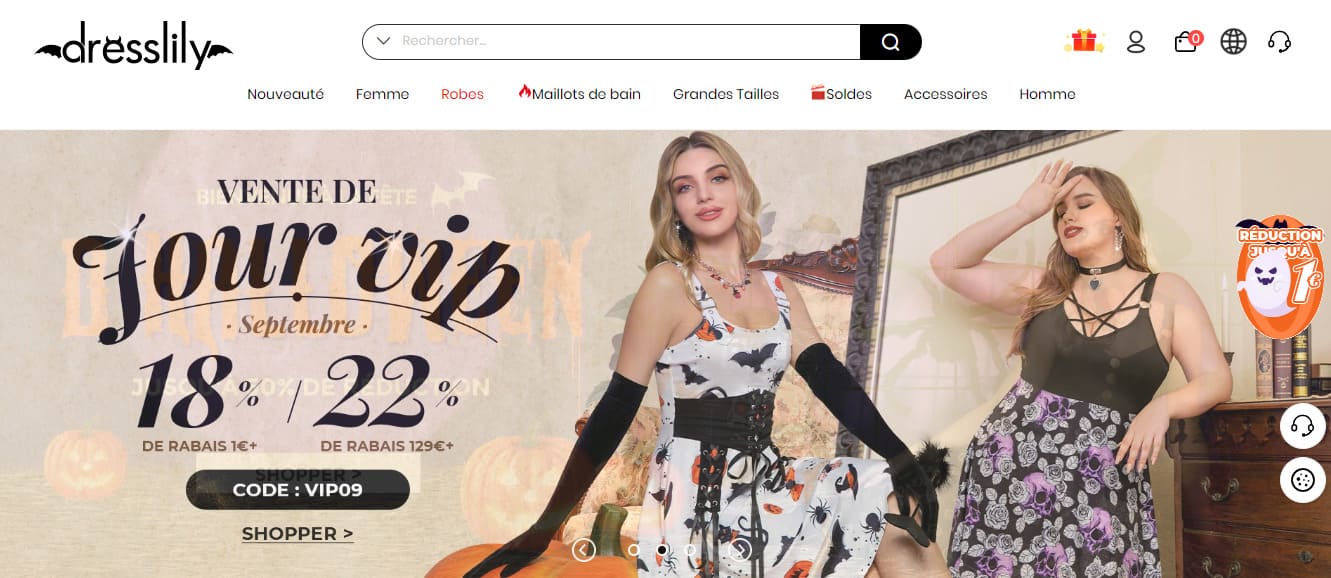 Located in the United States, Dresslily is more than just a supplier. It is rather a team that accompanies you from the choice of your product to the setting up of your shop. They give you personalized advice that will allow you to make the best choices for your business.
They also have a very satisfactory return policy.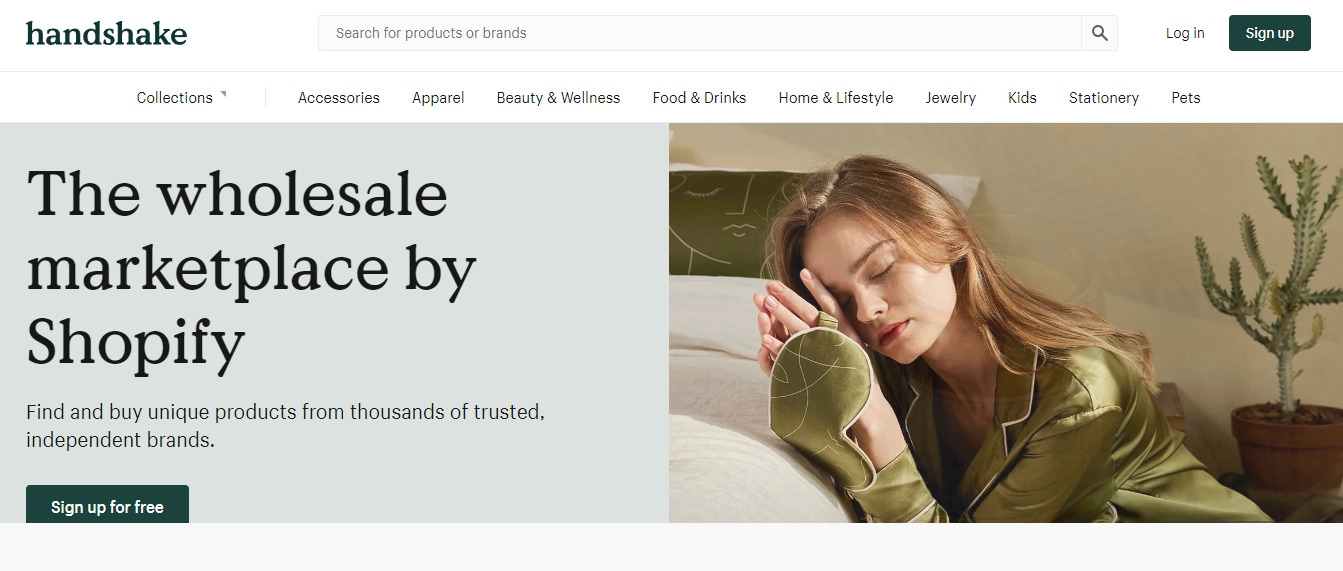 Handshake is the official Shopify supplier. Indeed, if your store is on Shopify, this supplier will be very useful to you. You will benefit from a direct integration of the supplier into your shop.
You can also benefit from the special prices that the supplier offers to all Shopify customers.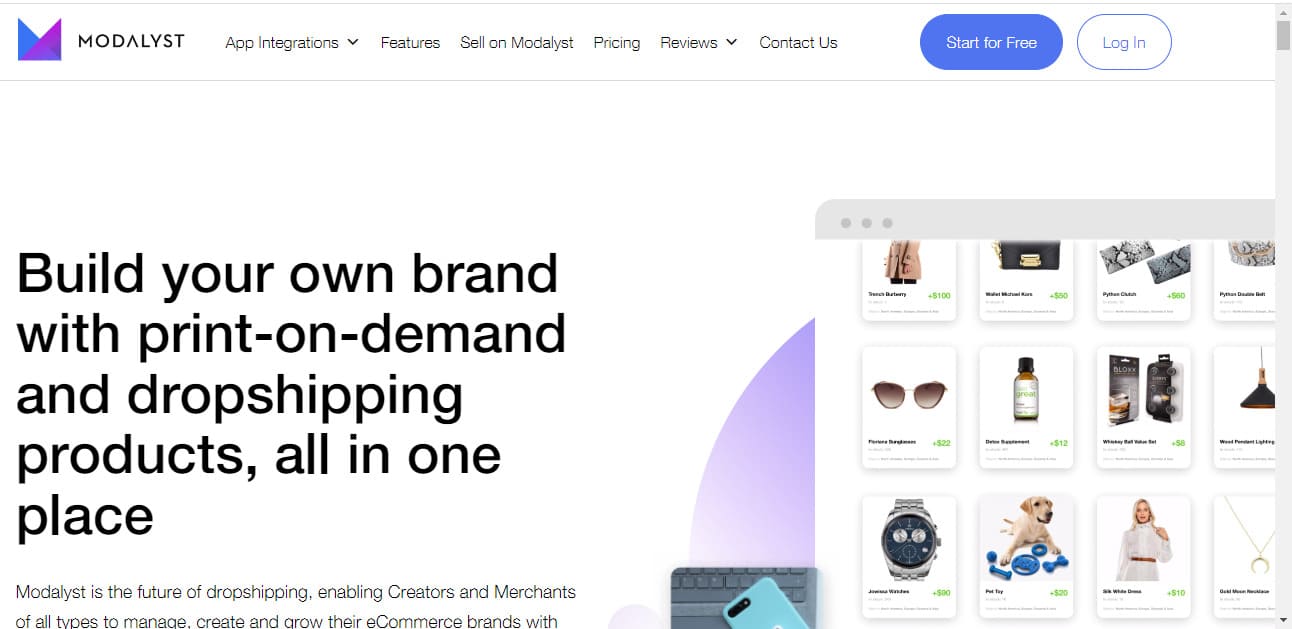 Modalyst offers fashion clothing in over 3,000 categories. So there is no chance that you will run out of clothes to sell with this supplier. The platform is free for the first 25 products.
But beyond that, you will have to take out a subscription. The basic version costs $35 per month. They have a very easy-to-use app, which definitely improves the user experience.
It is also possible to create and customize products to suit your store. So you can scale more easily and quickly.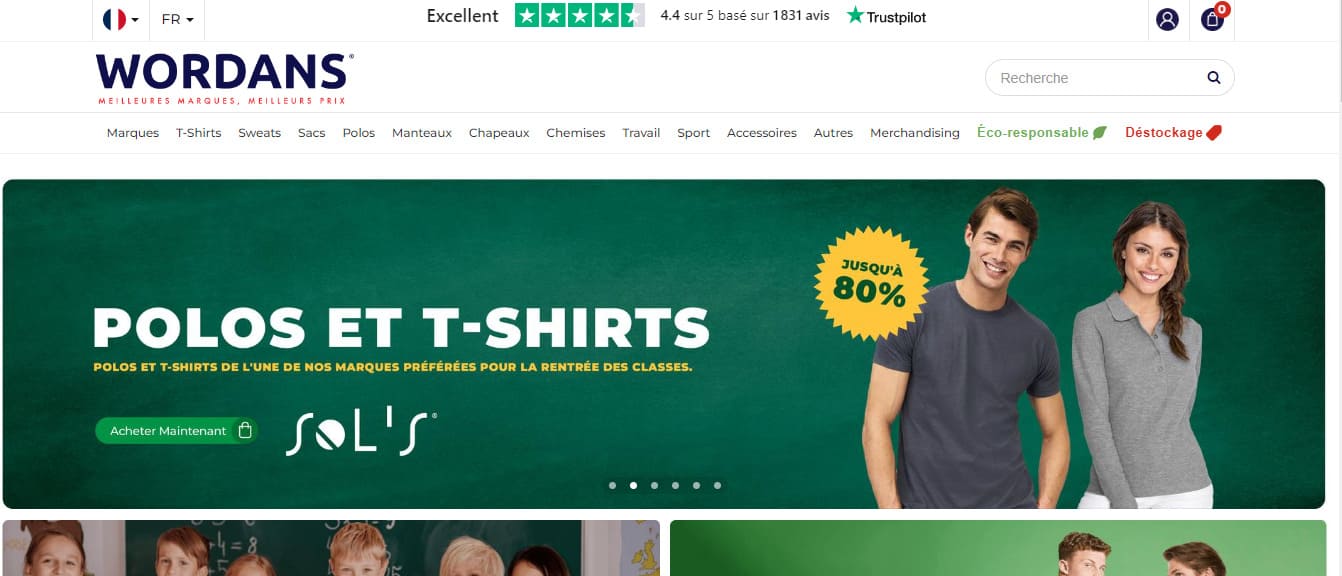 Wordans is a dropshipping clothing supplier that is particularly specialized in casual clothing (t-shirt, shorts, shirt, top…). If you want to sell this type of product in your store, do not hesitate to collaborate with Wordans.
They will provide you with a very fast delivery service. They are based in Canada.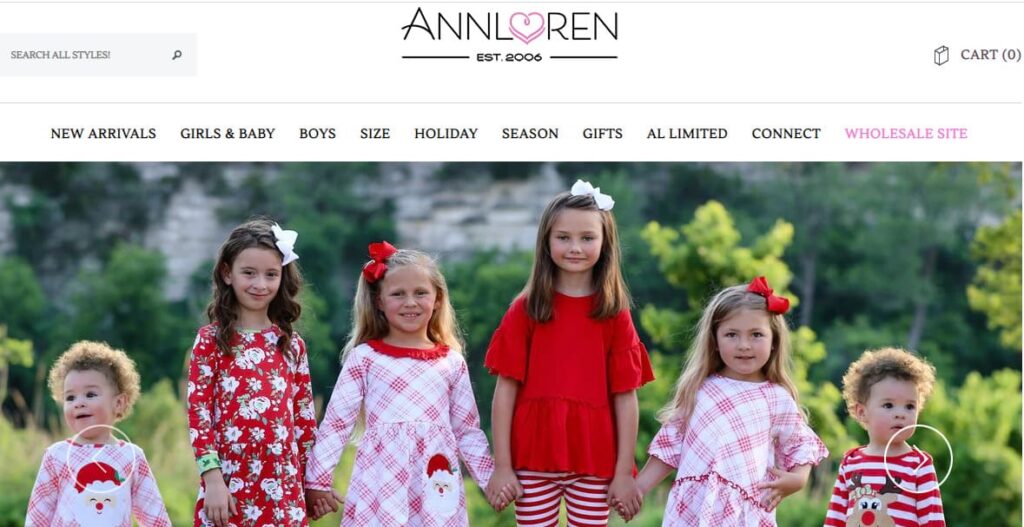 AnnLoren specializes in clothing for children and babies. They are well known for the impeccable quality of their products. They also have a good refund and return policy.
This makes it easier for you to deal with your customers' concerns.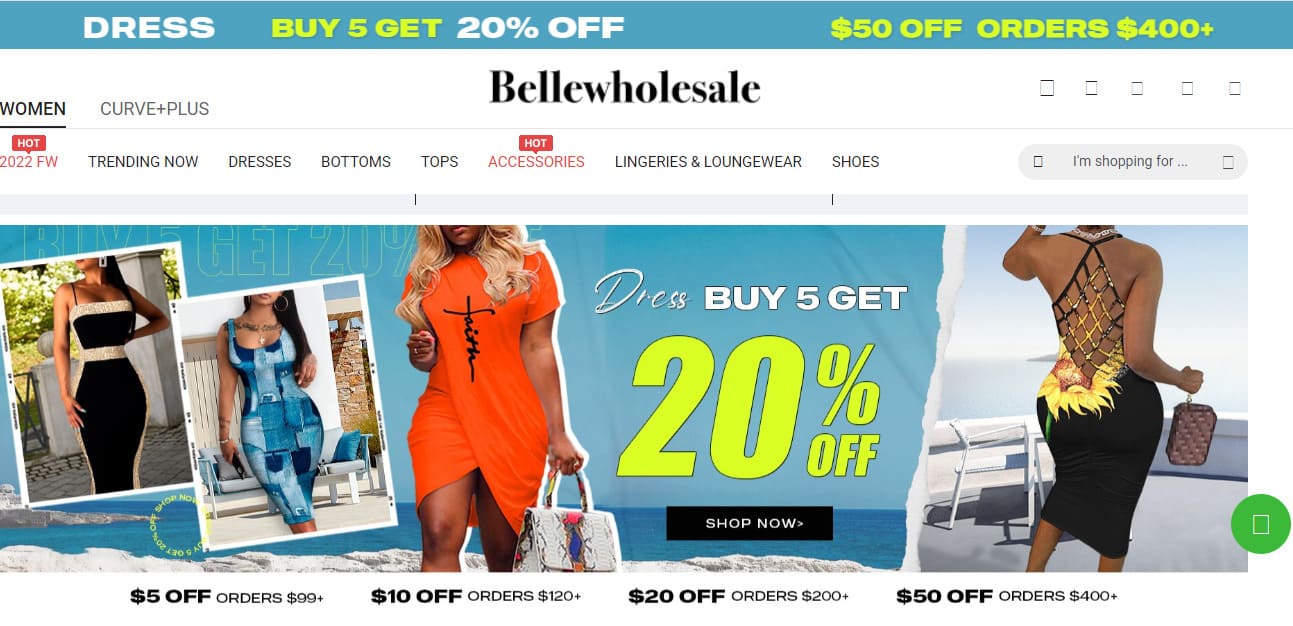 Bellewholesale is a supplier of women's clothing. With many years of experience working with dropshippers, Bellewholesale offers the best prices on the market. You even have the opportunity to visit the showroom and negotiate the price of your goods in person.
This supplier offers express delivery.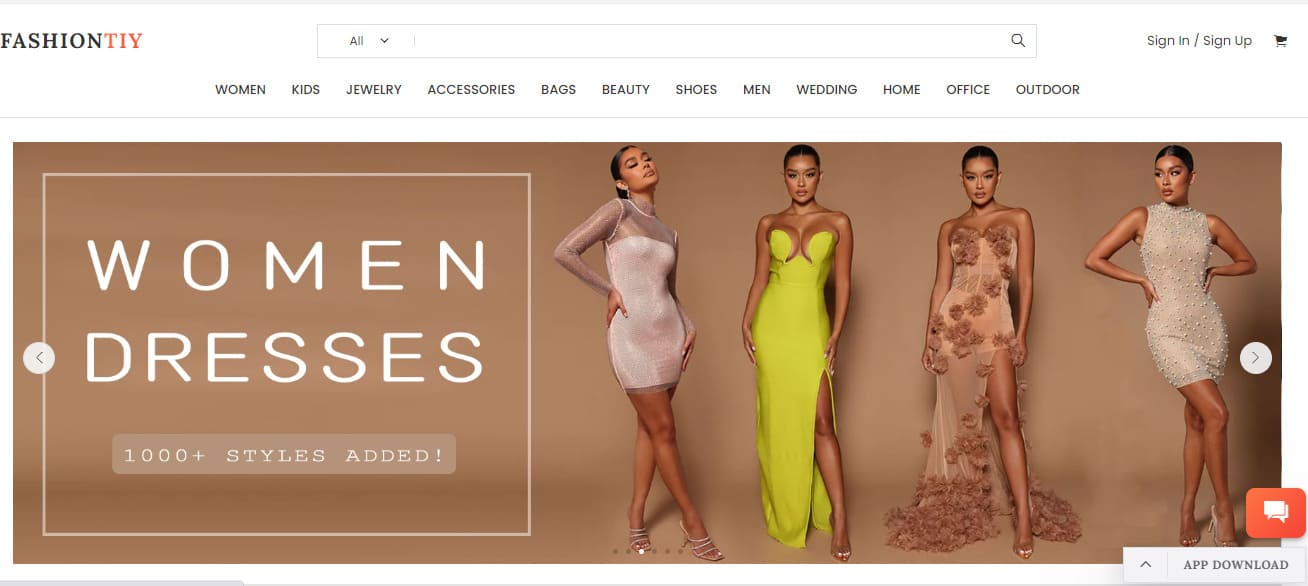 FashionTIY is one of the best fashion and accessories dropshipping suppliers in the United States. You will find products for women, men, and children. They are very fast in shipping products (less than 6 working days).
They also have a mobile app that makes it easier for you to manage your orders.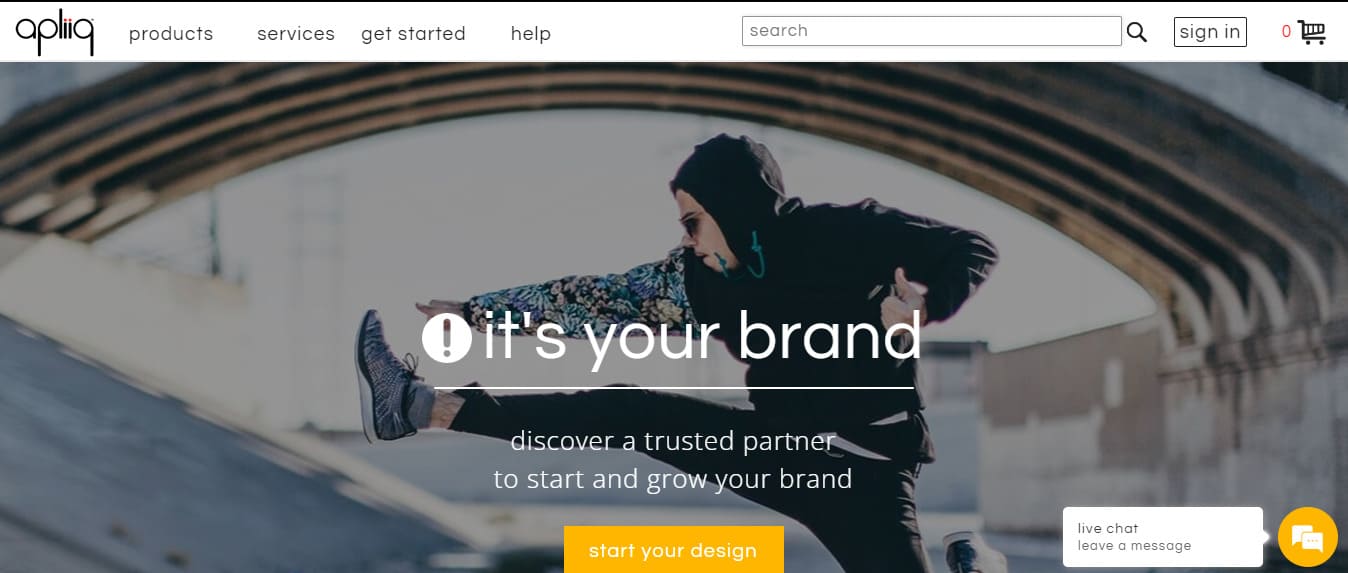 Apliiq is a private label clothing dropshipper. Based in Los Angeles, Apliiq offers print-on-demand products for your online store. The company ships the products approximately 1 to 5 days after receipt of the order.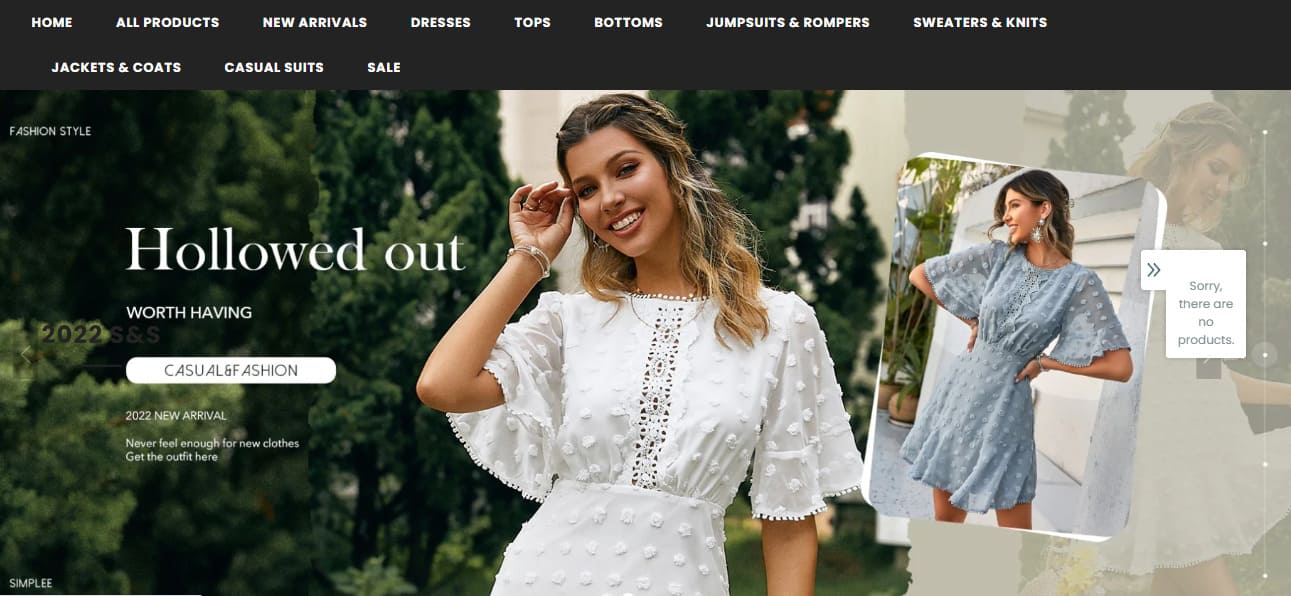 If you want to specialize in selling women's clothing, you should not miss this supplier. Based in the United States, Apparel Simplee is one of the best suppliers of women's clothing.
Apparel Simplee provides you with professional models for the promotion of your products. You are also entitled to very competitive discounts when you buy in bulk.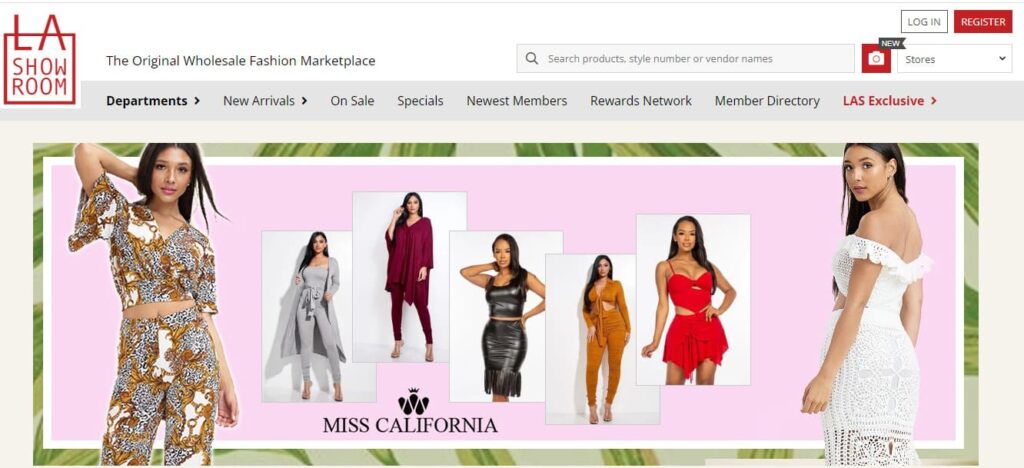 The particularity of this supplier is that it has women's clothing for all sizes and morphologies. It is therefore suitable if you want to sell and explore several markets.
LAShowroom also has a very convenient return and refund policy.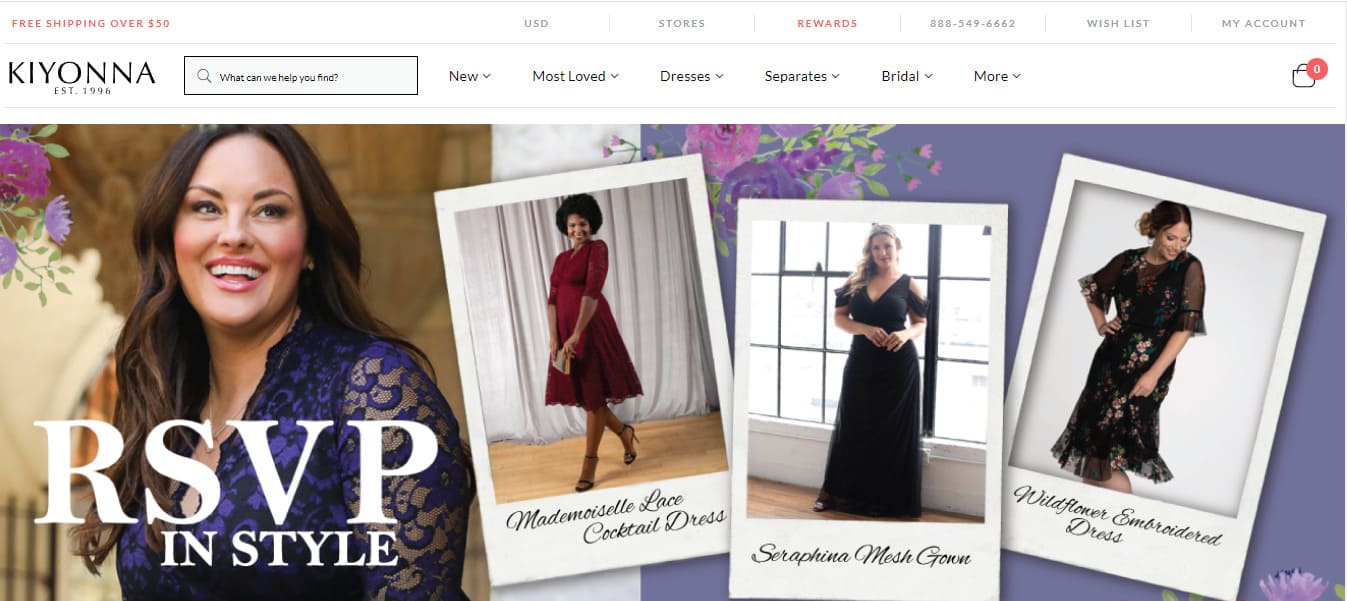 USA-based Kiyonna Clothing is a dropshipping company that makes it easy for you to get your clothing products. If you want fast processing and attractive products, welcome to Kiyonna Clothing. They often ship stock within two days of ordering. This supplier charges about $5 as a handling fee for each order.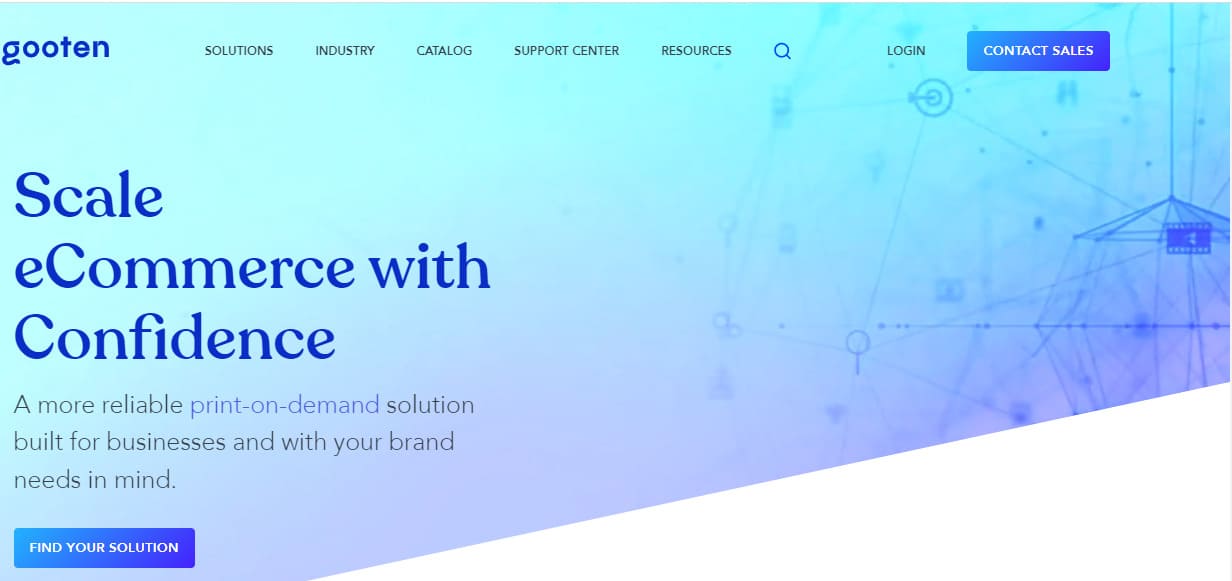 If you want to sell custom clothing on your online store, Gooten is the supplier for you. This is a print-on-demand company. That is to say that the products are directly manufactured according to your prescriptions.
Dropshipping clothing suppliers : Conclusion
The sale of clothing is very profitable in dropshipping if you do it in the right way.
You should know that the competition is quite tough on the market and that you should do everything possible to distinguish yourself and promote your products. When it comes to vendors, you can start with our list of the best dropshipping clothing suppliers and choose the most suitable one for your products.