BigSpy vs AdSpy: The world of e-commerce is expanding day by day with the arrival of new competitors who are often better equipped. It is therefore becoming more and more difficult to consolidate its position and especially to move forward without implementing a better strategy than that of the competition. It is to the point where some e-merchants are spending fortunes to outperform the competition but in vain. .
But, is it really necessary? No, because adspy tools such as Dropispy, AdSpy or BigSpy are the solution to this problem! Some of these tools can even be used for free. To this end, we invite you to read our article reviewing the free BigSpy. Do you know exactly what these tools are for?
Whatever your answer to this question, we invite you to discover through this article, our BigSpy vs AdSpy comparison. To start with this comparison, let's take a quick look at what is important to know about each of the two tools.
BigSpy vs AdSpy : here is what you need to know about each tool
Ads spy tools are advertising spy tools on social networks. Through all the features that such tools have, you can know in great detail what your competitors are doing, the scope of their marketing strategy and thus integrate what works with yours.
Thanks to these tools, you are always one step ahead of the competition. However, although these tools have several similarities, there are some points of difference that you should know in order to choose the tool that best meets your expectations. That being said, let's take a quick look at each of the BigSpy vs AdSpy tools.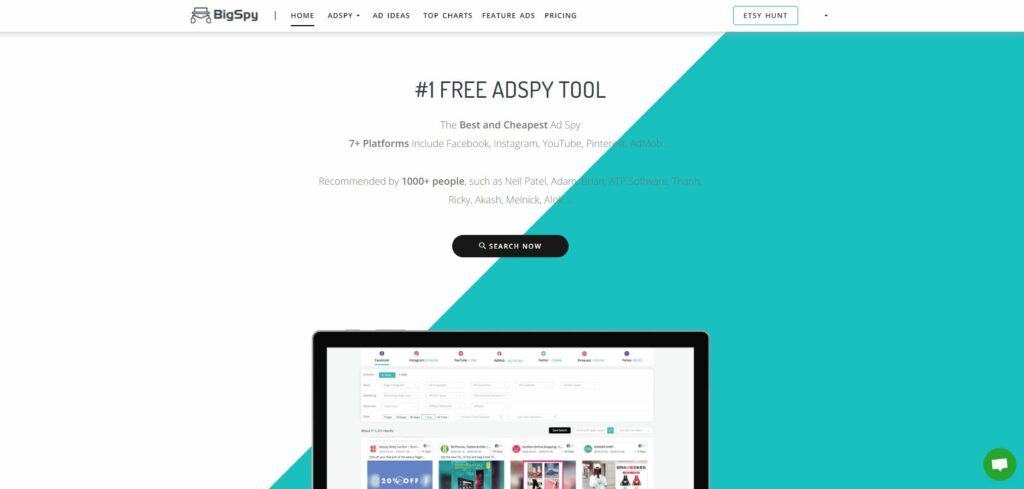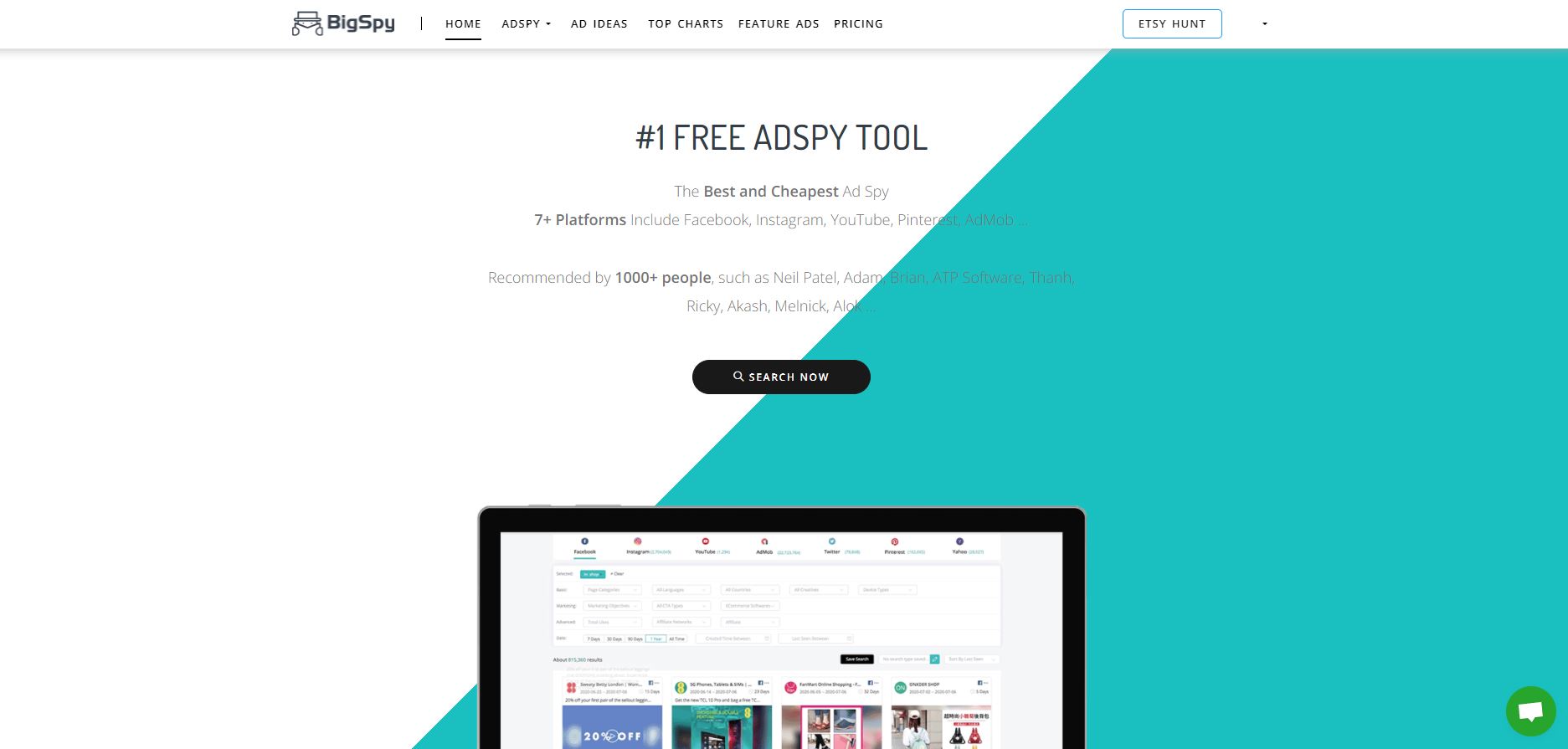 BigSpy is an ads spy tool that allows you to spy on ads on several social media. Indeed, it is a powerful and multitasking tool that helps you spy on what your competitors are doing, what they are putting forward as creative advertising ideas and especially whether their ads are working or not.
Moreover, the tool allows you to spy on platforms like Facebook, Pinterest, Twitter, etc. With such a tool, you are guaranteed to track the advertising performance of your competitors and learn about what is trending.
AdSpy is the most popular ad spy tool and also considered by many users to be the most powerful. Indeed, the tool has a very large database that allows you to access all the information you need.
So whether you're an advertiser, marketer, or entrepreneur, you can use this information to both streamline and innovate your marketing content.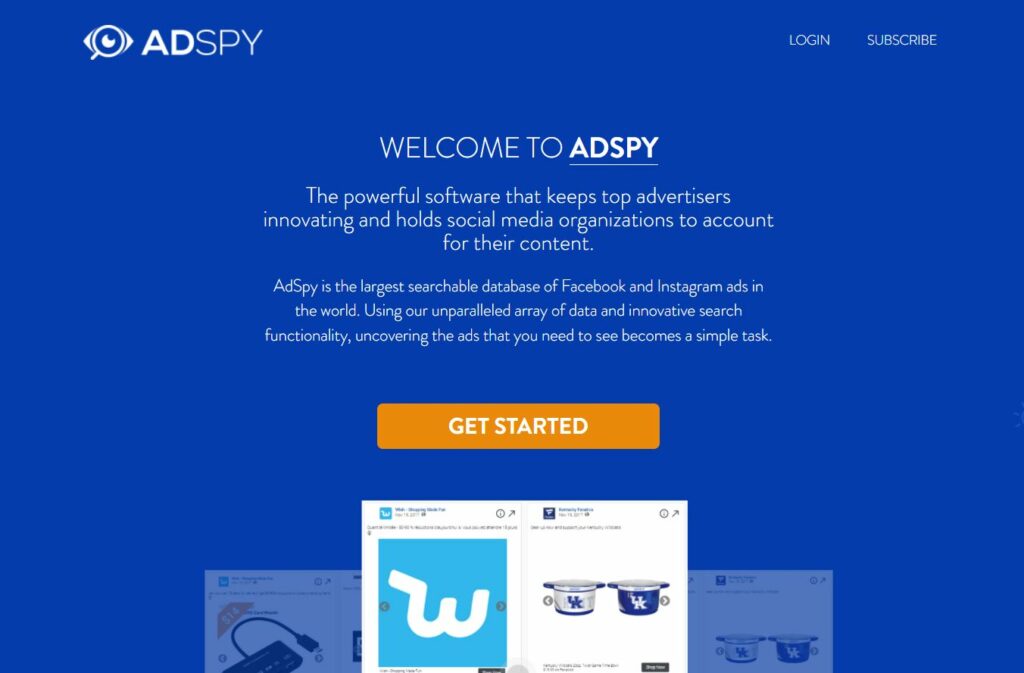 AdSpy also gives you access to the best ads present on social networks in order to allow you to improve and better organize your advertising activities. As you can see, it is an awesome tool that has several features.
BigSpy vs AdSpy : what are the major differences to be aware of ?
The ads spy tools are basically designed to accomplish the same tasks. However, each tool has specificities that it is important to highlight in order to help you choose the most suitable tool if necessary.
In this article, we will establish the similarities and differences between BigSpy vs AdSpy tools. You can also discover the Dropispy vs BigSpy comparison (link to the article at the bottom of the page) to learn more about BigSpy. Our present comparison will take into account two main factors which make it possible to measure the power of an adspy tools namely:
Variety of filter/sort ads.
Daily ad volume.
Let's start with the first point which is advanced search and filtering.
1. Advanced search and filtering
The goal of any research is to stumble upon reliable information. To this end, the adspy tools have a database that facilitates research and access to useful information.
Another possibility you have is to be able to use the filters to carry out searches according to the criteria you want.
Type of possible search with BigSpy vs AdSpy
Discover in the table below, everything you need to know about the research possibilities offered by each of the BigSpy vs AdSpy tools.
Analyzing the data in the table, it can be seen that AdSpy has a few search options that BigSpy does not have. Indeed, the tool allows you to search in the comments and in the text of the landing page; which is not the case with BigSpy. However, BigSpy also has a feature that AdSpy does not have: search by ID (ads, page).
Thus, on the question of research possibilities, the difference between the two tools is very little perceptible since each has a particularity.

Ads filtering and sorting
Before starting our comparison taking into account the filter and sorting criteria, let's recall the difference between these two notions.
Indeed, sorting ads simply amounts to displaying the search data taking into account the level of importance of the information provided and this in ascending or descending order. However, when you do a search based on specific criteria and you only get information that matches those criteria that does not take into account all the ads related to the search topic, it will be said that you have used filters.
As for the possibilities of sorting or filtering ads, here is a summary table of the BigSpy vs AdSpy comparison:
The data in this comparative table based on 18 filtering and sorting criteria allow us to make the following analysis:
BigSpy satisfies 12/18 criteria, i.e. 67% against AdSpy which obtains 11/18, i.e. 61%. We therefore conclude that there is an increased rivalry between the two tools on this point.

As the most important criterion to measure the power of an adspy tool, ad volume is the basis of your e-commerce success. Indeed, access to a large volume of data multiplies your chances of finding a Winner more quickly.
Therefore, to compare the two adspy tools BigSpy vs AdSpy, we will consider criteria related to ad volume:
General ad volume.
E-commerce ad volume.
In addition, it is important to know that the older an adspy tools is, the more reliable the data it has on the ads. This data actually allows you to see ad stats over time and judge which ones actually worked and which are still relevant. Thus, you can choose to use them in order to improve your strategies much more effectively.
BigSpy vs AdSpy: General ad volume
For a comparison of adspy tools BigSpy vs AdSpy, we will base ourselves on the following filters:
VIEW date of the ad between November 14 and 20, 2021;
Number of likes: Greater than 100000;
Format: Video;
Language: English.
BigSpy
Based on these filter criteria, the search on BigSpy shows 89 ads found.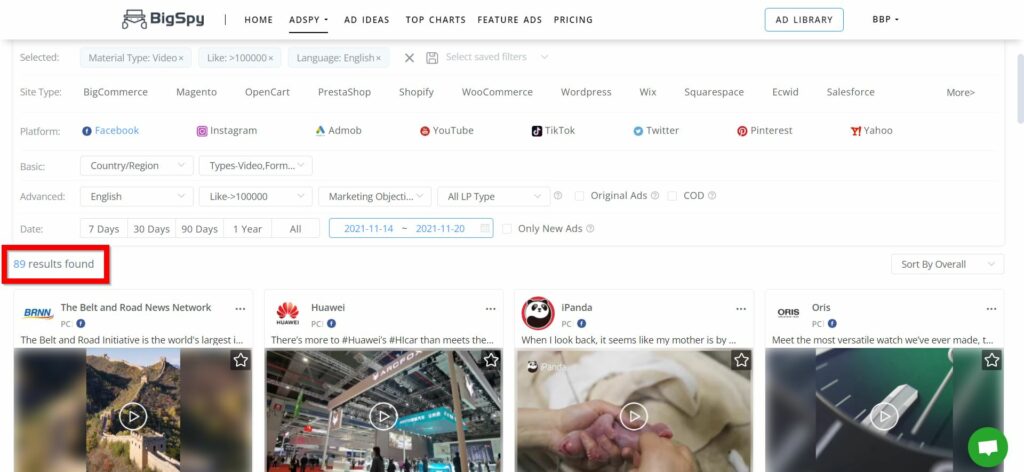 AdSpy
By doing the same search on Adspy, this time, 106 ads are counted. That's almost 20% more than on BigSpy.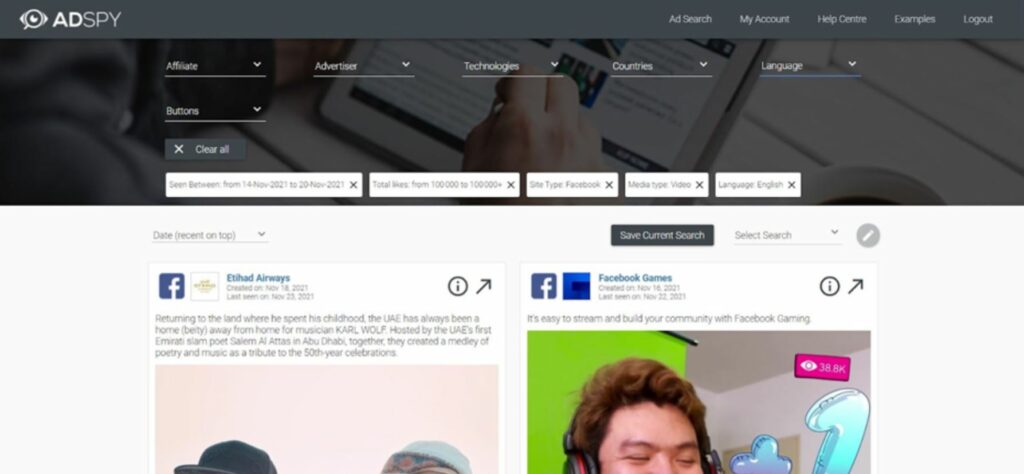 Considering the data provided above, it is therefore concluded that when it comes to general ad volume, AdSpy has an advantage over BigSpy.
To establish our comparison BigSpy vs AdSpy regarding the volume of e-commerce ads, we will take into account the following filter criteria:
Ad view date between November 14 and 20, 2021
Number of likes: Over 50,000
E-commerce platform: Shopify
BigSpy
57 ads were found on BigSpy for this search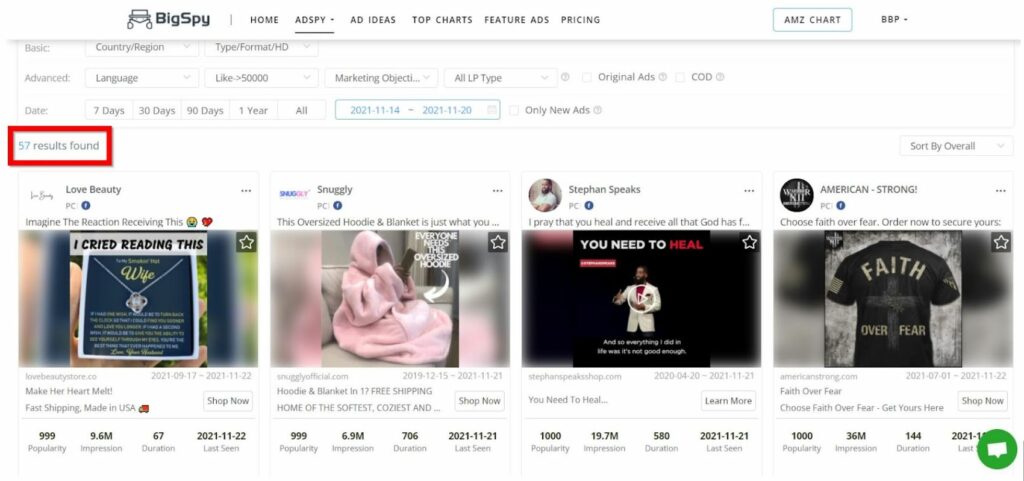 AdSpy
The same search performed on Adspy found 89 ads for this search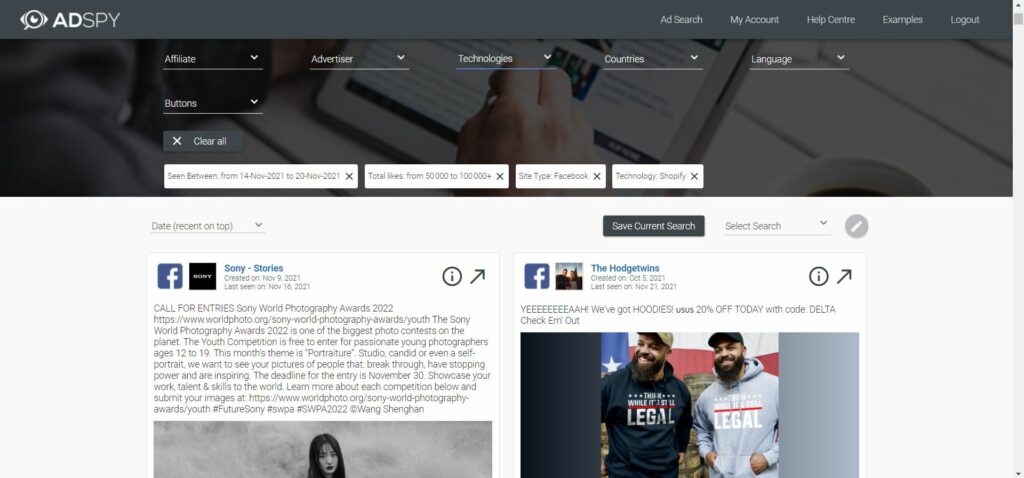 Taking into account these two comparison criteria, namely general and e-commerce ad volume, we realize through the data that for Facebook ad volume, the AdSpy database is superior to that of BigSpy up to by 20-30%. It is therefore AdSpy who wins the duel of power at the level of the two adspy tools.

To understand more about the usefulness of BigSpy on this point compared to other ads spy tools, we invite you to discover our BigSpy vs PowerAdspy comparison (link to the article at the bottom of the page). Thus, you can decide which tool is best suited to meet your needs.
The information an ad spy tool provides about ads is very important. They allow you to analyze each ad in order to choose those that are relevant and have real reach.
That said, what information does each of the BigSpy and AdSpy tools collect about ads? Let's discover the answer to this question in the table below:
The BigSpy vs. AdSpy comparison table for ad information takes into account 14 criteria. Taking into account all of these criteria, BigSpy meets 7/14 criteria against AdSpy which meets 8/14. Although the results are approximate, there is a slight advantage in favor of AdSpy.
However, on BigSpy, it is possible to collect advertiser website data like their Alexa rank, website domain name and number of products on their site. Few AdSpy tools are able to provide this data.

Apart from the features we just mentioned, there are several other useful features that each of the adspy tools BigSpy vs AdSpy offers. Let's find out about them in the table below:
Through the results of the table, we notice that although the two tools are equal, they do not satisfy most of the criteria. Indeed, out of a total of 9 criteria, each of the two tools only meets 2 criteria.

Plan and proposed price for each tool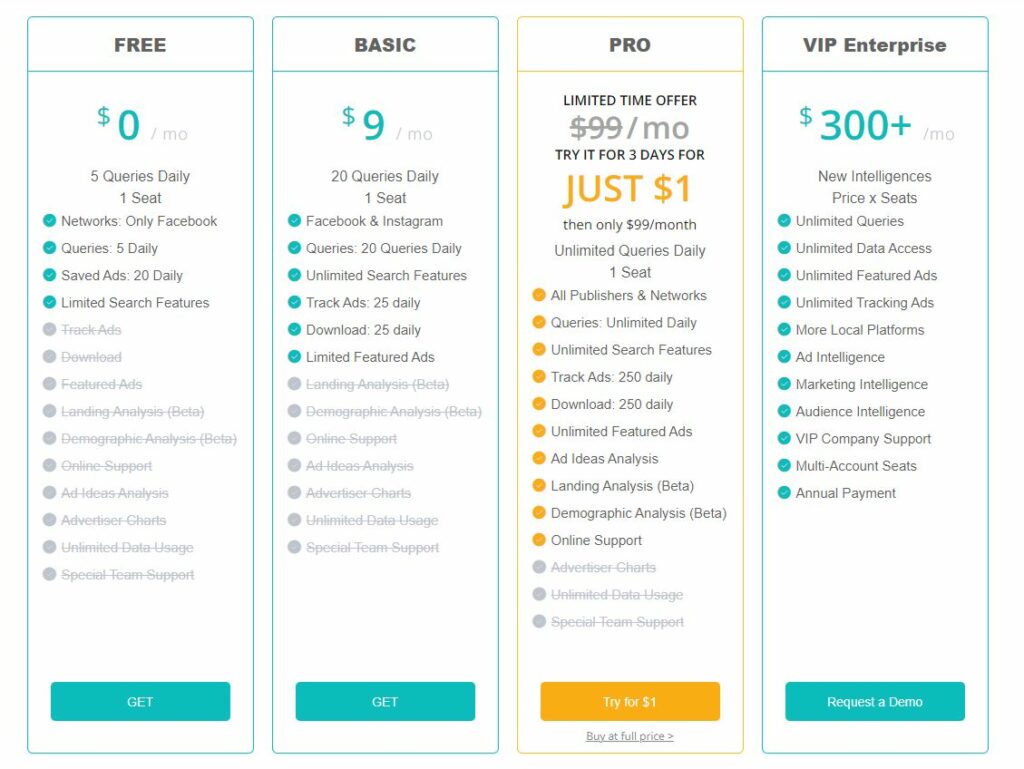 As you can see from the image above, BigSpy has a Free Plan, but it is limited to 5 searches. Also, this Free Plan does not give you access to most search filters since they are locked. It is therefore impossible to test the tool thanks to the Free Plan since it is very quickly limited.
Another pricing option available to you is the 9 dollars plan, limited to 20 searches. With this plan, you can effectively test the tool and judge its potential. The only problem here is that the allowed number of searches per day does not allow you to do an efficient search.
In addition, to perform a reliable search targeting only Facebook ads, you will need to subscribe to the $99/month plan to be able to fully exploit the tool. In addition, this plan will interest you more since it gives access to other networks.
Finally, another interesting plan is the Pro Plan. It contains an attractive offer to test it for 3 days for only $1.
Unlike BigSpy, AdSpy only charges a one-time fee of 149 dollars per month as shown in the image below.


No Free Plan is applied for using AdSpy. One important thing you need to know is that AdSpy is subject to a terms of service limitation policy based on view count. Therefore, you are granted a limit of 100,000 views each month. You are also offered an option to pay for 50,000 more views at the cost of 50 dollars each month.

Taking into account all this information collected on the pricing of each tool, we can conclude without a doubt that BigSpy has a slight price advantage compared to that proposed for AdSpy.
BigSpy vs AdSpy : What to conclude ?
There is no doubt that the BigSpy vs AdSpy battle is very tough. This is normal, since they are two equally powerful ad spy tools. Nevertheless, we must decide between them taking into account all the details that we have just established above.
Indeed, if criteria such as search possibilities, filtering and sorting of ads, and other useful features must be taken into account; it would be difficult to establish a big winner of the BigSpy vs AdSpy comparison. Here, the difference between the two tools is not so significant.
On the other hand, with regard to ad volume, one of the most important criteria for judging the power of an ads spy tool; AdSpy's database is superior to BigSpy's by 20–30%.
As part of this BigSpy vs AdSpy comparison, we will therefore retain that AdSpy is the big winner.
Do you agree with the end result? Let us know in the comments!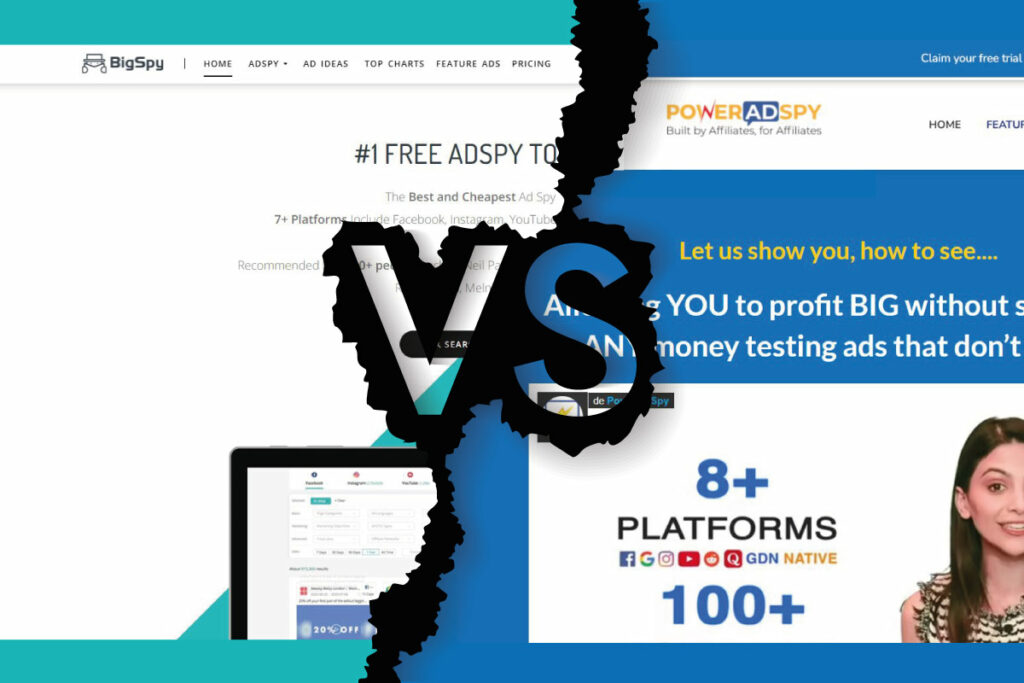 BigSpy vs Poweradspy, here's what you need to know before choosing: Every e-merchant wants to be ahead of the competition and above all to...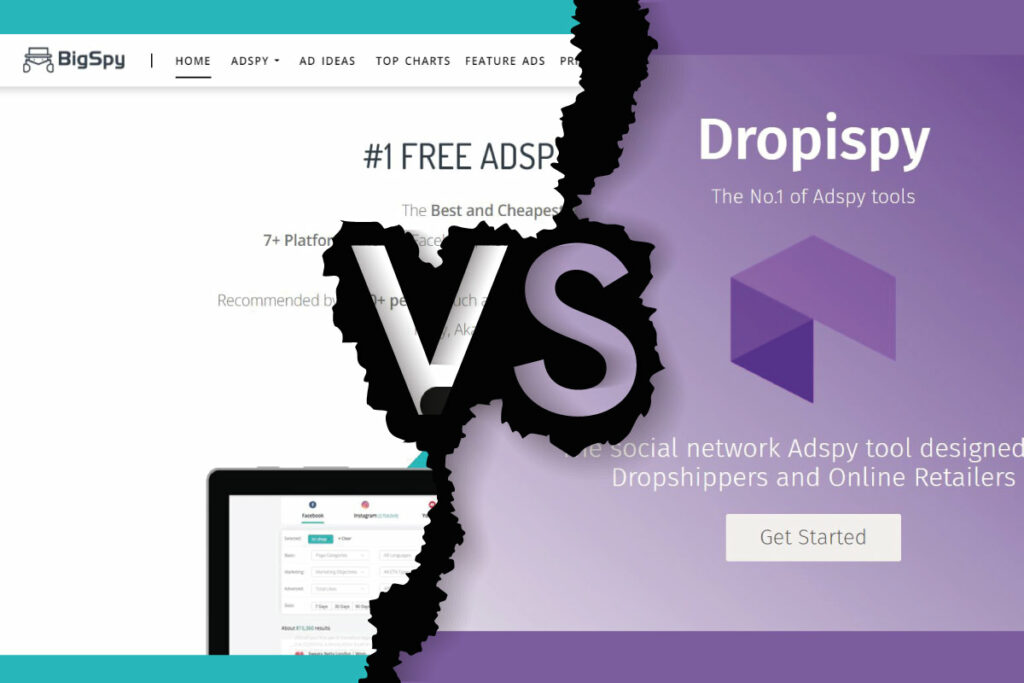 Although Dropshipping is a very buoyant e-commerce sector, many are struggling to get ahead of the game in the field. Is this reason enough...