The world of dropshipping has long been veiled from the general public to the point where the most skeptical do not even believe it anymore. The most courageous people who often decide to venture there do not know most of the time the process to follow to get out of the game. However, solutions do exist as tools such as DropiSpy, AdSpy or BigSpy have revolutionized the veiled world of Dropshipping.
Thanks to the many functions offered by tools such as DropiSpy or BigSpy which are all adspy tools, you can succeed and go beyond your expectations.
But, does not the use of these tools require a cost? It is to this question that we will provide a clear answer through the content of this article by considering here the specific case of BigSpy.
In addition, we invite you to discover our ultimate guide on adspy tools. This will be an opportunity for you to better understand how each tool works.
To start with the topic of the day, let's first discover everything you need to know about BigSpy in general.
Here are some figures on the tool that we found on the homepage, we would nevertheless like to warn you about this type of data. Indeed, free to this tool to inflate the figures. For an accurate analysis, you have to test the tool! This is what we have done for you in our VS articles which you will find below.
BigSpy is an adspy tool and allows you to spy on ads on several social networks in order to collect them on its advertising marketing platform. Thanks to BigSpy, you can spy on all the actions of your competitors; track advertising performance and also have access to several creative ideas.
It is an adspy tool that allows you to access very useful information that you can reuse for several purposes. With this tool, you also have the ability to see daily trends and be able to review ad performance. Among other possibilities offered by the tool, we can mention:
The collection of ads on social networks.
The availability on the platform of the collected ads.
Possibility for users to search, to rummage in this database in order to discover the announcements which are a hit and to unearth interesting products to sell.
Below, we will find out in much more detail what the tool actually allows you to do.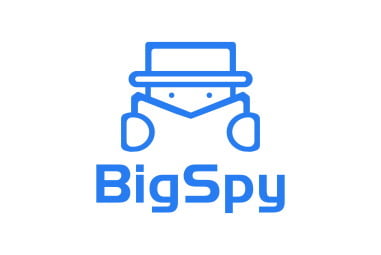 BigSpy integrates an operation identical to several other adspy tools. However, it is not similar to them in any way since BigSpy like several other adspy tools like DropiSpy have its particularities. To better understand this subject, we invite you to discover our BigSpy vs Dropispy comparison to find out which of the two tools would be the most useful for you to succeed effectively.
Let's go back to the subject of our article to find out how BigSpy works. We will analyze the tool from several angles and identify what is possible or not with the adspy tool.
BigSpy : Advanced search and filtering
BigSpy integrates several search options such as: keyword search; search by Facebook page name; search by domain name and finally search by ID (ads, page). On the other hand, the tool does not allow you to search in the text of the landing page and search in the comments.
The possibilities of filters and sorting are very useful features for an adspy tool. BigSpy gives several possibilities. However, on this point, the tool lacks some features. Here is a comprehensive table summarizing the sorting and filtering features on BigSpy.
| Filtering and sorting ads | Bigspy |
| --- | --- |
| Filter by number of likes, shares and comments  | ✔️ |
| Filter by number of reactions | ❌ |
| filter by type of e-commerce platform | ✔️ |
| Filter by ad language | ✔️ |
| Filter by creation type | video, picture, carousel, html |
| Filter by call to action | ✔️ |
| Filter by running time | ❌ |
| Filter by number of daily likes | ❌ |
| Filter by ios, android, desktop, mobile | ❌ |
| Filter by target audience | ❌ |
| Filter and sort by date | Last view, first view |
| Sort by like, share | ✔️ |
| Sort by number of reactions | ❌ |
| Sort by number of comments | ✔️ |
| Sort by number of impressions  | ✔️ |
| Sort by running time | ✔️ |
On Bigspy, it is impossible to filter ads by creation date. Yet, this filter is very essential to be able to effectively search for new ads. On the other hand, we can give it a positive point because it allows you to sort by popularity of the ad.
Indeed, thanks to this feature, BigSpy gives a rating to each ad. Thus, the higher the popularity value of the ad, the more competitive it is according to this theory.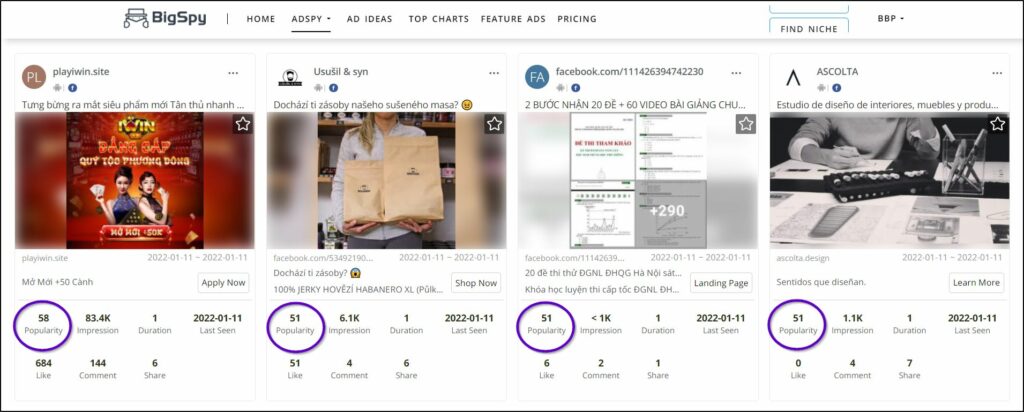 This data seems very interesting! However, one can question its effectiveness. Since, the popularity of an ad without its creation date does not allow to know the most popular new ads of the moment.
The volume of ads is a very essential point for an Adspy tool worthy of the name. If you want to do a search and quickly find a winner, you must bet on adspy tools which provide a significant volume of ads.
BigSpy on the other hand provides a substantial ad volume. But, is it better than other adspy tools of the same caliber? To discover this comparison between DropiSpy and BigSpy, we invite you to read the BigSpy vs DropiSpy comparison indicated above. You can also read our BigSpy vs Poweradspy comparison.
In addition, these comparisons allow you to discover several other points of comparison between the different adspy tools such as information on ads and other useful features.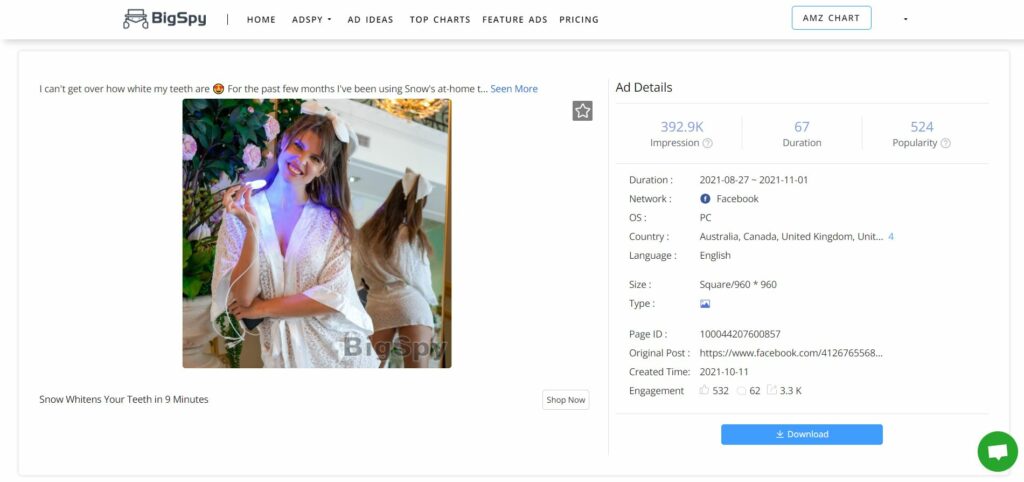 The data that an adspy tool can provide on ads is of paramount importance. Indeed, they allow you to know if an ad has worked well over time in order to make an objective analysis. They also allow you to know the engagement of people in relation to each ad and to judge its relevance.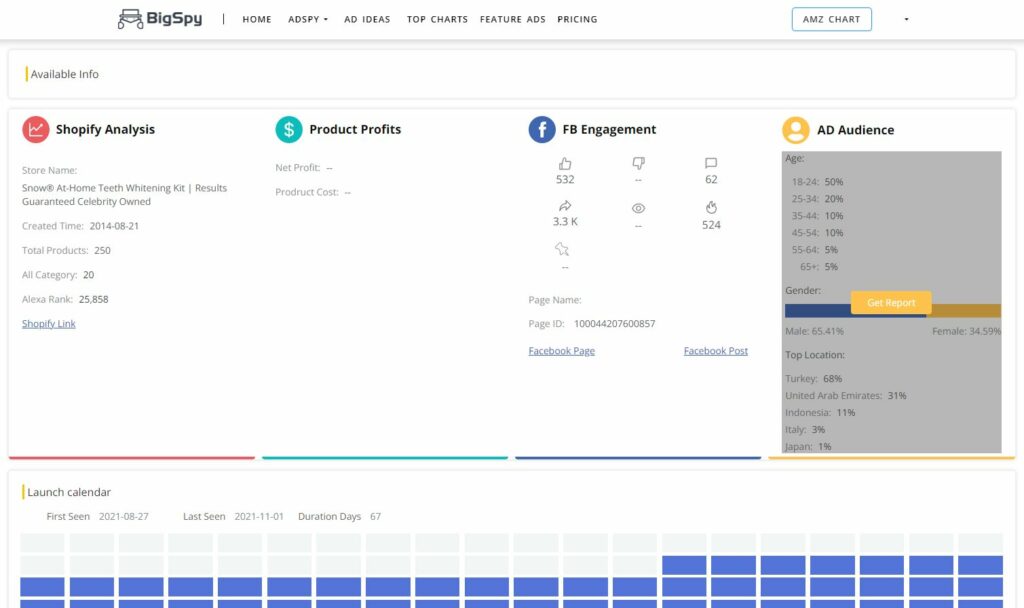 That being said, what data does BigSpy allow you to collect on ads?
On Bigspy, there is data about the advertiser's website like the domain name of the website, their Alexa rank and the number of products on their site. This data is very essential. Moreover, they are provided by very few Adspy tools.
Another advantage that BigSpy has over other adspy tools is to collect and provide data on the number of ad impressions. Although the tool lacks several other ad data, it provides several relevant and very useful data.
Beyond all the features that we have just mentioned, BigSpy admits several other useful features.
On BigSpy, you are given the opportunity to have access to ads for gaming apps. As an e-merchant, this data is of little use to you. However, if you are a gaming app creator, this feature can be very interesting for you.
In addition, BigSpy gives you access to ads from several social networks, namely: YouTube, TikTok, or Pinterest. If you are a Dropshipper, the ads provided on Pinterest and TikTok networks will serve you immensely.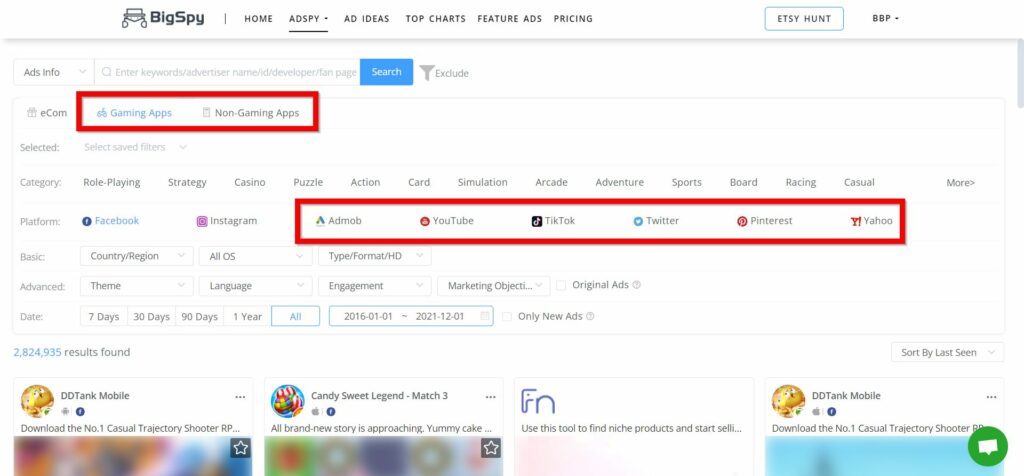 Here is a summary of the positive and negative points we identified about this tool.
2. A wide variety of filters
3. Precise data on advertisements and stores
1. Unable to filter ads by creation date
2. The free plan has no use, it's just a marketing tool for BigSpy
3. To use all the features of the tool, you will first need to subscribe to the $99/month plan
Is BigSpy free? The answer to this question is yes and no! It is in no way to contradict each other or to confuse you about the truth on this subject that we have answered the question in this way. To better understand what this answer hides, let's find out together more exactly the proposed tariff plan for the use of BigSpy's features.
Look at the image below and together make truthful and above all objective conclusions.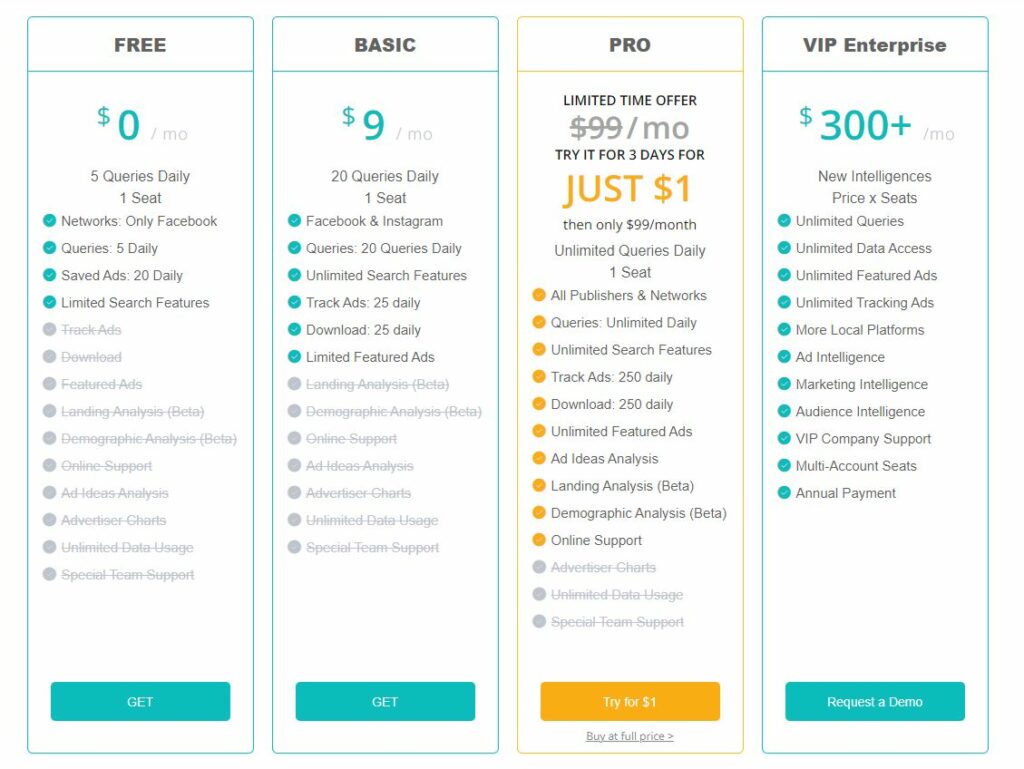 The truth is that with BigSpy you are entitled to several pricing plans with various subscriptions. All these pricing plans vary from 0 to 499 Dollars.
So why are we talking about free BigSpy? The plan at 0 francs! What does this plan actually offer?
It is true that BigSpy admits a Free Plan. However, that does not make it a free tool. Indeed, the Free Plan is limited to 5 searches. Additionally, some filters are locked.
Even worse, you may see a tiny fraction of the search results or ad data: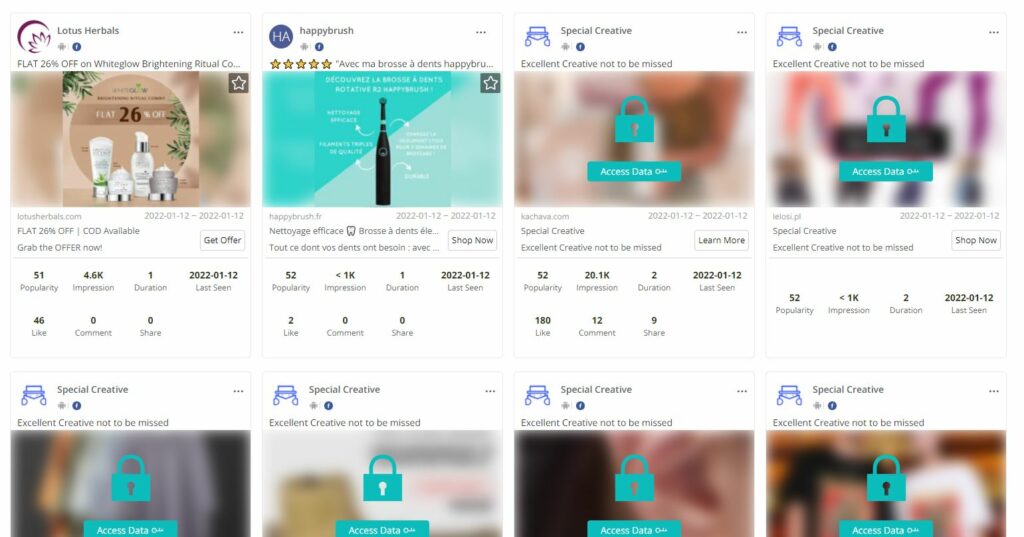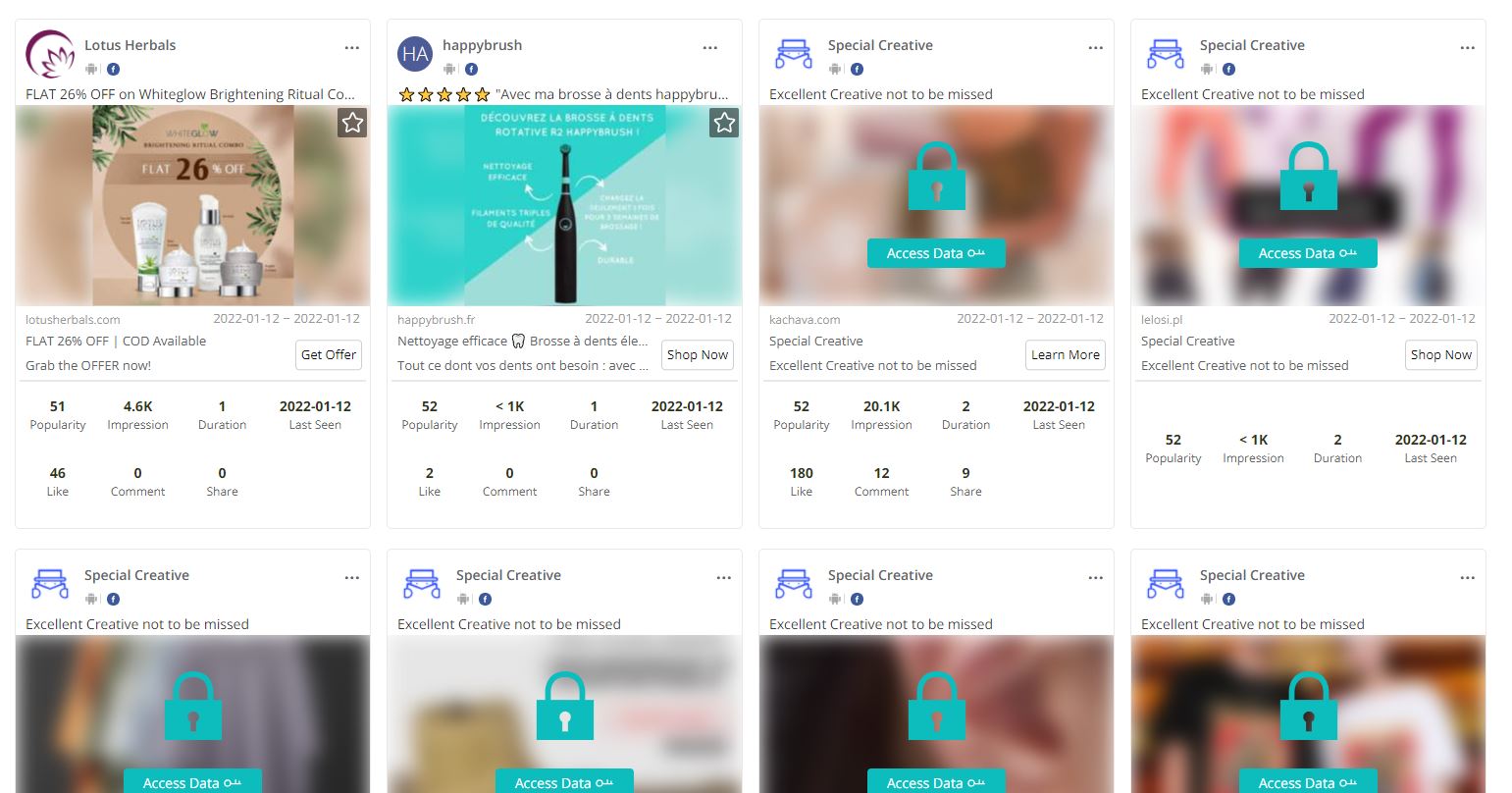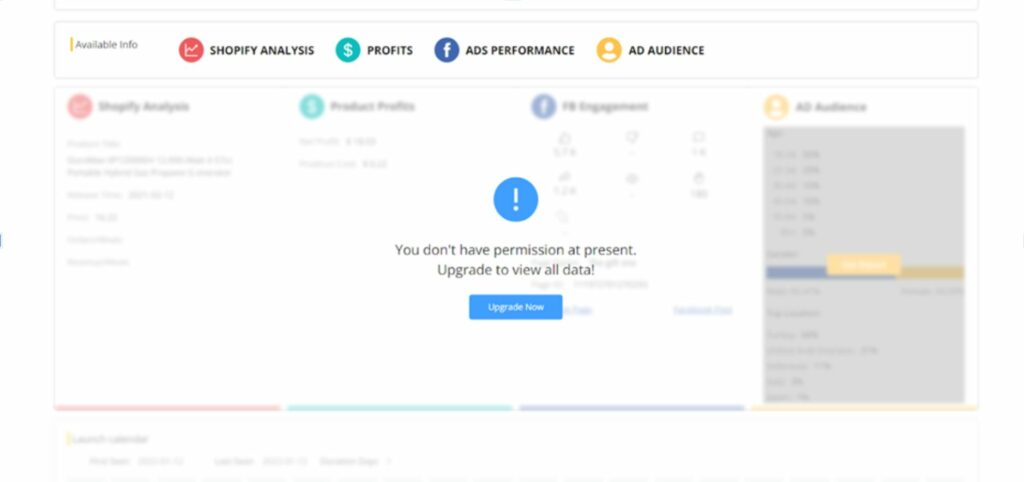 Therefore, this plan does not allow you to do good research and makes it difficult to test the tool.
The $9 plan, while better than the $0 plan, is limited to 20 searches. This plan makes it possible to effectively test the tool and realize its potential. On the other hand, with so little research per day, it is impossible to do an effective research.
The pro plan (99 dollars)
To fully benefit from the features of the tool, you will first need to subscribe to the 99 dollar plan. On the other hand, although the tool integrates several other social networks, you will only have access to Facebook ads. However, you will have access to other information on other social networks.
The advantage with the Pro Plan is that you can benefit from an attractive offer to test it for 3 days and for only $1.
Another adspy tool duel might interest you? Read our Bigspy vs AdSpy comparison!
Our final rating on BigSpy
Read our final evaluation of the BigSpy tool. It is based on all the parameters we have analyzed throughout the article.
What is DropiSpy compared to BigSpy ?
Do you know DropiSpy? Before concluding this article, let me tell you some information about Dropispy so that you can establish the major differences between DropiSpy and BigSpy.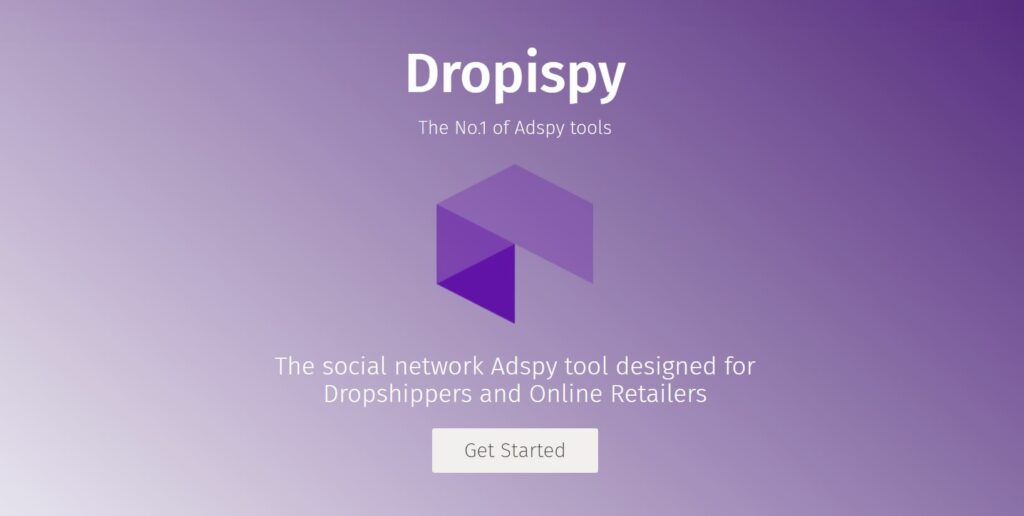 Dropispy is also an Adspy tool. The tool works just like BigSpy. Indeed, it collects ads from social networks and allows its users to search through the collected data to find a product of choice to sell.
A quick point on the price of the two tools leads to the conclusion that Dropsipy is cheaper than BigSpy. Does this price advantage mean that the tool is less good? I let you discover the answer to this question through the Bigspy vs Dropispy comparison  to be able to judge for yourself.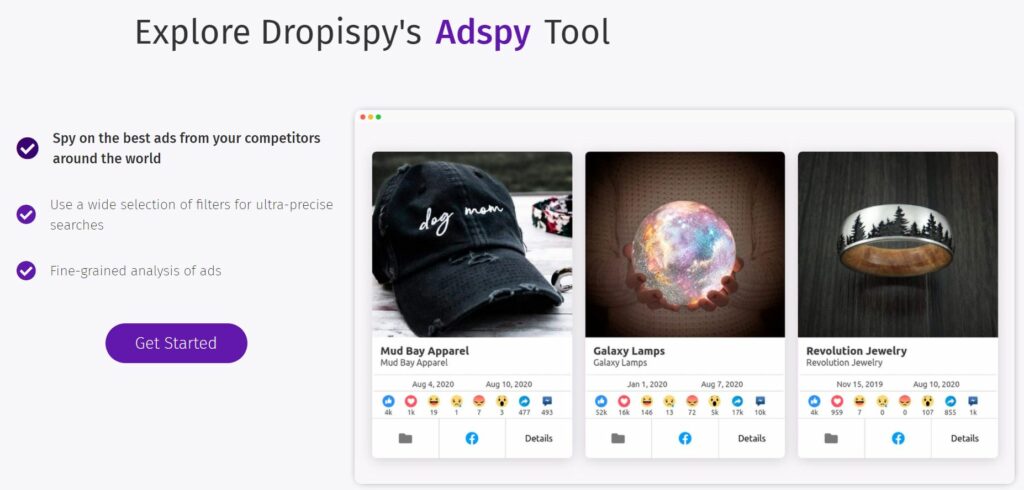 Another important aspect is that DropiSpy also has a Free Plan. Although this plan is limited, it is much more useful than that of BigSpy.
Finally, on Dropispy you have access to data on all existing e-commerce stores in the world. Thus, thanks to the Shops Spy, you can see their visitors, their engagement, and especially all their winning products.
Having all the information about all the adspy tools is a gold mine for judging which tool to use whenever you need it. Where can you find such information? Worry no more about it. We have already taken care to draw up comparisons on our Blog which we invite you to visit.
For the question of whether BigSpy is free, we have just established a point of clarification in the content of this article. We hope that the content of this article has been helpful and very informative for you. Still, if you have any questions or concerns, feel free to let us know in the comments.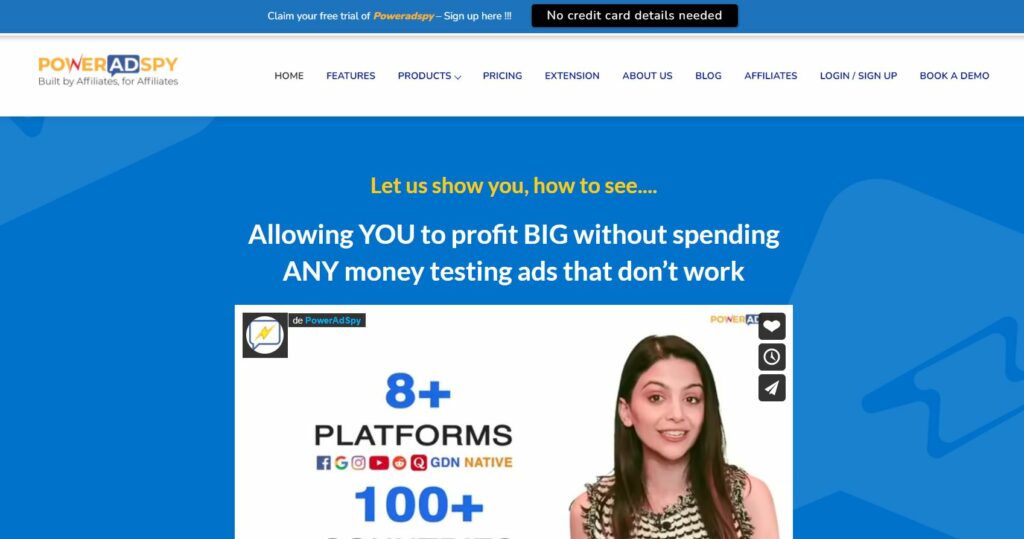 Both dropshipping and e-commerce in general have seen spectacular progress in recent years. Thus, to enable any e-merchant to be able to face the...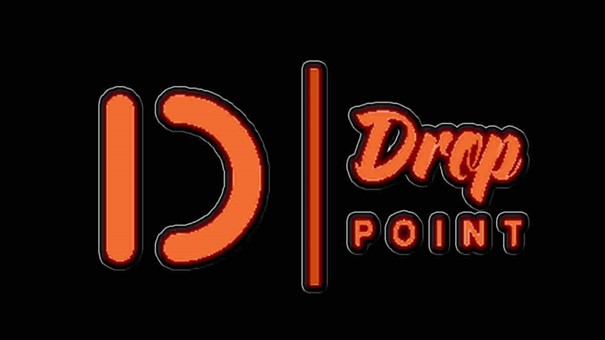 Is Drop Point the cheapest adspy tool? Even if you are the luckiest of all e-merchants, it is almost impossible for you to operate...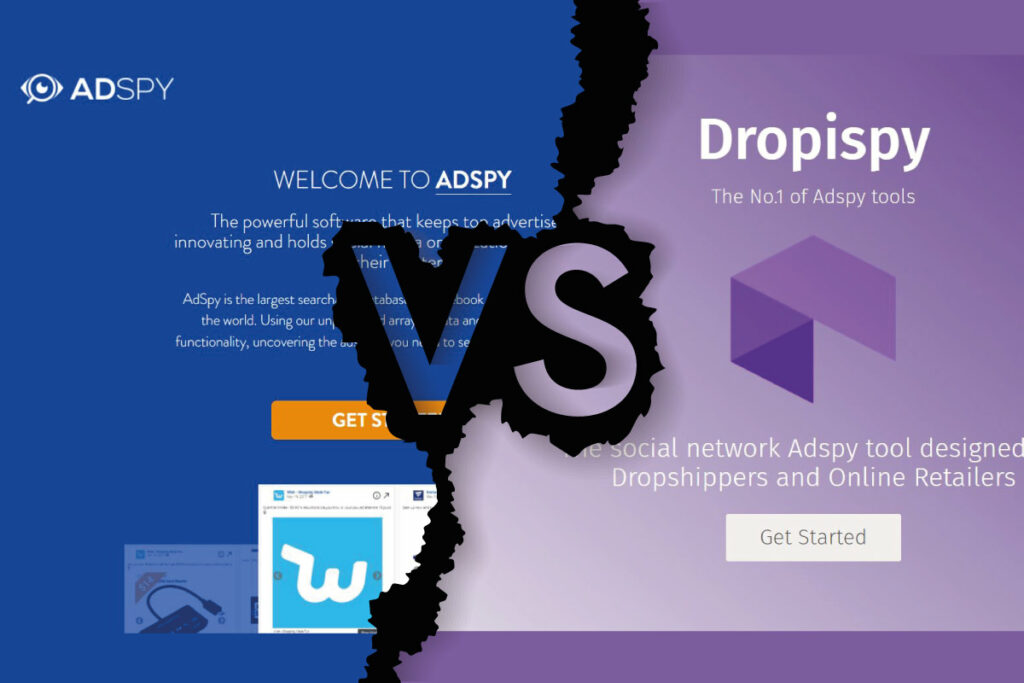 Whether you are new or old to e-commerce in general, your success often requires a lot of skill and sacrifice. Indeed, to attract prospects...