Both dropshipping and e-commerce in general have seen spectacular progress in recent years. Thus, to enable any e-merchant to be able to face the growing rivalry of the sector, advertising spy tools such as AdSpy or later PowerAdspy have emerged.
Considered one of the pioneers in the sector, AdSpy has convinced more than one through the many possibilities that the tool offers. Over time and to make it even easier for dropshippers, several other adspy tools like Dropispy or Poweradspy have appeared to serve as an alternative to AdSpy.
Therefore, what interests us within the scope of this article is whether Poweradspy is actually a great rival of AdSpy. But before addressing this point, we invite you to discover our Ultimate Guide to adspy tools. We have established this guide to help you better understand the operation of the various existing adspy tools.
To begin, let's take a quick look at Poweradspy.
Some figures on PowerAdSpy
Here are some figures on the tool that we found on the homepage, we would nevertheless like to warn you about the volume of ads. Indeed, free to this tool to inflate the figures. For an accurate analysis, you have to test the tool! This is what we have done for you in our VS articles which you will find below.
What to know about Poweradspy ?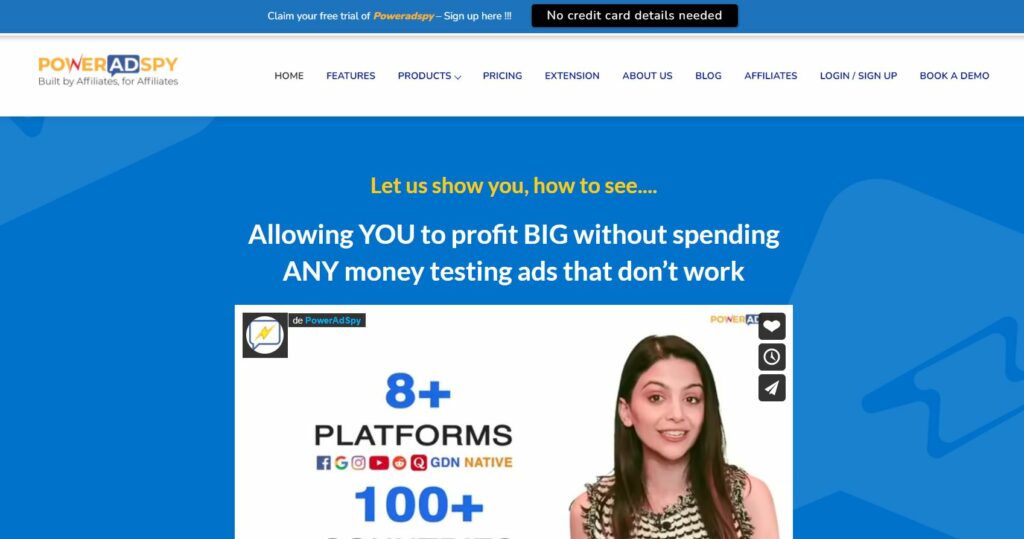 The Poweradspy tool is a very powerful adspy tool that spies on and collects advertising data on social networks in order to make it available to e-merchants.
The idea behind ad spying is that Poweradspy users can enjoy benefits such as accessing competitors' ads and adapting their success formulas to their own business. Beyond all this, the tool also allows them to come across an unsaturated Winner in order to maximize their profit.
Also, the Poweradspy Platform promotes an update of the advertising data collected. Thus, you have access to relevant and very useful information for good decision-making.
How does adspy tool Poweradspy work ?
There is no doubt that Poweradspy has several useful features. But, is that really enough to make it a big AdSpy rival? In order to objectively answer this question, let's take a quick look at the different features that Poweradspy has.
In addition, to find out what Poweradspy is really worth compared to other adspy tools, discover our DropiSpy vs Poweradspy comparison. This comparison will certainly allow you to better understand how Poweradspy works.
Poweradspy : Advanced search and filtering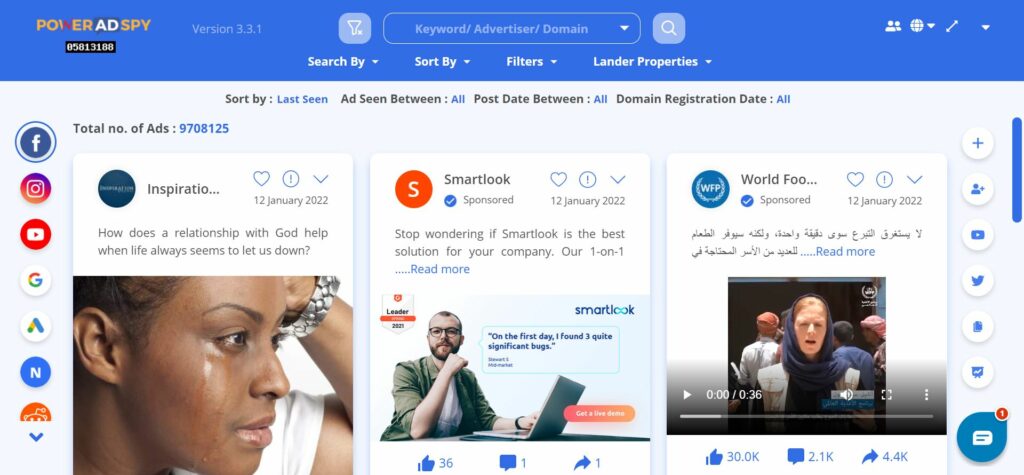 Access to a well-stocked database allows you to do conclusive research and easily find the information you really need. For this, Poweradspy provides you with a database in which you can search by keyword, by Facebook page name and also by domain name. On the other hand, it is not possible to carry out searches in the comments or in the text of the landing page.
Moreover, the tool offers you advanced search possibilities through the filtering and sorting options it has. These options allow you to display only the ads that meet the search criteria you have defined.
What filtering and sorting options do you have on Poweradspy? Discover the answer to this question in the summary table below:
| Advanced search and filtering | PowerAdspy |
| --- | --- |
| Filter by number of likes, shares and comments | ✔️ |
| Filter by number of reactions | ❌ |
| Filter by type of e-commerce platform | ✔️ |
| Filter by ads language | ✔️ |
| Filter by type of creation | video, picture |
| Filter by call to action | ✔️ |
| Filter by running time | ❌ |
| Filter by number of daily like | ❌ |
| Filter by ios, android, desktop, mobile | ✔️ |
| Filter by target audience | age, gender, country |
| Filter and sort by date | creation, last view, domain registration |
| Sort by like, share | ✔️ |
| Sort by number of reactions | ❌ |
| Sort by number of shares | ✔️ |
| Sort by running time | ✔️ |
The information in the table confirms that Poweradspy has several filtering and sorting options. It is even possible to filter by the date of registration of the domain and thus target the ads of stores that have been established for a long time.
However, some filtering options such as filtering and sorting by number of reactions and many others are absent on Poweradspy. It is therefore impossible to know which ads have had more "like" or "dislike" mentions in order to deduce customer satisfaction.
However, remember that when it comes to filtering and sorting, the tool can claim to compete with AdSpy.
Every e-merchant dreams of finding the perfect product that would allow him to make crazy sales and thus make substantial profits. To go from dream to reality and achieve this goal, you need a powerful adspy tool that provides you with a large volume of ads.
Does Poweradspy provide a large volume of ads? We will answer this question in two parts, namely: general ad volume and e-commerce ad volume.
When it comes to general ad volume, the tool provides a significant number of ads. Although this number does not exceed that provided by some adspy tools such as DropiSpy or AdSpy.
As for the volume of e-commerce ads, the tool is far from being able to compete with AdSpy. To learn more about this, we invite you to read our Poweradspy vs AdSpy comparison This comparison contains everything you need to know about the two adspy tools.
What good is it to have access to your competitors' ads without being able to verify which ones really worked?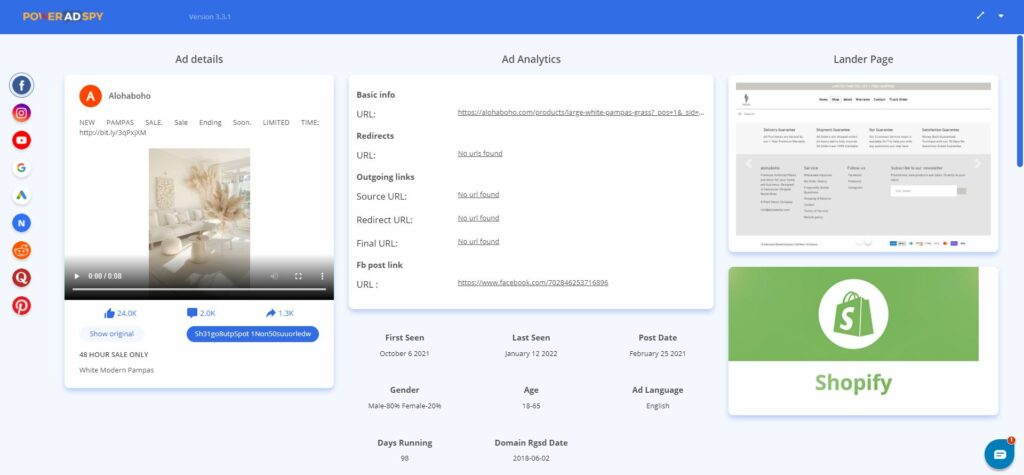 As you have just seen, it is not enough to have access to the ads of your competitors. It is also and above all important to know which ones have worked better in order to be able to draw useful analyzes from them. Indeed, it is the data on the ads that allows you to have access to such information.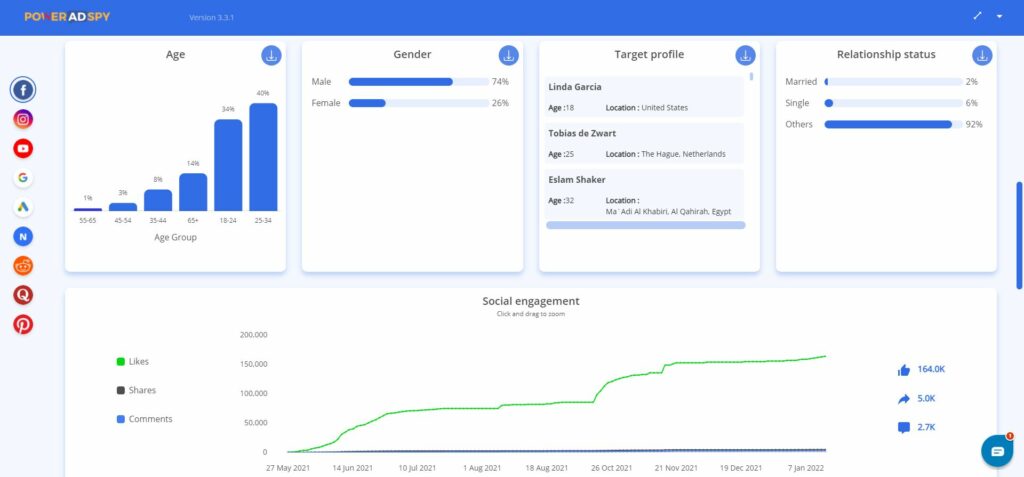 In addition, this data allows you to have an idea of the engagement of people on an ad in order to be able to judge its relevance. That said, what data does Poweradspy allow you to collect on ads?
Poweradspy is one of the best adspy tools to provide the most ad data. Apart from a few data such as showing top comments; the evolution of the number of reactions over time and the data and analysis of the advertiser's website; the tool gives you access to all the other useful data such as the key dates of the ads, its audience (age, gender, country), the evolution of the number of likes, comments, and shares over time.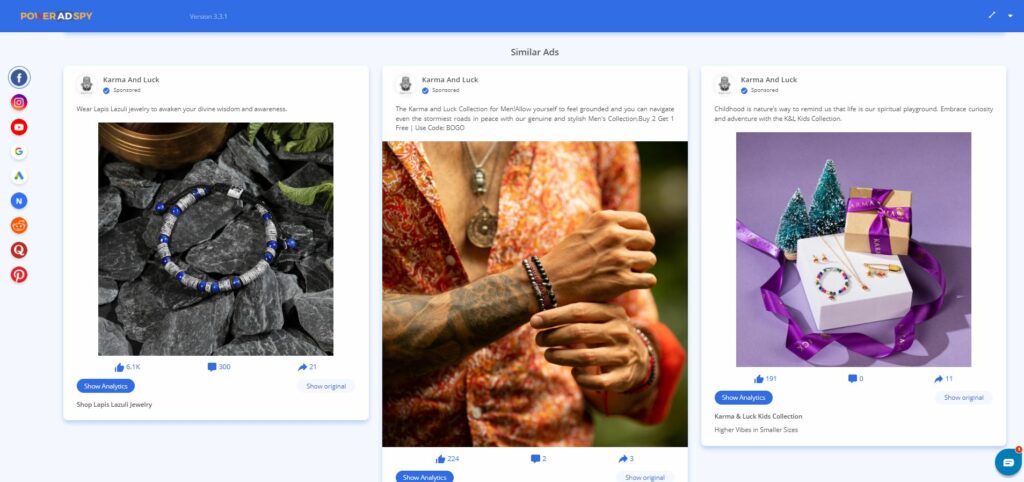 Regarding this ad detail page, PowerAdspy is a bit ahead of AdSpy, which does not allow for example access to information such as real-time engagement data and other ads on the same site.
Poweradspy has several other useful features. Among other useful features that the tool has, we can mention: saving ads in favorites, recording personalized requests, filtering ads by affiliate networks. The tool also has an extension.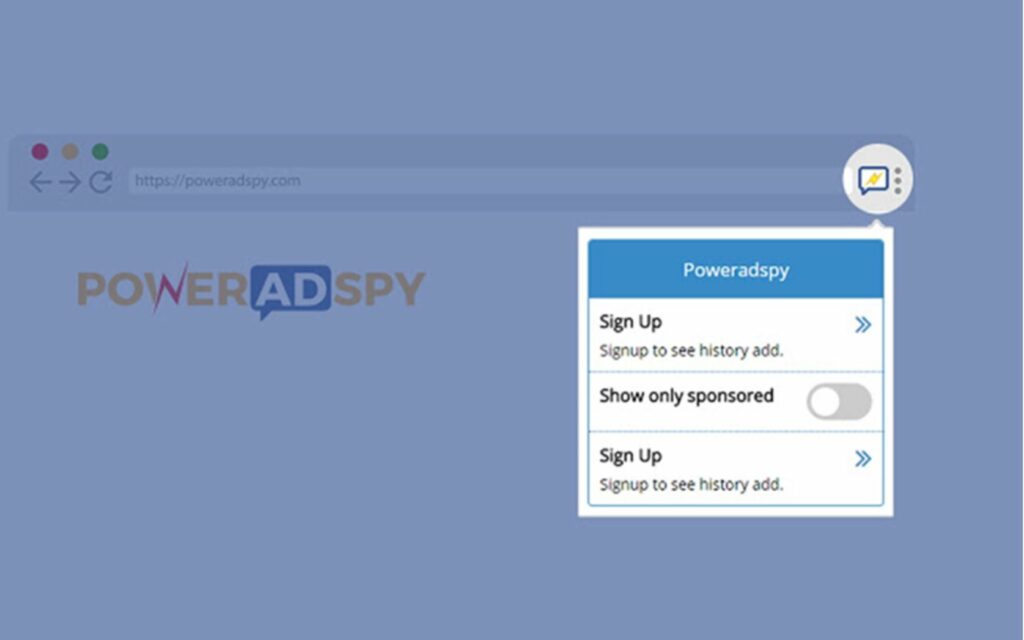 Indeed, when you are a Poweradspy user, and you browse your feed, the Poweradspy extension automatically collects ads. Depending on the number of ads collected, you receive rewards allowing you to spend free days on the Poweradspy platform.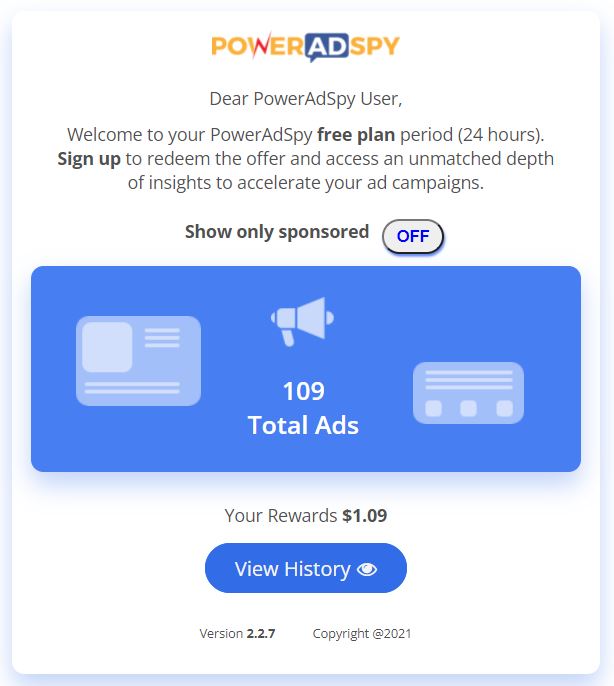 Besides, the tool also allows you to spy on your competitors' ads on several other social networks such as YouTube, Reddit, Quora. Since the tool only collects a limited ad volume, this feature will not be of much use to you if you are a Dropshipper.
However, on the question of whether Poweradspy rivals AdSpy, what to remember?
Here is a summary of the positive and negative points we identified about this tool.
1. A free plan that really allows you to test the tool
2. A wide variety of filters
3. An efficient ad sorting system
4. Precise data on advertisements
1. A lower volume of ads than its direct competitors
2. Obligation to download their extension to use the tool
3. To use the tool, an e-merchant will need to subscribe to the plan at $74.50/month
Does Poweradspy rival AdSpy ?
Does Poweradspy rival AdSpy? It is to find a suitable answer to this question that we have studied the functionalities offered by each tool. So let's do a quick point starting with the price of each tool.
AdSpy charges a single monthly price of 149$ and has no Free Plan.
On the other hand, Poweradspy offers six possibilities of monthly plans as shown in the image below and also has a Free Plan limited to 100 searches.
It is :
Basic plan: 29.50$,
Standard Plan: 49.50$,
Premium Plan: 74.50$,
Platinum Plan: 124.50$,
Titanium plan: 149.50$,
Palladium Plan: 174.50$.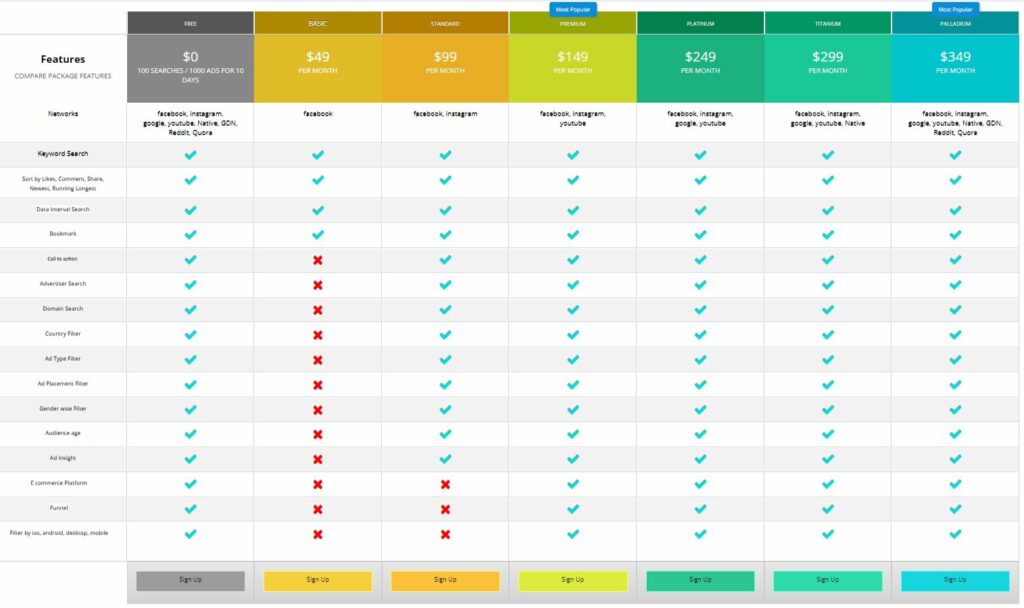 After testing Poweradspy's basic plan for daily e-commerce searches, it was found to be insufficient in terms of effectiveness, as most of the important filters are locked. An e-merchant looking for targeted e-commerce ads will need to subscribe to the 74.50/month plan to be able to use the tool.
Despite this, Poweradspy offers several possibilities depending on the means you have. This is not the case with AdSpy, which only charges a single price. In addition, the Free Plan that PowerAdspy has is another advantage that the tool has over AdSpy.
In addition, remember that the power of an adspy tool is really measured through the volume of ads to which it gives access. And on this level, Poweradspy is far behind AdSpy.
Our final rating on Poweradspy
Read our final review of the PowerAdSpy tool. It is based on all the parameters we have analyzed throughout the article.
What is DropiSpy compared to Poweradspy?
PowerAdspy and Dropispy are Adspy tools that help Dropshippers and e-merchants carry out their online activities. So, in order to allow you to have an objective opinion on the two adspy tools, we offer you this brief comparison. However, if you want to know everything about how both tools work, you can read our Dropispy vs Poweradspy comparison.
Indeed, the PowerAdspy tool has six packages per month, namely: the Basic plan which amounts to 49 dollars, the Standard plan which is 99 dollars, the Premium plan at 149 dollars, that of Platinium at 249 dollars, the Titanium at 299 dollars and finally the Palladium plan at 349 dollars.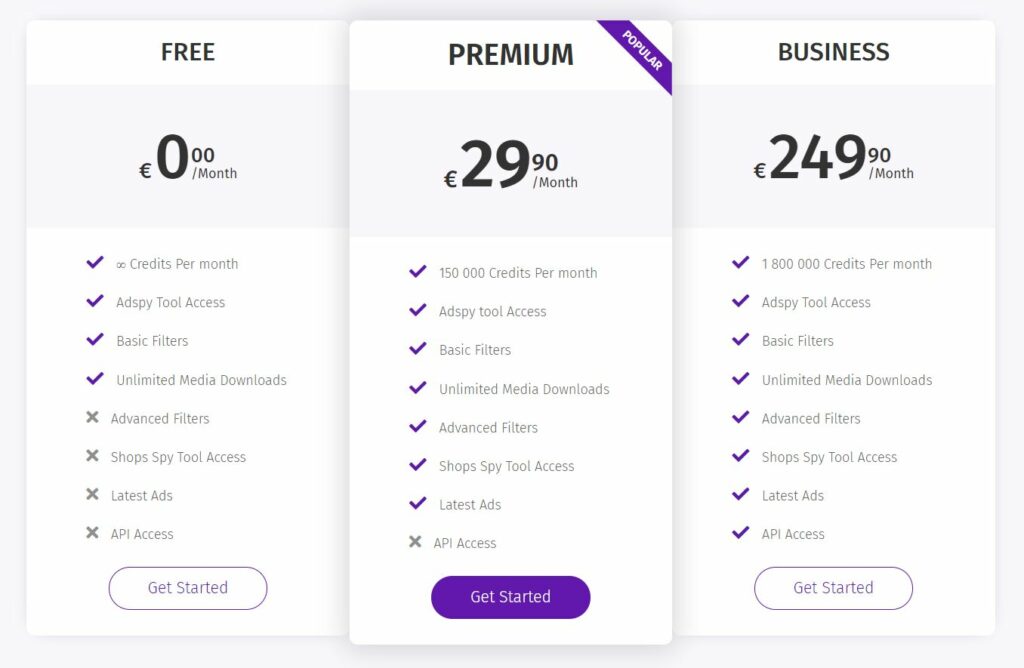 Unlike Poweradspy, Dropispy only has two plans: the business plan and the premium plan.
Each of the two tools has a free plan and that of Dropispy is slightly more advantageous than that of Poweradspy. Moreover, taking into account the plans offered by Poweradspy and especially the features offered, Dropispy is cheaper than the latter.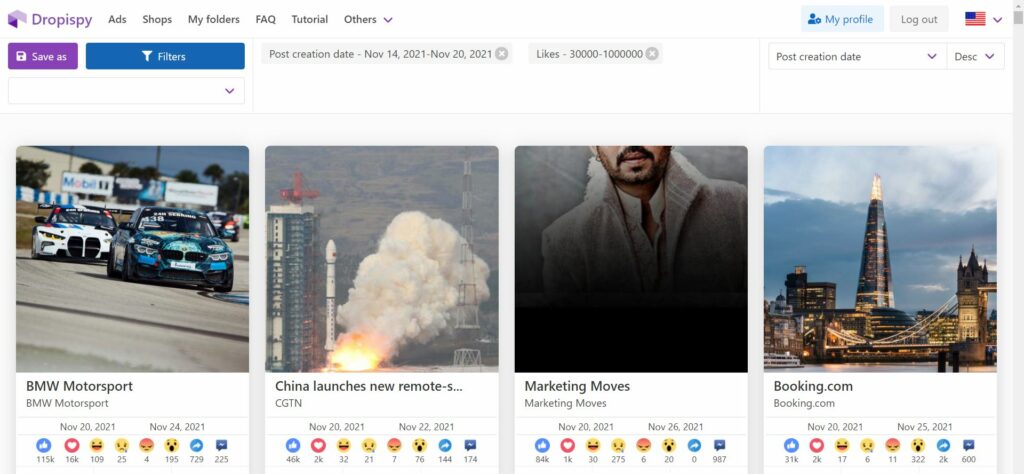 Regarding the volume of ads which is a very important point to measure the power of an adspy tool, DropiSpy is far ahead of Poweradspy. Indeed, whether for general ad volume or for e-commerce ad volume; Dropispy displays a large volume of ads.
We can therefore say that DropiSpy is a more powerful adspy tool than Poweradspy.
The purpose of this article is to take stock of the Poweradspy and AdSpy rivalry. Indeed, several positive points were noted at the level of each tool. But, regarding the volume of ads, a very important point to measure the power of an adspy tool, AdSpy has an absolute advantage over Poweradspy.
To get a definitive idea about the Poweradspy adspy tool, we invite you to discover the Poweradspy vs Drop Point comparison. Don't forget to write to us in the comments.
Do you have a specific question about the features of an adspy tool? We are available to answer all your questions and concerns.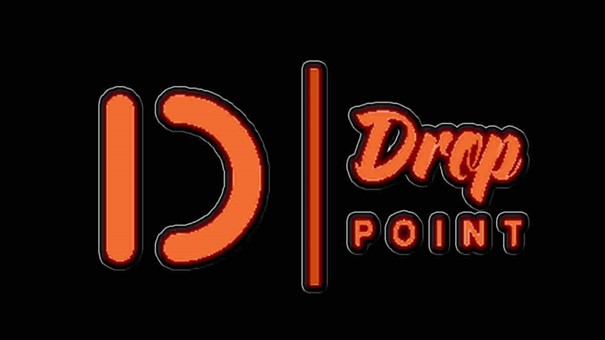 Is Drop Point the cheapest adspy tool? Even if you are the luckiest of all e-merchants, it is almost impossible for you to operate...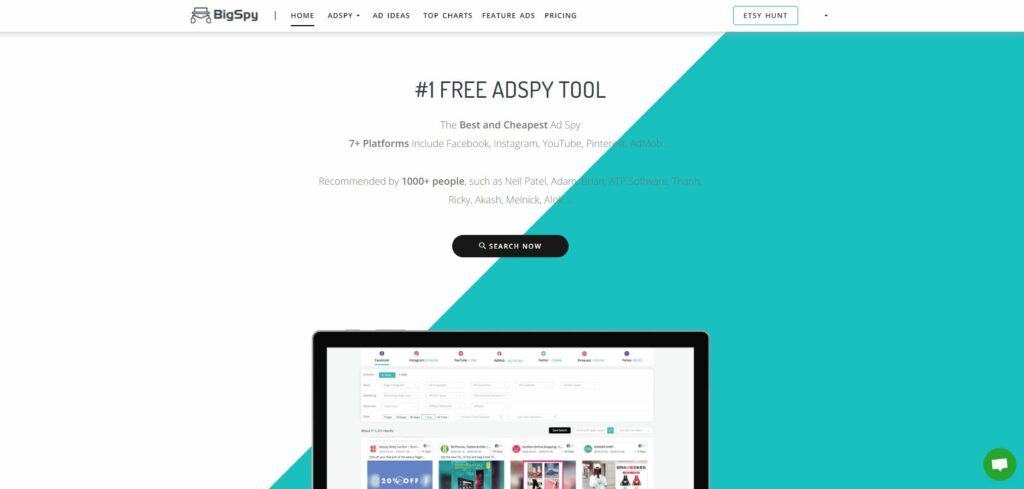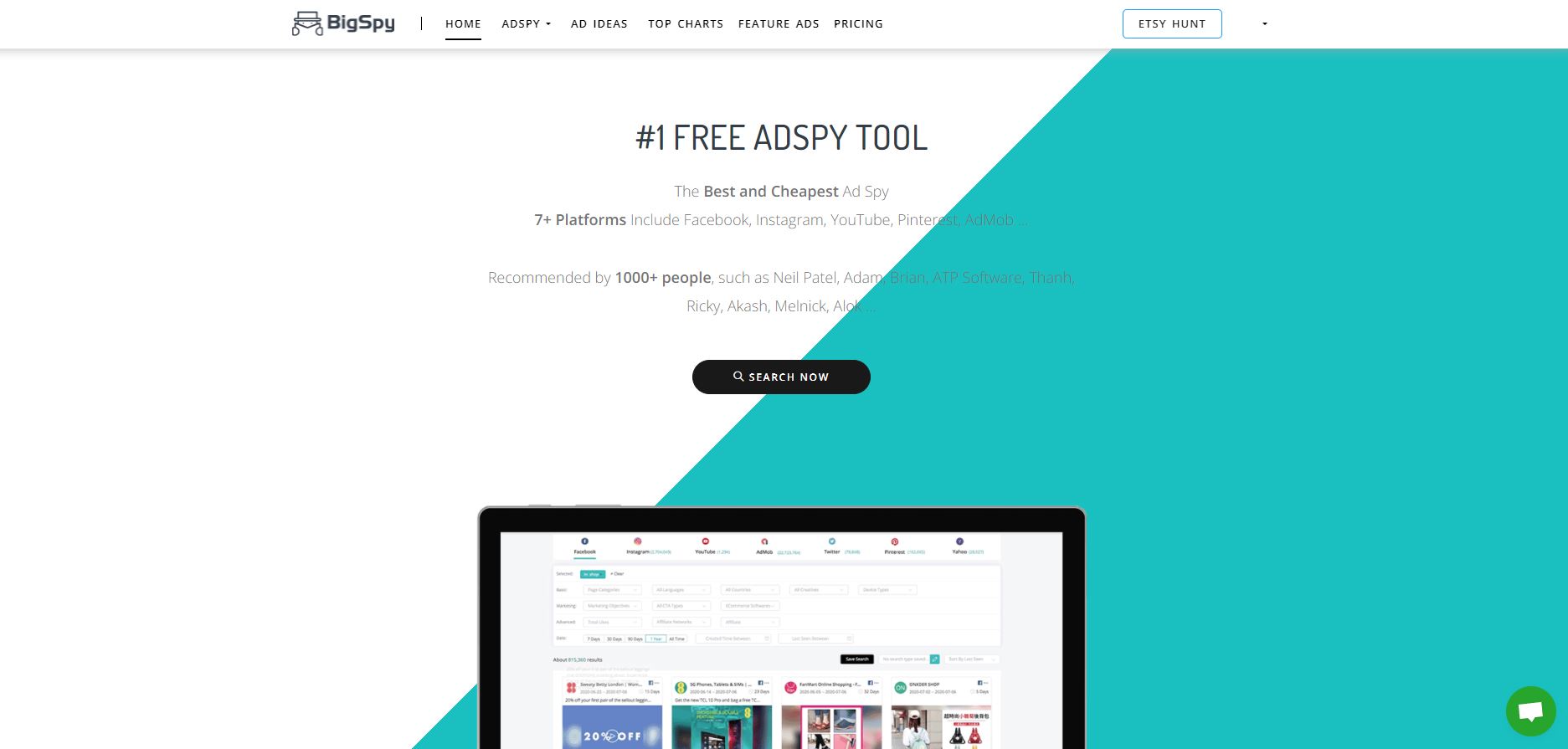 The world of dropshipping has long been veiled from the general public to the point where the most skeptical do not even believe it...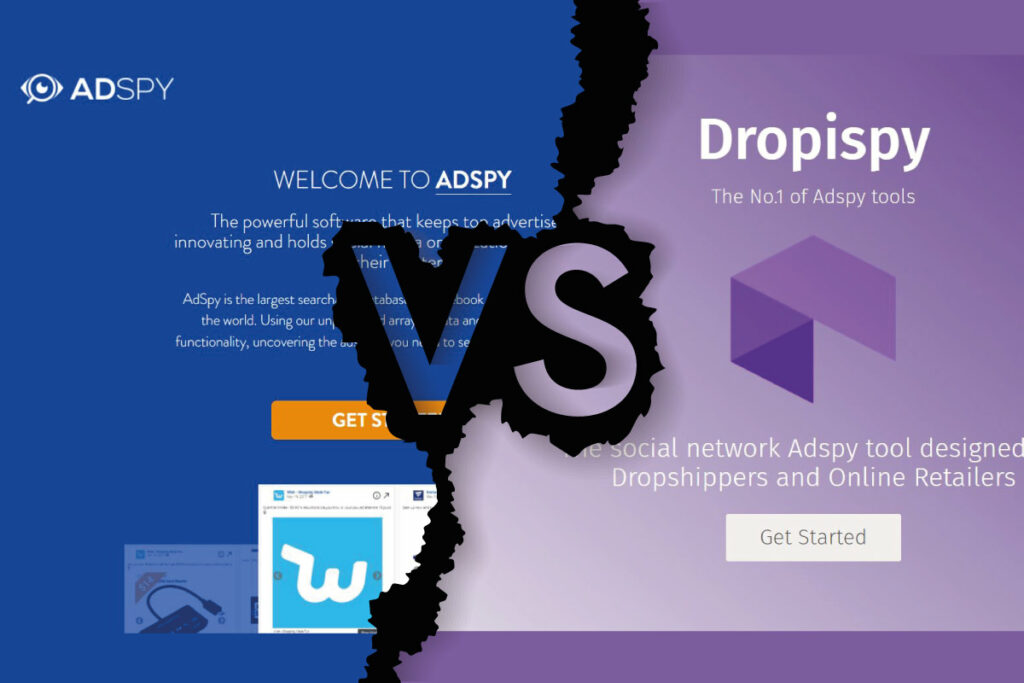 Whether you are new or old to e-commerce in general, your success often requires a lot of skill and sacrifice. Indeed, to attract prospects...