As a Dropshipper or e-tailer and digital marketer, you always want to be ahead of your competitors in marketing. And to have pre-eminence in the market, you have to get to know your rivals well. It is in this context that adspy tools or advertising spy tools are nowadays the best solution.
Indeed, deploying your time and money in using good ad spy tools can allow you to gain the upper hand over your competitors. It is also with a view to helping you know the good Facebook adspy tools as long as we proceed, for example, in this article to a comparative study: Poweradspy vs AdSpy.
Likewise, always with the intention of giving you the best of ourselves, we have also exposed in another dimension Poweradspy as the rival of AdSpy. If you are interested, we invite you to read our article which will deal more specifically with the Poweradspy software.
What is an adspy tool? What is Poweradspy? What is AdSpy? What are the major differences between these two tools? And what other beneficial features do they have for Dropshippers and e-merchants? These are several questions, among many others, around which this article will revolve.
What idea should we have of adspy tools ?
The adspy tools are real and ideal solutions to all concerns in the field of Dropshipping or e-commerce. They are mostly extremely powerful not only to spy on social media ads but also to spy on your rivals' shops.
In addition, adspy tools are specially designed to provide you with essential information, in order to help you have a competitive advantage in the Dropshipping market.
In addition, they are well placed to let you know in real time the best strategies of your competitors that you can adopt to be one step ahead of them.
Moreover, what can we specifically retain from the Poweradspy and AdSpy tools?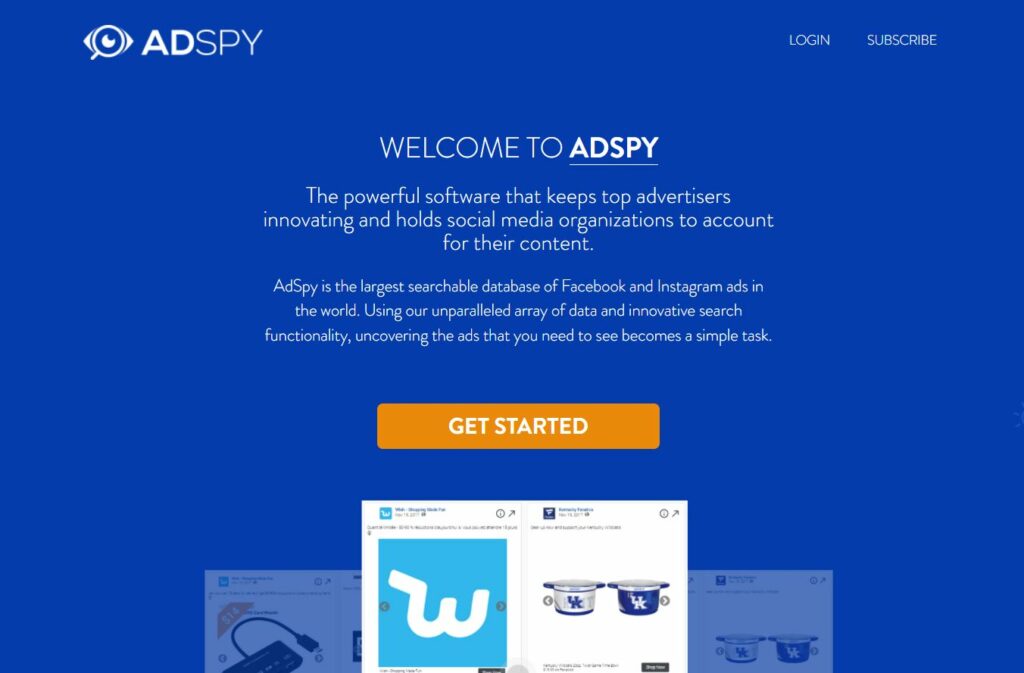 AdSpy, one of the powerful ad spy tools, is itself a comprehensive and accessible database of Facebook and Instagram ads. It enables advertisers to continuously innovate their marketing content by using a wide range of search data and functionalities to find the ads they want to have.
Because AdSpy allows you to access the best existing ads that are buzzing on the networks, so you can better organize your marketing activities.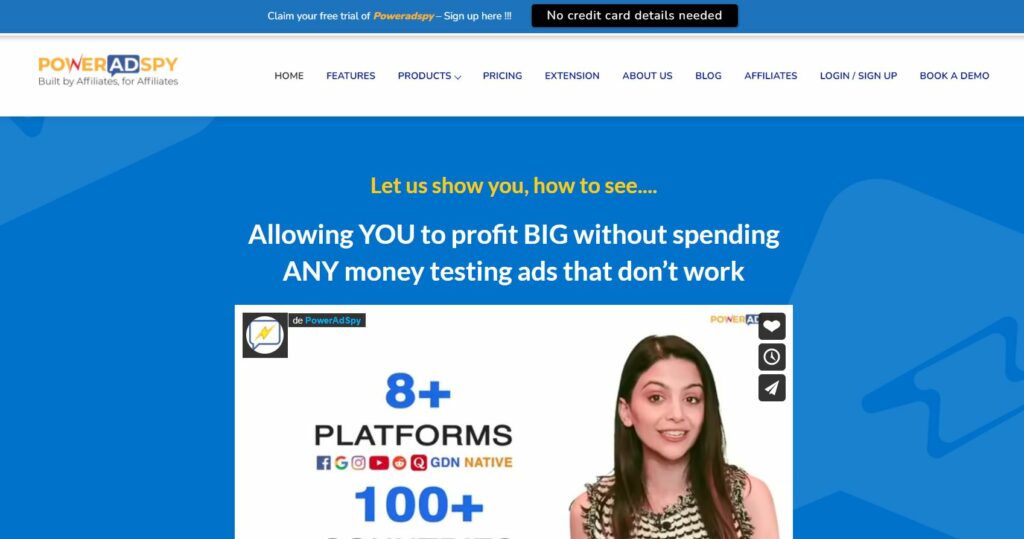 Like the Adspy tool, Poweradspy is a Facebook ads spy tool that relies on a large number of sources to collect Facebook ads with the aim of allowing you to discover the best ads of the moment on the platform. Also, it should be noted that Poweradspy and AdSpy are two tools that serve the same purpose.
It is a tool that monitors the ads of your competitors in order to present you the winning ads that you can apply for the success of your marketing strategies.
Each ad example is updated and then sent to the data processing servers in the Poweradspy tool. Thus, the information collected there is then converted into ideal relevant data that can be used in your marketing decision-making.
So, if we consider that the ideal solution for a successful Dropshipping has been found, it is nonetheless true that the problem of choosing the best Adspy tool suitable for your business arises.
This is why after having understood what these two Adspy tools are, we must now address the major differences between Poweradspy and AdSpy. This may guide you better.
And to achieve this, we will base ourselves on two main factors that determine the power of Adspy tools, namely:
The variety of filters/sorting of ads.
The daily ad volume;
Poweradspy vs AdSpy : Major differences
The study of the major differences will focus on the volume of ads and the variety of filters and sorting of ads. This already challenges an idea of ​​comparative analysis of Adspy tools in terms of research to have a broader detail.
1. Advanced search and filtering
The goal of any Dropshipper or e-merchant is to succeed in their various searches; there is no point in carrying out a search without being able to collect a winning result.
It is obvious that access to information is the main key to success in Dropshipping and e-commerce. However, due to ignorance, not everyone has access to real information. This is what makes many fail in their online business.
Well, for you to be well informed and oriented, the Poweradspy vs AdSpy comparative analysis that we are about to discuss is therefore going to be a means that is going to let you get in touch with a large comprehensive database for your research.
In addition to this, you will have the possibility to filter your search to obtain better results that correspond to the criteria that you had predefined.
As the analysis table indicates, the AdSpy tool is better compared to Poweradspy, since the latter does not have the possibility of allowing you to do your research in the comments and in the text of the landing. page.

Filtering and sorting ads
While waiting to move on to the Poweradspy vs AdSpy comparative study, let's try to find out the difference between filtering and sorting ads.
When we talk about sorting ads, this means that we display the data in ascending or descending order, in line with the degree of importance of the information collected.
But when it comes to filtering them, you are called upon to search from the predefined criteria to obtain only information that matches, while hiding the remaining information from the batch provided by the search.
The following Poweradspy vs AdSpy comparison table gives us practical information on the possibilities of filtering and sorting ads.
The comparative analysis was made on the basis of 15 sorting and filtering criteria. Thus, the results reveal that Poweradspy accounts for 11/15 or 73.33% against AdSpy which includes 10.33/15 or 68.86%. So we have a difference of 4.47% in favor of Poweradspy.
We then understand that the two tools are in full rivalry when it comes to filtering and sorting ads.

The volume of ads is one of the most important criteria to measure the power of an Adspy tool. This is also the foundation of the success of the project of any Dropshipper or e-merchant.
The greater the ad volume, the greater the likelihood that you will find an unsaturated trending product. This is obvious from the world of Dropshipping. This is why Dropshippers and e-merchants give it much more importance.
Thus, the comparative analysis of Poweradspy vs AdSpy will be based on these two essential criteria:
General ad volume
The volume of e-commerce ads.
In addition, note that the older an Adspy tool becomes, the more complete and accurate its database becomes. For this purpose, the data collected by an Adspy tool and which have a certain age are very important; because they allow you to have a clear understanding of the winning ads that have made and continue to make the buzz, in order to use them to build your marketing strategies.
 Our comparative study will focus on the following search filters:
Ad creation date between November 14 and 20, 2021
Number of "likes" greater than 50,000.
Here are the results we get with Poweradspy vs AdSpy:
Poweradspy
The results reveal:
59 ads found with Poweradspy tool.
But by reviewing the ads one by one, we count:
49 ads and not 59 as the app shows us.

AdSpy
When we do the same research on AdSpy tool, we have:
72 ads that are counted, nearly 30% more than Poweradspy.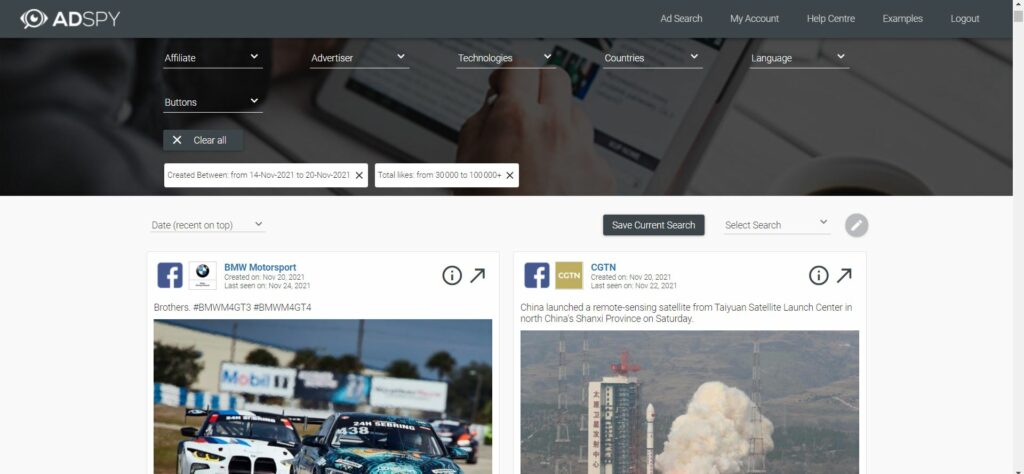 At this stage, we will rely on the following filters for the volume of ads at the level of each tool:
Ad view date between November 14 and 20, 2021,
Number of "likes" greater than 10,000,
Type of e-commerce platform: Shopify.
Here is what we get on Poweradspy vs AdSpy:
Poweradspy
On Poweradspy tool, research reveals:
However, when we review the ads one by one, we count:
48 ads and not 56 as the app shows us.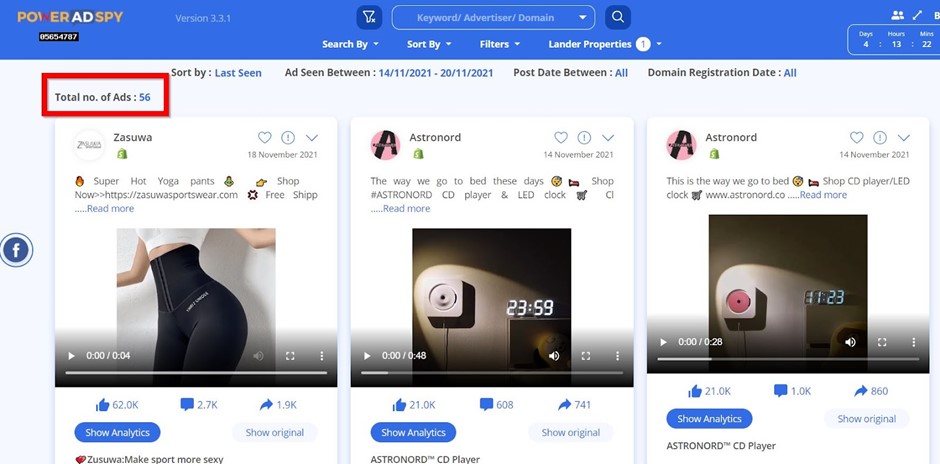 AdSpy
With the same research, it is seen that it is very difficult to reach the end of the results provided by AdSpy tool. Because, there are more than 1000 ads responding to this search.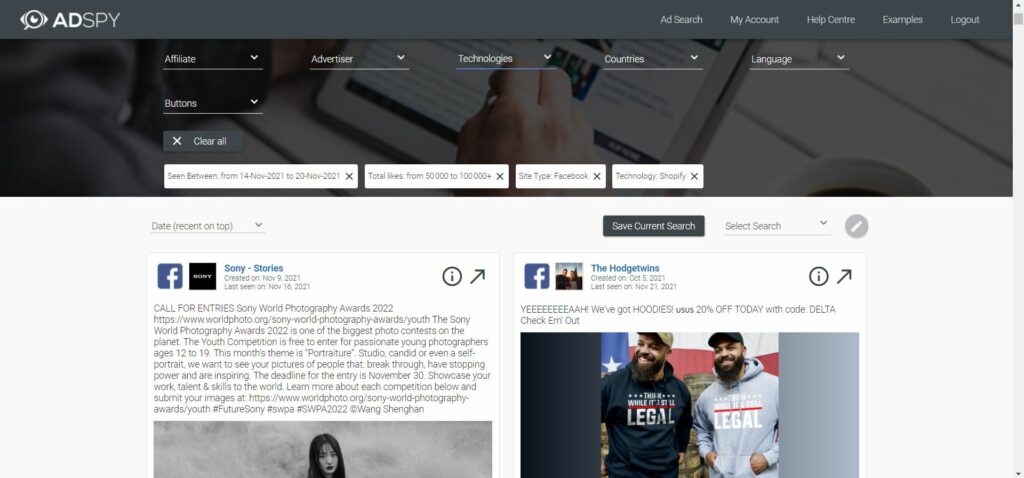 We will then say that, based on research focused on the volume of Facebook e-commerce ads, AdSpy tool crushes Poweradspy tool. Indeed, the AdSpy tool database seems to provide at least 10 times more than Poweradspy.
Thus, we understand that AdSpy has a large volume of e-commerce ads like at Dropispy, the most serious competitor of AdSpy app. And to help you discover this aspect with Dropispy as well, we invite you to read the article Poweradspy vs Dropispy (link to the article at the bottom of the page).
On the other hand, in terms of the volume of general ads, the databases are quite close to each other. So, there is a slight advantage of 30% in favor of AdSpy.

The process of researching information on an Adspy tool allows you to display ads that take into account your search criteria. However, it is also essential to check the details of each ad that interests you in order to do the analysis. This will allow you to know its relevance and its real scope.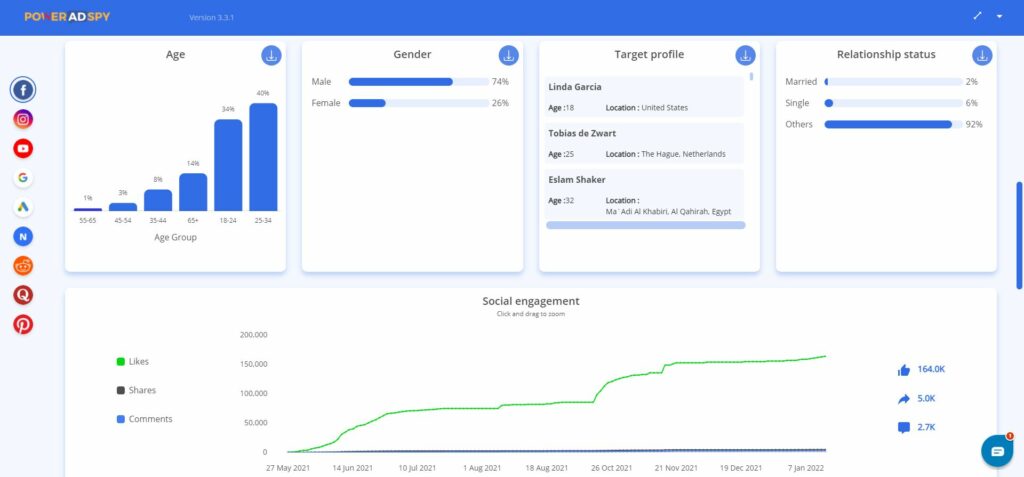 Indeed, these details constitute crucial data that we will use for the Poweradspy vs AdSpy comparative analysis.
 The results of this Poweradspy vs AdSpy comparison table are based on 13 criteria. Of all the criteria:
Poweradspy counts: 10/13, or 76.92% against
AdSpy which obtains 8/13, or 61.53%.
So we have a difference of 15.39% in favor of Poweradspy. Thus, the comparative study of detailed ad information ranks PowerAdspy slightly above AdSpy.

4. Other useful features on Poweradspy vs AdSpy
In addition to the features we have covered above, no less important ones that we have gathered in this chart :
It's time to notify that the Poweradspy tool has an extension that allows you to get rewards for the unique ads that you upload from Facebook. In short, when the user of the Poweradspy extension browses his feed, it collects the ads.
Then, depending on the ads collected, the user is rewarded and can win free days on Poweradspy.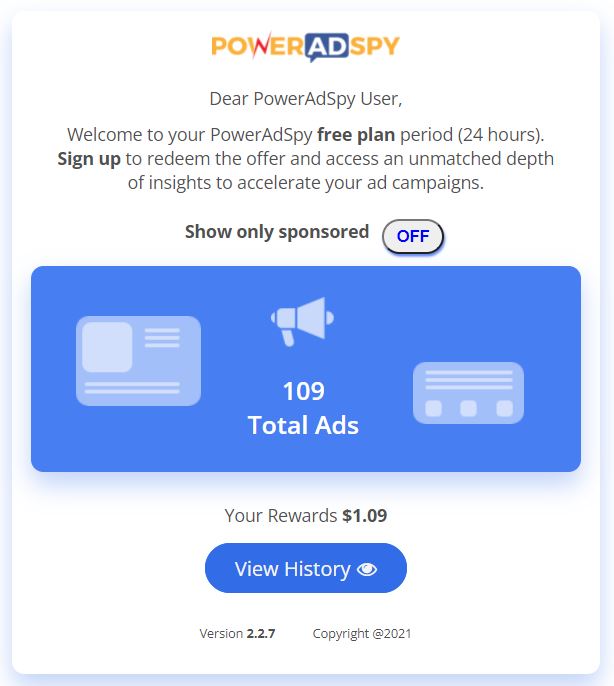 In addition, the Poweradspy tool allows you to spy on other social networks like YouTube, Reddit, Quora or Google. If you do dropshipping, note that these networks will be of no use to you, as long as the volume of ads collected is very low for a very high price.

Available plans and pricing
Unique Pricing per month :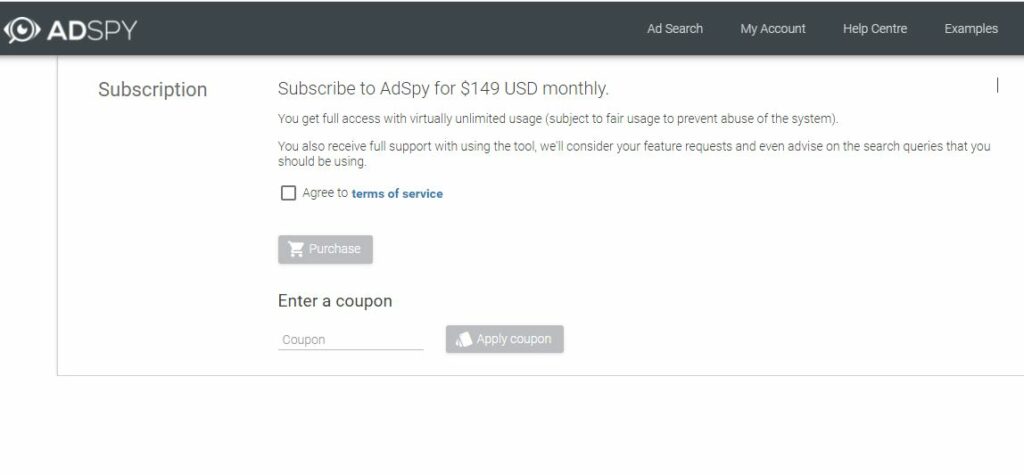 On the AdSpy tool, there are 100.000 views per month. You also have the option of buying 50.000 more for 50 Dollars
Poweradspy has six monthly plans which are payable differently. So, there is the basic plan amounting to $49, the Standard plan amounting to $99, the Premium plan amounting to $149, the Platinum plan amounting to $249, the Titanium plan amounting to $299 and finally the Palladium plan amounts to $349.
If you do Dropshipping, this adspy tool will not be useful to you, especially since the volume of ads collected is very low for a very high price.
Besides that, there is also Poweradspy free, but it only offers 100 searches per month, and is limited to 1000 ad views. So the Free Plan is quickly limited although it allows you to effectively test the full potential of the tool.
Also it should be remembered, to use the Free Plan of the adspy tool, the download of the Poweradspy extension is necessary.
Also, the $29.50 plan does not allow you to use Poweradspy's Facebook adspy tool. And for this purpose, the great part of the interesting filters are locked.
Similarly, an e-merchant looking for targeted e-commerce ads will need to subscribe to the 74.50/month plan to be able to use the tool.
Besides, maybe you want to embrace a cheaper and more affordable adspy tool than Poweradspy in terms of price? If so, we looked for another adspy tool that is very cheaper compared to all current Facebook ads spy tools: Droppoint! So, find out in our Poweradspy vs Droppoint  comparison study (link to the article at the bottom of the page)
.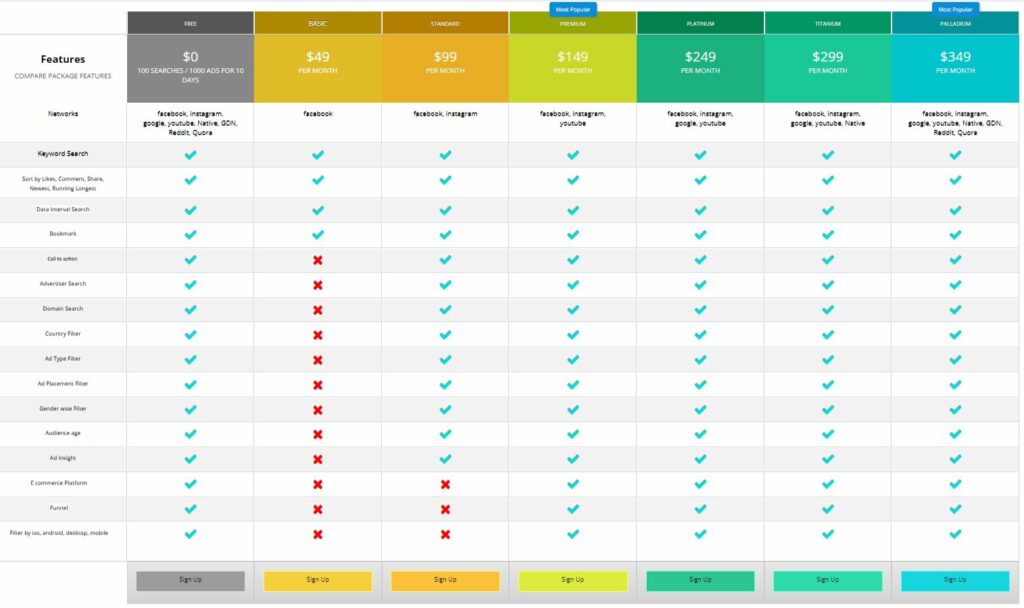 The comparative study on the available plans and the pricing shows us that Poweradspy offers more possibilities than AdSpy, in the sense that it does not even have the free plan and the paid plan is expensive.

It is true that the paid plan of Poweradspy is also expensive, but has possibilities of choice and more advantages than AdSpy in terms of cost.
Conclusion : Poweradspy vs AdSpy, which one is the big winner ?
This Poweradspy vs AdSpy benchmarking article showed us that Poweradspy tool slightly surpasses AdSpy in terms of features. However, since the strength of an adspy tool lies in its e-commerce ad volume, and AdSpy outperformed the Poweradspy app about 10 times more, we would say that AdSpy is the clear winner.
It would be good to remember that the two tools have certain functionalities in common on several levels of comparative analysis.
Now you know which of the two adspy tools suits you best in your electronic activities. Well, the choice is yours!
Tell us in the comments what makes your satisfaction with the content of this article special.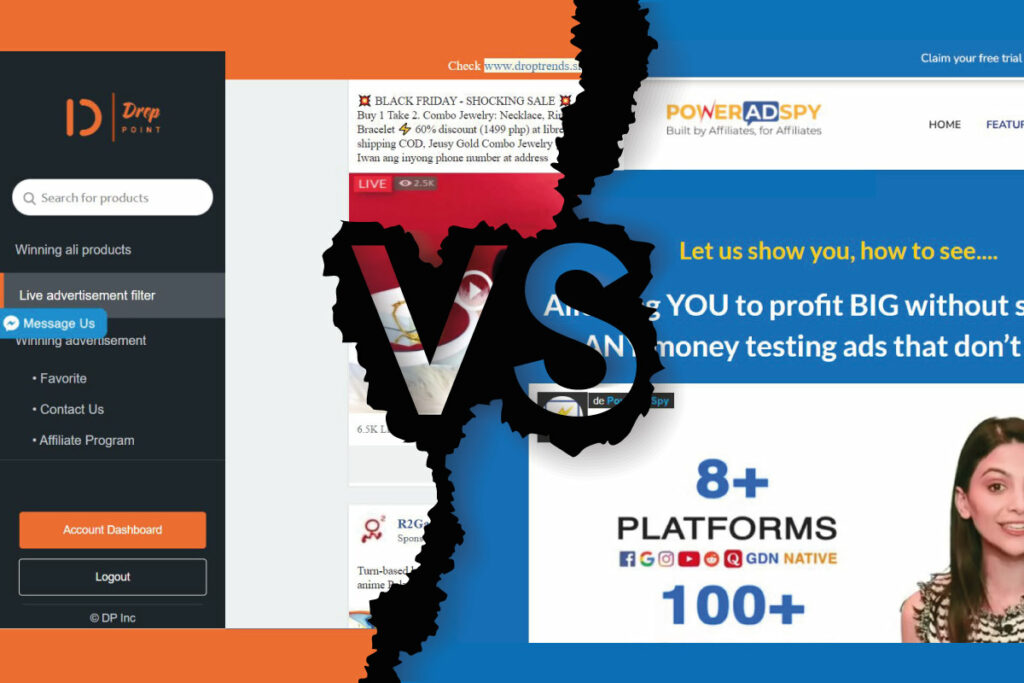 To carry out your Dropshipping or e-commerce activities, you need to know some current marketing strategies that work well. Indeed, to achieve this, you...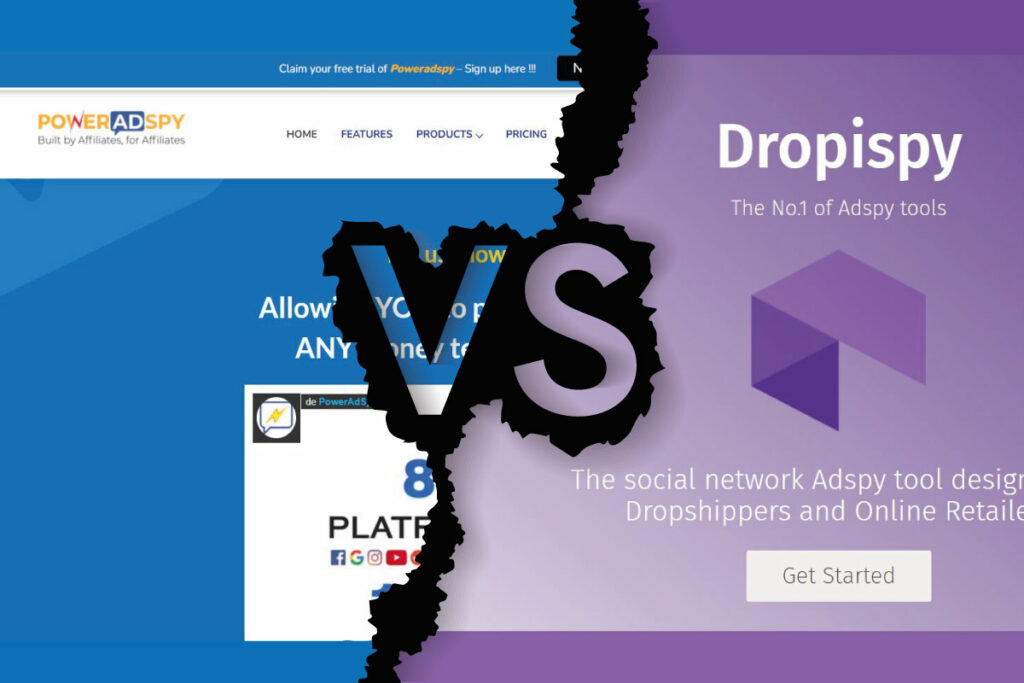 The world of e-commerce or dropshipping is becoming more favorable and successful with certain Adspy tools which are considered to be powerful social media...