To carry out your Dropshipping or e-commerce activities, you need to know some current marketing strategies that work well. Indeed, to achieve this, you must necessarily use the right Adspy tools. So, some benchmarks like Poweradspy vs Drop Point are useful to guide you.
As an e-merchant or Dropshipper, and given the trends, you need to use Adspy tools to set up good winning methods. These tools allow you to collect information on the best winning products in record time.
Beyond all this, some of these Adspy tools go so far as to spy on the best online stores in order to provide you with the strategies that your competitors are using.
So, to lead you to grasp the various features of Poweradspy vs Drop Point, we present to you in this article a comparative analysis.
You can also go further by discovering another largely detailed article on Poweradspy, a rival of AdSpy.
Poweradspy and Drop Point : What to understand from these two Facebook Adspy tools ?
Adspy tools in general are well placed to give you a head start in the competitive market, because of the information they provide you.
What is still very interesting is that these tools allow you to know the approaches of your competitors. In this, you can know how to adopt the best marketing strategies to stand tall.
From this point of view, considering Poweradspy vs Drop Point, what can we understand from each of these two Adspy tools?
Poweradspy : What is it ?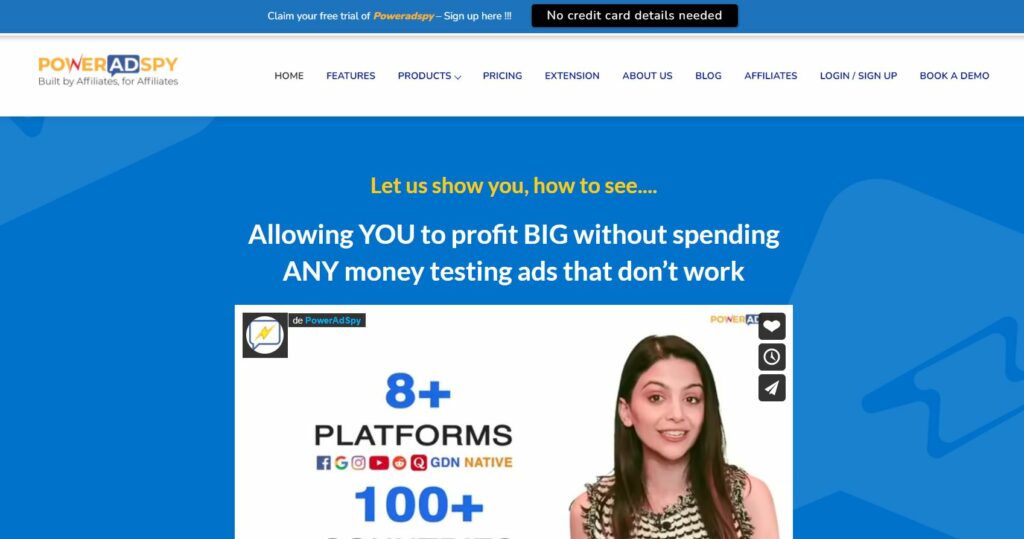 It is an Adspy tool that spies on ads on social networks (Facebook, Instagram, etc.). It has many sources from which it collects Facebook ads which it makes available to you.
Poweradspy has the ability to spy on your competitor's ads to equip you with necessary information that can serve you to have pre-eminence in your online activities.
With the Poweradspy tool, ads are updated and moved to database servers. Thus, all collected data is converted into relevance data. These will guide you in your marketing strategies.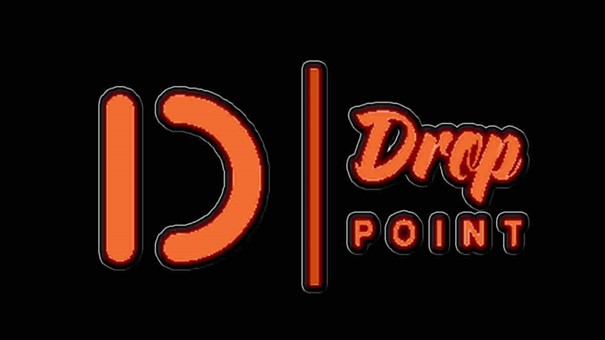 Drop Point is a Facebook ad spy app. It is an easy software that is within the reach of all those who are in the field of e-commerce in general.
We often hear that it is one of the most powerful Adspy tools in terms of digital marketing these days. However, our Poweradspy vs Drop Point comparative study will show us what it really is.
Indeed, Drop Point is an app with various functionalities which gives you the possibility of managing the strategic aspects of your electronic business.
It is a Facebook Adspy tool that helps to find trending ads, spy on competitors in their daily web activities. Also, it allows you to track ad performance in real time.
Just like PowerAdspy, you get information about creative ideas about ads in order to make a good review of potential products.
What are the major differences of Poweradspy vs Doppoint ?
In all foresight, if you are a Dropshipper or an e-merchant, you need to know the different features of each Adspy tool. Thus, you will be able to have a clear idea of ​​the Adspy tools which are likely or able to allow you to collect the best trending winning products.
To do this, it is necessary to oppose certain Adspy tools to be informed in your choice. That is why our Powerdadspy vs Drop Point comparative analysis is welcome for you.
With that, let's go through the various features offered by Drop point vs Poweradspy together!
1. Advanced search and filtering
When you want to succeed in your business in Dropshipping or e-commerce, you need to master the market and competitive analysis.
Like other ad spy apps like Dropispy, Minea etc. Drop Point and Poweradspy are Adspy tools that have a complete and massive database at their disposal.
In addition, they have a system of filters through which e-merchants or Dropshippers can display ads that are adequate to the search criteria you have defined.
Filters are very essential elements for performing research on social media. This is why filters are considered to be the most essential aspects to collect the trending winning ads. The following comparative table will guide you further!
As the comparison table indicates, out of 5 points, the Poweradspy tool totals 3, i.e. while Drop Point has 2. Thus, Poweradspy keeps notoriety with 60% while Drop Point is behind it with 40%. We will then say that Poweradspy exceeds Drop Point by 20%.

Ads filtering and sorting
Before we get into benchmarking, let us help you understand the difference between filtering and sorting ads.
Performing a search by filtering means performing it from specific criteria to obtain only the information that matches, then masking the other information in the batch related to the search subject.
In the following table, you will discover the Poweradspy vs Drop Point comparative analysis that supports these different points:
Based on the 14 criteria of this comparative table, Poweradspy counts 11/14, or 79% against Drop Point which obtains 6.5/14, or 46%. So there is a difference of 32% in favor of Poweradspy.
Everything already lets us know that Poweradspy has preeminence over Drop Point.

This is one of the most important criteria in measuring the power of an Adspy tool. Ad volume is indeed the foundation of the success of your Dropshipping or e-commerce business.
As much as you have a large volume of ads, your chances of having an unsaturated winning product are high. Thus, we will base ourselves on two capital criteria to proceed with the Poweradspy vs Drop Point comparison. It is :
General ad volume
E-commerce ad volume.
Moreover, the longer an Adspy tool lasts, the more complete and massive its database becomes. This is to say that the data collected by an Adspy tool is important, because it allows you to be informed of winning ads. So you can use it to build your marketing plan.
We will consider the following filters to do the Poweradspy vs Drop Point comparative analysis:
Date of creation of the ad between 24 and 30 November 2021,
Number of "likes" greater than 75,000.
Here is the result obtained with Drop Point: 9 ads.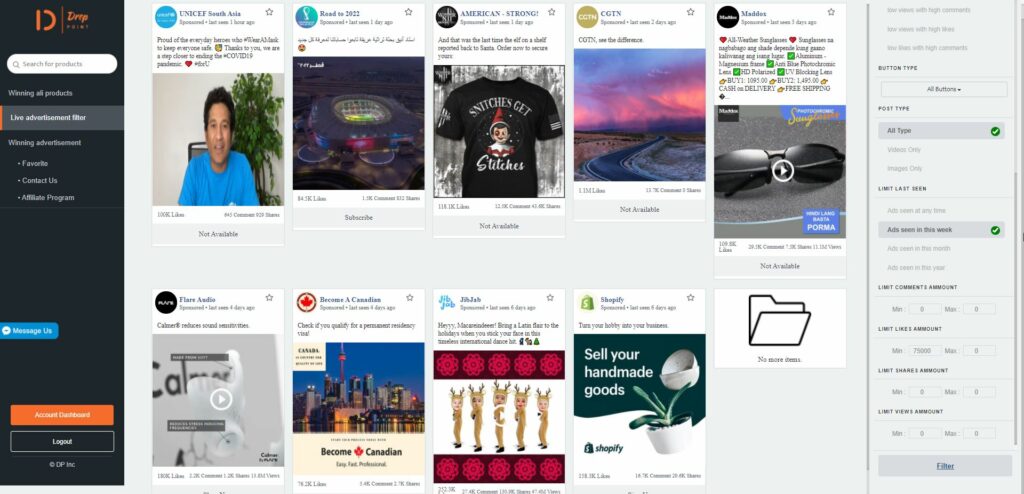 Performing the same search with the Poweradspy tool based on the same filters, we get more than 1000 ads. Indeed, it is impossible to count the number of results for other Adspy tools. Because we can't reach the end. This shows that the Drop Point database is very limited.
At this stage, it should be noted that it is impossible to compare the volume of ads of the two tools, because Drop Point does not allow you to filter by e-commerce platform.
As a result, Poweradspy again retains the superiority over Drop Point.

The process of finding information on an Adspy tool gives you the opportunity to display useful ads related to the search criteria. However, it is always better to check the detailed points of each ad you want to analyze. Thus, you can analyze it to know its relevance and scope.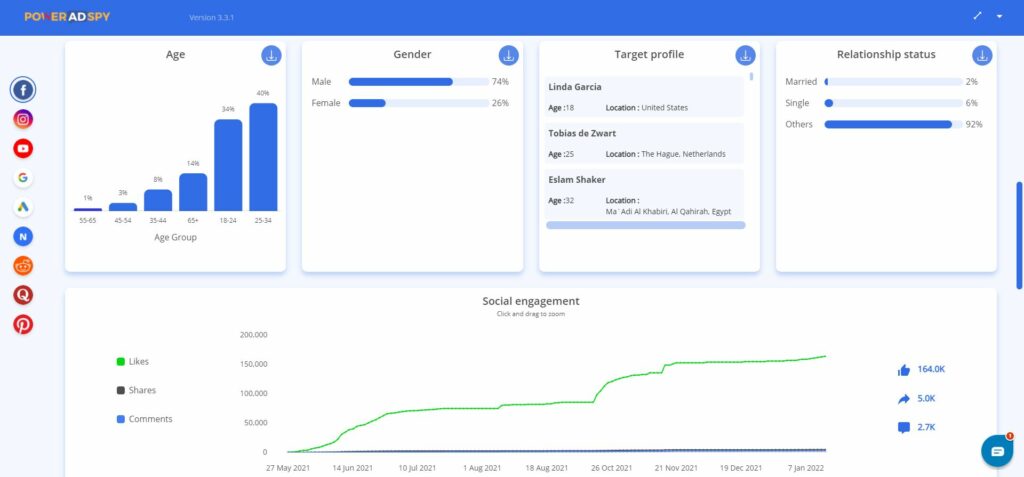 Well, these details are then going to be vital information by which we are going to proceed with the Poweradspy vs Drop Point comparative study. The following table says a lot about this:
The table contains 13 ad detail criteria. To this end, Poweradspy records a score of 12/13, or 92% against Drop Point which includes 2.5/13, or 19%. So we have a difference of 73% in favor of Poweradspy. Here Drop Point is totally overwritten by Poweradspy tool.

Like all the features we just covered in this review of Powersadpy vs Drop Point, there are others that are very relevant. They are grouped in the following table:
Out of 10 criteria, Poweradspy obtains 4, or 40% against Drop Point which counts 3, or 30%. So we have a 10% difference between the two tools in favor of Poweradspy.

We understand that Poweradspy crushes Drop point all the way. However, would you like to get acquainted with a more powerful adspy tool? If you are interested, allow us to direct you to the article Poweradspy vs Dropispy (link to the article at the bottom of the page) to discover the big winner between the two adspy tools!
An idea about the extension :
Along with Powerdspy, the extension helps to have control over the ads in your newsfeed. Likewise, it promotes rewards due to ads that an advertiser escalates from Facebook.
To be clear, when a user of the Poweradspy extension browses a Facebook news feed, the extension collects ads for them. Well, due to the number of ads collected, that user gets rewarded. Hence he has the opportunity to earn a few free days on Poweradspy.
Also, Powersadspy extension is easy to use, easy to install from your browser. It gives you the guarantee to use it for life.
It is simply activated from your Facebook profile on your Chrome browser. In addition, you can view the ad history of a publisher of your choice, watch ads from your Facebook news feed, and finally see information related to these ads.
Regarding Drop Point, its extension is of no use to e-merchants and Dropshippers. However, it is only useful for the Drop Point tool itself, because it returns Facebook ads by its users and then provides the ads platform. If you want to know more information about these extensions, I encourage you to read our article on adspy chrome extensions.
Either way, Poweradspy is the winner ahead of Drop Point in other important useful features.
What about the available prices and plans of Poweradspy vs Drop Point?
Available plans and pricing
Drop Point's $5 monthly fee could already lead to the conclusion that the tool is inefficient. Its usefulness is only accessible to a limited number of users. Drop Point also has a free plan which is also very limited that one could not use it.
Poweradspy has 6 plans per month and are payable in different ways. Here's what its about :
Basic Plan: 49 dollars
Standard Plan: 99 dollars
Premium Plan: 149 dollars
Platinum Plan: 249 dollars
Titanium Plan: 299 dollars
Palladium Plan: 349 dollars.
Beside all this, there is also Poweradspy free, but it only manages to offer 100 searches per month.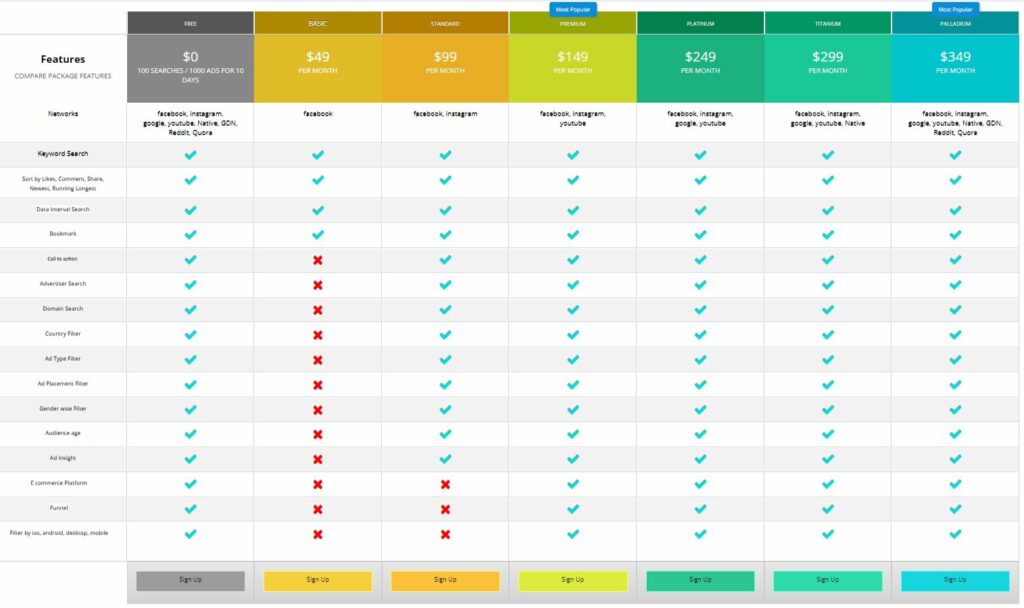 The comparative study of pricing and available plans reveals that, although Drop Point is very cheaper, Poweradspy reassures credibility in terms of success. On the other hand, the Poweradspy tool remains a substantial budget that not all Dropshippers can afford. Drop Point can allow some to take their first steps in the world of Adspy tools.

In addition, in order to provide you with more information, we present an in-depth and complete element that may be of interest to you. So, we encourage you to browse Poweradspy, a rival of AdSpy?
Conclusion : Poweradspy vs Drop Point, who is the big winner ?
The Poweradspy vs Drop Point comparative study has been the subject of the content of this article. And having gone through all the features of each internet ad spy tool, it is clear that Poweradspy is the clear winner.
Note that there were no major commonalities between Poweradspy and Drop Points. What we can remember is that they help Dropshippers, e-merchants to find the best trendy products. But again, Poweradspy is better placed.
Moreover, it is no longer necessary to tell you that Poweradspy is the big winner, because on all points it was felt. If you are thinking of adopting an Adspy tool to have an exponential evolution in your online business activities, just like Dropispy and Minea, Poweradspy would be good for you!
Better, if you want to make new discoveries about another powerful adspy tool, then we invite you to read Poweradspy vs AdSpy: Which is the big winner? (link below).
This article has given you some ideas, suggestions? Let us know in the comments!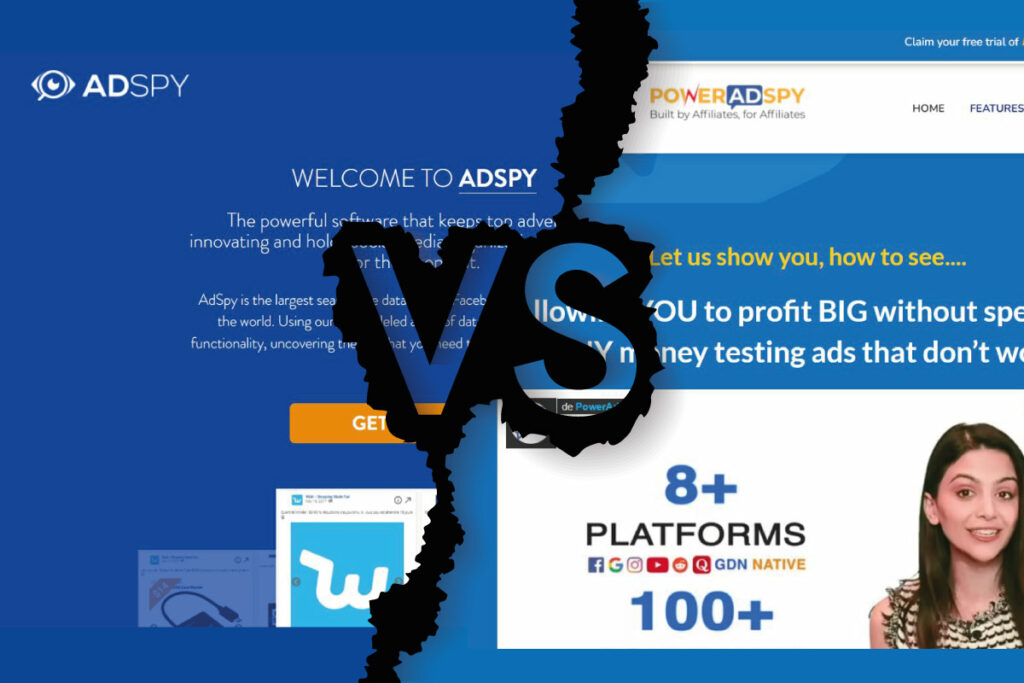 As a Dropshipper or e-tailer and digital marketer, you always want to be ahead of your competitors in marketing. And to have pre-eminence in...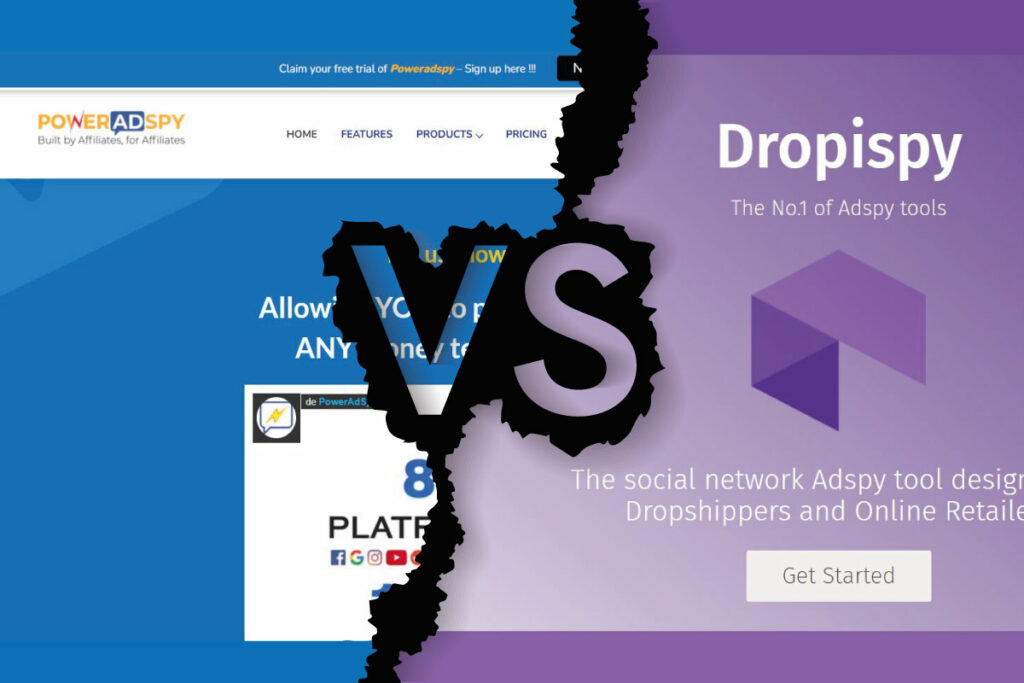 The world of e-commerce or dropshipping is becoming more favorable and successful with certain Adspy tools which are considered to be powerful social media...