The world of e-commerce or dropshipping is becoming more favorable and successful with certain Adspy tools which are considered to be powerful social media ad spy tools. Indeed, without a comparative study, it is difficult for Dropshippers and e-merchants to know which one to choose among these Adspy tools to develop their business. It is precisely this reality that leads us to consider PowerAdspy vs Dropispy.
In this article, we offer you a comparison or in-depth analysis of these two Facebook Adspy tool in all their different features to find the big winner. This will keep you fully informed of the trends regarding these two social media ad spy tools.
Just like other Adspy tools, Poweradspy has features that allow Dropshippers and e-merchants to find winning products. However, if you want to have more compelling facts about the app, you can check out our review on the Poweradspy tool to see if it has the ability to compete with AdSpy, for example.
What are PowerAdspy and Dropispy ?
Before getting to the heart of the matter, it is necessary to introduce yourself to what an Adspy tool is. Indeed, an Adspy tool is an app that allows Dropshippers and e-merchants to spy on ads on Facebook, Instagram, etc. in order to find trendy, winning or potential products necessary for the development of their electronic activities.
Also, to better prepare you to understand the content of this article, let's also explore PowerAdspy vs Dropispy.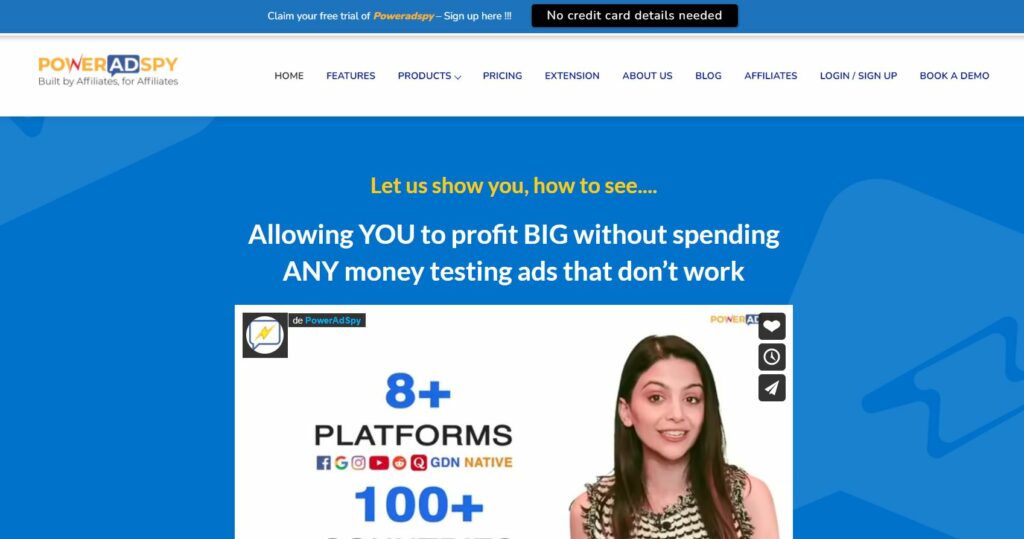 PowerAdspy is an ad spy tool on social media such as Facebook, Instagram, etc. and which is supported by numerous sources from which it collects ads and makes them available to e-merchants or Dropshippers.
It spies on your competitors' ads to provide them to you so that you can tailor their formulas for success to your own online business.
Each type of ad is updated and transferred to the PowerAdspy tool's database servers where all the information gathered is converted into the relevant data you need for good decision making.
Only it remains to be seen whether, on this point, whether the Poweradspy tool is the big winner or not. For this we would like to draw your attention to a particular style. If you're interested, we've also benchmarked Poweradspy vs AdSpy (link to the article at the bottom of the page)
.
Dropispy definition : What to understand from this Adspy tool ?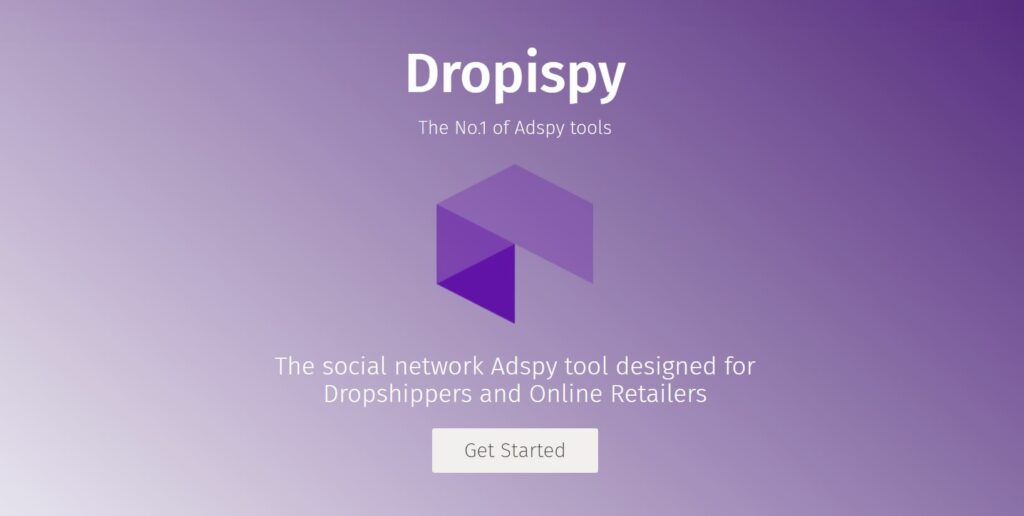 The Dropispy tool is also an app that spies on social media ads. It's a powerful tool that helps you find potential ads online. Dropispy has several features that are beneficial to electronic commerce activities.
It is an app with a massive and comprehensive social media ad sourcing database. It is one of the best spy tools today. Then, it allows you to find in real time the winning products you need in your online activities.
Finally, the Dropispy tool is a software with a simple interface that will please you. It has similar features to the AdSpy app.
What are the major differences between PowerAdspy vs Dropispy
To effectively study the major differences between Poweradspy vs Dropispy, one must necessarily address advanced search and filtering, ad volume, ad information, and other useful features of both Adspy tools.
1. Advanced search and filtering
Competitive analysis and Internet market research are essentially the two elements of e-commerce. Like PowerAdspy, Dropispy is a Facebook ad spy tool with an intuitive and comprehensive database at its disposal.
Both have filters through which e-merchants and Dropshippers are able to display the ads appropriate to the criteria they have precisely defined beforehand.
Speaking of social media research, the most essential aspect of collecting winning ads are filters. Let's find out in the following table:
PowerAdspy vs Dropispy : Search by …
| Advanced search and filtering | Dropispy | PowerAdspy |
| --- | --- | --- |
| Search by key-word | ✔️ | ✔️ |
| Search by Facebook page's name | ✔️  | ✔️ |
| Search by domain's name | ✔️ | ✔️ |
| Search in the comments | ❌ | ❌ |
| Search in the landing page's text | ❌ | ❌ |
According to the analysis study done in the table about the research, the two tools Dropispy and PowerAdspy play the same roles.

PowerAdspy vs Dropispy : Filtering and sorting ads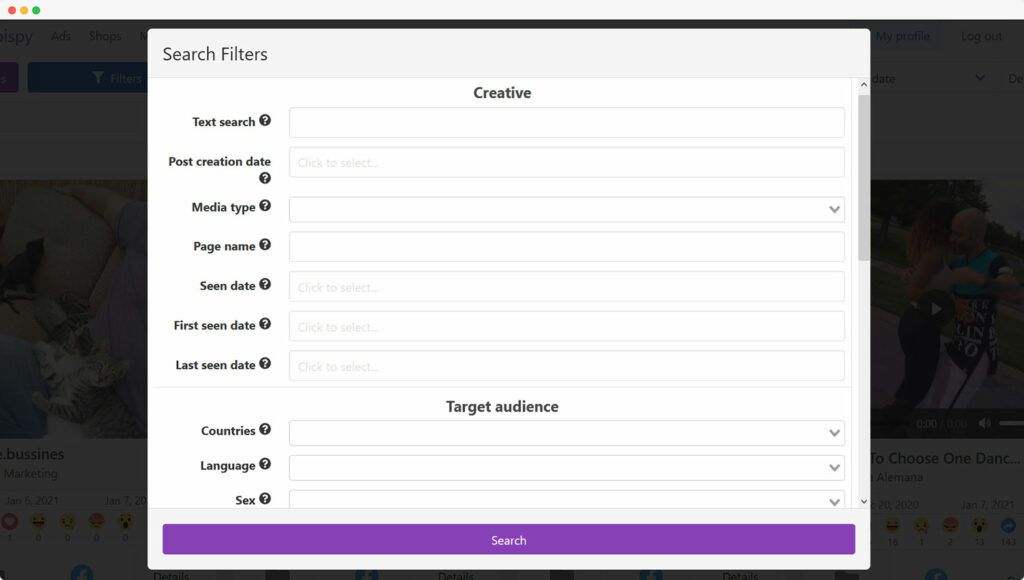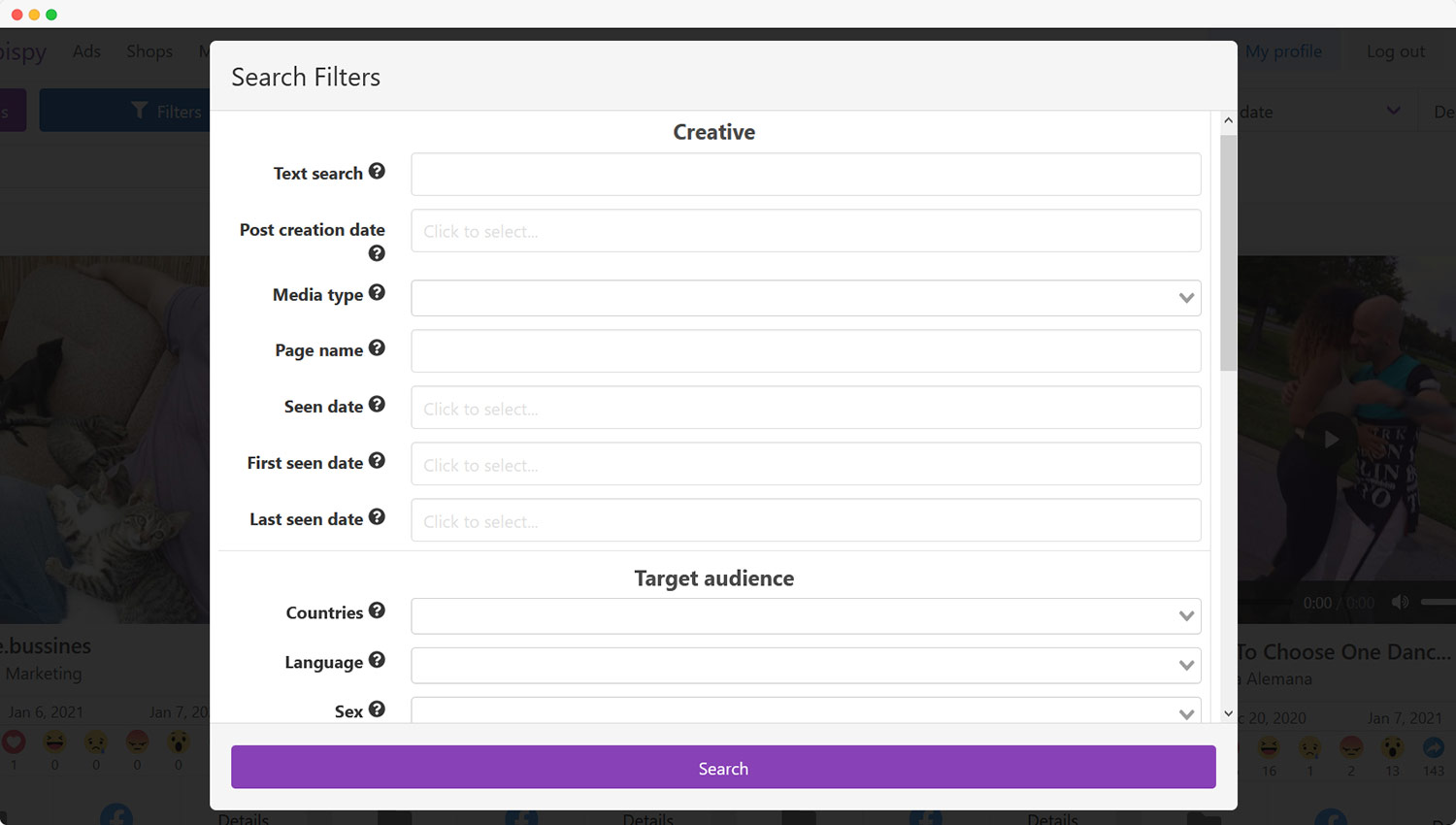 An explanation of the difference between filtering and sorting ads is essential. When doing your research with Adspy tools, you should know that every aspect has a specific role to play in order for you to get consistent results.
Thanks to the filters, you have the possibility to display only the ads which correspond to the precise criteria which you have previously chosen or defined. The primary goal of any e-merchant or Dropshipper is to collect winning ads. This is why it needs to sort it out to bring up the best ads first.
And to get there, he will have to select "like", "date", "view", "share" and "Desc" at the top right corner of the tool. In doing so, the app presents it with ads with more likes, views, shares, etc. This is where the Dropispy tool, like other Adspy tools, is very interesting.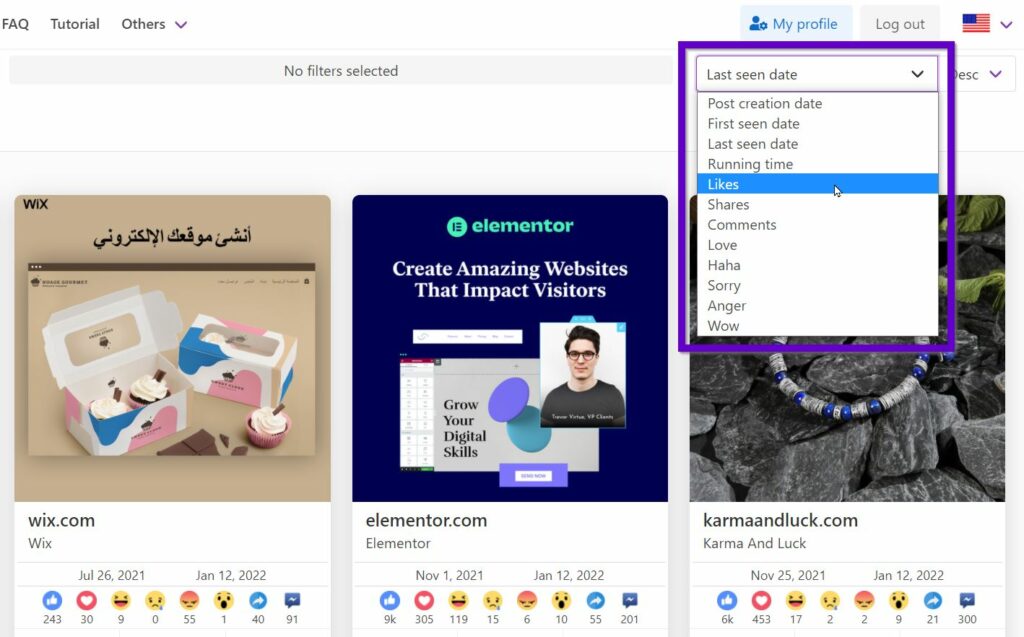 With this same strategy, you also have the option of making both old and new ads appear first. Understand that "Asc" means "in ascending order" and "Desc" means "in descending order".
The following comparison table tells us more about filters and sorts:
| Filtering and sorting ads | Dropispy | PowerAdspy |
| --- | --- | --- |
| Filter by number of likes, shares and comments | ✔️ | ✔️ |
| Filter by number of reactions | Love, haha, wow, sad, angry | ❌ |
| Filter by type of e-commerce platform | ✔️ | ✔️ |
| Filter by ads' language | ✔️  | ✔️ |
| Filter by type of creation | Video, picture, carousel, album | Video and picture |
| Filter by call to action | ✔️    | ✔️ |
| Filter by number of daily likes  | soon | ❌ |
| Filter by target audience | Age, gender, country |   Age, gender, country |
| Filter by iOs, Android, Desktop, mobile | ❌ | ✔️ |
| Filter and sort by date | Last view, creation, first view | Creation, last view, domain registration |
| Sort by likes, shares | ✔️ | ✔️ |
| Sort by number of reactions | Love, haha, wow, sad, angry | ❌ |
| Sort by number of comments | ✔️  | ✔️ |
| Sort by running time | ✔️ | ✔️ |
Based on the benchmarking shown in the table, the Dropispy tool slightly outperforms PowerAdspy.
Indeed, on Dropispy, it is possible to filter and sort by number of ad reactions. This is a very important point in order to know which ads have the most "love" or, on the contrary, the most "angry" reaction that reveals unhappy customers.
And on Poweradspy, you can filter by domain registration date, and then see ads from stores that have been around for a while.

2. PowerAdspy vs Dropispy: Ad volume
Any Adspy tool is of good or better quality because of the volume of ads it can show on each search. When the number of ads collected is large, so too the possibility of finding winning products becomes great. Moreover, it is this criterion that motivates dropshippers and e-merchants to take an interest in Adspy tools.
In addition, past data is important. Because they allow you to control the evolution of ads over time in order to be able to exploit the winning ads, that is, those that have worked in the past. Also, the older an Adspy tool, the more complete its database.
To make a general and e-commerce ad volume comparison of Dropispy vs PowerAdspy, we'll rely on common research of their databases:
When we consider an ad whose creation date is between November 14 and November 20, 2021
The number of likes is over 50,000.
Well, research with PowerAdspy tool presents us with:
49 ads instead of 59 as the tool shows!

The same search with the Dropispy tool shows 78 ads, which is 40% more than PowerAdspy.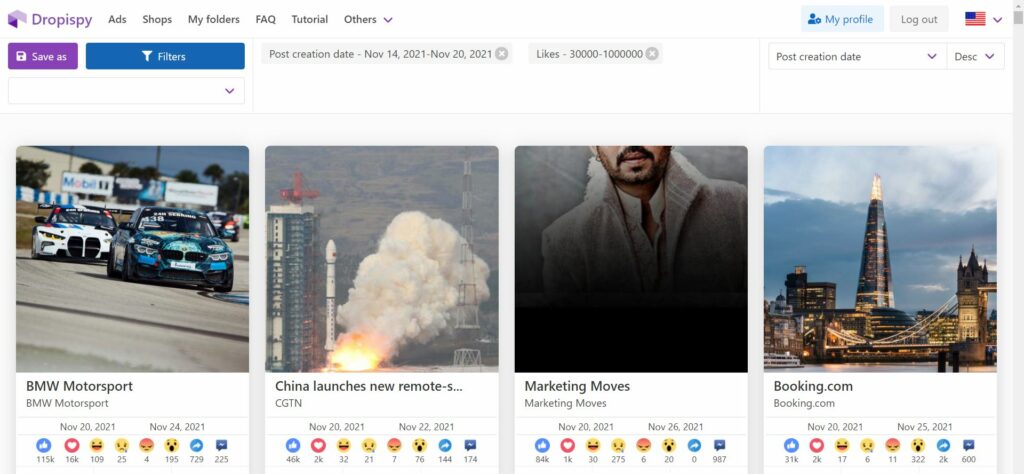 Now let's take a look at the volume of e-commerce ads. With a filtering of:
Viewing date of an ad between November 14 and 20 on an e-commerce platform (Shopify),
Based on the same comparative analysis,
A number of "likes" over 1000 with the Dropispy tool
Based on that, here's what we get as the results:
So we have a result of 56 ads with PowerAdspy. However, by going through the ads one at a time, only 48 ads are counted instead of the 56 that the app indicates.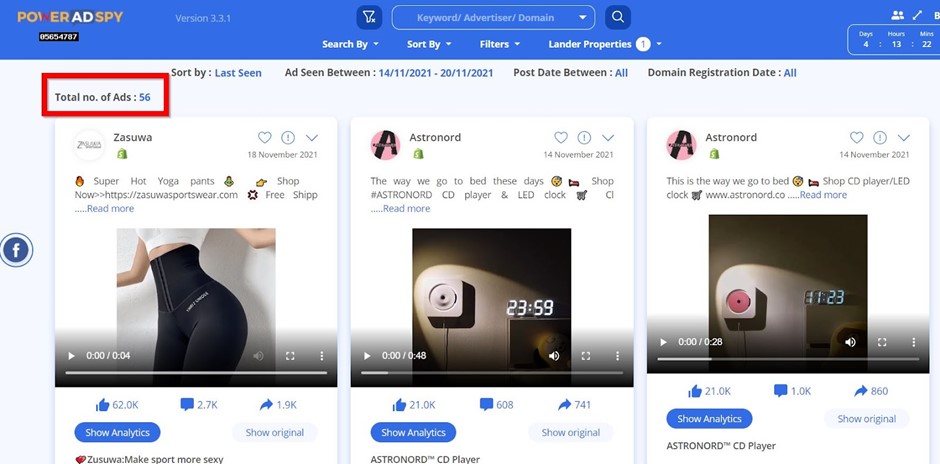 As for the Dropispy tool, it is very difficult to reach the end of the search results, because more than 1000 ads answer the same search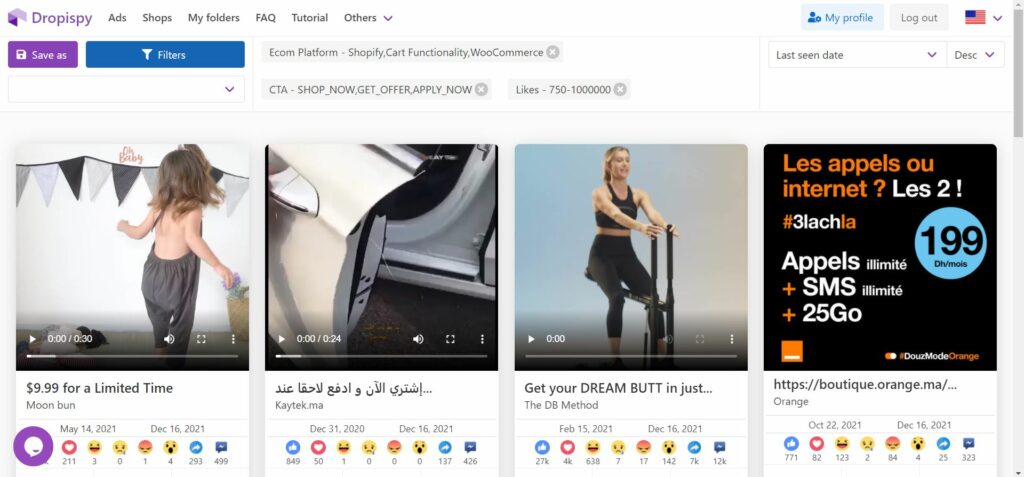 Based on the results of the same search, it must therefore be said that the results are much more consistent with Dropispy. Then it crushes the PowerAdspy tool in terms of e-commerce ad volume.
In contrast, in terms of overall ad volume, Dropispy appears to have only 40% more ads than PowerAdspy. Which is still significant.

Like Poweradspy and DropiSpy, Drop Point is also an Adspy tool. Our goal is to make it easier for you to choose the best adspy tool, so we invite you to discover our Poweradspy vs Drop Point comparison (link to the article at the bottom of the page)
. This is the best way to get an idea of which adspy tool is best for you.
 3. PowerAdspy vs Dropispy: Ads information
To continue in our adventure, we will approach the information on the ads. These enable effective data analysis.
It is this information that is usually found on a detail page of an ad, and which facilitates an effective analysis of the information. In the table below, you will see the detail of the comparative study of the information contained in the two tools:
| Ads information | Dropispy | PowerAdspy |
| --- | --- | --- |
| Engagement | Likes, comments, reactions, shares  | Likes, comments, shares  |
| Audience analysis | age, gender, country | gender, age, country |
| Display best comments | ❌ | ❌ |
| Display of outgoing links | ✔️ | ✔️ |
| Screenshot of the seller's shop | ✔️ | ✔️ |
| Media download | ✔️ | ✔️ |
| Display of dates | Last view, creation, first view, views  | Last view, first view, domain registration |
| Evolution of the number of likes overtime | ✔️ | ✔️ |
| Evolution of the number of shares overtime | ✔️ | ✔️ |
| Evolution of the number of reactions overtime | ✔️ | ❌ |
| Real time data | ✔️ | ✔️ |
| Other ads from the same website | ✔️ | ✔️ |
| Advertiser's website data and analysis | ✔️ | ❌ |
When it comes to ad information, as mentioned above, it is clearer that PowerAdspy and Dropispy present a wide range of data. The Dropispy tool is slightly ahead of the PowerAdspy tool.

Apart from the features we just looked at, there are others that are also very important. Let's see what it is in the following table:
| Other useful features | Dropispy | PowerAdspy |
| --- | --- | --- |
| Website/ online store analysis | ✔️ | ❌ |
| Ranking of the best dropshipping store | ✔️ | ❌ |
| Real time website data | ✔️ | ❌ |
| Saving favourite ads | ✔️ | ✔️ |
| Export favorites | ✔️ | ❌ |
| Saving custom requests | ✔️ | ✔️ |
| Platform translation | EN, FR, DE, ES, CN | ❌ |
| Filter by affiliate networks | ❌ | ✔️ |
| Extension | ✔️ | ✔️ |
We can summarize these features in three essential points: the analysis of electronic stores or websites, the ranking of the best stores, and then real-time website data.
With the Dropispy tool, the analysis of online stores or websites is carried out by ranking the data in a section called "Shops". First, to pass the scan, you need to start by finding the winning stores on the Internet that have a good Alexa rank. Then, you can discover their winning products using the Shops Spy tool from Dropispy. This possibility does not exist in free or paid PowerAdspy .
The ranking of the winning Dropshipping stores is done using the global Alexa Rank which is an internationally renowned tool, and which has the capacity to rank millions of websites by order of popularity.

Alexa rank is calculated by examining unique visitors and the number of page views of a given site during the past 3 months. At this level, it should be remembered that the lower the result of this calculation, the better the popularity of the website.
An idea about the extension
Let's talk about the PowerAdspy tool extension. Not only does it help keep your eyes on all the ads on your feed, but it also helps earn rewards for the ads an advertiser shows from Facebook.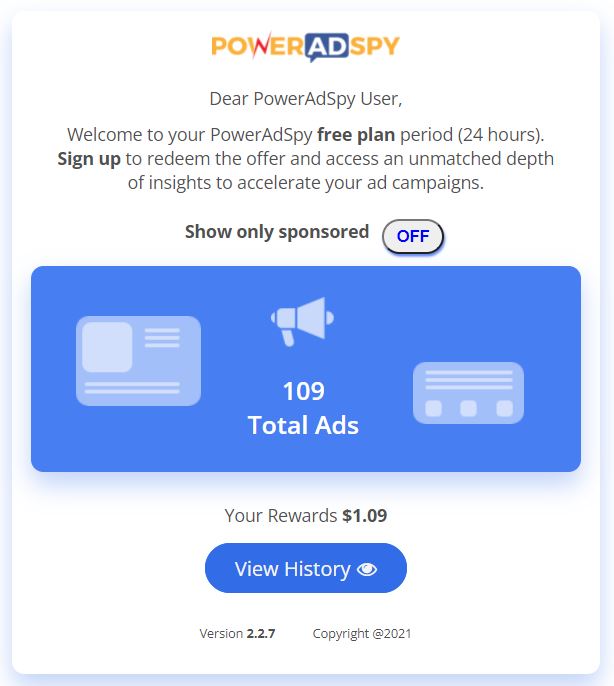 In short, when the PowerAdspy extension user browses her Facebook feed, she collects the ads. So, depending on the number of ads the plugin has collected, the user is rewarded; he could earn a few free days on the PowerAdspy tool.
In addition, it is easy to install, use from your own browser, the extension guarantees free use for life.

Certainly, the PowerAdspy tool is quite good in the last features we have just discussed, and it can help any Dropshipper or e-merchant in their daily activities. But it is still true that it is behind Dropispy in terms of powerful features in social network searches.
Available plans and pricing
The PowerAdspy tool has six plans per month payable differently. There is the Basic plan which comes in at 49 Dollars, the Standard plan at 99 Dollars, the Premium at 149 Dollars, Platinium at 249 Dollars, Titanium at 299 Dollars and finally the Palladium plan at 349 Dollars.
Along with that, there is also PowerAdspy free, but allows you to perform 100 searches per month.
Please note that the 29.50 Dollars plan does not allow the use of the Poweradspy Facebook adspy tool; indeed, most of the interesting filters are locked.
And if you're an e-merchant looking for targeted e-commerce ads, you'll need to subscribe to the 74.50 Dollars per month plan to be able to use the tool.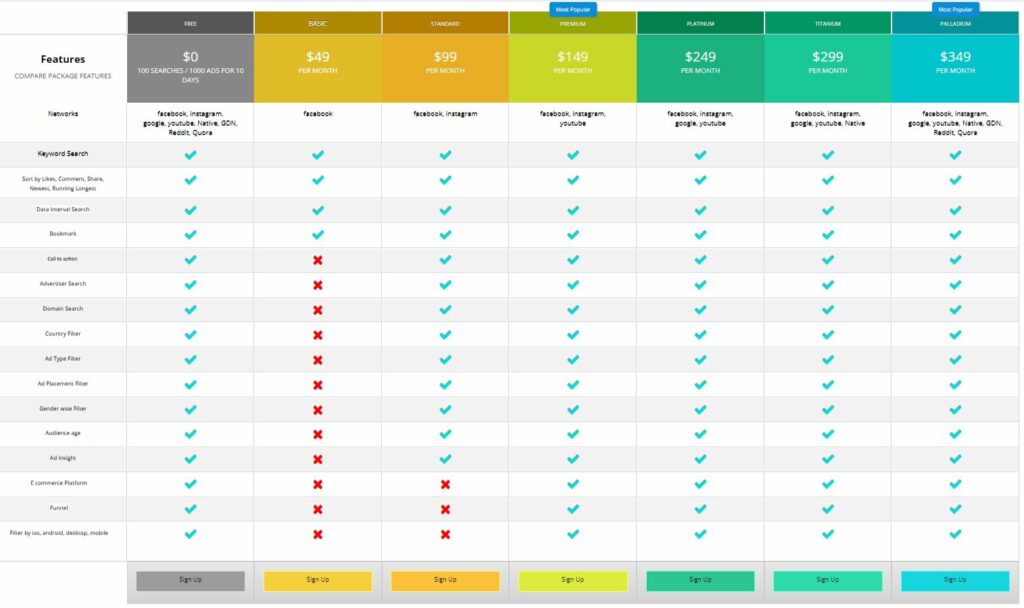 The interesting thing about the Dropispy tool is that you can take your first steps for free by using it. It is true that in the free plan, some filters are locked and the ads of the last two months are hidden from you.
In addition, the Dropispy app has a well-structured credit system. Except that apart from the free plan, the business plan and the premium plan face it. The distribution of credits is done per month when you have a monthly subscription, or per year when you have an annual subscription.
After the credit volume tests, there is the distribution of 150,000 credits to subscribers. This largely guarantees your satisfaction with its use for a month.
This is because you use these credits while you are using the software. This is how the system is designed to prevent some people's misuse of the tool. They dare to fraudulently take advantage of the conditions by sharing or selling their accounts to their relatives… But that in no way limits your use of Dropispy. Moreover, on Poweradspy, a system of limitation by number of daily requests is in place.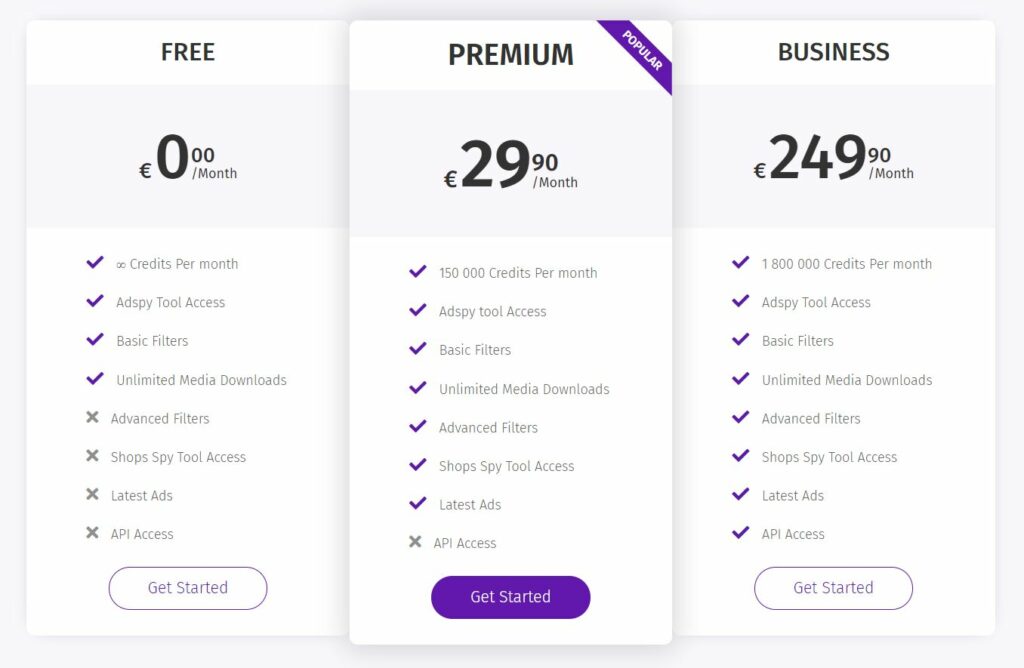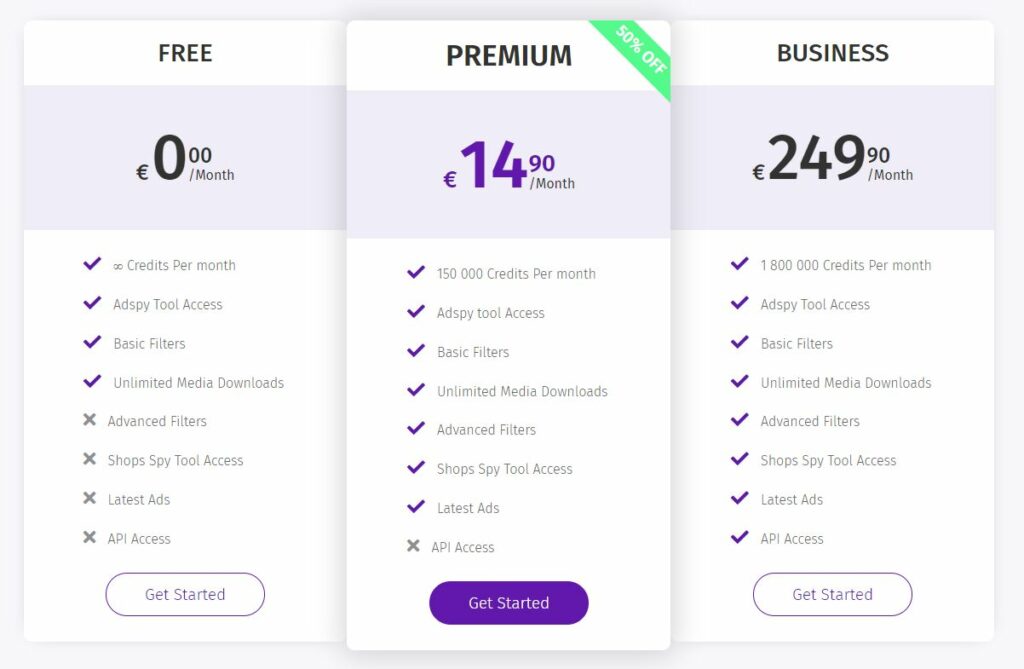 Analyzing the available plans and the pricing at each tool level leads us to say that there are more possibilities with the Dropispy tool than with PowerAdspy. Because, we see that there are more advantages with Dropispy than with PowerAdspy tool. On top of that, PowerAdspy is more expensive despite its shortcomings.

Conclusion : PowerAdspy vs Dropispy, which one is the big winner ?
In view of all our comparative analysis of the PowerAdspy vs Dropispy tools, we will say that both are Adspy tools that help several Dropshippers and e-merchants to carry out their electronic activities.
In addition, they have free pricing plans in common, although the Dropispy app has more of an advantage in this sense.
However, they both have shortcomings, with the difference that the ones in the Dropispy tool are minor or tiny. In this sense, Dropispy is supplanting several tools in terms of spying on social media ads. He is the big winner against PowerAdspy tool.
In addition, Adspy tools all have diverse features that you sometimes need to browse through to be much more informed about which one to adopt for your marketing strategy. If it is convenient for you to take it a step further, there is a comparison between AdSpy vs Dropispy  that might meet your expectations.
We hope that this article on the comparative study of these two tools has certainly provided you with more information in your research! Your comment relating your impressions and contributions is expected, as we believe it will be very constructive.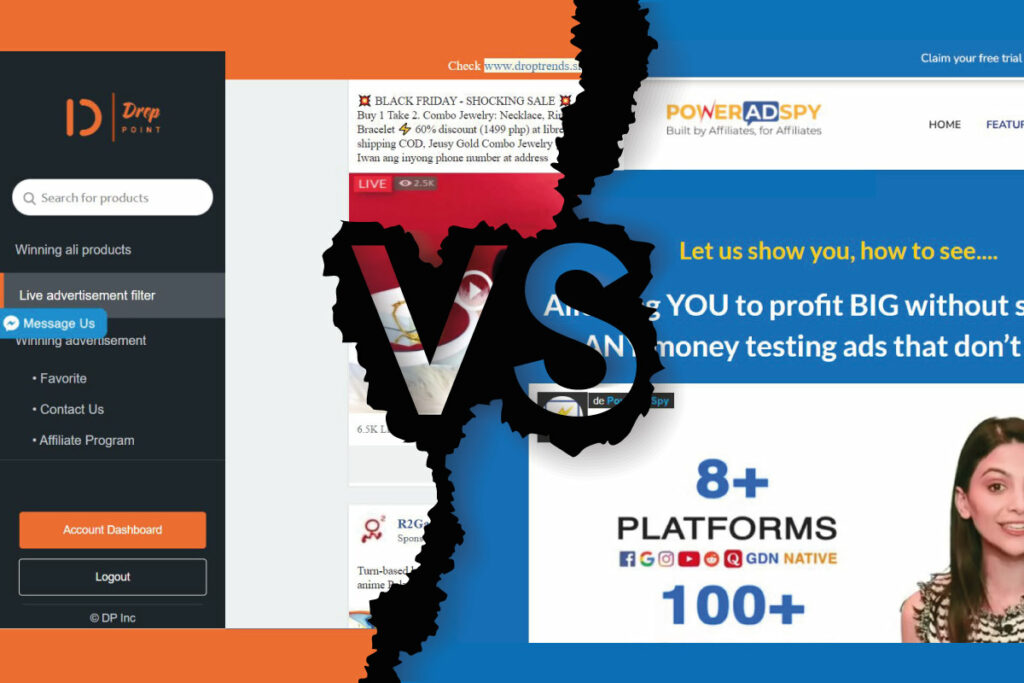 To carry out your Dropshipping or e-commerce activities, you need to know some current marketing strategies that work well. Indeed, to achieve this, you...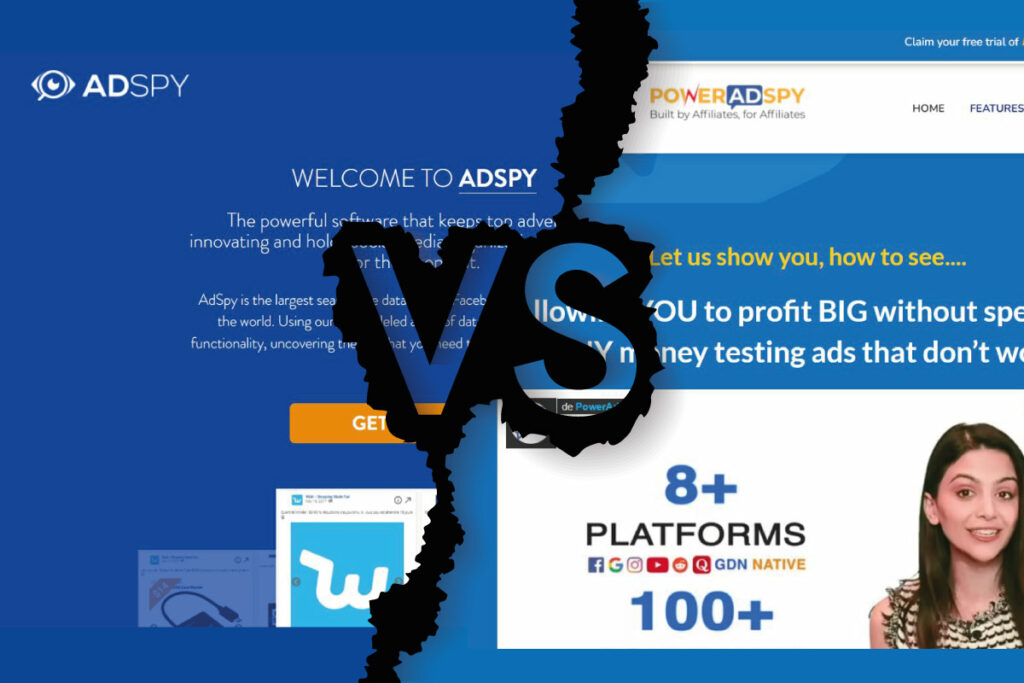 As a Dropshipper or e-tailer and digital marketer, you always want to be ahead of your competitors in marketing. And to have pre-eminence in...