Although Dropshipping is a very buoyant e-commerce sector, many are struggling to get ahead of the game in the field. Is this reason enough to say that Dropshipping is dead according to the claims of several people? Of course not !
There is no doubt that Dropshipping is accessible to everyone. However, the ideal and most important thing to break into the field is to know exactly what product works, what strategies work and when it is demanding to end a given campaign. All this can only be known and implemented with the use of Adspy tools which have literally revolutionized the e-commerce sector.
Some adspy tools like BigSpy are even advertised as free. Is BigSpy a free adspy tool? Click on the link to discover the answer to this question.
In addition, to help you choose the best Facebook Adspy tool, we offer you through this article a point-by-point comparison of BigSpy vs Dropispy tools, which are both well known to professionals in the field.
To get started, let's first find out what BigSpy and DropiSpy are.
What are BigSpy and Dropispy ?
It is essential to know exactly how any app works before starting to use it. So, before making a BigSpy vs Dropispy comparison, it is important that we briefly discuss what each tool does.
Nevertheless, remember that an Adspy tool is an app that is used to spy on all types of ads on social networks. Some Adspy tools like DropiSpy or BigSpy allow you to accomplish several other feats for the sole purpose of differentiating yourself from the competition.
In addition, to get an exact idea of ​​how the Adspy tools, Dropispy and Bigspy work, we will use two key criteria: the variety of filtering/sorting of ads and the daily volume of ads.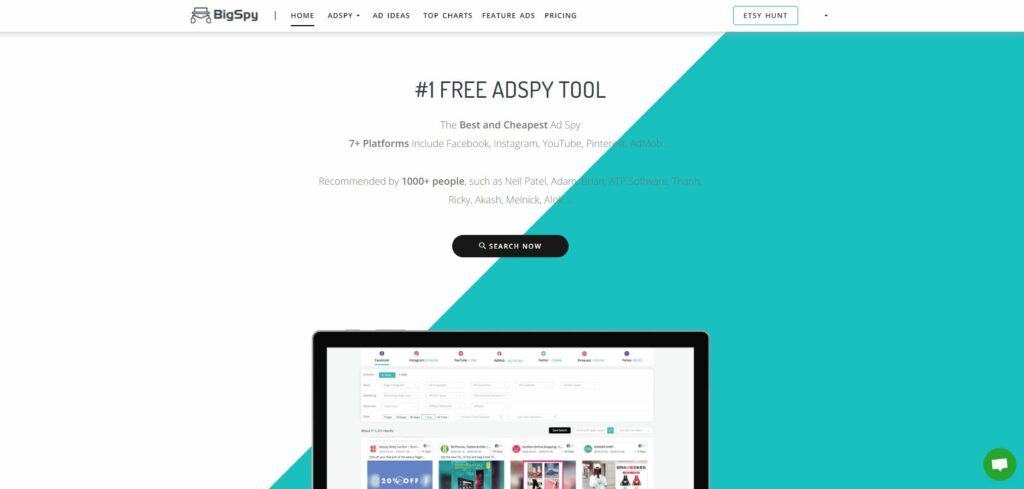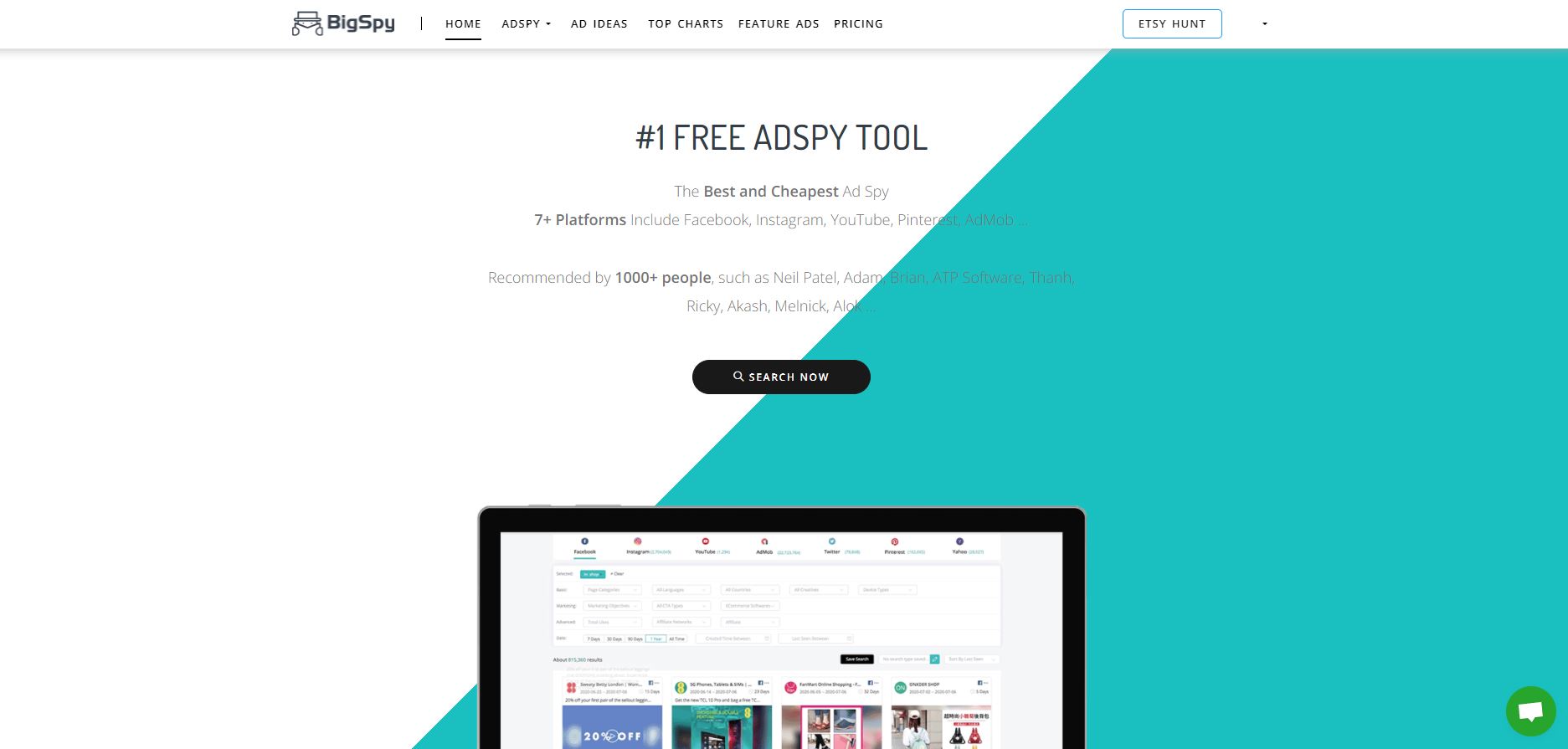 BigSpy is a highly regarded advertising platform that spy on ads on several social media. It is a multi-tasking SAAS software that can efficiently manage multiple aspects of a digital business.
Like Dropispy, the tool helps you with things like: spying on your competitors' activities, creative ad ideas, and tracking ad performance.
In addition, the tool allows you to spy on several platforms such as: Facebook, Twitter, Pinterest, AdMob, YouTube, Instagram and Yahoo. Thus, it ensures you a follow-up of the advertising performances and the daily trends.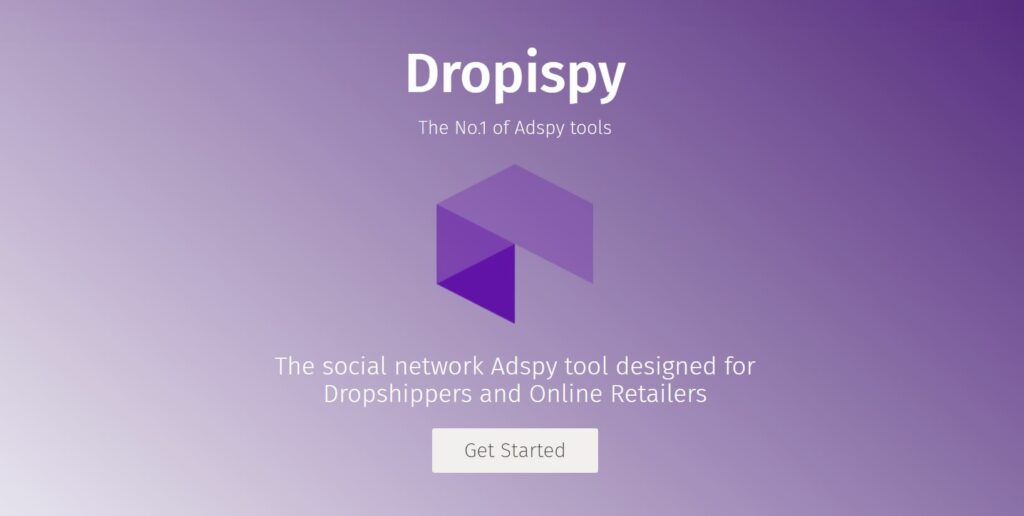 Dropispy is also a powerful tool for spying on Facebook ads that is very useful for dropshipping and e-commerce professionals. Such a tool is designed to target the most effective ads in a short period of time so that you can use them to refine your strategies or to know in detail the actions of your competitors.
Indeed, with such a tool, you are guaranteed to avoid unnecessary waste of time and above all to easily find the winning products to succeed. Moreover, with its large database and since the tool provides thousands of ad updates daily, it is almost impossible for you to miss any useful information.
Like BigSpy and DropiSpy, PowerAdspy is also an Adspy tool. Our goal being to make it easier for you to choose the best adspy tool, we invite you to discover our BigSpy vs PowerAdspy comparison (link to the article at the bottom of the page). This is the best way to get an idea of ​​which adspy tool is right for you.
How are Dropispy vs Bigspy tools different ?
As we have just learned about the BigSpy and Dropispy tools, it is time to establish the big difference between the two Facebook Adspy tools. Here we will consider 4 big points starting with the very first one which is advanced search and filtering.
1. Advanced search and filtering
An Adspy tool with a well-stocked database is a gold mine that provides all Dropshippers with unique and above all reliable information to get ahead of the competition.
Thanks to such a database, it is easy to do all the research you want in order to obtain reliable results. In addition, through the search filters, you have the possibility to specify the results of your searches using the criteria that are really important to you.
Discover below the comparison of the two tools in terms of the search criteria and filtering/sorting.
Types of search possible with BigSpy vs Dropispy
In the table below, discover a brief comparison between the two tools with regard to search :
The analysis of the table shows that the two tools BigSpy and Dropispy are equal on all the search points considered except for the case of the search by ID. This last point is a plus for BigSpy.

Filtering and sorting ads
When searching for information on an Adspy tool, it is possible to display the results by sorting or filtering ads. Indeed, as soon as you enter your search keyword and choose a specific sorting criterion; the tool presents you with all the existing information in its database in ascending or descending order and related to the subject of research.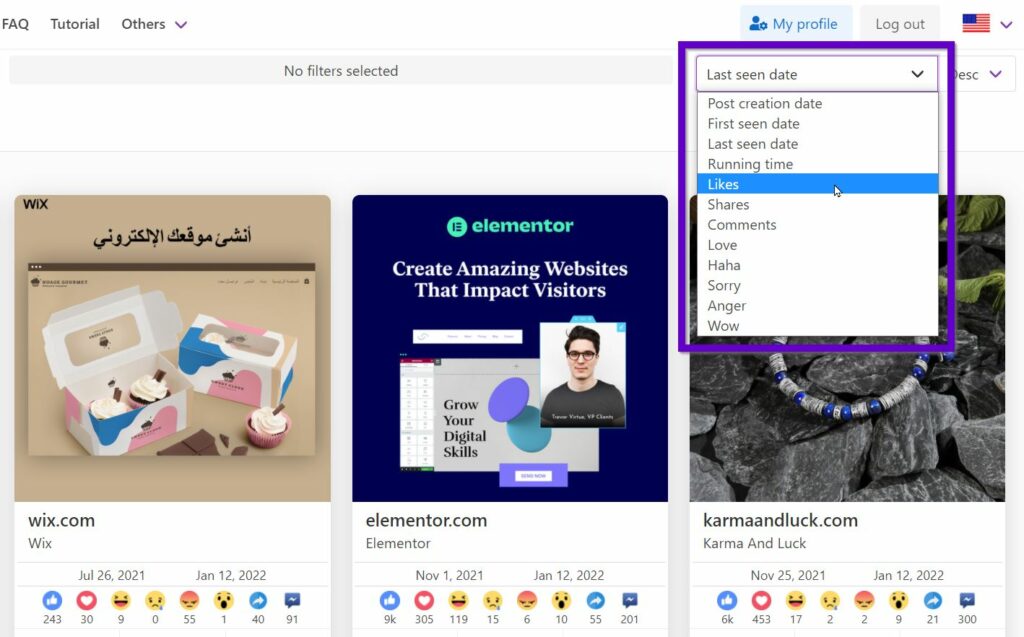 On the other hand, with filters, you can add several other specific search criteria that will help you get exactly what you want in the smallest details. This is the best way to be more specific in your research, to avoid unnecessary waste of time and above all to come across the best information.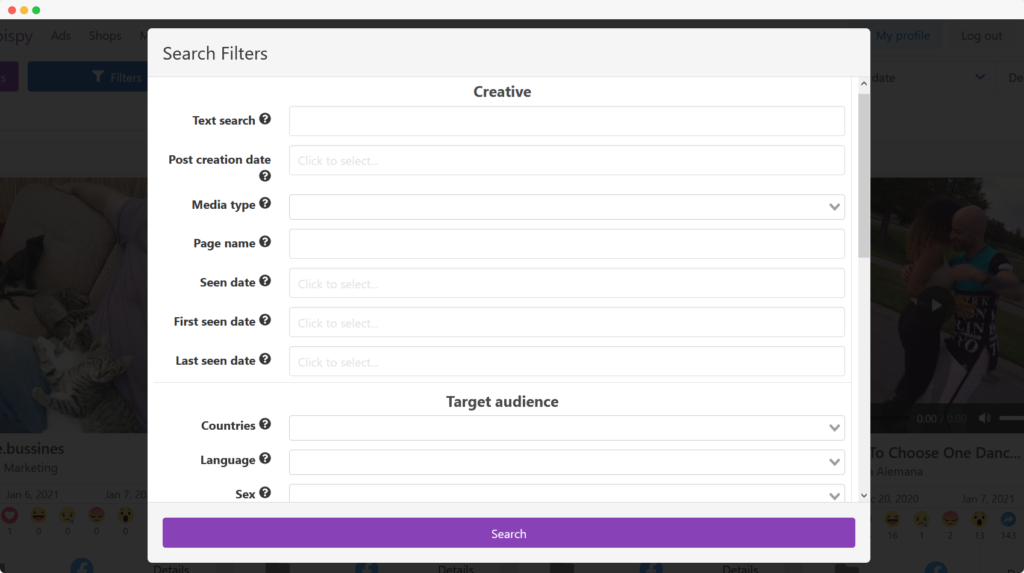 Let's discover in the table below, the BigSpy vs Dropispy comparison taking into account the possibilities of sorting or filtering ads:
This Dropispy vs Bigspy comparison table takes into account 18 filtering and sorting criteria.
Dropispy obtains a rating of 14/18 therefore 77.80%, against BigSpy which obtains 12/18 therefore 67.00%. That is a difference of 10.8%. Considering the results thus obtained in the comparison table, Dropispy is slightly above BigSpy when it comes to filtering and sorting ads.
However, note that each of these tools admits its particularity. For example, a very essential filter that Dropispy has that BigSpy does not have is filtering ads by creation date. This filter allows you to search for the most recent ads. On the other hand, BigSpy gains a positive point thanks to the possibility of being able to sort by popularity of the ad.
Indeed, this feature allows BigSpy to assign a rating to each ad taking into account the duration of the ad and the number of times it has been seen by the tool. Thus, the high popularity of an ad testifies to its competitiveness. The only problem at this level is the relevance of this data. Also, what's the point of knowing how popular an ad is without knowing if it's old or new? The creation date of an ad is very important to ensure that you have all the up-to-date information on the ad.

Now, let's move on to a comparison of ad volume
Another important point to determine the power of an Adspy tool is the volume of ads. It is therefore essential that we dwell a little on this point. Indeed, finding a Winner is conditioned to the volume of ads to which you have access. The more ad volume you have access to, the higher your chances of finding a winning product.
Here, our BigSpy vs Dropispy comparison will take into account 2 important aspects, namely:
Overall ad volume;
the volume of e-commerce ads.
In addition, before moving on to these two points, remember that the more an Adspy tool has past data on an ad, the more it favors studying its evolution over time. This is a better way to learn which ads worked in the past and reuse them in the present. We can therefore deduce that the older an Adspy tool, the more reliable and useful data it has.
Here are the filters we will consider when doing our BigSpy vs Dropispy comparison for overall ad volume:
VIEW date of the ad between November 14 and 20, 2021;
Number of likes: Greater than 100000;
Format: Video;
Language: English.
Note: We can't compare ads based on creation date because BigSpy doesn't allow it.
DropiSpy
According to these four specified search filters, Dropispy found and delivered a total of 96 ads.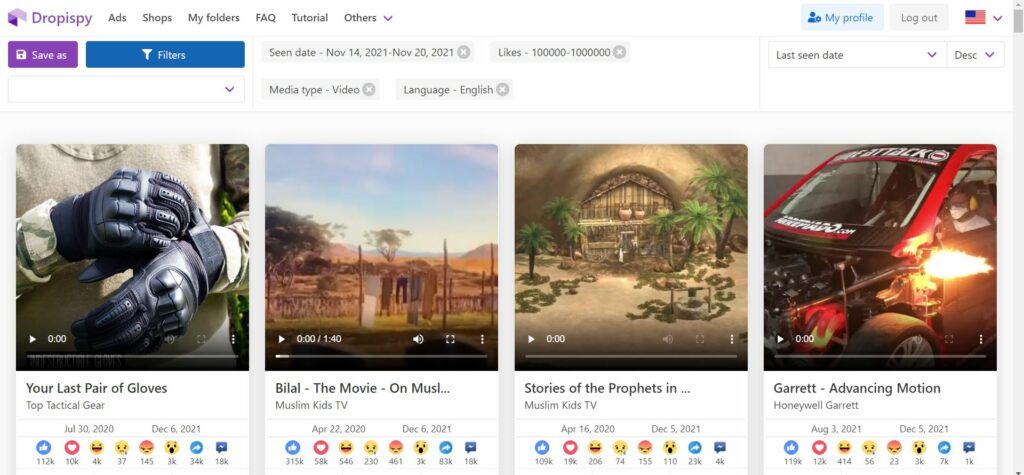 BigSpy
The same search performed on BigSpy with the same criteria yielded a total of 89 ads.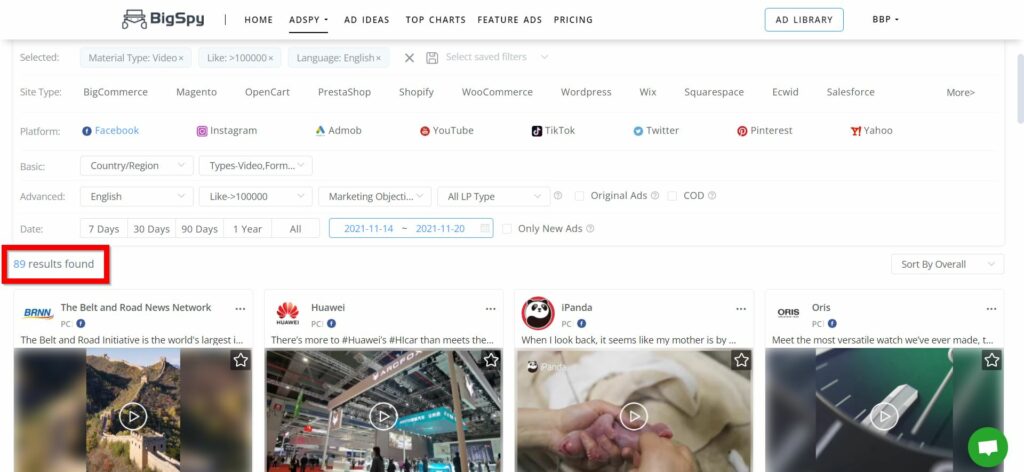 The results obtained for the two tools according to these four search criteria are approximate. However, the tool that stands out with a small advantage over the other is Dropispy.
For a BigSpy vs Dropispy comparison regarding e-commerce ad volume, we will consider the following criteria:
VIEW date of the ad between November 14 and 20, 2021;
Number of likes: Greater than 50000;
E-commerce platform: Shopify.
Here are the results obtained for each tool:
Dropispy
72 ads are found on Dropispy according to these three criteria considered.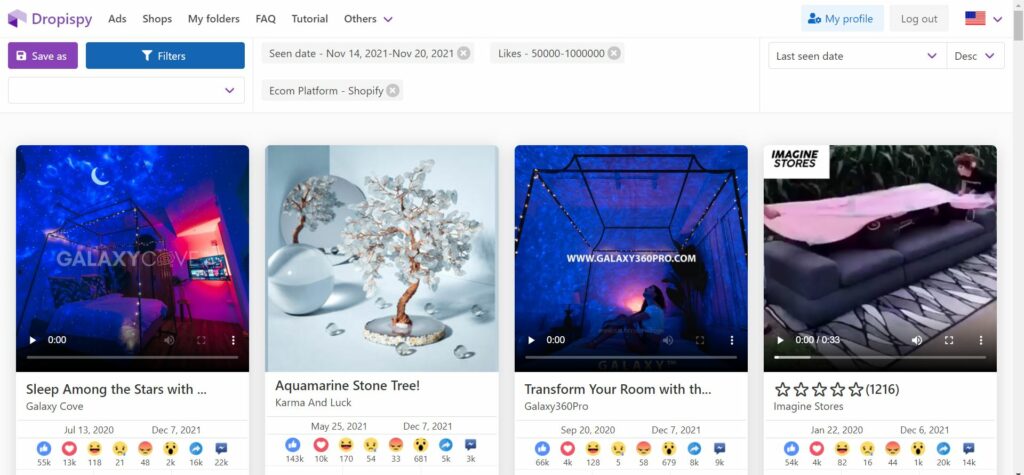 BigSpy
The same search on BigSpy found 57 ads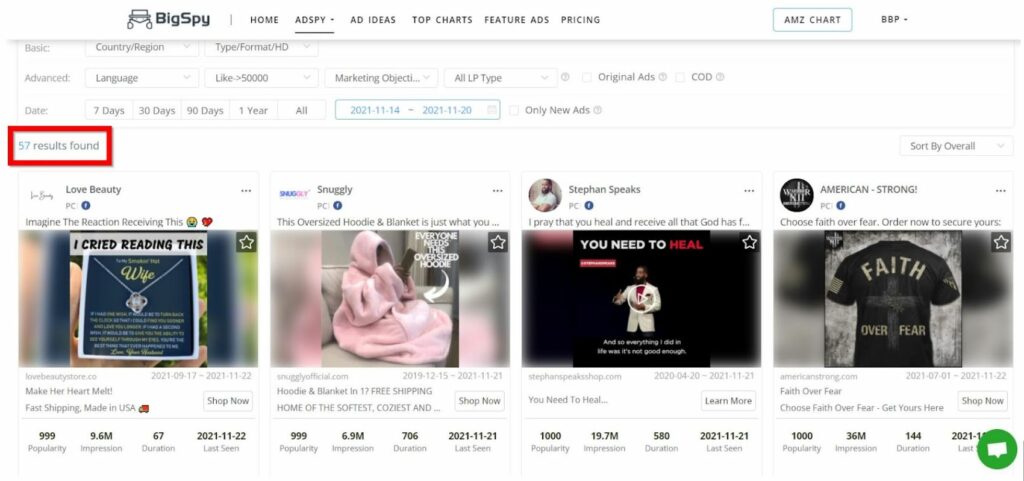 A quick analysis of this data allows us to conclude that Dropispy provides more information about ads in the specific case of e-commerce ad volume. Or 20% more.
An overall point from the results above makes it clear that Dropispy earns a valuable point over BigSpy when it comes to ad volume. Nevertheless, each of these two tools provides a substantial amount of useful data.

If you want to know the ad volume of the BigSpy vs AdSpy tool (link to the article at the bottom of the page), we also invite you to read this detailed comparison.
The information provided on the details of each ad is very useful to know how the ad performed, the reactions generated and many other things. Indeed, such information allows you to make an objective analysis of the ad in order to know if you really should use it or not.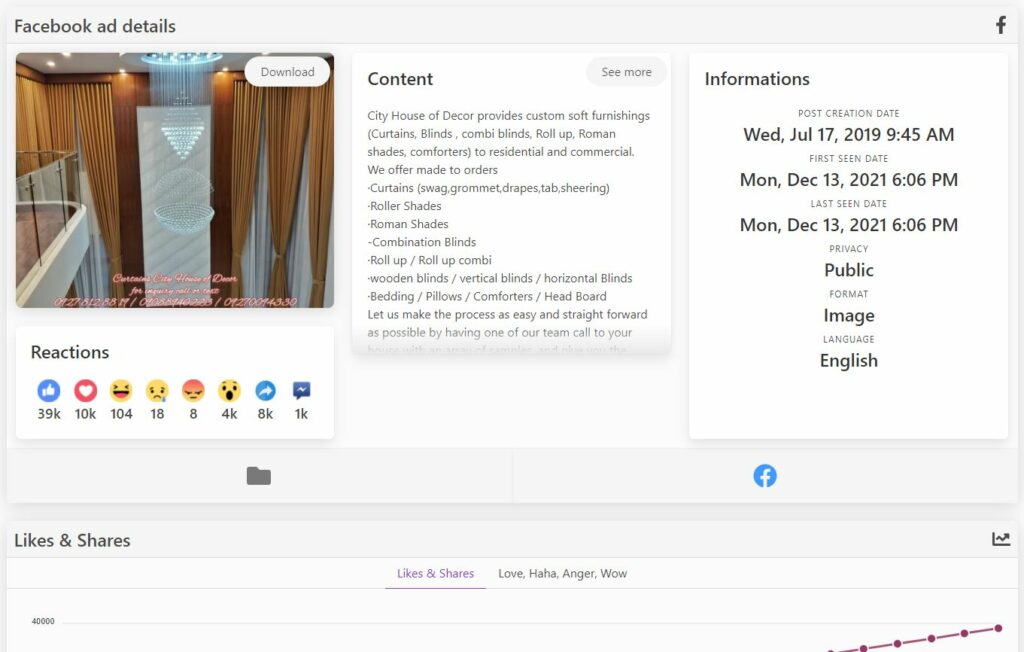 Considering all this, these details are very important data that we must consider in our BigSpy vs Dropispy comparison. Discover the results of this comparison in the table below:
The summary table above takes into account 13 comparison criteria on the information of the ads at the level of the two tools. A brief visualization of the table allows us to see that Dropispy greatly outperforms BigSpy.
The result of this table is clear: Dropispy is better than BigSpy when it comes to providing data on ads.

Apart from all the points we have just discussed, there are several other features on which we must compare the two Adspy tools. Follow the summary of this comparison in the following table:
The results in the table take into account a total number of 8 criteria. Dropispy fulfills all the 8 criteria mentioned in the table, therefore 100%, while BigSpy obtains a score of 2/8, therefore 25%.
It is therefore easy to understand that Dropispy provides more data than BigSpy when all these criteria are taken into account. Indeed, thanks to its Shop Spy tool, Dropispy allows you to have access to the ranking of the best Dropshipping shops. So you can spy on your competitors' online stores, see their hot ads, and learn how to improve yours to make them better.
In addition, remember that on BigSpy, you have the option of seeing only ads for gaming apps. The creators of gaming apps will be satisfied with the results obtained, while these results will be of no use for e-merchants. The other advantage of BigSpy is that it spy on ads from several social networks such as: Twitter, Pinterest, YouTube, and Yahoo.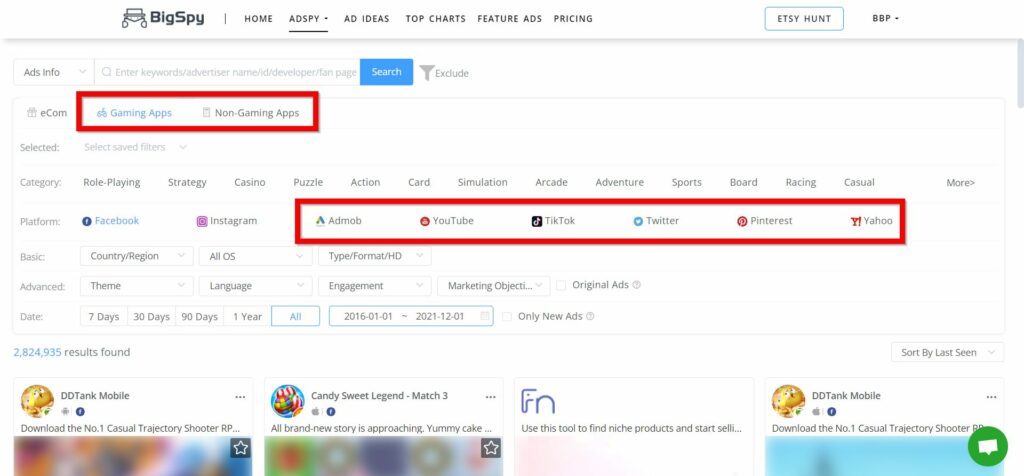 BigSpy vs Dropispy : Plan and proposed price by each tool
Dropispy presents three pricing plans ranging from 0 dollars to 249.90 dollars. In addition, you benefit from certain advantages depending on whether you subscribe to a monthly plan or an annual plan.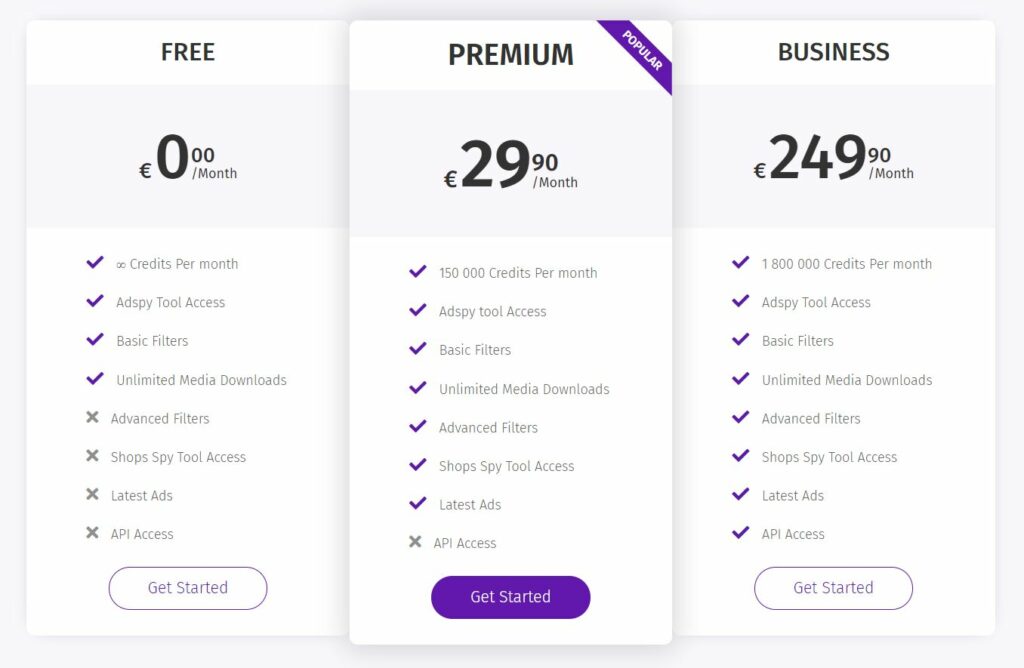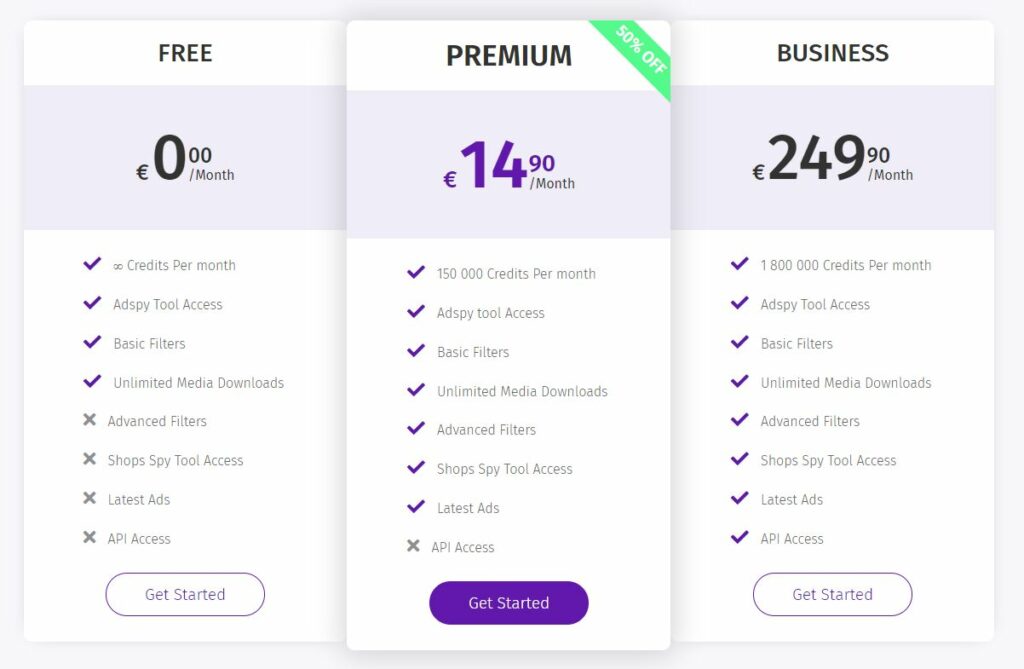 Dropispy's Free plan is a plan you can access for free. Through this plan, you can easily learn how to use the tool and benefit from it. However, Dropispy's Free plan does not allow you to access all filters. In addition to this, the ads available on the platform for the last two months are hidden from you.
On the other hand, to have access to all the features listed in the context of this BigSpy vs Dropispy comparison; you just have to opt for the Premium plan which is 29.90 dollars for a pricing/month and 14.90 dollars for a pricing/year. In this case, the use of the tool is conditional on a system of 150,000 credits per month.
Indeed, the misuse by some ill-intentioned people of the advantages of the tool is the cause of the establishment of such a system. This hardly prevents you from doing all the research you want on the tool.
To have access to BigSpy, 4 plans are offered to you with prices varying from 0 Dollars to 499 dollars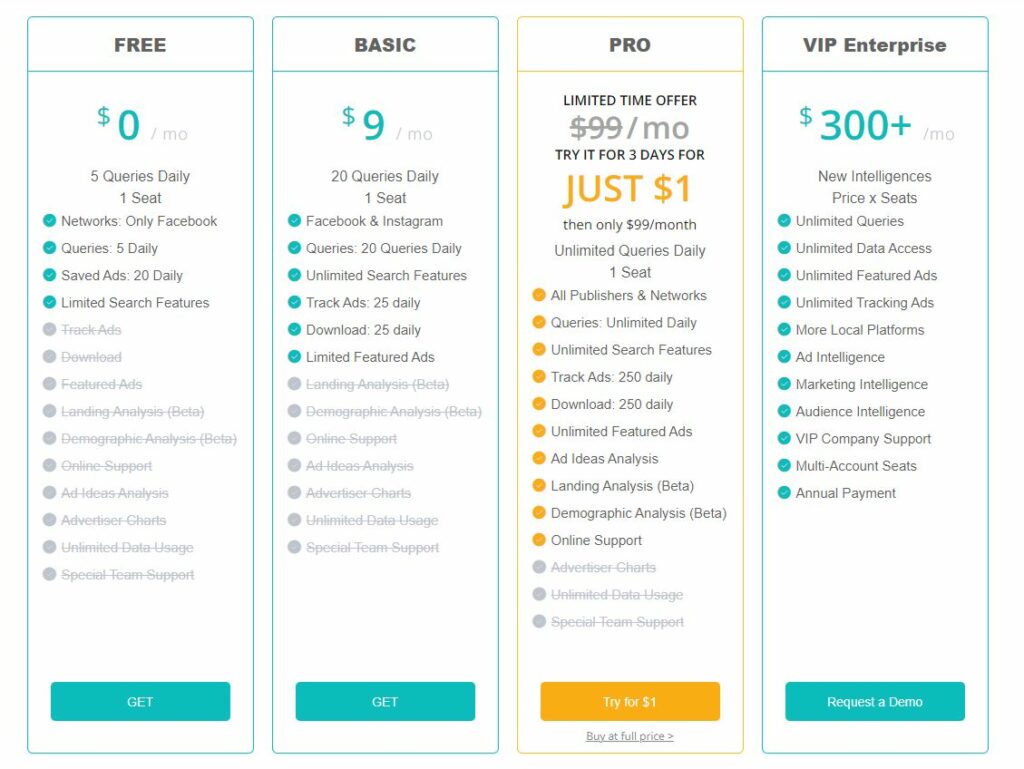 As can be seen in the image, BigSpy has a Free plan. The only downside is that the BigSpy Free plan is limited to 5 trials and does not really allow you to test the effectiveness of the tool.
The next plan is the 9 dollar one. Unlike the Free plan, this plan allows you to effectively test the tool. The only concern at this level is the daily number of searches limited to 20. This limits your chances of doing effective searches.
In addition, to use the tool daily, you will need to subscribe to the $99/month plan in order to discover the potential of the tool and have access to all the features described in this BigSpy vs Dropispy comparison.
Taking into account the different information related to the price to access each tool, we deduce that each tool has interesting plans. However, the plans offered by Dropispy have more advantages. Indeed, although BigSpy also offers low-cost plans, the research possibilities are minimal and do not really allow you to effectively benefit from the features of the tool.

BigSpy vs Dropispy : Which one to choose ?
The BigSpy vs Dropispy comparison that we have just established as part of this article has no objective to discredit either of the two Adspy tools. The purpose of this comparison is to show you the features offered by each of these tools in order to help you choose the tool that best meets your objectives.
A quick glance at this comparison shows that Dropispy and BigSpy have points of similarity with regard to search possibilities and the volume of ads; although Dropispy has a slight advantage over BigSpy when it comes to e-commerce ad volume.
When it comes to providing details about each ad to judge relevance, Dropispy wins over BigSpy. In addition, Dropispy's Shop Spy tool gives it an advantage over BigSpy which in response to the latter only offers the possibility of seeing ads from gaming apps; which is not very useful for e-merchants.
Finally, another important point of comparison is the price. At this level, the two tools present several planes. BigSpy offers a Free plan just like Dropispy. However, BigSpy's Free plan is limited to 5 tries unlike Dropispy's which is accessible but with restrictions. The alternative offered at this level by BigSpy is its $9 plan with a limit of 20 searches per day.
To benefit from the full functionality of each tool, Dropispy offers you its Premium plan at 29.90 dollars per month for one Pricing/month against 99 dollars for BigSpy Pricing/month.
All comparisons made, DropiSpy has a slight advantage over BigSpy. That said, is DropiSpy better than all the rest of the Adspy tools? To fix yourself on this subject, we suggest you read the DropiSpy vs PowerAdspy  comparison. Don't forget to leave your opinions in the comments. In addition, if you want to know more about how Adspy tools work, you can contact us directly.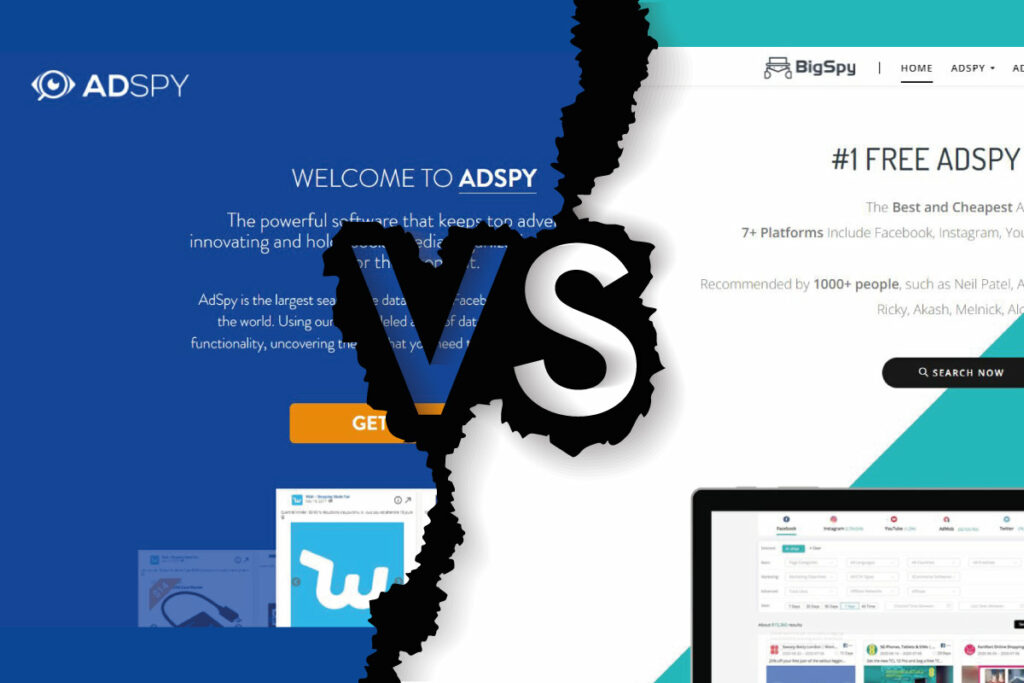 BigSpy vs AdSpy: The world of e-commerce is expanding day by day with the arrival of new competitors who are often better equipped. It...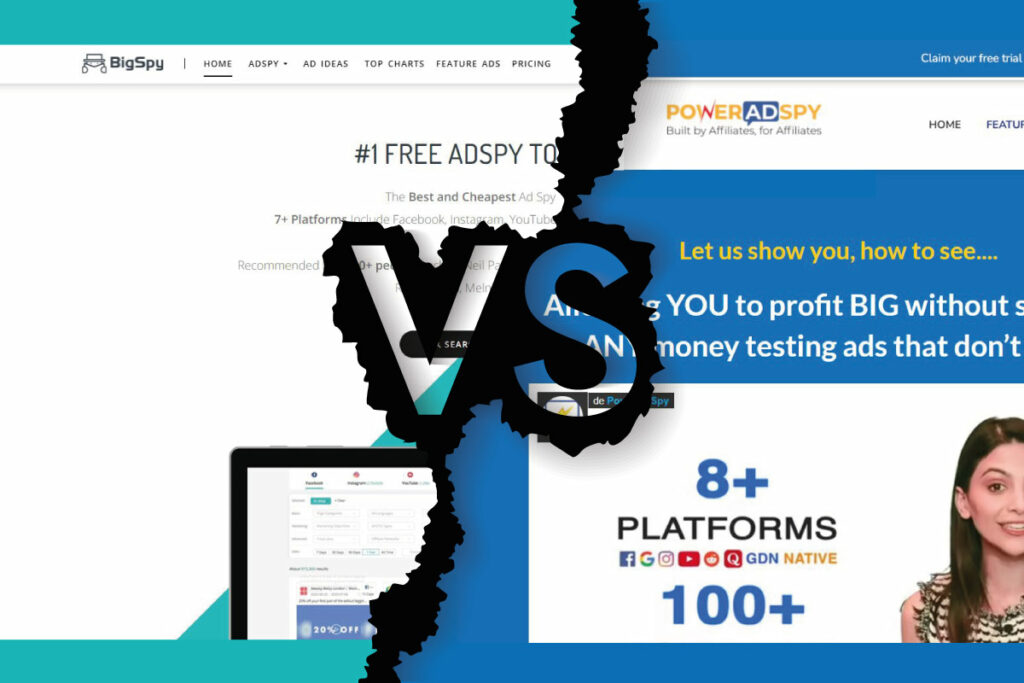 BigSpy vs Poweradspy, here's what you need to know before choosing: Every e-merchant wants to be ahead of the competition and above all to...