With the effervescence of online business, e-commerce is one of the most popular ways for these new web entrepreneurs. The most popular business model is dropshipping on the e-commerce platform Shopify. E-merchants no longer need to hold stock or take care of shipping their products. Unlike a traditional business, it is the supplier who takes care of packaging and shipping the product after the customer places an order on your website. This article aims to guide you in your search for the best Shopify dropshipping suppliers.
As previously mentioned, dropshipping is a form of e-commerce in which you act as an intermediary between your target customers and your suppliers. The main benefits of dropshipping lie in the reduction of the work you have to do:
You no longer have to worry about stock and supply.
The packaging and personalization of your products are handled by your supplier.
The sending of the packages to the customers is also delegated.
You take care of the website management, advertising, and customer service (which you can also delegate).
If you want to know more about dropshipping, we have a dedicated article on the different dropshipping stores.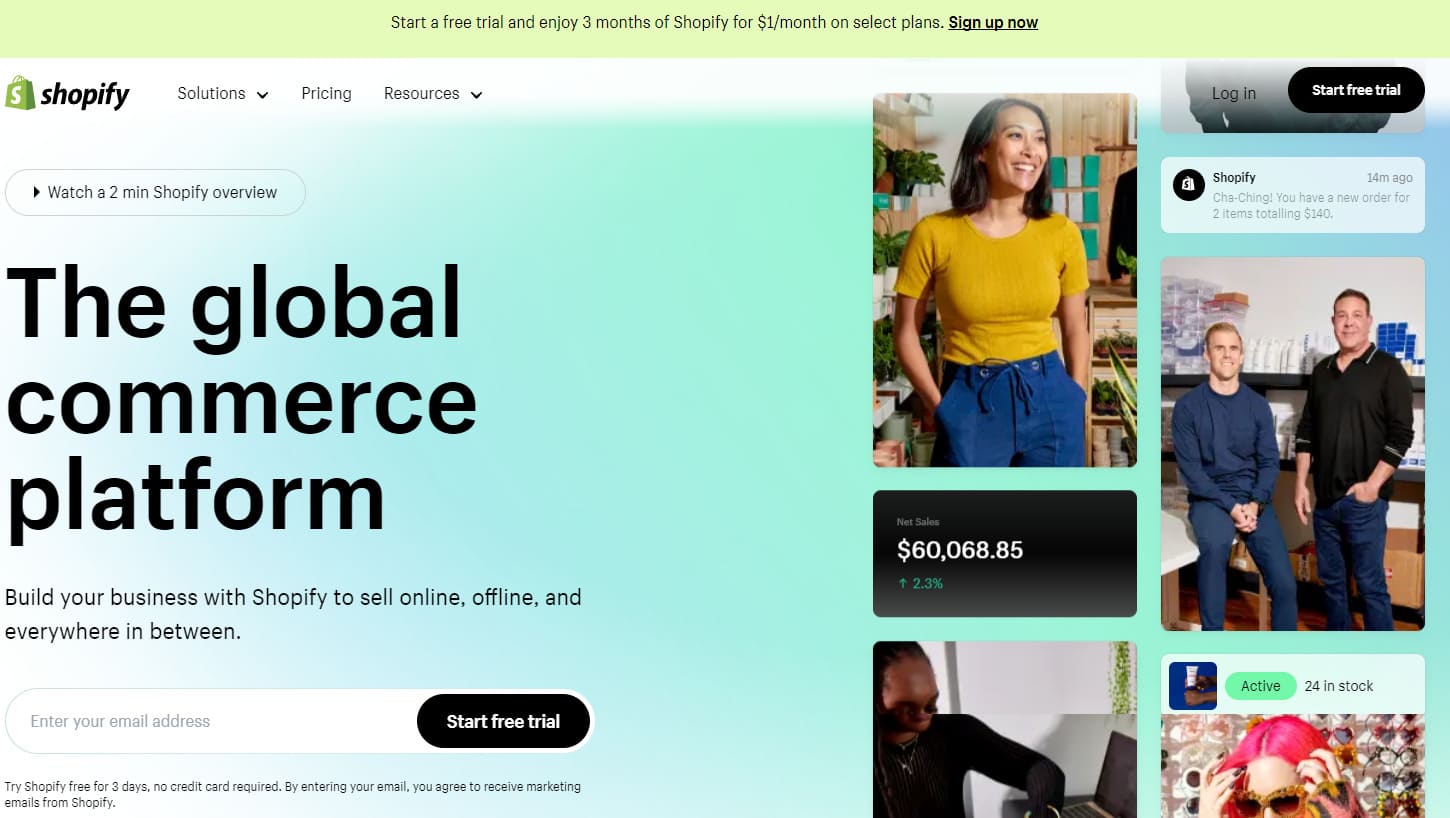 Shopify is an ecommerce platform on which you can create an ecommerce site without any prior knowledge of code or web development. It is the preferred platform for dropshippers due to its ease of use and grip. Moreover, it offers a very large catalog of applications to customize your store, modify your interface and add features to your e-commerce site.
You can easily automate orders from the best Shopify dropshipping suppliers using one of the apps. The platform has an entry price of $29/month, making it an affordable tool for beginners and one that may be suitable for a much wider target audience.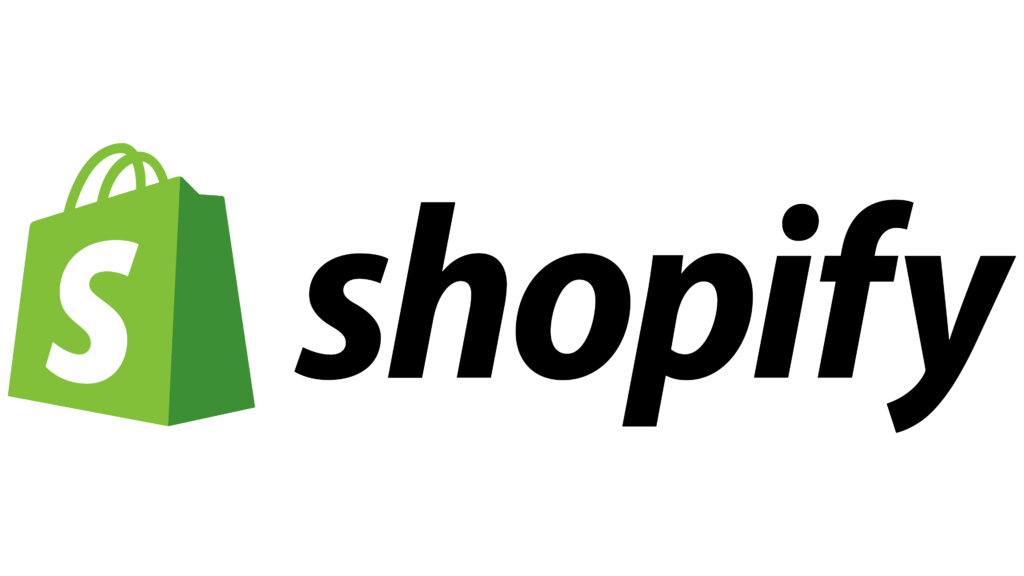 Create your Shopify store for only $1 during 90 days
How important are dropshipping suppliers?
Shopify dropshipping suppliers are a crucial part of your dropshipping business on Shopify. Without these suppliers, your business simply does not exist. Your business can't work if you don't have any products to sell to your customers (excluding scams).
Shopify dropshipping suppliers take care of nearly 70% of the work you need to do to run a functioning e-commerce store.
The best Shopify dropshipping suppliers are:
Aliexpress
Dropix
Megagoods
Syncee
B2B Griffati
NovaEngel
Sifam
Prinful
BigBuy
How to find Shopify dropshipping suppliers?
Difference between specialized seller and wholesaler
Before looking for dropshipping seller for Shopify, you need to differentiate between dropshipping vendor and dropshipping wholesaler Shopify.
Dropshipping sellers sell fairly unique products or niche products on vendor platforms at a higher rate than wholesalers. If you want to sell out of the ordinary products, special products or extremely customized products, we recommend you to go for these dropshipping sellers.
Wholesale dropshippers, as the name suggests, sell products wholesale at very low prices. By partnering with this type of supplier, you can provide a very competitive price to your customers. You can find them on the various marketplaces dedicated to suppliers, but they usually have their own website.
Find Shopify dropshipping suppliers
Dropshipping suppliers for Shopify are not especially known for their communication. Finding the right supplier for your Shopify dropshipping store can be quite time-consuming. Nevertheless, you can follow the steps below to find your supplier:
Before thinking about a dropshipping provider for Shopify, you should first look for a product to sell. This will help you narrow down your search. To do this, start looking at your competitors' ads as well as their store or by observing trends using Google tools. Once you have found your product, you can move on to the next step.
This research phase is often laborious and can be very time-consuming. To facilitate this essential step in your dropshipping business, there are online solutions that simplify this task.
We recommend Dropispy, the best product search tool for dropshippers.

Dropispy is a tool that can make these tasks easier for you when searching for your products. The software allows you to see all the trending ads of dropshipping products on different social networks. It is even possible to scan your competitors' stores.
Start your
Winning Products Search

Now on Dropispy 🚀
Do you want to find the best winning products on social networks like Facebook? Try Dropispy, the most effective solution with the largest database of Facebook e-commerce ads
Once you have chosen your product, the choice of your target market will have a significant impact on the choice of your future supplier. To ensure better delivery times, you may have to select a local supplier over one from abroad. In any case, you should consider the geographical location of the market you are targeting and then go to the provider with the best offer for that market.
Look at the offers on the marketplaces dedicated to suppliers
This is one of the methods to easily find a supplier. Just go to a marketplace and compare the different offers for the same product. You just have to type the name of your product, the search engine will provide you with a list.
If the marketplaces are not secure enough for you, there are other ways to find suppliers:
Order from your competitors and then trace the information given on the label of your package to find the suppliers
Do extensive research on Google by typing in the right terms
Compare each supplier site by going to customer review sites
Join groups in social networks or forums to find leads for professional suppliers
Choose suppliers with the best KPIs (performance indicators)
When choosing dropshipping vendors for Shopify on marketplaces, it is important to pay attention to the information present on each vendor's profile.
Turn only to suppliers with many orders on the product you are looking for
Make sure it has a good rating (at least 4 stars)
Check customer feedback (many negative reviews = to be avoided)
Beware of fake reviews
Read their terms and conditions and return policies
Check their websites if they list one on their seller profile
Research the authenticity of each seller
The next step is to order samples from these various vendors. By doing this, you can check for yourself the quality of the products offered by each vendor, and you can also compare the different delivery times.
You can now start testing your store by running your first ads. After that, you can start talking with your supplier.
Establish contact and negotiate with the best suppliers
If you have selected to go through a marketplace to find your supplier, it will be imperative for you to contact him and establish a relationship of trust to ensure the sustainability of your business. Indeed, it will not be possible for you in the long term to order manually through the platform for each of your sales.
By speaking directly with your supplier, you will be able to:
Take advantage of better rates
Negotiate delivery times and costs
Ensure better product quality
Customize the packaging of your products
This will also allow you to take stock of the technologies and practices used by your supplier. The presence of an order history as well as a platform for tracking your exchanges and transactions would be a must. The supplier will also have to offer you ways to facilitate your exchanges and orders so that you don't have to go through the marketplace after each sale in your store.
Note that it is when you contact your supplier that you will get all the information about them. You will be able to see the level of professionalism of the latter. You will be able to identify profiteers and scammers. You can get information about how they handle returns and how they handle your orders.
As you know, not everything you find on the internet is true. Some suppliers will offer you prices way above the market price, others will try to get additional fees from you.
You need to learn how to identify the different scams in order to find the right suppliers for your dropshipping site on Shopify. Find below the alarming points that can help you identify them.
Wholesale sites that sell at retail
If you go through a marketplace, it is quite normal for suppliers to sell at retail, as their profile serves not only as a showcase but also as a store for the public.
On the other hand, the sites of the best Shopify dropshipping suppliers rarely, if ever, offer retail sales. They usually integrate software as well as processes into their online platform that only allow them to work with previously registered businesses.
Note that it is also normal that suppliers can send you samples of their products without you having to order large quantities. This allows you to check the quality of the merchandise you are about to sell on your online store.
They charge you monthly fees
Since we are a wholesaler, billing is done exclusively at the expense of your orders. Any additional charges may make you feel uncomfortable, as this is not normal. They may be fake suppliers.
Nevertheless, everything will depend on the contract as well as the conditions that you will have established with your supplier.
They do not receive any pre-order fee
While an additional monthly fee is not normal, a supplier that does not ask for a deposit is equally suspicious. Pre-order fees are used to cover a portion of the cost of packaging and picking each product. It is also a way to seal a contract.
Note that instead of a pre-order fee, the supplier may ask for minimum orders, which may be as few as 10 units or as many as 100, depending on the type of product. Be sure to discuss this with your supplier.
Supplier information is not complete
A supplier who does not present his business address or the location of his storage depots is surely a scammer. Moreover, a company that does not present the address of its head office, whatever its activity, may be a fraud. Pay attention to all the little details.
Lack of knowledge of the sector of activity
Lack of knowledge about dropshipping or about e-commerce in general is a worrying sign. In any case, avoid suppliers lacking expertise and professionalism.
To verify the authenticity of a supplier, you can :
Check to see if they are listed in a directory of reliable providers
Check sites that list scams and complaints
Google the name or address of the supplier with the words "fraud" or "scam" in front of it
Check with product manufacturers and ask them if they work with a particular supplier
The best dropshipping suppliers for Shopify
To help you in your search, here is our list of suppliers for Shopify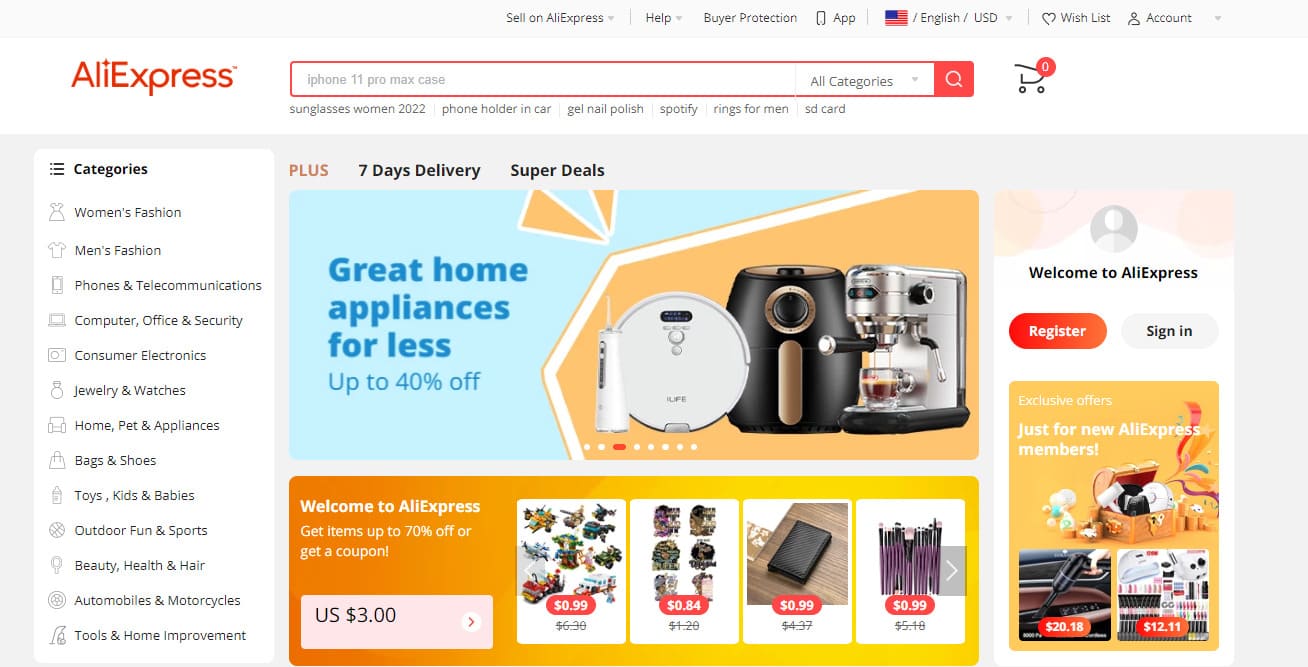 AliExpress is surely the favorite marketplace for new and small dropshipping businesses. Unlike its parent platform Alibaba dedicated to wholesale, AliExpress allows you to buy in detail in order to check the quality of the products and the delivery time. You can find millions of products in many niches offered by many suppliers. Moreover, AliExpress is one of the free dropshipping suppliers for Shopify.
Orders on AliExpress can be automated on your Shopify dropshipping store through applications such as Dsers or even Oberlo.
Advantages and Disadvantages of Aliexpress
Free registration
An integrated messaging application to exchange directly with suppliers
Several means of delivery
Affordable prices
The majority of suppliers are located in China (which can delay delivery times)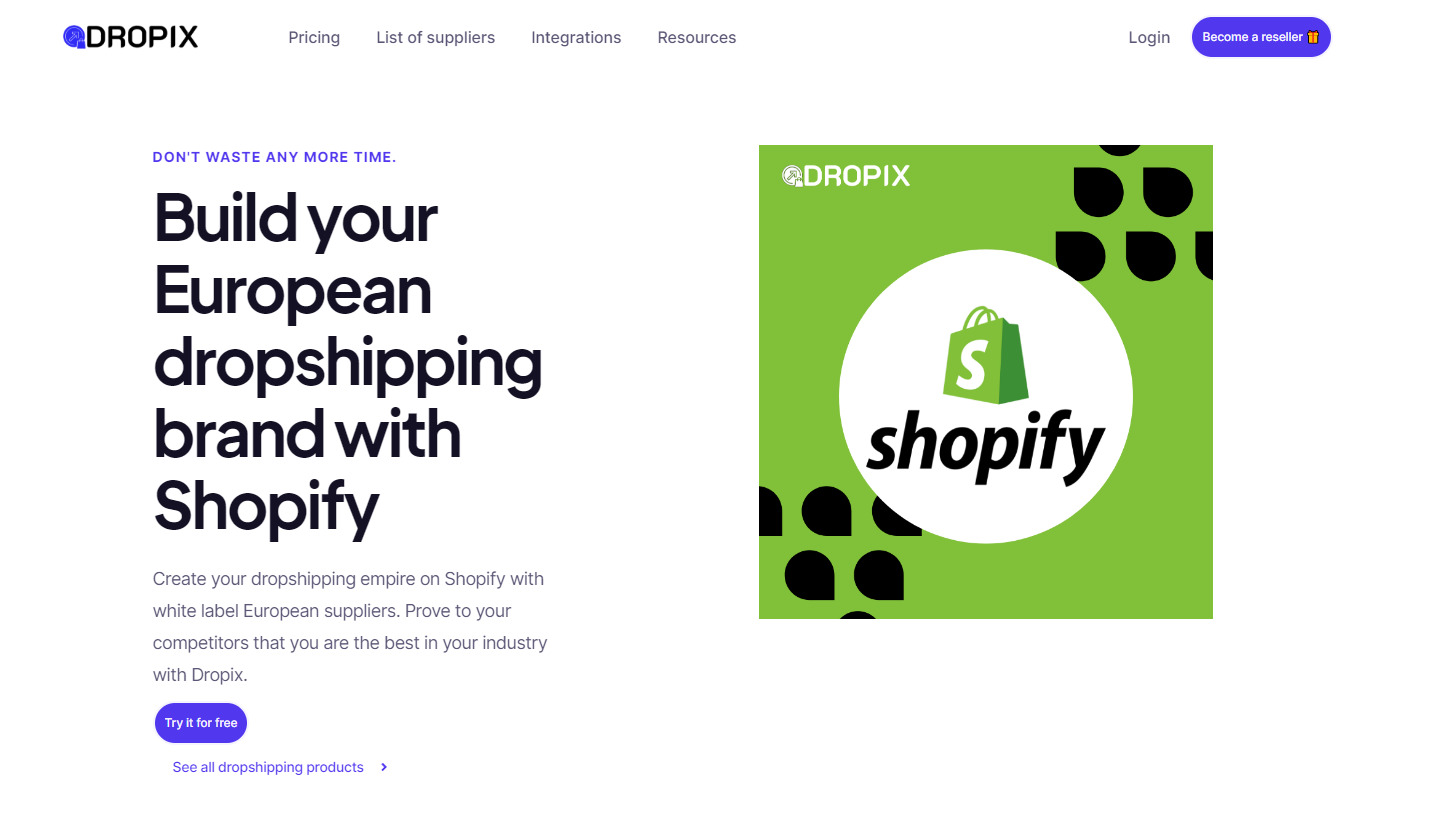 Dropix is a French application available on Shopify that highlights products made in Europe. If you're looking for suppliers located in France or Europe to have shorter delivery times, Dropix is for you. The platform offers thousands of products in their catalogs, ranging from beauty products, through children's toys and many others.
The Advantages and Disadvantages of Dropix
Suppliers located in France, fast delivery in France and on the European market
The superior quality of the products
The plurality of products offered (more than 250 000)
Mandatory subscription from €29/month
Deliveries are limited to Europe
Shopify Dropshipping Suppliers - Megagoods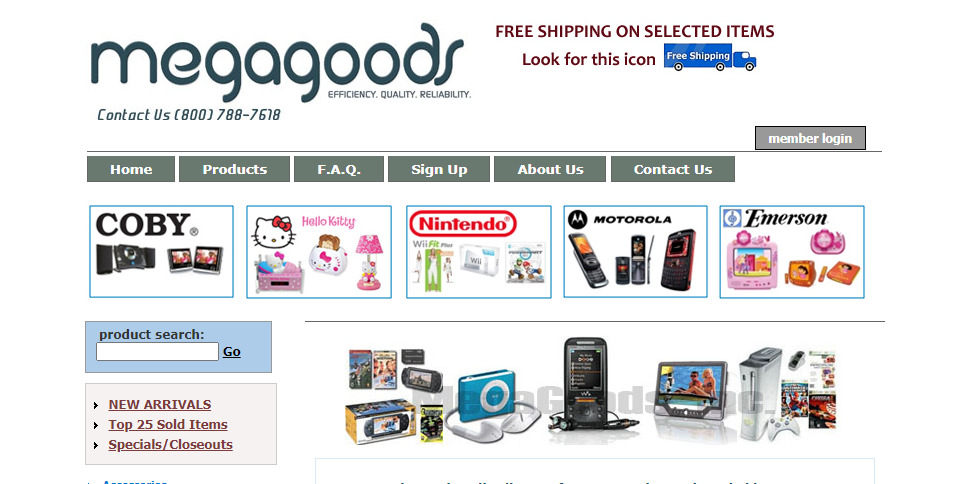 Megagoods is one of the US Shopify dropshipping providers that specializes in electronic devices and ships its products worldwide. It does not offer as large a catalog of products as the previous suppliers. On the other hand, it offers prestigious brands and well-known licenses. Based in California, you can enjoy very short delivery times if your target market is in the United States.
Advantages and Disadvantages of Megagoods
Products of known brands
Official licenses
Free 30-day trial period
International delivery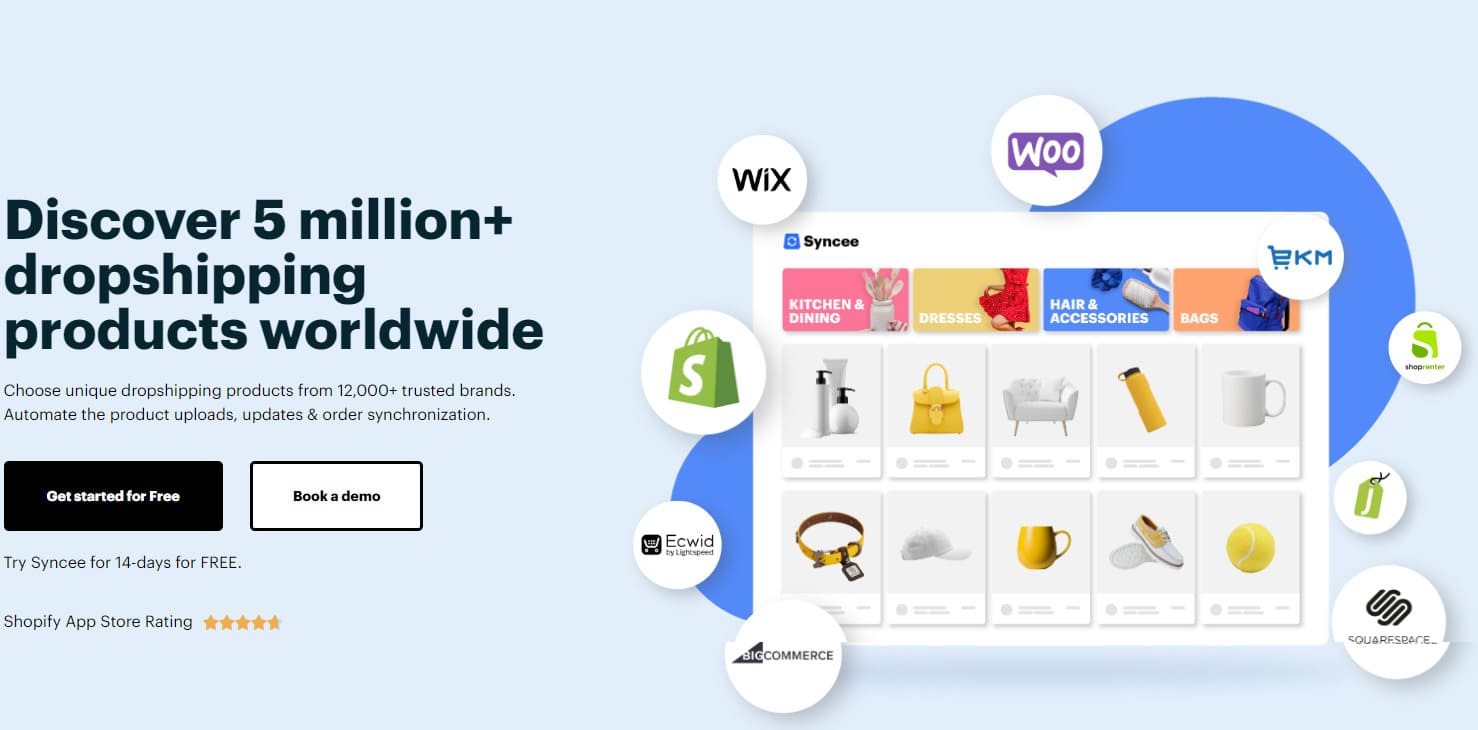 Syncee is a marketplace of suppliers specialized in dropshipping. You will find real licenses in the United States, Canada and Europe. More than 400 categories of products including organic and ecological products are offered. Syncee is a Shopify dropshipping wholesaler that offers international delivery.
The Advantages and Disadvantages of Syncee
Starter package allows you to start for free with 25 products
7-15 day delivery in Europe, USA, UK, and Canada
14-day free trial period for paid plans
The products offered are expensive
Delivery times are long, and many suppliers do not respect them



For those who want to create a dropshipping clothing store, B2B Griffati is a supplier of branded clothing in Europe. B2B Griffati offers tens of thousands of products that can be delivered anywhere on earth. You can find more than 300 trendy clothing brands. The platform can integrate with Shopify to link it directly to your store.
Advantages and Disadvantages of B2B Griffati
No minimum order
After-sales service and returns managed by the supplier
Free registration
Delivery in 24 and 48 hours for Europe
Customer support available in 24 languages
VAT number required to register to the site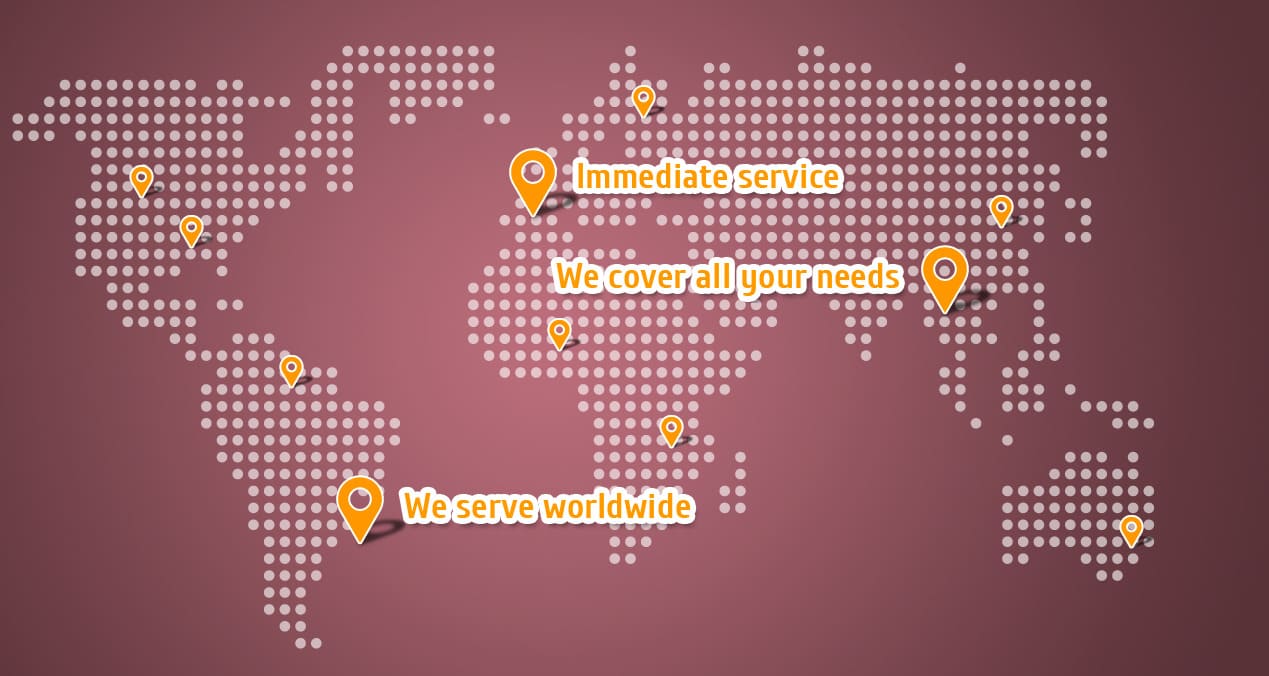 NovaEngel is a Shopify dropshipping wholesaler specialized in beauty products. With nearly 80 years of experience, NovaEngel offers more than 20,000 SKUs and 500 brands of cosmetics and fragrances. The company offers a dropshipping service that you can integrate into your Shopify store. It even provides its partners with teams to help them create their dropshipping store.
Advantages and Disadvantages of NovaEngel
Orders processed in 24/48 hours in Spain and in 3 to 6 days for international orders
A continuously updated catalog
Initial deposit of 500 euros (non-refundable)
Minimum annual sales volume of €30,000
VAT number required
Shopify dropshipping suppliers - Sifam

For those who wish to move into the motorcycle and automotive market, Sifam is a wholesaler specialized in motorcycle parts and accessories. This supplier has more than 20 years of experience in the field and offers thousands of products from major brands. If your preferred market is in France, Sifam's warehouses are located there.
The Advantages and Disadvantages of Sifam
Free dropshipping service
30 000 references
Fast delivery between 24 and 48 hours
Registration is required to take advantage of the product catalog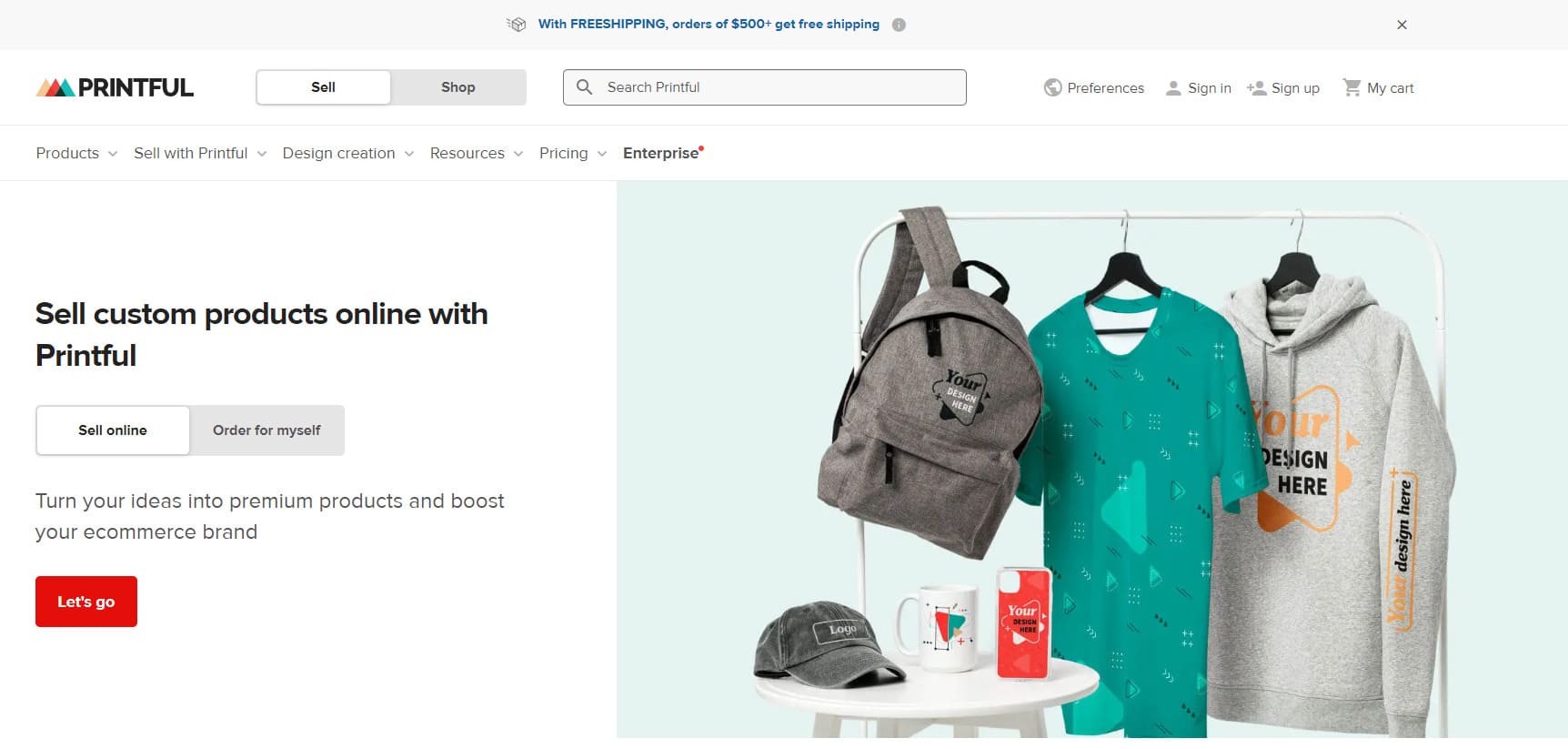 Printful is a provider specializing in print-on-demand (print on demand). The provider allows you to offer many types of products for your dropshipping Shopify store such as: sweatshirts, sweaters, t-shirts, computer bags and many other products. The products are manufactured and then delivered to your customers anywhere in the world after each order.
The Advantages and Disadvantages of Printful
Advanced product customization
Advanced packaging customization
No additional pre-order or monthly fees
Partnerships with reputable carriers for reduced shipping costs
Quality products created on demand
The products are quite expensive for resale
Another great name in dropshipping suppliers, BigBuy is one of Aliexpress' competitors in Europe. Based in Spain, this supplier offers thousands of product references in hundreds of niches. This Shopify dropshipping wholesaler offers one of the best delivery times in Europe. It is considered to be the best European dropshipping provider. In order to facilitate its integration with your store, it is one of the dropshipping suppliers that work with Shopify.
The Advantages and Disadvantages of BigBuy
140 000 references
Delivery in 72 hours in Europe
Coverage in more than 20 European countries
Fixed registration fee starting at €49.
Expensive products, reducing margins to 10-15
Dropshipping Suppliers for Shopify – Conclusion
Searching for a dropshipping supplier for Shopify is a meticulous job, as it is a crucial part of your dropshipping business. As mentioned in this article, researching your product and choosing your target market are very important factors to consider before you start your search. There are several ways to find dropshipping suppliers for Shopify suitable for your business, but the most common method is to search the various marketplaces. Take the time to study each offer and information of the suppliers you find in order to avoid scams and rip-offs. To help you in your search, we have put together our list of best us dropshipping suppliers for Shopify.
What are the best dropshipping providers on Shopify?
The best dropshipping providers on Shopify are:
AliExpress
Dropix
Megagoods
Syncee
B2B Griffati
NovaEngel
Sifam
Prinful
BigBuy
Which suppliers offer dropshipping services?
There are thousands of suppliers who offer a dropshipping service, but you have for example: BigBuy, Prinful, NovaEngel or AliExpress
What is the best supplier on Shopify?
The most used supplier on Shopify is AliExpress.
How to find products for dropshipping?
To find products for dropshipping, you need to be on the lookout for new trends. To do this, you will need to:
Follow trends on Google Trends
Watch trending product videos on social networks (TikTok, Instagram, Facebook, etc.)
Watch ads of dropshipping stores on social networks
Why should I choose European dropshipping suppliers?
If your target market is in Europe, by selecting a European dropshipping provider, you can offer very short delivery times to your customers. This is an undeniable strategic advantage.
What questions should I ask a dropshipping supplier?
Where are your warehouses located?
What are your delivery times?
What are your terms of sale?
What are your return policies?
Do you require minimum orders?
What delivery methods do you use ?
Can you handle customer relations?
What payment methods do you use?
What tools do you use to track and process orders?
How can we stay in touch?
What fees do you charge?
How do you charge for product customization?