One of the most profitable business models today is B2B ecommerce. Businesses are used to buying their goods in large batches periodically over a long period of time (even several years). In addition, once the relationship of trust is established, it is rare for a B2B customer to change supplier overnight. Turning to a wholesale ecommerce then seems to be a very profitable business model, it would be a mistake not to take advantage of it. 

Investing in a good ecommerce platform for wholesale is therefore the right thing to do. Surely you don't want to scare away your potential customers with an unprofessional shop. However, finding the best B2B wholesale platforms or the best ecommerce platform for wholesale is not an easy thing for beginners. Information is so scarce and incomplete.
This article aims to provide you with all the information you will need to launch your B2B ecommerce business and choose the most suitable wholesale ecommerce platform for your business.
What is wholesale ecommerce?
Wholesale, as the name suggests, is a business model where the seller will always sell goods in bulk at a discounted price (compared to retail) to B2B customers.
If a good understanding is established between the seller and the customer, the cooperation can go on a long-term basis, thus ensuring periodic orders.
Now, ecommerce, because unlike traditional commerce, all transactions and exchanges are done on the internet. Wholesale companies sell their goods through ecommerce platforms.
What is an ecommerce wholesale platform?
A wholesale ecommerce platform is an online tool that allows you to create professional e-shops suitable for wholesalers. This type of platform should be able to provide you with basic functionality to support B2B ecommerce activities, such as:
bulk sale
the shopping cart
Analyses
shipping
marketing
stock management
List of Top 10 Wholesale ECommerce Platforms
Adobe Commerce (Magento)
Shopify Plus
PrestaShop
WooCommerce
BigCommerce
TradeGecko
Shift4Shop
NetSuite Commerce
OroCommerce
Ali Baba
5 points to study before choosing an ecommerce platform for wholesale
It is common science that the goal of every business is to create profit. Make sure that the cost of your ecommerce platform is not likely to weigh on your future profits.
Thus, during your comparisons, do not limit yourself to comparing the different plans of each platform, but also the profitability that it can bring you. There are inexpensive platforms that may be too expensive in the long term and on the contrary others that are expensive to buy, but will offer you a much better return on your investment.
We do not choose a platform for its name, but for what it can bring us. Your business has its own specificities and you have different objectives that will surely require different tools. However, at least ensure that the basic features such as the ability to wholesale, marketing management, data storage and inventory management are present.
The best platform is the one with the most "useful" features. There is no point in paying for more if it does not serve you or risks degrading your user experience.
In getting started with an ecommerce platform, one thing must be at the center of your thinking: the user experience.
Most of your time will be on the back-end side of your site to configure and monitor the various actions taking place on your shop. Therefore, its interface should be as user-friendly as possible and each feature should be easily accessible from the dashboard.
Take into account, however, that these points mainly concern the user interface outside the website editor. Because, the more you try to modify or personalize your site, the more complicated it will be to configure because of the different options.
In short, opt for software that offers many features that you can easily use.
This is surely the most important point from a wholesale perspective. Since you will be trading huge quantities of goods, it will require excellent tracking of stock movement.
The online sales platform for wholesalers you choose will have to take into account all the inventory management processes. The quantities must be updated automatically after each purchase, each arrival of goods, in the event of cancellation of orders, etc.
If the platform you are viewing does not have this basic option, move on, it is not worth it.
Today, it is important to understand that sales will not be made only from a computer and through your site. Buyers go through their tablets, their smartphone and any other device that can go on the internet. Some of them will surely want to go through social networks or any other source of traffic to make contact and place an order.
You must be able to offer an optimal and consistent experience to your customers on your different channels. Multi-channel selling is therefore an essential element to take into account if you want to increase not only your acquisition rate, but also your engagement.
Thus, the best wholesale ecommerce platform must be able to address these different aspects of multi-channel online sales.
The 10 best ecommerce platforms for wholesalers
Adobe Commerce, formerly Magento, is one of the first wholesale ecommerce platforms. With a head start on the competition, the online sales platform for wholesalers has evolved enormously over time by optimizing its various functions and offering new features. Thanks to this, Magento has a huge customer base loyal to the platform.
Magento is an open-source wholesale ecommerce platform, you can modify and customize the code of your website without limits to build it in your image. To go further in customization, Adobe Commerce offers you a very large catalog of integrations compatible with the platform.
In order to help you in the construction of an online store and to respect your model based on B2B ecommerce, Magento has many features such as:
The website editor by drag and drop
You don't need any prior coding skills to build your website. Its interface allows you to easily and quickly create and customize your online store. You just have to select the elements you want to integrate and move them with your mouse to place them.
If you want more extensive modifications, you can always hire a developer to tweak the code.
In order to be the fastest and most efficient, Magento Adobe Commerce allows you to use your different order lists to speed up your sales process.
In B2B wholesale, payments are not always instantaneous, but operate in the form of credits granted to the customer. Magento allows you to set a different credit limit for each customer.
Magento also has essential features such as:
Complete reports
An inventory management tool
Integrations with pre-existing back-end systems
A dashboard
As for prices, it is tailor-made. You must contact the wholesale ecommerce platform in order to receive a quote. However, expenses are estimated at around $22,000/year.
Wholesale eCommerce Platform : Shopify Plus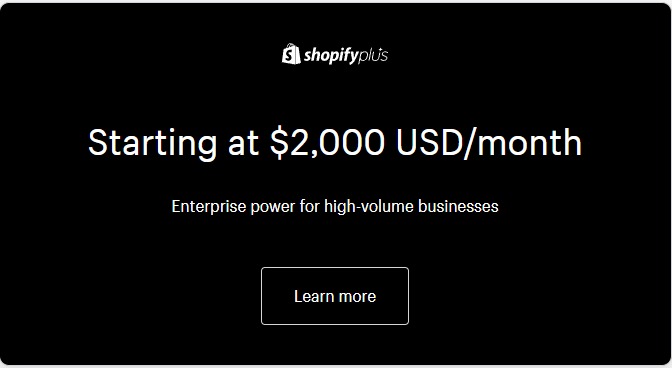 Available from $2,000/month, Shopify Plus is the offer dedicated to companies making large volumes of transactions by Shopify.
Shopify is an ecommerce platform known for its ease of use and efficiency. It has more than 2 million users. As a reminder, you can create a ready-to-use online store from scratch in record time thanks to the platform's drag and drop editor.
You will discover a catalog containing more than a hundred customizable themes to dress up your store. Shopify also offers many native features to manage your business, such as:
Email marketing
Stock management
Advanced reports
Social media integrations
Recovery of abandoned carts
Customer accounts
And thanks to the Shopify App Store, you can integrate many apps to add functionality, improve your e-shop, optimize your processes, etc.
If you want to learn more about Shopify, we've given you a full review.
The Shopify Plus plan comes with support from Shopify to help you run a business dealing with larger quantities of orders and merchandise such as wholesale. Other features more specific to B2B ecommerce are also included.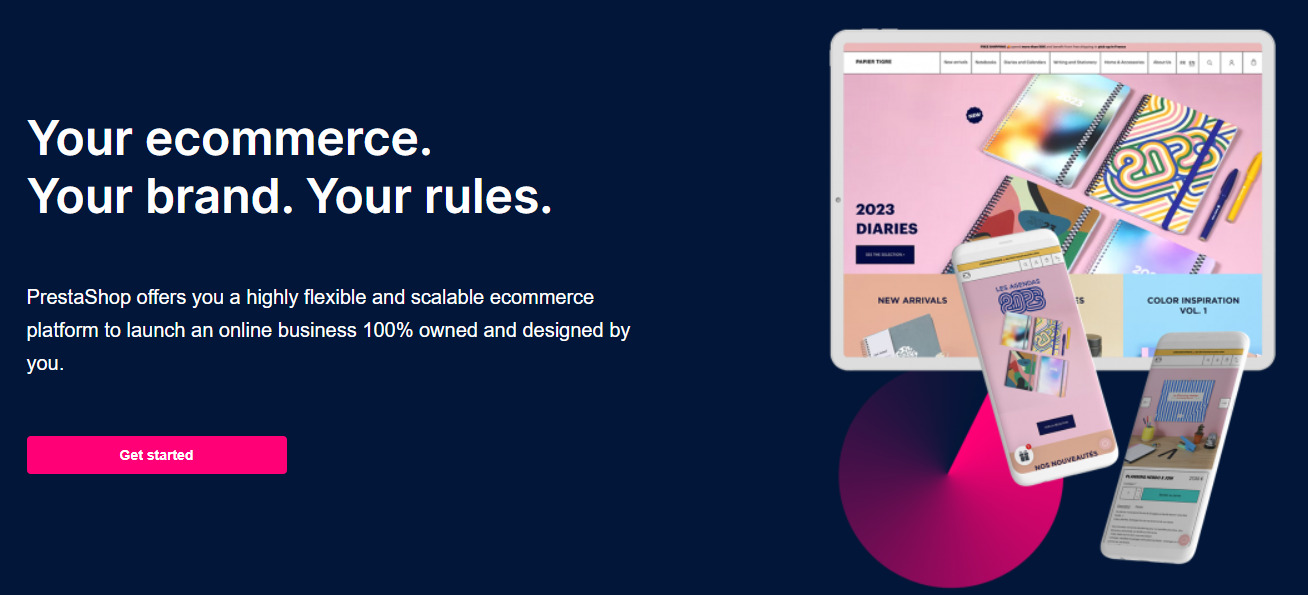 Although PrestaShop is best known for its possibilities to create a hyper-customized store for B2C online stores, it is also an effective ecommerce platform for B2B. Thanks to its open-source code, the stores created on PrestaShop can be personalized in abundance.
A strong point of PrestaShop for the uninitiated is its intuitive interface. The user can easily navigate the menus and each option is easily accessible.
Operating by theme system, PrestaShop offers many customization possibilities. Many professional themes accompanied by apps dedicated to ecommerce in B2C and B2B are available.
For the different transactions, the platform is flexible by accepting different payment gateways in addition to its in-house gateway. It supports many payment methods (credit card, PayPal, etc.).
PrestaShop is an excellent budget-friendly alternative for small businesses wishing to embark on B2B ecommerce. PrestaShop, excluding the purchase of paid themes, is a free platform. It is easy to use and maybe
Moreover, it is worth mentioning that PrestaShop is budget-friendly. This platform is completely free and easy to use, targeting small B2B businesses. The add-on market system is also diverse enough to meet customer needs.
For more information about PrestaShop, we have given you a more detailed review.
Wholesale eCommerce Platform : WooCommerce

WooCommerce is not really an ecommerce platform, it is a plugin that integrates with an existing website on WordPress to transform it into an online store. It is an excellent option for people wishing to transform their blog or their showcase site into an e-shop.
Understand that prior knowledge in the management or mastery of the various WordPress parameters would be necessary for an advanced handling of this software. Being an open-source software, the shops created can be personalized from their codes. Nevertheless, WooCommerce remains very open to beginners thanks to its drag and drop website editor.
WooCommerce, being a plugin, reaches its limits quite quickly. Unlike a dedicated ecommerce platform, the latter is not able to provide the same commercial functionalities or inventory management. Moreover, you must install modules and extensions to achieve a fairly similar level of functionality.
You can start a small wholesale business if you are only looking for basic functionality, but we do not recommend it if you want to evolve your site.
WooCommerce is a free service, but to run, host and support it, you will need to pay. A professional store running on WordPress will easily cost you more than 3,000 euros to create.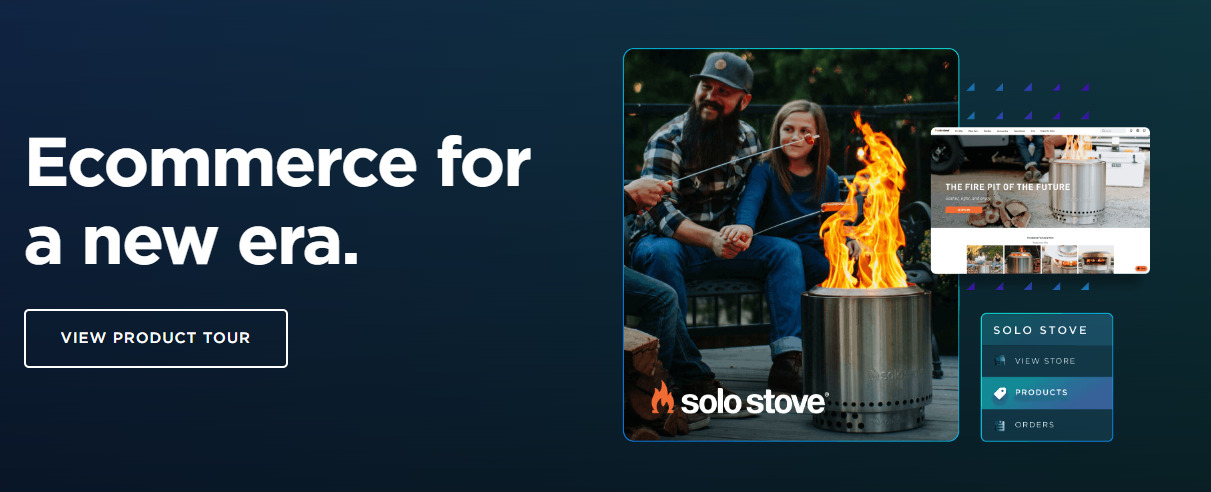 BigCommerce, as its name suggests, is an ecommerce platform dedicated to large businesses. She specializes in B2B ecommerce. The platform operates under a cloud system and has a PCi to guarantee data security. It's one of the best wholesale eCommerce Platforms on the market. 
For the wholesale trade, BigCommerce presents its "BigCommerce B2B Edition" offer. This formula allows you to create an online store and comes with a lot of practical features for wholesale ecommerce, such as:
The visual website editing tool (by drag and drop)
Personalization of themes using code (HTML, CSS, Java)
Personalization of sales pages
Responsive design (adapts to all types of screens)
wholesale prices
Customer groups
B2B payments
Personalized prices
Customer accounts and the unique experience
Being a platform dedicated to large businesses, the prices offered by BigCommerce are specific to each company. You will need to go through their website and request a quote.
QuickBooks Commerce (TradeGecko)

If you have ever worked in the logistics department of some stores, the name TradeGecko should not be unfamiliar to you. TradeGecko is a wholesale ecommerce platform that was originally software designed to optimize the management of inventory and customer data
TradeGecko recently became Quickbooks Commerce in June 2022.
He rushed little by little towards a complete platform for the management of online commerce. Its target is essentially made up of small wholesalers. It therefore advocates easy handling and simplicity of use.
To meet the specificities of B2B wholesale ecommerce, the platform provides its users with features such as:
Multi-channel customer orders
Wholesale supply chain management
The TradeGecko Payments payment gateway
Workflow automation
Advanced reports
Audiences throughout the sales funnel
Integrations
The platform still has some small random operating bugs. And getting started takes a bit of time. Nevertheless, the platform delivers a very good value for money.
Quickbooks offers 5 pricing plans:
Founder at $39/month
Lite at $79/month
Small business at $199/month
Business at $599/month
Premium at $799/month
The most suitable offers for online wholesale start from the "Small Business" plan. These plans give you multiple user accounts for your team and orders of up to 5,000 per month. This platform is also in our list of best Wholesale eCommerce Platforms.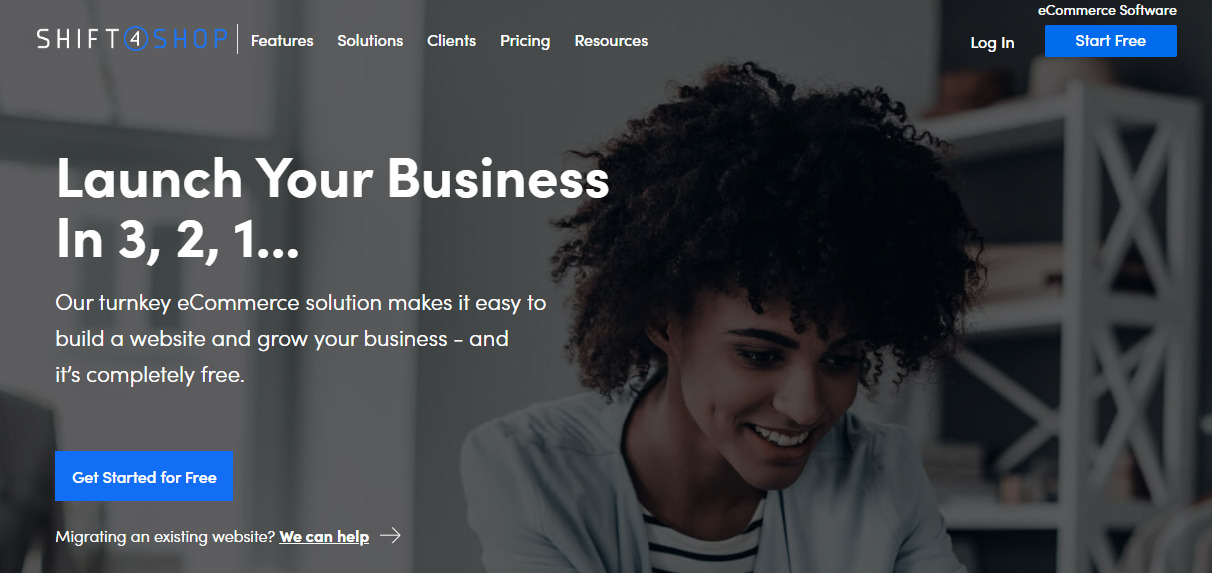 Formerly 3DCart until 2020, Shift4Shop is a powerful ecommerce platform for creating and managing online stores.
Like the other platforms presented above, Shift4Shop offers many customizable templates for creating sales sites. It offers themes with responsive design and adapted to many niches.
As for the features, they are similar to those of Shopify and TradeGecko such as:
Tax management
Inventory control
International shipping
Customer segmentation
Marketing tools
The buyer database
The difference with the previously mentioned platforms is that Shift4Shop is that not all the functionalities come from an internal shop. They are 200 and are integrated into the platform. You will therefore not have to pay for any additional costs.
The ecommerce platform has 4 pricing formulas:
Basic STORE at $29.99/month
Plus Store at $79.99/month
Pro Store at $229.99/month
End-to-End, which is free (Only for companies registered in the United States)
Shift4Shop is suitable for both beginners and experienced B2B companies. The next on our list of the best Wholesale eCommerce Platforms is NetSuite Commerce. 

NetSuite is for B2B customers looking for a complete order fulfillment solution. It is a centralized platform for order management systems that presents an online shop creation functionality.
Using a cloud-hosted platform, Netsuite pushes its users towards a multi-channel sales model. It can thus be integrated with various other platforms such as social networks in order to facilitate communication and the various operations necessary for the sale of your products.
NetSuite Commerce is a complete platform adapted to B2B ecommerce because it allows you to manage the different aspects of this business. Indeed, marketing, sales, order tracking, and inventory management are done through a single software.
To meet the needs of each company, pricing is done by quote request. To find out the prices for your business, you will then need to contact them via their website.
Wholesale eCommerce Platform : OroCommerce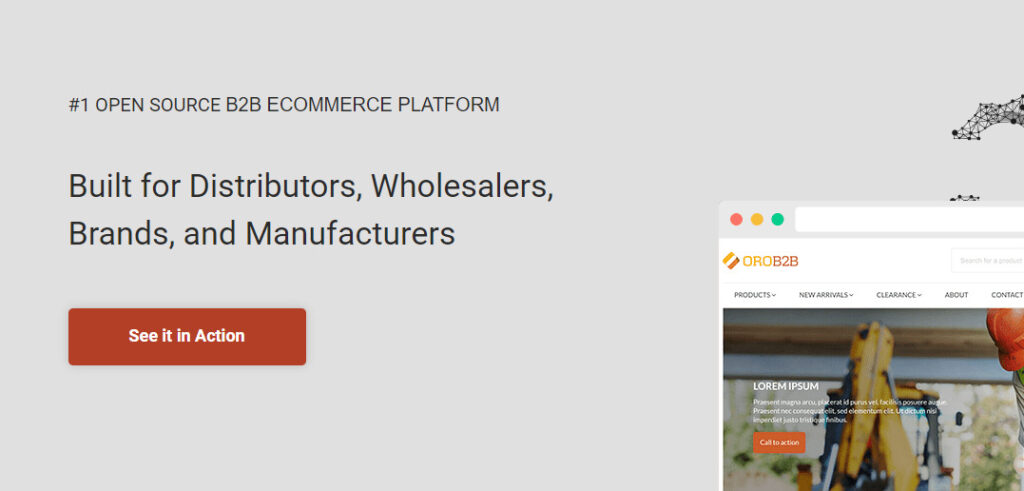 Looking for a B2B ecommerce solution with excellent stewardship? OROCommerce is one of the platforms that can satisfy this perfectly.
OROCommerce is one of the best B2B ecommerce solutions or Wholesale eCommerce Platforms for companies looking to manage all of their business processes. Featuring a versatile CRM (customer and internal relationship management software), it allows you to track and analyze business performance and efficiency metrics. You can thus propose appropriate marketing and sales plans and strategies to attract customers to your sales funnel.
For B2B wholesalers, OROCommerce provides the essential features they need when building their ecommerce site. You for example:
business account creation
user role management
personalized price management
inventory organization
shipment tracking
OROCommerce allows you to manage your wholesale ecommerce business by putting your customers at the center of your tactics and decisions.
As for prices, no price is displayed, you will need to request a quote from the site.
Wholesale eCommerce Platform : AliBaba

Alibaba is a Chinese wholesale platform, it is full of suppliers of products of all kinds. We don't really think about it, but marketplaces of this kind are the places where you are most likely to easily find reseller customers. We can't make this list of the best wholesale eCommerce Platforms without mentioning Alibaba. 
Thanks to its high rate of daily traffic and its ease of use, Alibaba is one of the favorite platforms for beginners who want to get started in B2B ecommerce.
No programming knowledge is required to use Alibaba. All you have to do is register, easily create your store, integrate your offers (product templates, etc.) and start selling. All of this can be done in just one day.
You will benefit from all the logistics as well as the functionalities of Alibaba to manage all the technical aspects of your business in B2B.
However, a bad point about Alibaba is the lack of singularity. Your store's customization options are limited, so you'll look like many other shops on the platform.
And on the other hand, you will have to compete directly with Chinese competitors who dominate the market. You must therefore think of a good commercial and marketing strategy before you start.
The standard package will cost you around $3,499/year, for more information on pricing you will need to contact Alibaba on their platform.
Comparative table of wholesale ecommerce platforms
| Platform | Price for wholesale | Easy handling | Multi-channel sales | Customer account | Analytics and reports | CRM | Drag and drop website editor | Custom price | Inventory management | Native Automation | Email Marketing |
| --- | --- | --- | --- | --- | --- | --- | --- | --- | --- | --- | --- |
| Magento | $22,000/year | ❌ | ✔️ | ✔️ | ✔️ | ✔️ | ✔️ | ✔️ | ✔️ | ✔️ | ✔️ |
| Shopify Plus | From $2000/month | ✔️ | ✔️ | ✔️ | ✔️ | ❌ | ✔️ | ✔️ | ✔️ | ✔️ | ✔️ |
| PrestaShop | From €167.99 excl. then 49 €/year | ❌ | ✔️ | ✔️ | ✔️ | ❌ | ✔️ | ✔️ | ❌ | ❌ | ✔️ |
| Woocommerce | approx. 3000€ | ✔️ | ✔️ | ✔️ | ✔️ | ❌ | ✔️ | ✔️ | ❌ | ❌ | ✔️ |
| BigCommerce | From $269.95/month | ✔️ | ✔️ | ✔️ | ✔️ | ❌ | ✔️ | ✔️ | ✔️ | ❌ | ❌ |
| Quickbooks | From $199/month | ❌ | ✔️ | ✔️ | ✔️ | ❌ | ✔️ | ✔️ | ✔️ | ✔️ | ❌ |
| Shift4Shop | $229.99/month | ❌ | ✔️ | ✔️ | ✔️ | ✔️ | ✔️ | ✔️ | ✔️ | ✔️ | ✔️ |
| NetSuite Commerce | On demand | ❌ | ✔️ | ✔️ | ✔️ | ❌ | ✔️ | ✔️ | ✔️ | ✔️ | ✔️ |
| OroCommerce | On demand | ❌ | ✔️ | ✔️ | ✔️ | ✔️ | ✔️ | ✔️ | ✔️ | ✔️ | ✔️ |
| Alibaba | $3,499/year | ✔️ | ✔️ | ✔️ | ✔️ | ❌ | ✔️ | ✔️ | ✔️ | ❌ | ❌ |
Ecommerce for B2B is just as interesting a model as direct sales to individuals. As previously said, by establishing a relationship of trust with your customers, you can ensure the sustainability of your business.
But to do this, you need to have the right tools with you. This is why choosing a good ecommerce platform is crucial. We have shared with you about ten of them that are among the best on the market. Our main advice is to choose the one that best suits your needs and can help you achieve your goals.
The prices are generally higher than the formulas offered in B2C, but this also means that the gains you can generate are higher. Once you have made your choice, put your strategy in place and get started.
What is the best B2B wholesale platform?
The best B2B wholesaler/wholesale platform is the one that best meets your B2B ecommerce needs. It must offer an easy-to-use website creation tool that offers advanced inventory, sales and customer data management features.
In this article, we talk about the best Wholesale eCommerce Platforms. 
What is an online wholesaler?
Online wholesalers sell products in bulk and at discount prices to other businesses rather than retailing them to individual consumers.
What are the examples of ecommerce in B2B?
There are companies supplying raw materials, those who design and produce clothing, suppliers of automotive parts and many others.