Some Facebook advertising apps such as "spy tools" have their own extensions for chrome which allow, for example, Dropshippers and e-merchants to find the ads they have seen on their feed in a few clicks. Indeed, the adspy chrome extensions aim to make the task of advertising campaigns easy. Likewise, it provides its users with insight into advantageous ads.
With the adspy chrome extensions, the strength of ad campaign design is pleasantly within the grasp of marketers.
In addition, if you are interested, we have also carried out an in-depth study on the AdSpy app in another article which could be very useful to you.
In this article, we will show you what spy apps are, taking the AdSpy tool as an example. Then we will see what the spy tools chrome extensions are for, and especially if there is an AdSpy chrome extension, then how to install them.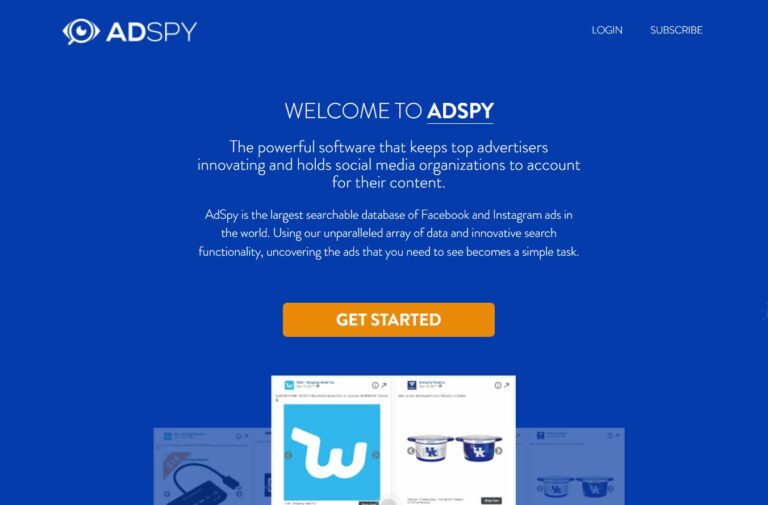 AdSpy software is a social media spy tool that has a powerful database that can be searched to collect ads from Facebook, Instagram etc. It favors advertisers in innovation, in the sense that they use the ads of the competition to know what works well, in order to use it to flesh out their marketing strategies.
Besides, it must also be said that if you want to have real-time information about Facebook ads, this spy tool, just like Dropispy, is effective to satisfy you. As a clarification, we can tell you that this app has the same functionality as the Dropispy software. So, if you are already familiar with Dropispy, using AdSpy would be easy for you.
Would you like to go further? Would you like to discover the power of the software in the research of Facebook ads? If you are interested, then we invite you to read our article on adspy for Facebook ads (you will find the article at the bottom of the page).
In addition, in order to make it easier for users of certain apps, chrome extensions have been introduced. It is like the case of adspy chrome extension. But what are the extensions of these spy tools for?
Adspy chrome extension What are these chrome extensions used for ?
Chrome extensions were initiated to allow Dropshippers to facilitate the use of ad spy tools.
For example, some extensions will automatically filter your news feed to show you only the ads that appear in it. 
Compared to a classic browsing where you will only see the ad without any additional information, you will also be able to obtain, thanks to these Adspy extensions, for each ad, relevant information on the performance of the ad.
Does AdSpy have a chrome extension ?
All our research has shown that AdSpy software does not have a chrome extension. Because if AdSpy's chrome extension existed, we would have known about it from our extensive research on the application.
The best adspy chrome extensions ?
It is true that several advertising spy tools have the extension for chrome.
But there are also some that stand out for their more advanced efficiency. Among these extensions, we can cite:
Poweradspy extension;
Dropispy extension.
Indeed, the Poweradspy app is also a Facebook ad spy tool, just like Dropispy. It has an extension that promotes obtaining rewards due to the unique ads that you upload from Facebook.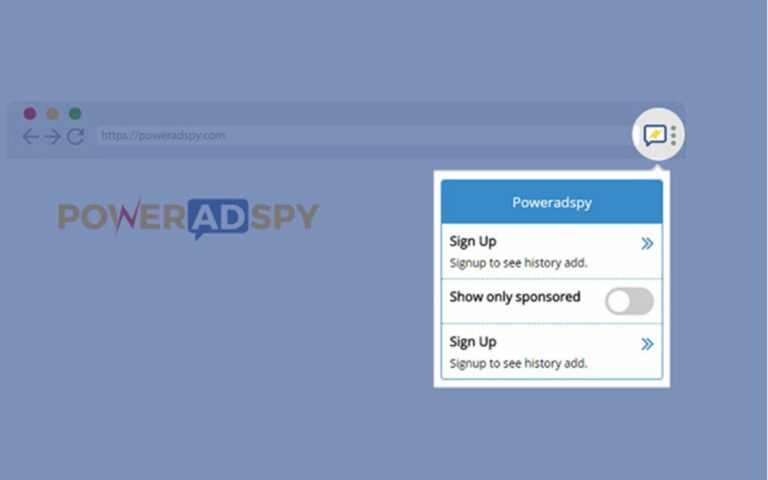 In short, when the Poweradspy extension user browses his feed, the extension collects ads for him. And, considering the ads collected, the user gets rewards and can win days offered on the Poweradspy software.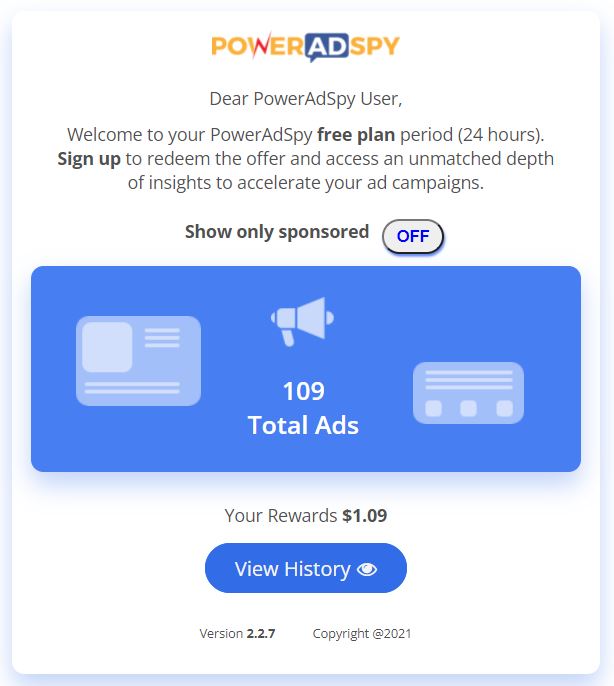 Regarding the Dropispy extension, you can collect useful information about the winning ads and the different shops while you browse the online shops of your competitors.
In other words, Dropispy extension allows with just one click to directly collect not only information about the top ads from the shops when browsing the websites but also to see the engagement of the shops. 
Observe in the image below the atmosphere of the Dropispy extension!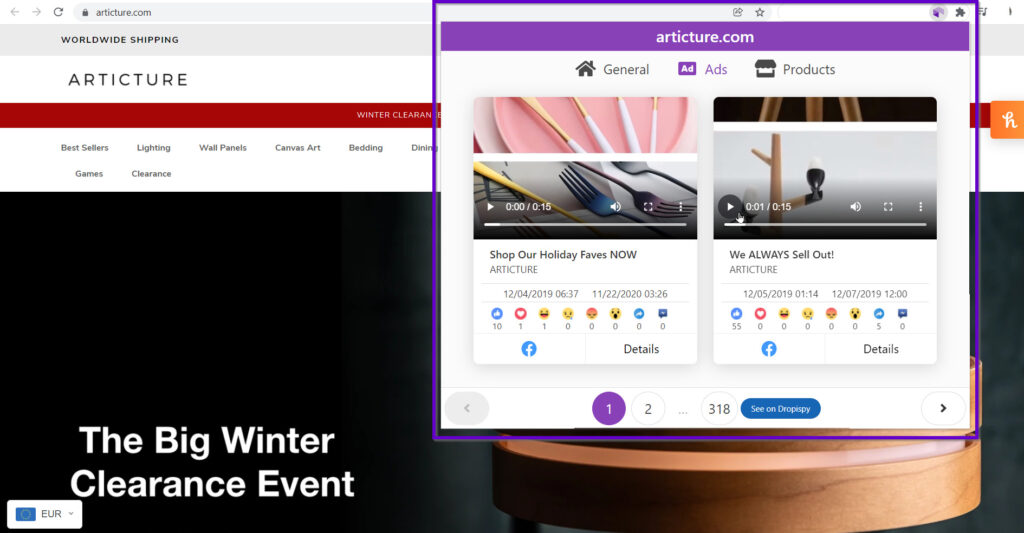 You might be wondering how to install these different extensions, right? Yes, it is quite possible! Let's try to address this aspect in the next category!
How to install these chrome extensions ?
The installation of an extension depends on the system of each tool. For example, to download the Poweradspy chrome extension, you need to go to the chrome store. Then, you download it very easily.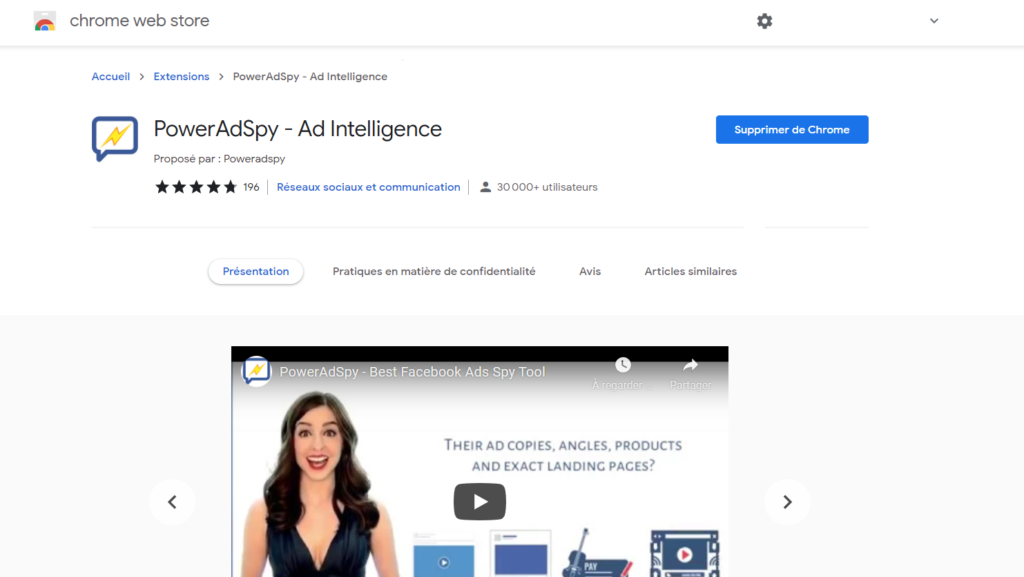 For Dropispy, you must go to the Dropispy site to download the Dropispy chrome extension.
Adspy tools extensions help users to complete their search strategy for winning products. By the extensions, you can simply get rewards from the ads that you bring up on the adspy app from Facebook, as is the case with Poweradspy.
In addition, we have seen that these extensions, in addition to providing information to their users, play a role in perfecting the advertising database of spy apps.
Regarding the AdSpy software, our analysis revealed that we cannot confirm that the app really has an adspy chrome extension in itself. Because there is no evidence to show this. Additionally, it is unclear how the tool manages to provide and update information about its ads.
Moreover, you had the necessary information which allowed you to know what it is about the chrome extension of adspy. Let us know your thoughts on this article in the comments.
Also, if you want to know in a broad way the usefulness of the app, we invite you to read our article on the usefulness and operation of AdSpy.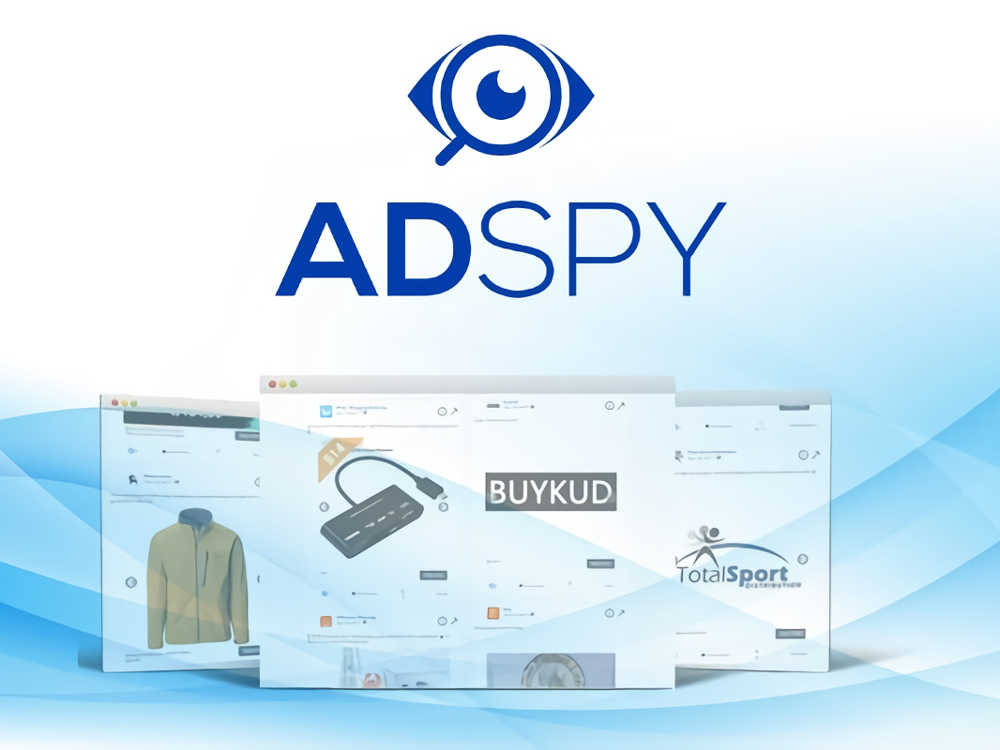 The world of Dropshipping and e-commerce nowadays requires that we master how to use spy tools in order to avoid going around in circles...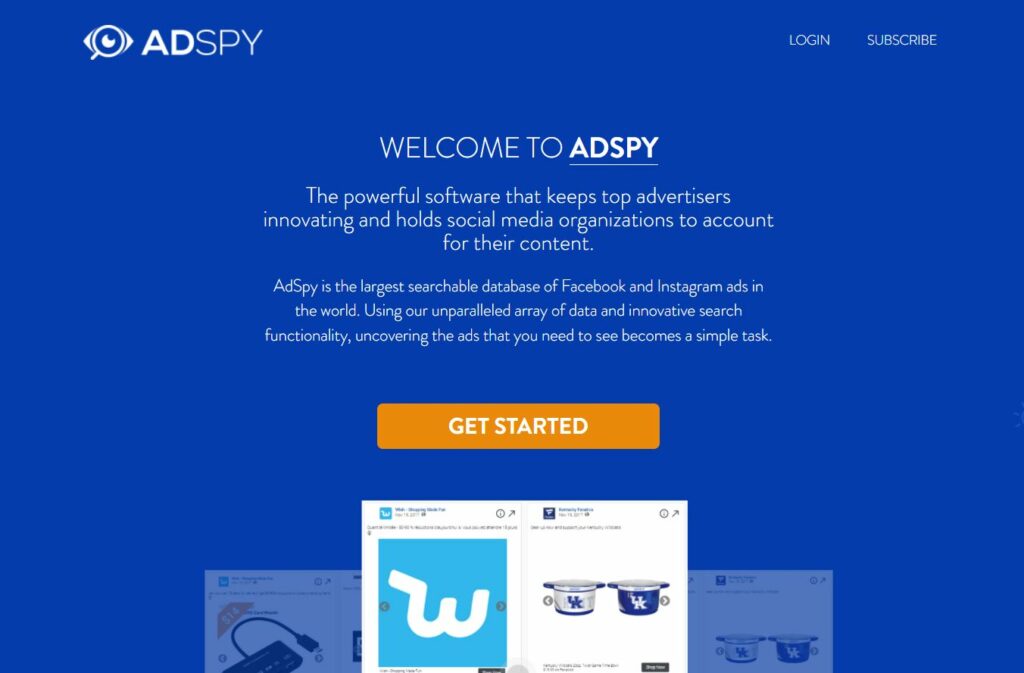 Several spy apps make it easier for advertisers to find the best performing ads in order to improve their advertising campaign strategies. Among these...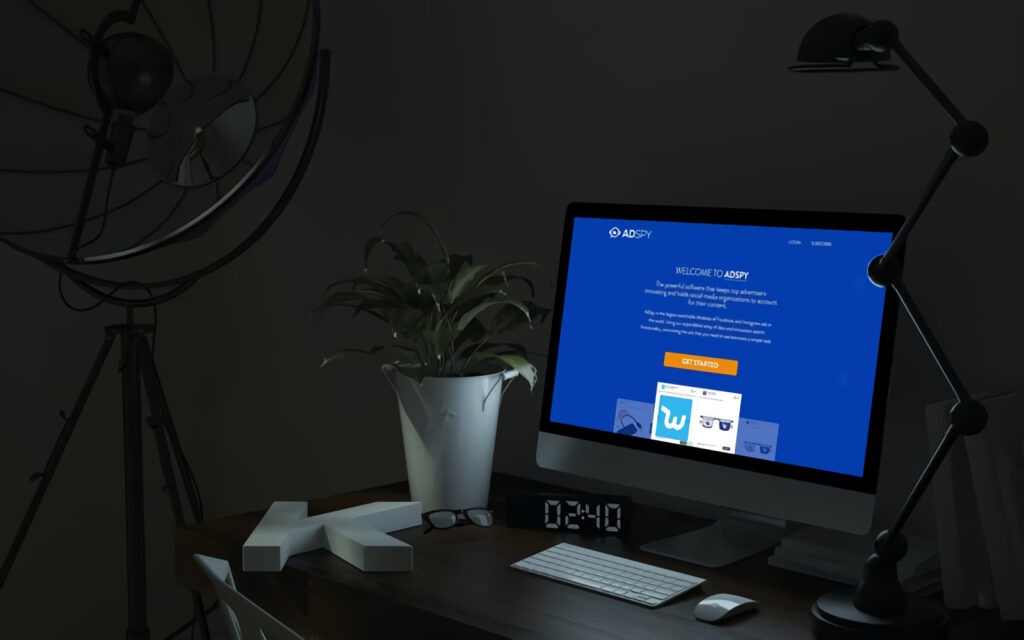 The world of e-commerce in general relies on acquiring real market information and then putting it to good use. Indeed, any Dropshipper or e-merchant...