Dropshipping has evolved at cruising speed. Therefore, we are witnessing a battle of Adspy tools for the sole purpose of helping Dropshippers and e-merchants to succeed in their activities. Given the way things are going, each tool is improving day by day to make it easier for professionals in the field.
Thus, given the number of Adspy tools that exist, the ideal would be to know the one that best meets your needs and that really offers you the best possibilities. It is in this context that we have decided to write this article to help you decide between two powerful Adspy tools, namely Drop Point vs Bigspy. Another piece of information you might be interested in is whether Drop Point is the cheapest ads spy tool. You can discover all the useful information on this subject by clicking on the link.
Through the content of this article, we invite you to discover how each tool works, the possibilities offered by each of them and especially which of the two is the best.
To get started, let's find out what each tool actually represents.
Drop Point and Bigspy : here's what you need to know about each tool
Adspy tools are the ones that have revolutionized the world of Dropshipping. Indeed, with the help of these, finding a Winner has become the least of the worries of Dropshippers. In addition, they allow you to know in detail, the actions and ambitions of your competitors.
Adspy tools are therefore your best option to get ahead of the competition by offering much better content than theirs and above all by providing trendy products to your prospects. That's why it's important to choose the best, that is, one that really meets your needs. Thus, we invite you to discover our Dropispy vs Drop Point comparison. Remember that in the context of this article, we want to establish a comparison Drop Point vs BigSpy. To do this, we will evaluate the two tools on two main criteria for comparing Adspy tools, namely: the variety of filters / sorts of ads and their performance and the volume of ads on a daily basis.
Let's take a quick look at how each of the two tools works.
What is Drop Point actually used for ?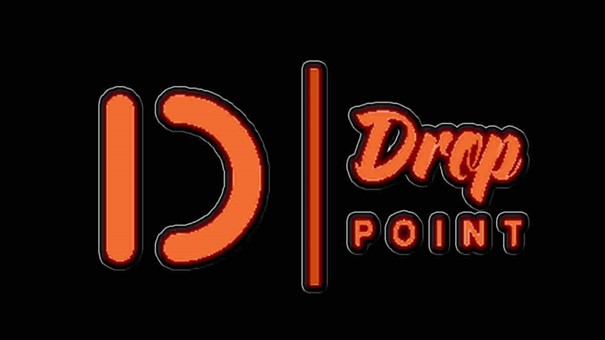 As a Facebook advertising spy tool, Drop Point is intended for any e-merchant wishing to promote their brand in order to attract more prospects and thus make customers.
Like any Adspy tool, the tool helps you to spy on the slightest actions of your competitors in order to be able to adopt winning strategies.
What is BigSpy actually used for ?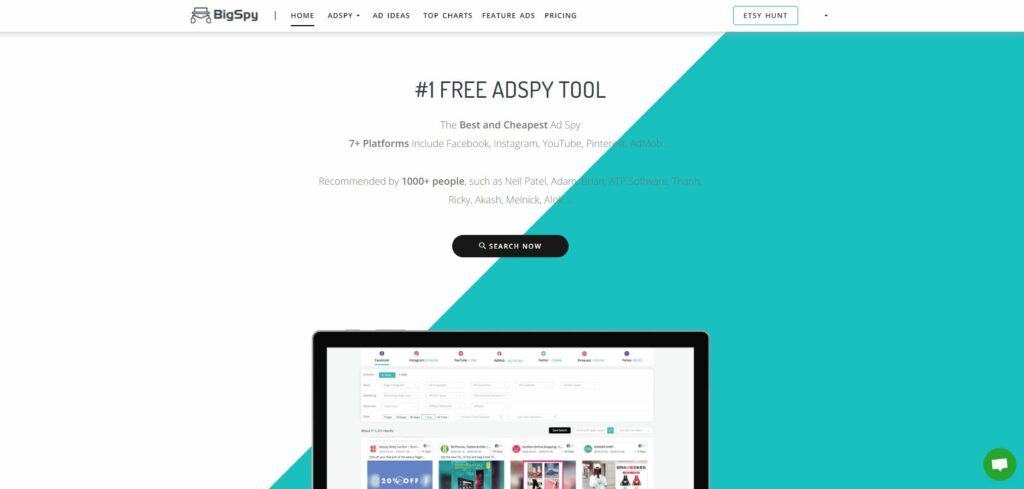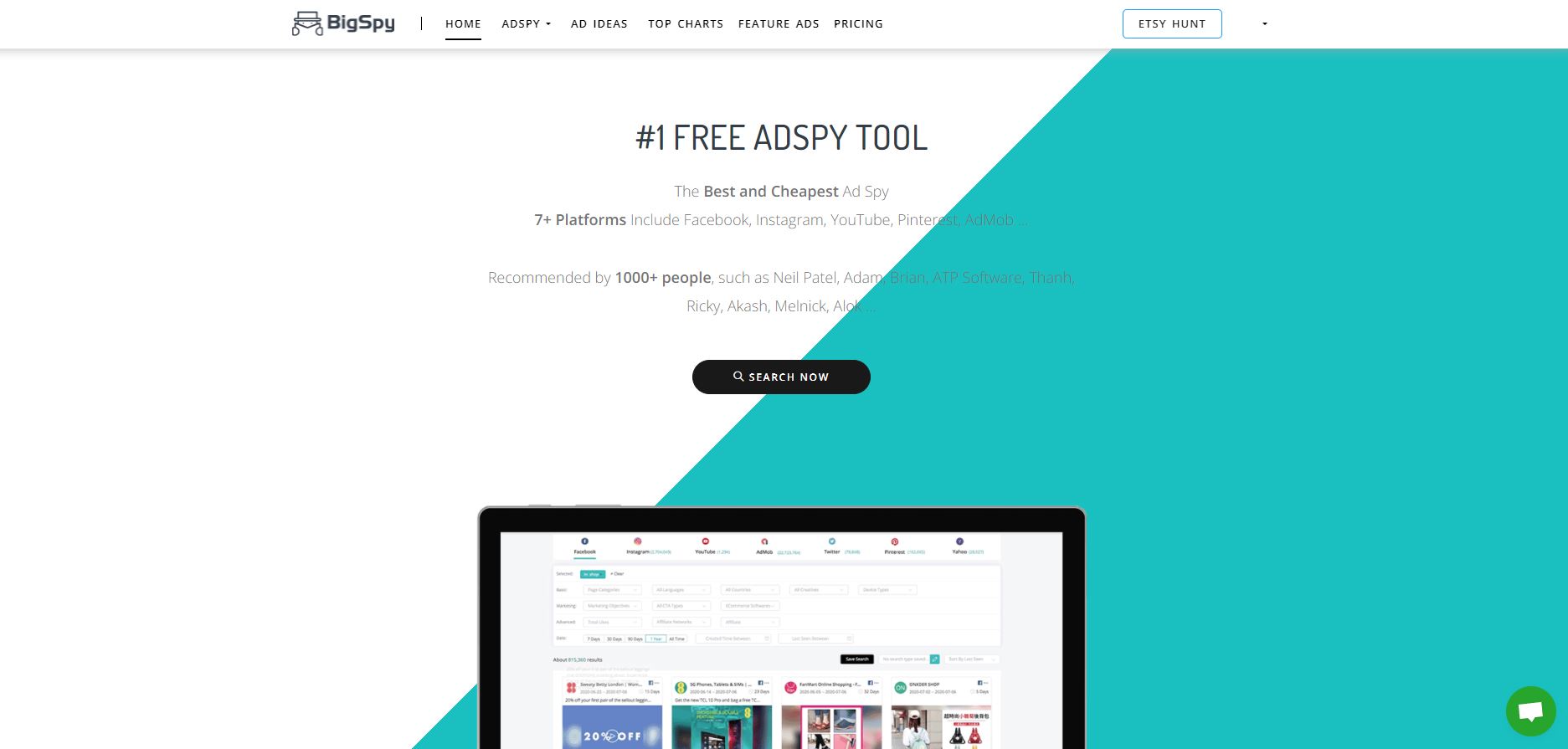 The Adspy tool BigSpy is an advertising platform that spies and collects advertising information on Facebook. The tool allows its user to easily perform the following actions: tracking advertising performance, spying on your competitors' activities, and creative advertising ideas.
Indeed, the tool works like other Adspy tools but with several particularities that we will take care to describe in the rest of this Drop Point vs BigSpy comparison.
This is the time for us to discover the major differences that exist between the two Adspy tools.
Drop Point vs Bigspy : what are the major differences to be aware of ?
We will do our comparative study of Drop Point and BigSpy based on four key points, namely: Advanced search and filtering; ad volume; the information provided on the ads and finally the other useful features.
1. Advanced search and filtering
The main purpose of research is to find information. However, even if you manage to find information during a search, if this information is not verified, it will not be of much use to you.
It is for this reason that Adspy tools must have a large database in order to offer various possibilities and improved filtering functionalities. Our Drop Point vs BigSpy comparison on search will take into account two points: the search possibilities and the filtering/sorting possibilities available for each tool.
Types of research possible with Drop Point vs BigSpy
In the table below, discover a brief comparison of Drop Point vs BigSpy when it comes to research:
| Advanced search and filtering | Drop Point  | Bigspy |
| --- | --- | --- |
| Search by key-word | ✔️ | ✔️ |
| Search by facebook's page name | ✔️ | ✔️ |
| Search by domain's name | ❌ | ✔️ |
| Search in the comments | ❌ | ❌ |
| Search in the landing page's text | ❌ | ❌ |
| Search by ID (ads, page)  | ❌ | ✔️ |
Considering the results of the search table, we can see that BigSpy has an advantage over Drop Point on two points: search by domain name and search by ID. It is therefore BigSpy that wins a positive point at this level.

Ads filtering and sorting
Any search carried out on an Adspy tool displays results according to specific sorting criteria that you take care to choose from the start as shown in the image below.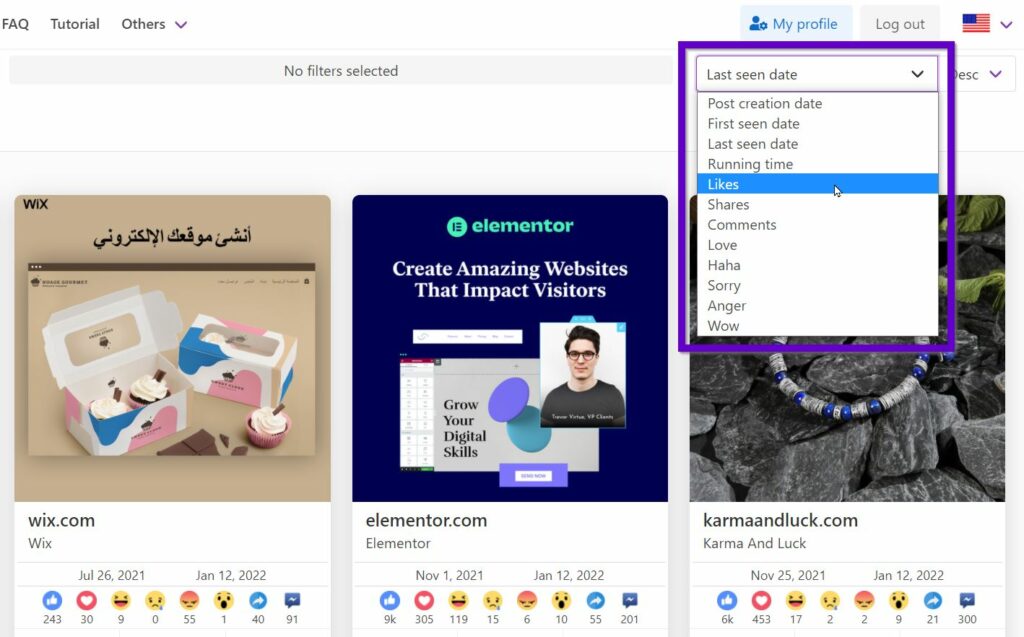 In addition, the results are displayed in a chosen order (ascending or descending).
In addition, to add more precision to your searches, filtering options are also available. This feature allows you to obtain the smallest details on the information sought and above all to avoid wasting time on less important information. Here are some filters shown in the image below: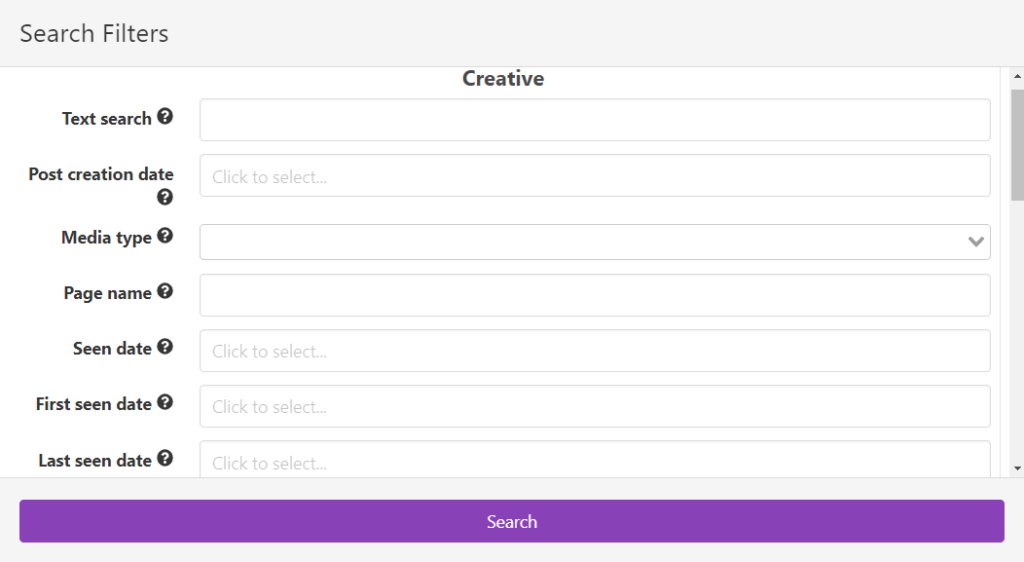 Let's discover in the table below the summary of the Drop Point vs BigSpy comparison:
| Ads filtering and sorting | Drop Point | Bigspy |
| --- | --- | --- |
| Filter by number of likes, shares and comments | ✔️ | ✔️ |
| Filter by number of reactions | ❌ | ❌ |
| Filter by creation type | picture, video | video, picture, carousel, html |
| Filter by target audience | ❌ | ❌ |
| Filter by type of e-commerce platform | ❌ | ✔️ |
| Filter by ads language | ❌ | ✔️ |
| Filter by call to action | ✔️ | ✔️ |
| Filter by running time | ❌ | ❌ |
| Filter by number of daily like | ❌ | ❌ |
| Filter by date | view | Last view, First view |
| Filter by ios, android, desktop, mobile | ❌ | ❌ |
| Sort by like, share | ✔️ | ✔️ |
| Sort by number of reactions | ❌ | ❌ |
| Sort by number of comments | ✔️ | ✔️ |
| Sort by date | ❌ | Last view, First view |
| Sort by running time | ❌ | ✔️ |
| Sort by number of impressions | ❌ | ✔️ |
This summary table takes into account 17 filtering and sorting criteria.
Taking into account all these criteria, Drop Point obtains a score of 6/17 therefore 35% against BigSpy which obtains a score of 11/17 therefore 65%. This gives a difference of 30% in favor of BigSpy.
However, while each tool has positives and even BigSpy has an edge over Drop Point, both of these tools need improvement when it comes to ad filtering and sorting.

Now, let's move on to a comparison of ads volume.
The more you have access to a large number of ads collected, the more chances you will have of finding an unsaturated winner. So you see how important it is for an Adspy tool to provide you with a significant number of daily updated ad volume.
Also, the more old data an Adspy tool gives you about an ad, the more accurate that data will be. Thanks to such data, you can study the evolution of the ad over time to know if it really worked before considering exploiting it. It also lets you compare ads to each other for which one performed better.
As part of our Drop Point vs BigSpy comparison, two criteria will serve as a basis for comparing the ad volume provided by each adspy tool, namely:
General ad volume.
E-commerce ad volume.
For a comparison of the volume of ads provided by each tool, we will rely on a search based on the same criteria in both databases. We will base ourselves on two criteria:
Date of view of the ad: in the last 7 days.
Number of likes: Over 75,000
When we do this search on Drop Point, we only have 9 listings in the results.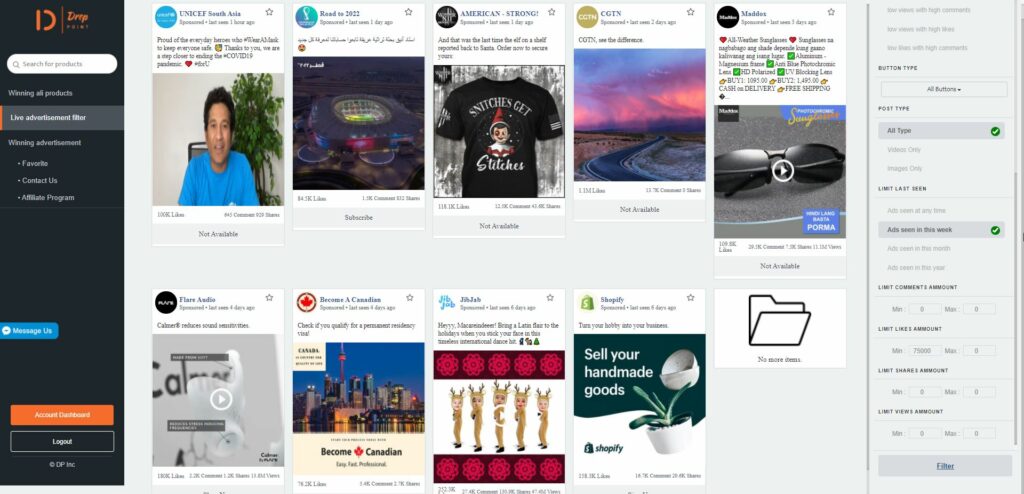 With BigSpy, by doing the same search, there are at least 1000 ads according to the same search filters made in the same period. It is practically impossible to count the number of results. It is therefore useless to compare Drop Point to BigSpy in terms of general ad volume. This, because of Drop Point's very limited database.
We will not be able to study this point, because the Drop Point tool does not make it possible to filter ads by e-commerce platform, and therefore, to know if the ad highlights an e-commerce product. or not.
To get a definitive idea about Drop Point on the issue of ad volume, be sure to read our Drop Point vs AdSpy comparison.

When you have access to an Adspy tool and do a search according to criteria that you take care to specify, you come across ads. However, how do you know which ad performed better than the other? This is where ad detail information becomes essential.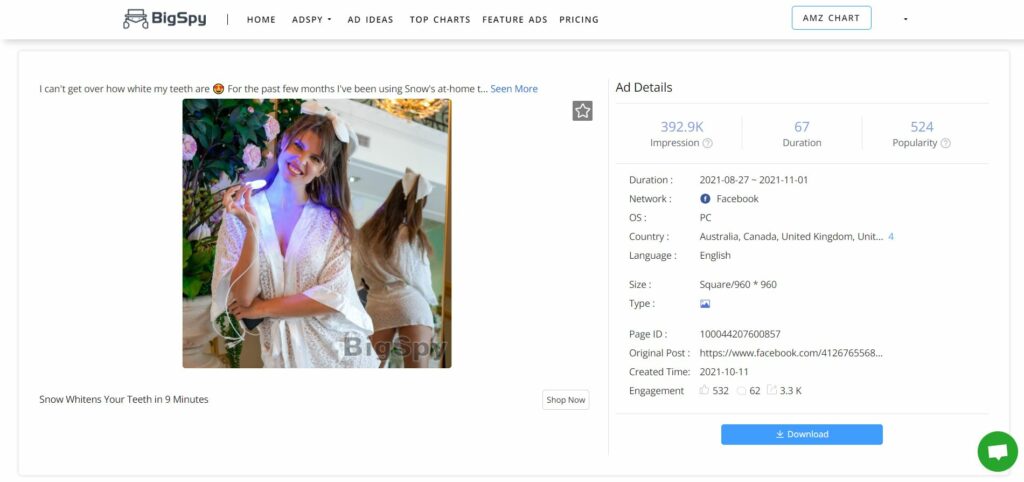 Thanks to the information provided to you on an ad, you can judge its relevance, its evolution over time and especially the type of audience taken into account by the ad.
Here is the information that each of the Adspy tools, BigSpy vs Drop Point allows to collect on the ads:
| Ads information | Drop Point  | Bigspy |
| --- | --- | --- |
| Engagement | Like, comment, view, share | Like, comment, share |
| Audience analysis | ❌ | ❌ |
| Display of the best comments | ❌ | ❌ |
| Display of outgoing links | ✔️ | ✔️ |
| Screenshot of the seller shop | ❌ | ❌ |
| Media download | ❌ | ✔️ |
| Display of dates | Last view | Last view, first view, creation (often missing data) |
| Evolution of the number of likes over time | ❌ | ❌ |
| Evolution of the number of shares over time | ❌ | ❌ |
| Evolution of the number of reactions over time | ❌ | ❌ |
| Real-time engagement data | ❌ | ❌ |
| Other ads from the same website | ❌ | ❌ |
| Advertiser's website data and analytics | ❌ | ✔️ |
| Number of ad's impressions | ❌ | ✔️ |
Although the details of the ads are of paramount importance, through the summary table above, we can see that the two Adspy tools provide an insufficient number of data to judge their effectiveness in this area. In fact, out of a total of 14 criteria considered, Drop Point only has a score of 3/14, compared to BigSpy, which has a score of 6/14.
Nevertheless, let's note that BigSpy meets 3 more criteria than Drop Point. It therefore wins the Drop Point vs BigSpy battle for ad details.

We have just drawn up a BigSpy vs Drop Point comparison on 3 key points. A last point which is certainly not least concerns the other useful features of each tool. Discover the analysis on this last point in the table below:
| Other useful features | Drop Point | Bigspy |
| --- | --- | --- |
| Analysis of websites/ online shops | ❌ | ❌ |
| Ranking of the best dropshipping shops | ❌ | ❌ |
| Real-time website data | ❌ | ❌ |
| Save ads to favorites | ✔️ | ✔️ |
| Exporting favorites | ❌ | ❌ |
| Saving custom queries | ❌ | ✔️ |
| Platform translation | ❌ | ❌ |
| Data on views of video ads | ✔️ (⚠️accuracy of the data to be verified)  | ❌ |
| Extension | ✔️ | ❌ |
After observation and analysis of the table, we see that out of a total number of 9 criteria considered, Drop Point meets 3/9 against BigSpy which only meets 2/9 criteria. Seen in this way, we can say that Drop Point has a slight advantage over BigSpy.
However, each of the two tools admits its peculiarities.
Indeed, Drop Point has an extension. Note that this extension is of no use to the user of the tool. It simply allows the tool to feed its platform with ads that it manages to target through its users. So it's more useful for Drop Point itself than for users.
On the other hand, with BigSpy, it is possible to see ads for gaming and non-gaming apps. This is a very useful feature for app creators, but useless for e-merchants. Another possibility that BigSpy offers is to be able to spy on ads on several other social networks such as YouTube, TikTok, or Pinterest.

Plan and proposed price for each tool
Drop Point has a very limited Free Plan. Its use is almost useless and will waste your time.
Apart from the Free Plan, Drop Point offers a single pricing which is only 5 dollars/month. This price is hardly surprising because the tool has very limited functionalities. It is therefore rightly offered at this price.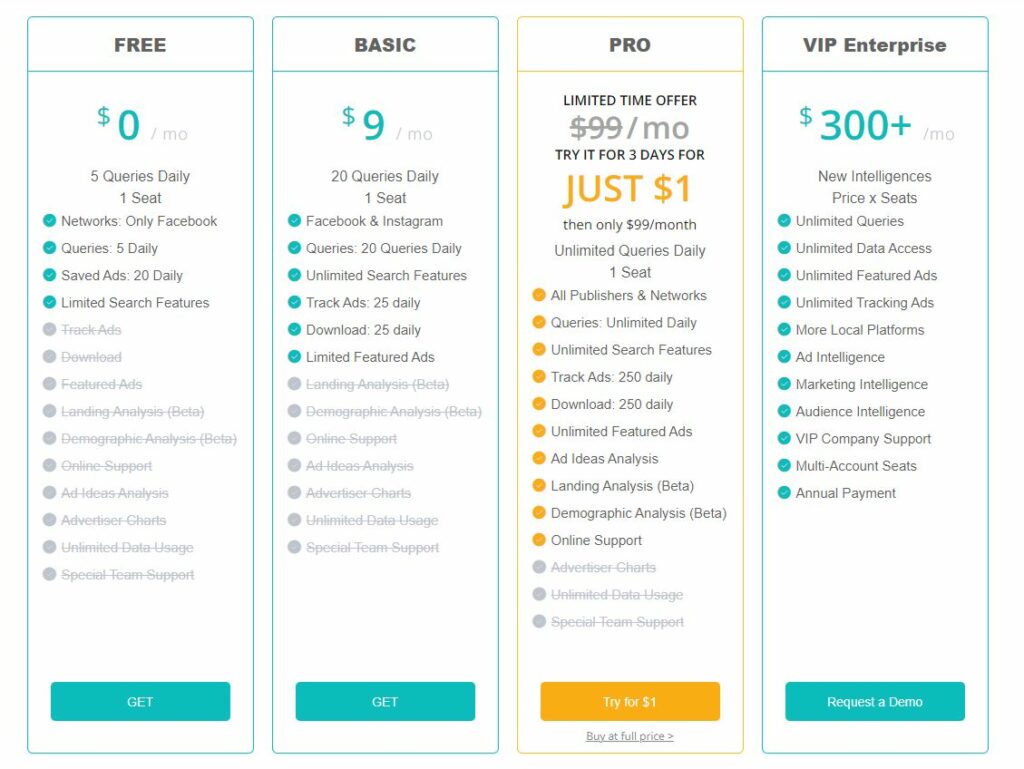 The 0 dollar plan is his Free Plan. It comes with a lock of certain search filters and a search limit set to 5. This plan does not actually allow you to test the tool.
The second plan is the $9 plan. It is limited to 20 searches. But unlike the Free Plan, it allows you to effectively test the tool and judge its relevance. Here, the only problem is that it is not possible to do an efficient search given the number of possible searches per day.
In addition, you can benefit from all the features of BigSpy described in the context of this comparison by subscribing to the third plan which is 99 dollars. What makes this plan even more interesting is that it allows you to have access to ads from several other social networks. And that's not all ! You have the option to test this plan for 3 days for a flat fee of 1 dollar.
A quick analysis of the pricing practiced by each tool shows that Drop Point is the tool that offers the lowest price. However, given the limitations of the tool, it cannot be made a winner by taking this criterion alone into account.
Indeed, BigSpy offers the possibility of subscribing to very affordable plans and benefiting from a unique research quality.

Drop Point vs BigSpy : Which one to choose ?
The result of the Drop Point and BigSpy comparison that we have just established is without appeal. Although each tool has its particularities, let's remember that the most important thing is the final service provided to the user.
The dream of every savvy Dropshipper is to achieve positive results and that will never change. This being the case, which of the two tools really makes it possible to realize this dream? Here is the big question that we have answered through the content of this article.
An objective analysis of the results of the BigSpy and Drop Point comparison leads to the conclusion that BigSpy is the big winner of this Battle. Four points of comparison were discussed, namely: advanced search and filtering; ad volume, ad information and other useful features. A comparison of the two Adspy tools on these listed points has established BigSpy as the tool that admits more features and offers many more possibilities.
On the other hand, regarding the monthly pricing applied, Drop Point apparently has a much cheaper price than BigSpy. However, a thorough analysis on this last point reveals that Drop Point offers this price considering the many useful features that the tool does not have unlike BigSpy.
Here we are at the end of this Drop Point vs BigSpy comparison. Your suggestions, comments and questions are eagerly awaited. We also invite you to visit our blog to discover several other comparisons that we have taken care to establish to help you make a wise choice in order to move forward in the context of your activity.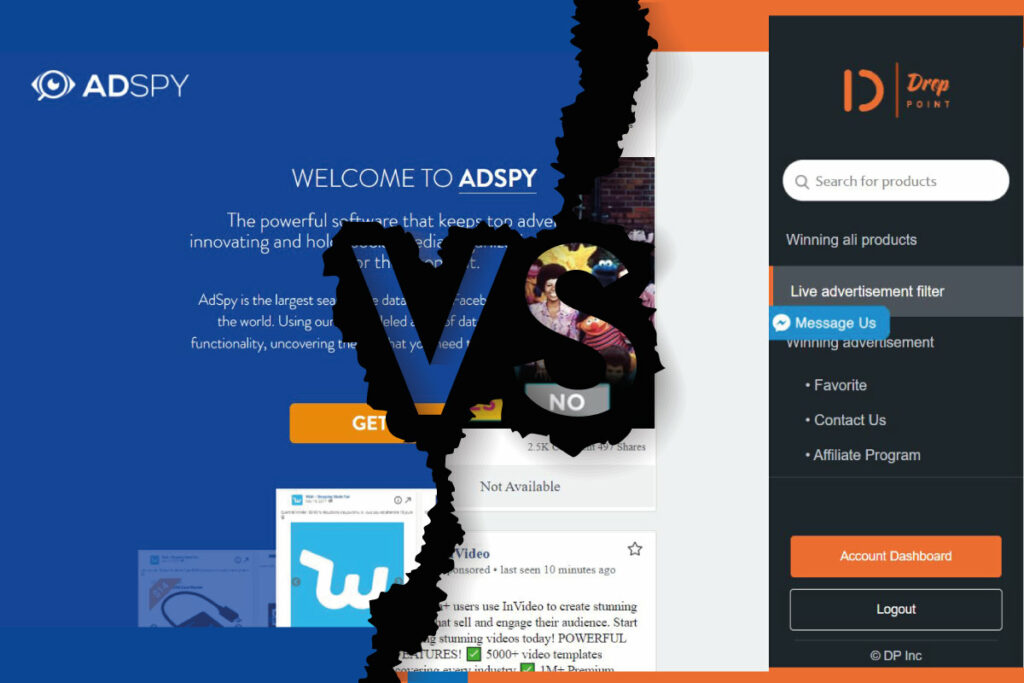 As an e-merchant, do you have a real idea of who your competitors are? Do you know the marketing strategies they adopt, the products...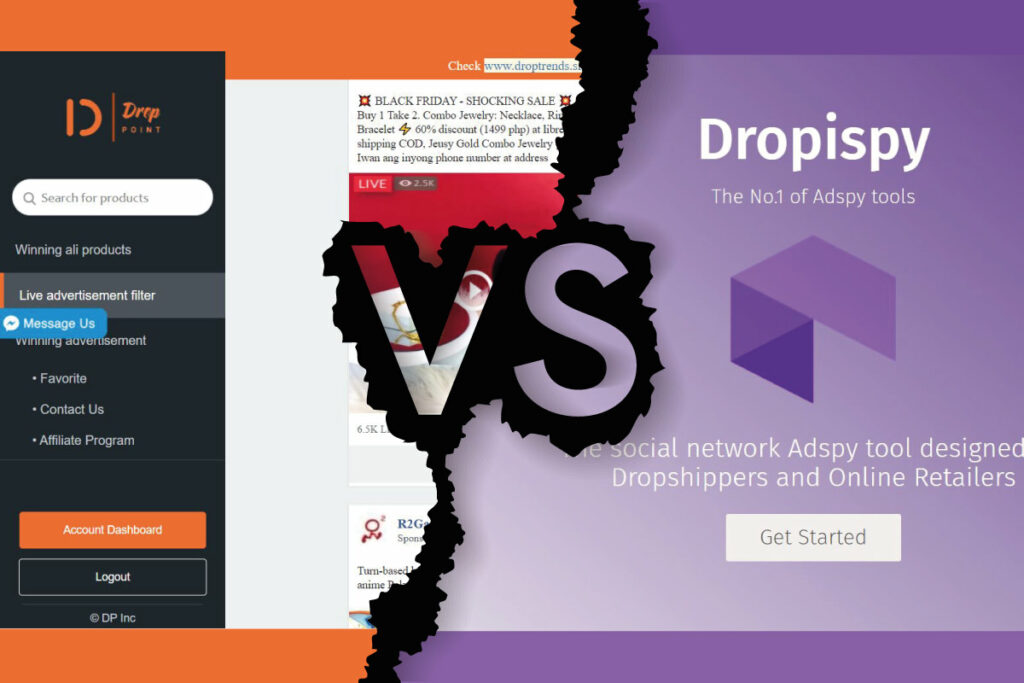 Competition in electronic commerce is getting tougher and tougher. However, it is essential for any Dropshipper or e-merchant to know the best free or...