Competition in electronic commerce is getting tougher and tougher. However, it is essential for any Dropshipper or e-merchant to know the best free or paid Adspy tool to use in order to have winning results. It is with this in mind that we took the example of the two tools Drop Point vs Dropispy to inform and guide especially anyone who is or wants to get into Dropshipping, e-commerce.
We have written an article dedicated to the Drop Point tool, do not hesitate to consult it.
In the lines that follow, you will discover how these two tools work, the major differences between Drop Point vs Dropispy, then their available plans and pricing, in order to make the best choice.
What are the Drop Point and Dropispy tools ?
Drop Point vs Dropispy are two social media ad spy apps. Before getting to the heart of the matter, it would be great to introduce them to you so that you get to know each one.
Drop Point definition : find out what it is !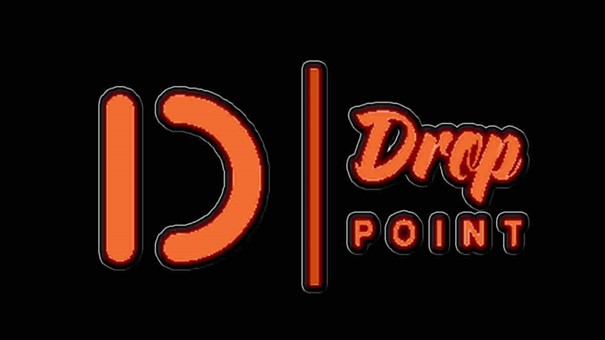 Drop Point is a digital marketing software available to any internet user who needs to promote their products to a large audience. It is said to be one of the most regarded online advertising platforms in terms of ad spyware! However, our analysis will show whether its reputation is as high as to rank it first before the Dropispy tool or not.
It is a versatile software for managing many aspects of online businesses. It is most useful in finding ads with creative ideas, spying on competitors in their social media activities, and tracking ad performance.
Paid or free Drop Point is suitable for several social media. Moreover, beyond its adaptation, it clearly works with these platforms.
It is also an Adspy tool that helps get creative idea information about advertising campaigns and conduct product reviews. It also makes it possible to know the daily trends analyzed and stored in the database, as well as information relating to ads.
An idea about the DropiSpy tool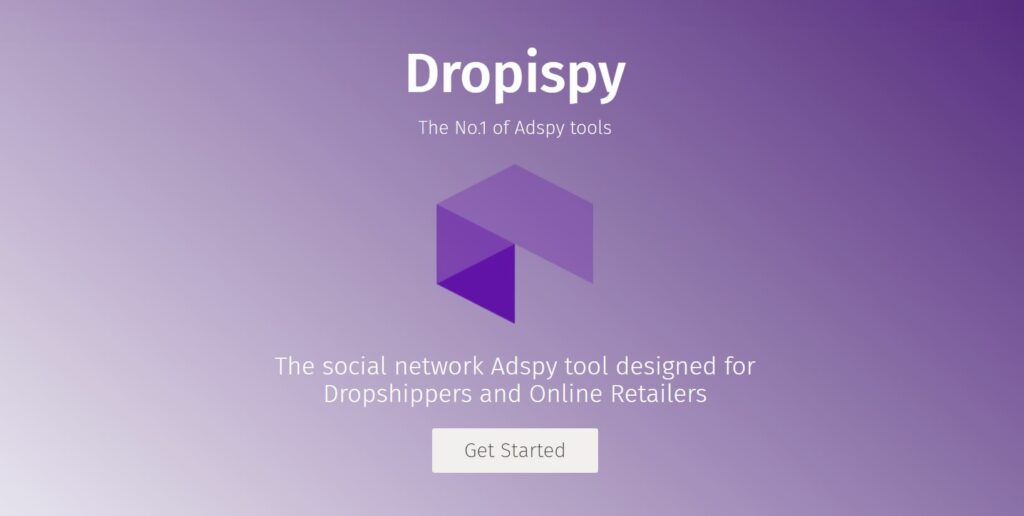 As for Dropispy, it is an Adspy ad spy tool designed primarily for Dropshippers, e-merchants. It is an essential way to find winning ads on any social media. It has many features that are very beneficial for any e-commerce.
It must be said that this is a complete French software for sourcing ads on social media. Dropispy rivals any tool, even the Adspy tool. It is able to put a myriad of potential winning products at your fingertips every time.
In addition, Dropispy has a super simple and attractive interface. Its functionality is similar to that of the AdSpy app.
Major differences between Drop Point vs Dropispy
For each means that we could use to spy on ads on social networks, to find winning or potential products, we must first oppose a little bit the functionalities of a few tools known to many in order to establish the differences between them. This will allow us to know the most successful AdSpy tool. With that, we'll walk through the essential features of Drop Point vs Dropispy, both social media ad spyware.
Advanced search and filtering
Internet market research and competitive analysis are the two essential elements of e-commerce. Just like the Drop Point tool, the Dropispy tool is a spy app that has a very intuitive and massive database at its disposal. They have a system of different filters through which Dropshippers and e-merchants are able to display ads that suit specific criteria previously defined. When it comes to social media searches, filters are indeed the most essential aspects to get winning ads. Let's see what this is all about clearly, with a comparison chart to back it up.
| Filtering and sorting | Dropispy | Drop Point |
| --- | --- | --- |
| Search by keyword | ✔️ | ✔️ |
| Search by Facebook page name | ✔️ | ✔️ |
| Search by domain name | ✔️ | ❌ |
| Search in comments | ❌ | ❌ |
| Search in the text of the landing page | ❌ | ❌ |
As we can see from the table above, the Dropispy software has the advantage over the Drop Point tool, in that it also allows you to search by domain name. Of course, like Dropispy, the free or paid Drop Point tool allows you to search by keyword, by Facebook page name, but it does not allow you to search by domain name.

Now, we will discuss how filters and sorts work for each tool.
2. Filtering and sorting ads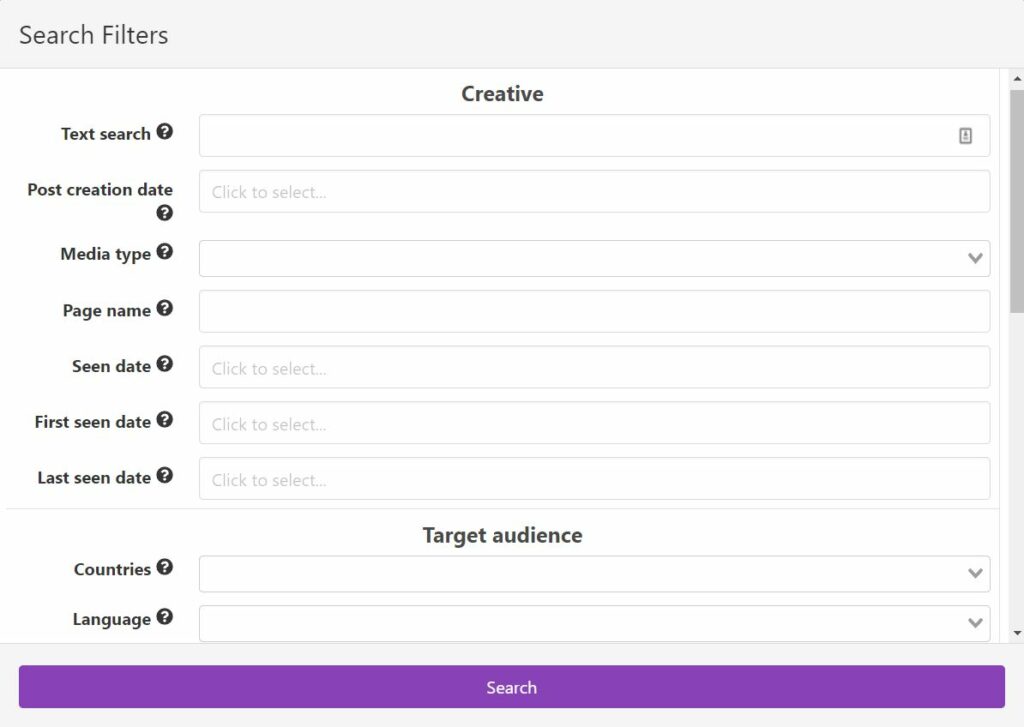 Let us make a brief difference between filtering and sorting ads when searching with these two ad spy tools. In fact, each aspect has its specific role to play for an optimal result.
Filters allow you to display only ads that meet specific criteria you set up from the start.
The goal of any e-merchant or Dropshipper is to collect ads winning ads or have more potential. For this, it is necessary to then proceed to sorting in order to reveal the best ones first.
It will therefore be a question of selecting "Like" and "Desc" in the upper right corner of the tool. This strategy allows you to sort through the ads in order to get the app to position the ones with the most "Like" first.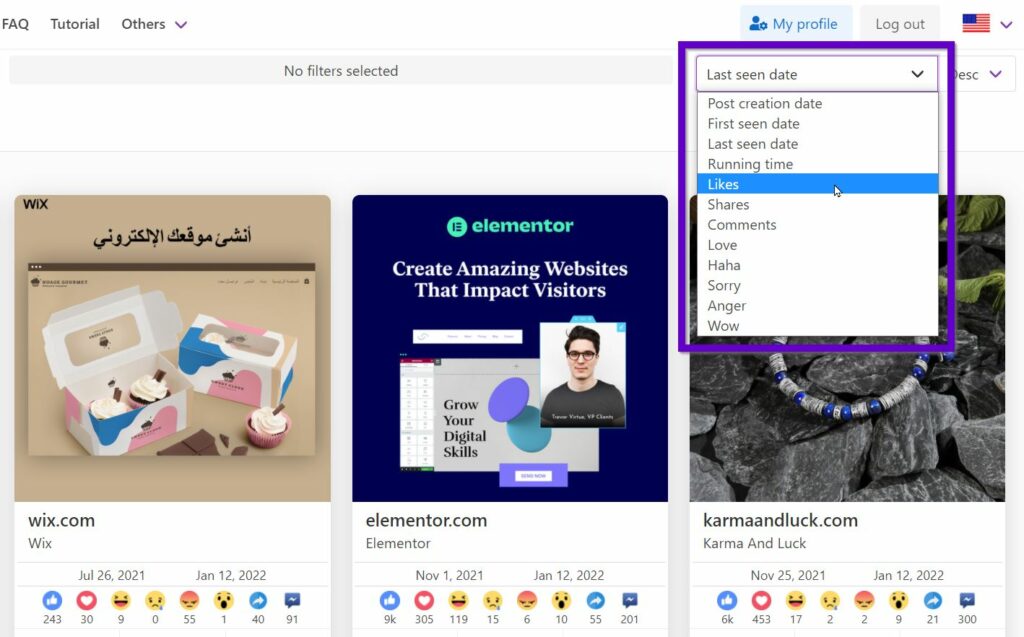 It is also possible to display the oldest or recent ads first. At this point, remember that "Asc" means "in ascending order" and "Desc" means "in descending order".
So here we have the filters and sorts followed by the comparison table:
Filtering and sorting 1
Dropispy
Drop Point
Filter by number of likes, shares and comments
✔️
✔️
Filter by number of reactions
Love, haha, wow, sad, angry
❌
Filter by type of e-commerce platform
✔️
❌
Filter by ad language
✔️
❌
Filter by type of creation
Video, image, carousel, album
Image and video
Filter by call to action
✔️
✔️
Filtering and sorting 2
Dropispy
Drop Point
Filter by daily like
Soon
❌
Filter by target audience
Age, sex, country
❌
Filter by dates
Last view, creation, first view, view
view
Sort by date
Last view, creation, first view
❌
Sort by like, share
✔️
✔️
Sort by number of reactions
Love, haha, wow, sad, angry
❌
Sort by number of comments
✔️
✔️
Sort by duration (running time)
✔️
❌
Dropispy still has the advantage over the Drop Point tool in several ways in terms of filters and sorts. Of course, Drop Point and Dropispy allow you to filter by the number of likes, shares and comments, filter the Call to action, and also allow you to sort likes and shares, then the number of comments.
Apart from these points that we have just mentioned, Dropispy also allows you to filter the number of reactions, to filter the ads by type of e-commerce platform, by language of the ads, and also by the number of likes by day.
Likewise, unlike Drop Point, the Dropispy tool filters by target audience and is ahead of Drop Point compared to the filter by date. In addition, Dropispy gives the advantage of sorting by date, sorting by number of reactions and by duration.
One of the most important criteria of Adspy tools is ad volume. Because it defines the quality of social media ad spy tools. So, when there is a large number of ads collected in their database, it's easier to find unsaturated winner products.
In addition, it is really advantageous to rely on data from the past, because it allows you to have an eye on one or more ads of your choice in order to know which ones work best and which you may use in electronic activities. On this point, what is wonderful is that the older an Adspy tool, the more massive and complete its database becomes.
To compare Drop Point vs Dropispy tools, we are going to base ourselves on a common search for their database. This will involve knowing the general ad volume and e-commerce ad volume.
For example, when we search for the following ads:
– Date the ad was viewed: within the last 7 days.
– Number of likes: More than 75,000
When we do this search on Drop point, we have only 9 ads in the results.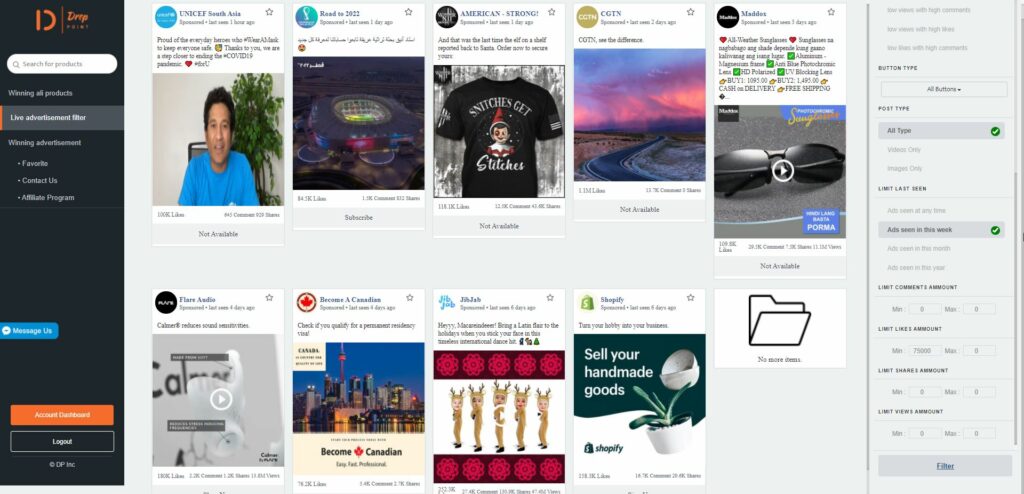 With Dropispy, doing the same search, there are at least 1000 ads according to the same search filters made in the same period. It is then totally impossible to count the number of results. It is therefore inconceivable to compare Drop Point to Dropispy in terms of the volume of e-commerce ads, which is a clear indication of Droppoint's very limited database.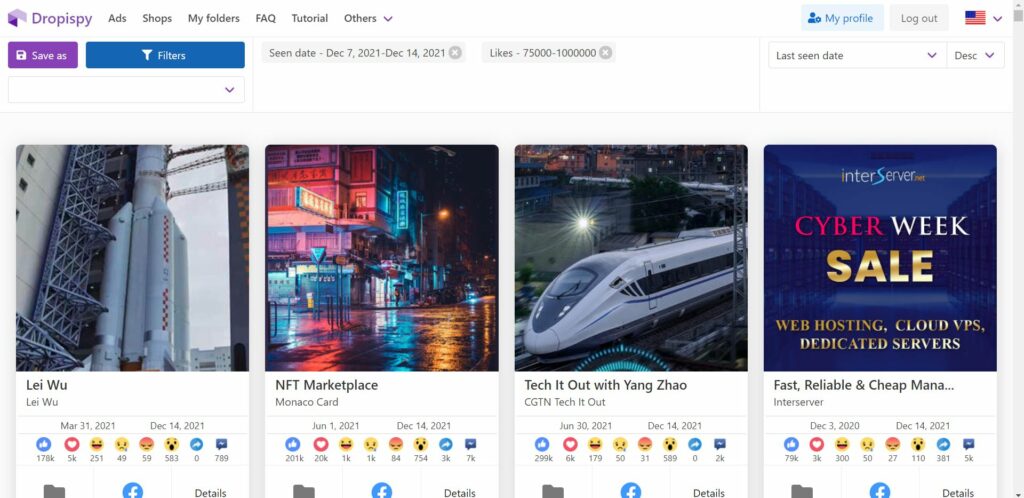 We will not be able to study this point, because the Drop Point tool does not allow to filter the ads by e-commerce platform, and thus, to know if the ad promotes an e-commerce product or not.

Now, let's talk about information about announcements. They allow efficient data analysis.
This information is found on a detail page of an ad and allows for effective analysis. With a methodical confrontation of the two Adspy tools, we will understand that it is clearer that Dropispy is again strongly ahead of the Drop Point tool this time around.
In the table below, you will see the details of the comparative study of Drop Point vs Dropispy:
Ad information 1
Dropispy
Drop Point
Engagement
Likes, comments, reactions, shares
Likes, comments, shares, views
Audience analysis
age, sex, country
❌
Display of top comments
❌
❌
Display of outgoing links
✔️
✔️
Screenshot of the seller's shop
✔️
❌
Media download
✔️
❌
Ad information 2
Dropispy
Drop Point
Display of dates
Last view, creation, first view, view
Last view
Evolution of the number of likes over time
✔️
❌
Evolution of the number of shares over time
✔️
❌
Evolution of the number of reactions over time
✔️
❌
Real time data
✔️
❌
Other ads from the same website
✔️
❌
Advertiser's website data and analysis
✔️
❌
Down the line, those are just two things the Drop Point tool takes into consideration (engagement and showing outbound links).

Now we understand that the gap between the 2 tools is widening… By the way, if you want to make new discoveries about another powerful adspy tool, we invite you to read our article Drop Point vs Bigspy.
Apart from those features that we have covered so far, there are others that are also of great use. See what it is in this table:
Other useful features
Dropispy
Drop Point
Online stores analysis
✔️
❌
Ranking of the best dropshipping stores
✔️
❌
Real-time website data
✔️
❌
Saving favorite ads
✔️
✔️
Export Favorites
✔️
❌
Saving custom requests
✔️
❌
Platform translation
EN, FR, DE, ES, CN
❌
Video ads views data
❌
✔️ Accuracy of the number of views to be checked
Extension
✔️
❌
These features can be summed up in three essential points: website or electronic store analysis, best store ranking, and real-time website data.
With Dropispy, the analysis of websites or online stores is done by ranking the data in a section called "Shops". First, for a successful analysis, you must start by finding the best stores on the Internet with a good Alexa rank. Then comes the discovery of a winning product thanks to the Dropispy's Shops Spy tool. This possibility does not exist in Free or Paid Drop Point.
The ranking of the best Dropshipping stores is done using the global Alexa Rank which is an international tool that ranks millions of websites in order of popularity.
With the Dropispy tool, Alexa rank is calculated by examining unique visitors and the number of page views of any site during the past 3 months. At this level, it should be remembered that the lower the result of this calculation, the better the popularity of the website.

Other than saving favorite ads, video ad views data, and extension, the Drop Point tool is lacking in other features. It is therefore very far from free or paid Dropispy.
Also, addressing the extension functionality, that of the Drop Point tool is of no use to Dropshippers and e-merchants. However, this is useful for Drop Point itself. Because it feeds Facebook ads via its users and feeds the platform with ads.
Dropispy far exceeds Drop Point. Because the database growth rate is massive and complete with the Dropispy tool. Which is not possible with free or paid Drop Point.
Available plans and pricing
Drop Point price per month : 5 dollars
Its flat rate of $ 5 per month is also much cheaper than one might infer, that this in itself justifies its much-limited usefulness to users. The Drop Point tool has, of course, a free plan that is as limited as it is unusable.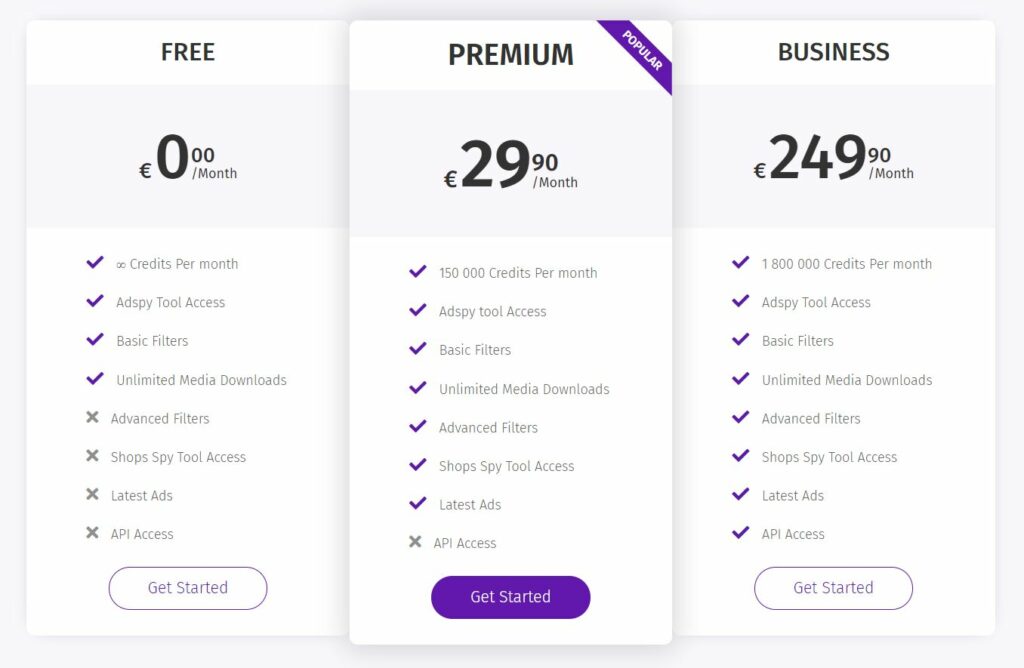 The cool thing about the Dropispy tool is that you can take your first steps for free using the tool. Only that in free plan, the announcements of the last two months are hidden from you, in addition to the locking of certain filters.

In addition, the paid Dropispy tool has a well-established credit system. With the exception of the free plan, the premium plan and the business plan have insufficient credit. Because the credits are distributed each month if you have subscribed to the monthly system, or each year if your subscription is annual.
150,000 credits are distributed to subscribers after various credit volume tests. Which is satisfactory enough in terms of its use for a month.
This is because these credits are used while you are using the tool. The system is thus designed to prevent the misuse of people who dare to fraudulently take advantage of the conditions by selling or sharing their accounts with their relatives, etc. However, this does not affect or limit your use of Dropispy in any way.
Dropispy price per year :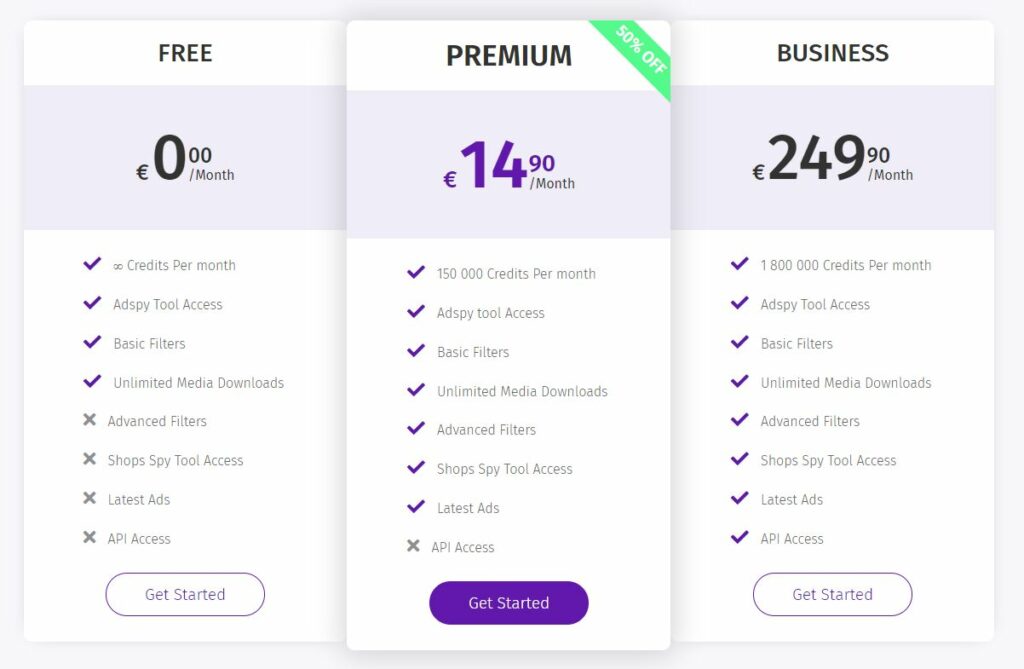 Also, another article focused on a comparative study might interest you. We highly encourage reading Drop Point vs AdSpy.
Conclusion : Which one is the winner between Drop Point vs Dropispy ?
Our analysis allowed us to identify that the two Adspy tools, Drop Point vs Dropispy are part of the best social media ad spy tools. What then to say about their comparative study?
When it comes to advanced search and filtering, Dropispy has more notoriety than the Drop Point tool. Then, compared to the information about the ads, Drop Point is almost zero behind Dropispy which has a very high level of success. The same goes for the ads' volume.
In addition, when we look at the other features of the two tools, we notice that Drop Point is far from Dropispy.
Finally, the price of the Drop Point tool is much cheaper compared to most social media ad spy tools. However, the fact remains that it is seriously flawed in its functioning. Because it is very limited in terms of functionality, searches, filters, and sorts, then it does not have a large database.
The Dropispy software, on the other hand, has all the features that no other Adspy tool has more than it. Moreover, even with the free plan, you have the ability to carry out all your online activities with winning profitability. It is complete in itself, except for a few restrictions on the free plan and the business and premium plans.
Based on these analyzes, we understand that Drop Point and Dropispy tools are cheaper compared to others on the market. In addition, they have free and paid plans in common, although there is a huge difference between them.
In the end, Dropispy is by far the big winner against the Drop Point tool.

After reading this article, you got some information about the functionality of Drop Point vs Dropispy. What are your impressions, constructive contributions and suggestions? Please tell us about it in the comments!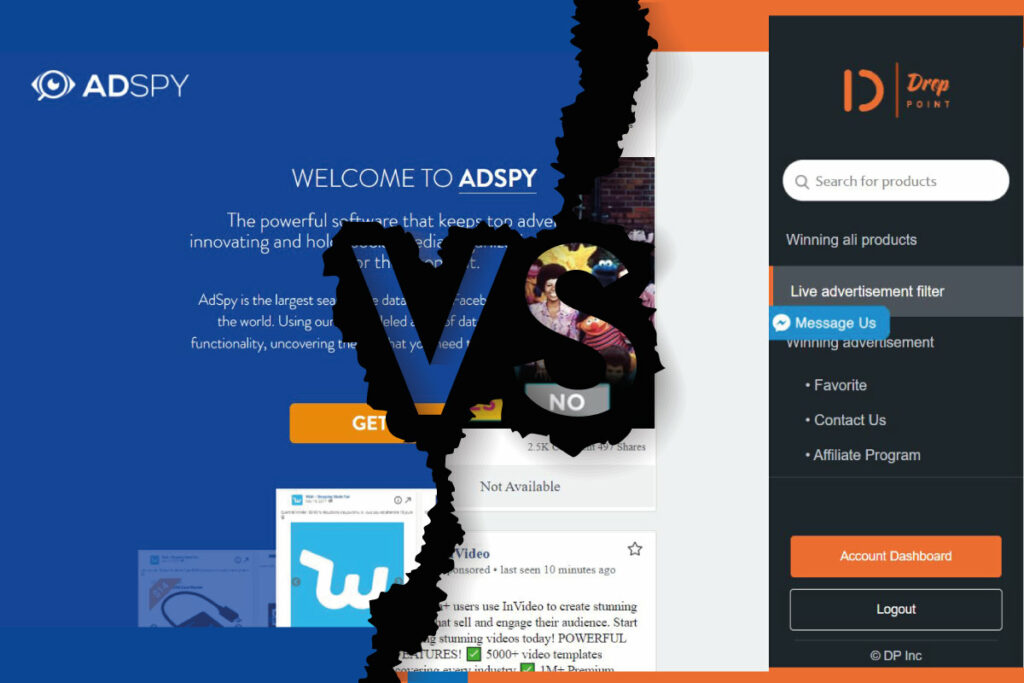 As an e-merchant, do you have a real idea of who your competitors are? Do you know the marketing strategies they adopt, the products...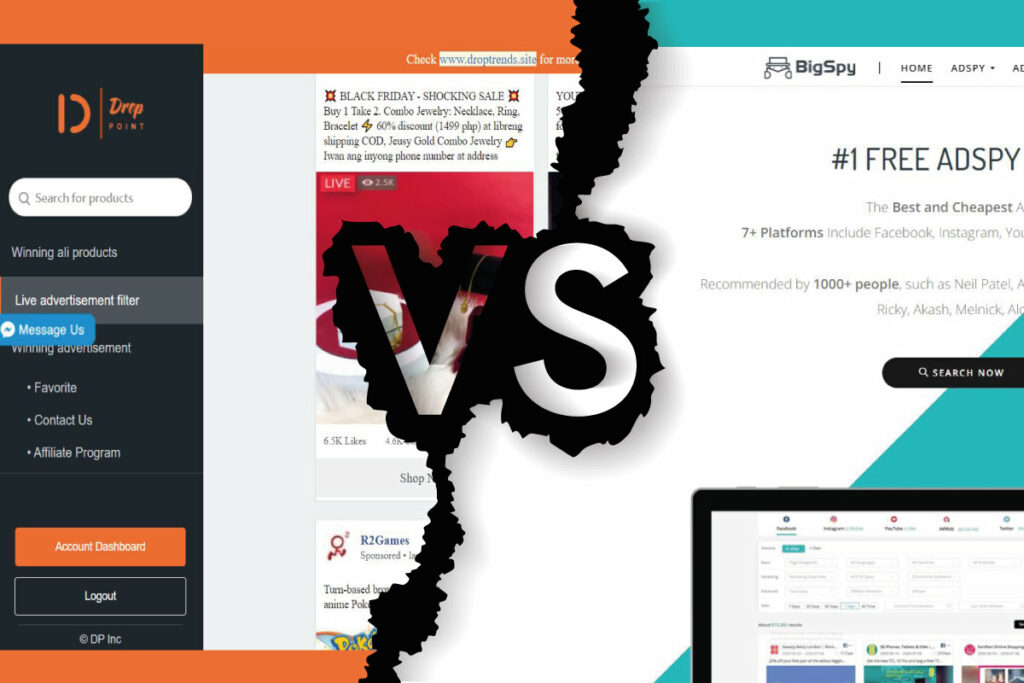 Dropshipping has evolved at cruising speed. Therefore, we are witnessing a battle of Adspy tools for the sole purpose of helping Dropshippers and e-merchants...