Dropshipping is one of the easiest businesses to start on the internet. You don't need big things to start this type of business. Indeed, this business model consists of selling products on the internet without having a stock.
You will therefore not have to manage the logistics and all the equipment that goes with it. You are just an intermediary between the end customers and the supplier, who will be responsible for delivering each customer who orders in your store. So, as a dropshipper, your profit is the margin you earn on the product sold.
You have surely understood that to succeed in this business, you have to find the right product that you will be able to sell easily.
In this article, we will discover the products of the sports niche. We will see how you can sell fitness products in your dropshipping store and make the most of it.
Why start fitness products dropshipping
The fitness niche has seen an unexpected development over the past 3 years. Previously, you had to necessarily go to the gym to exercise. Things have changed a lot today.
There are plenty of products that you can use to exercise comfortably at home. It is therefore a niche in which there is diversity and constant innovation of new products. You won't have a hard time finding a product to sell very easily.
Reasons to start in the fitness products niche
Constant niche over the year
On the other hand, the pandemic has been a development lever for this niche.
Being confined, the sport had become a good way to kill time. The advent of influencers was also a trigger for this niche. They influence their community, which is developing more and more interest in the sport. Many people share their evolution, and the transformation of their bodies through sport, and this encourages more people to get into the sport.
All this leads to an ever-increasing development of the audience for this niche.
Another reason why you should go into dropshipping sports products is for market stability. After doing some keyword research on Google Trends, we noticed that the niche has a trend that is pretty consistent throughout the year.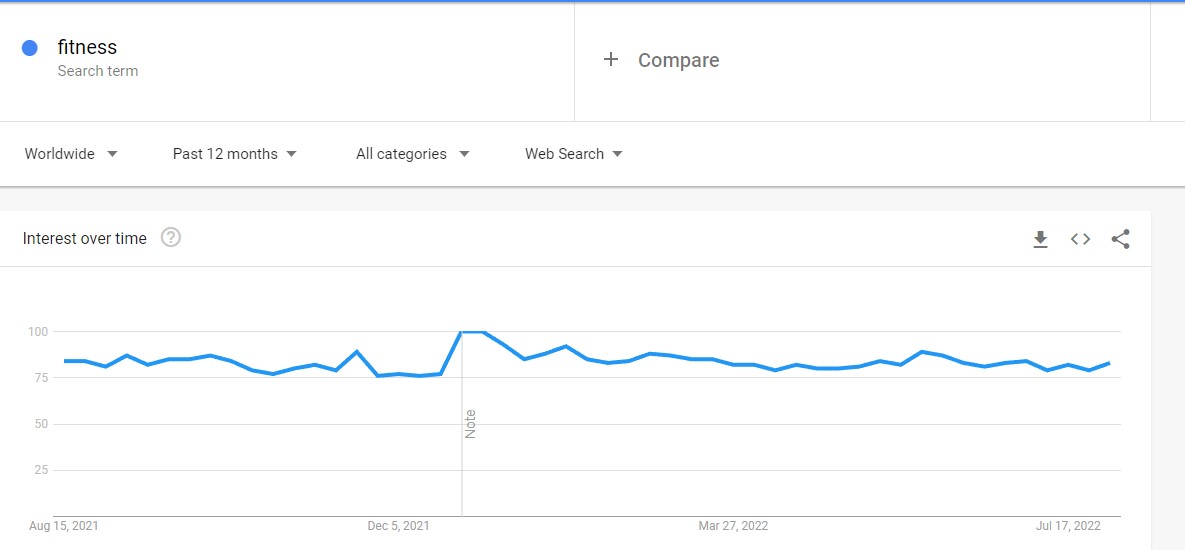 This means there is no fixed trend for sports products, and you can set up a store and sell at any time of the year and throughout the year. Which can be very beneficial for you, because you will have a functional shop throughout the year.
What to sell as a fitness product?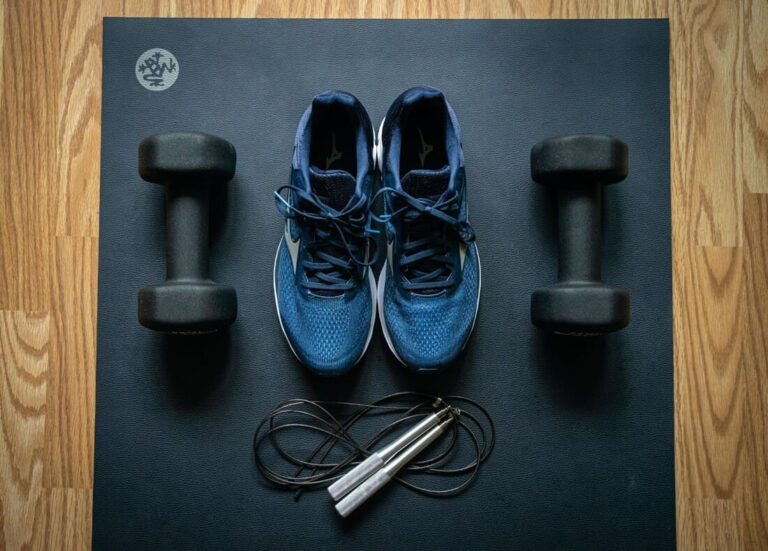 The fitness niche is large enough to be subdivided into several other categories. We can distinguish, for example:
Home gym equipment
Equipment for practicing yoga
Rehabilitation products
Muscle recovery products
Sports nutrition products
Indeed, in the creation of your store selling sports products, you can either create a general store or a niche store.
A general sports niche store is a store where you will sell any kind of sports product. It could be home gym equipment, muscle recovery products, or sports food.
The advantage of a general store is that you will have a very large audience, and you will have no difficulty promoting your products. However, conversion rates may not be very high, as your prospects will be presented with an array of products to choose from each time.
Experiences have shown that many customers end up abandoning the purchase if they are given too many options. They simply give up because of the number of choices. This is not often the case with niche shops.
Unlike a general store in which you can find all kinds of products, niche stores are more specialized in the sale of products from a single category. So you can create a niche shop and only sell home gym equipment.
The big advantage of niche stores is that conversion rates are higher. We do not leave enough choices to the customer to encourage him to make an impulse purchase. However, you will have a smaller audience, and you will have to direct your marketing strategies very well towards the right target.
If you are new to dropshipping, we strongly recommend that you opt for a nested store. You will spend less money on advertising, and you increase your chances of being profitable.
Requires a substantial advertising budget
Enough experience in the market
Not recommended for a beginner
Average advertising budget
Recommended for a beginner
How to find winning products from the fitness niche?
When you start dropshipping, finding the winning product is one of the most important steps. If you mess up this step, you will have enough difficulty in the rest of the process.
Fortunately, with the product search tools available in the market, product search has become easier and not time-consuming anymore. All you have to do is find the right product search tool for you.
With this in mind, I recommend you to use the product search tool Dropispy which is one of the best product finder tools available in the market. Thanks to its database of several million ads, you only need a few clicks to find your winning product.
Dropispy is specially designed to spy on the ads that are the most successful and whose statistics prove it. The more successful an ad is on social media (high interaction), the more likely it is that the product will sell well in the advertiser's store.
Dropispy specializes in spying on successful ads.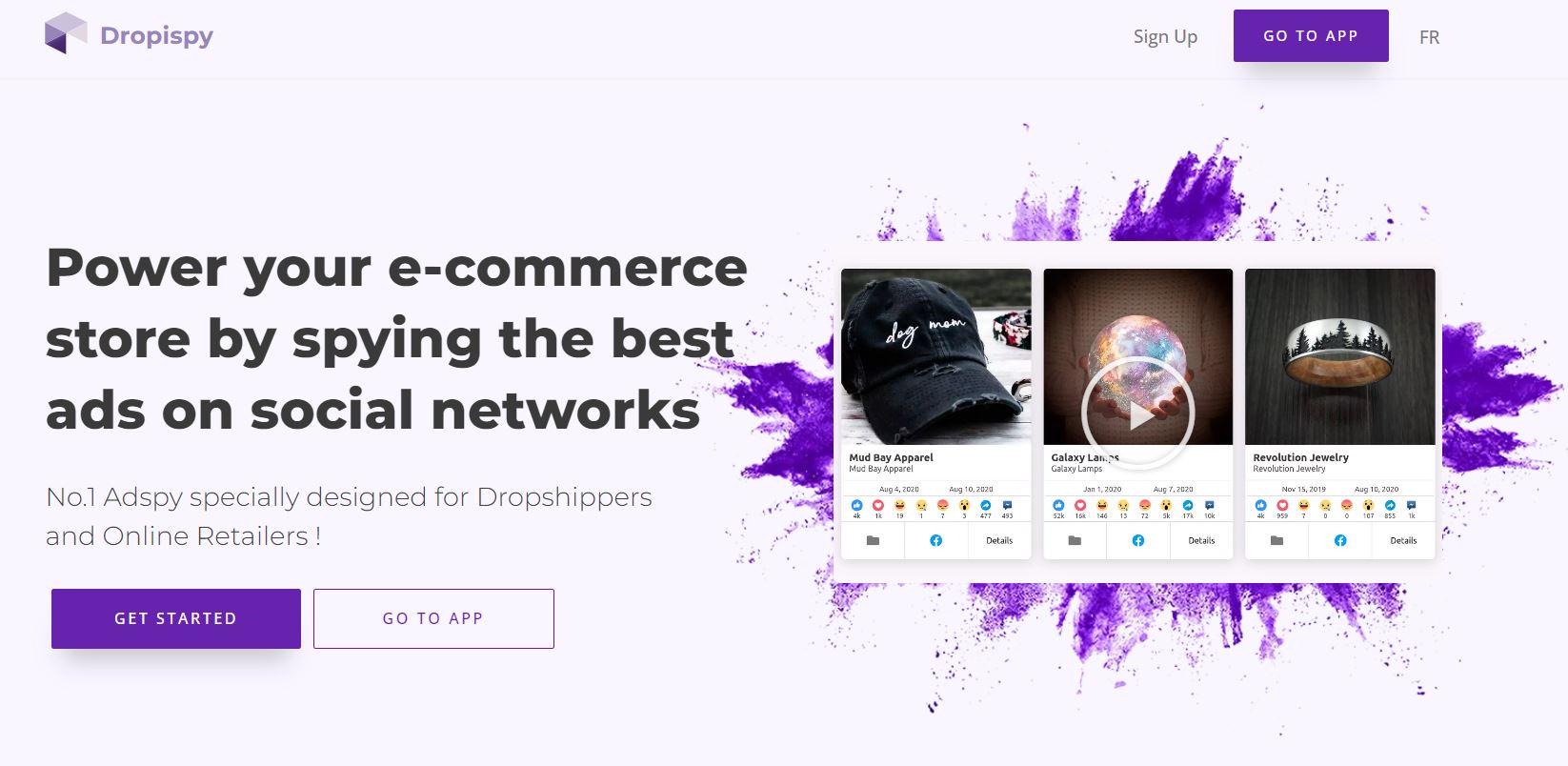 The app also has another feature that is very useful for dropshippers. This is the analysis of the shops. Indeed, with Dropispy, you can analyze your competitors' stores and learn more about their marketing strategies.
It is always advisable to take inspiration from what is already working with competitors in order to put in place your own marketing strategies. Dropispy, therefore, allows you to keep an eye on your competitors.
Some examples of fitness products to sell
Here are some examples of sports products that you can test on your dropshipping store.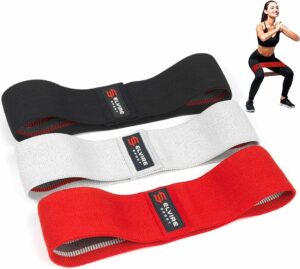 These are elastic resistance bands specially designed for women. They allow you to work the glutes without having to go to the gym. This product was among the best-selling products during the pandemic.
It subsequently became a trend product and still sells very well. Do not hesitate to test it in your store.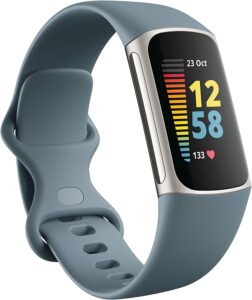 The connected watch is one of the latest innovations in the sports niche. It is a very complete watch that allows you to follow the activity of the body during exercises. To sell this product well in dropshipping, you must highlight its long-lasting battery advantage, which can last for more than 5 days.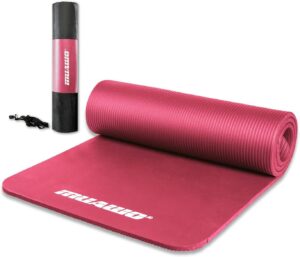 This sports mat was one of the best-selling products in this niche during the lockdown. The product still continues to work. You just need to find the right marketing arguments.
It is a product that any athlete can use for their exercises. It can also be used to practice yoga. It is very comfortable for the body and can even be used while camping.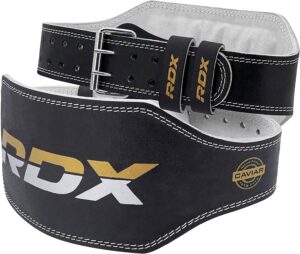 The bodybuilding belt is a product that is already selling well that you can also sell in your dropshipping store. This belt is very practical for those who do strength training and lift heavy weights. The one in very solid and very comfortable cowhide to be used for several hours of training.
These are some potential winning products that you can start testing on your dropshipping store. You can use Dropispy to find lots of other winning products.
Do not hesitate to use the filters of the tool such as the date of view of the ad, the keyword (Fitness, Sport…), the platform hosting the store (Shopify, WooCommerce) and the interactions (Likes, Shares, Comments) to find more targeted ads.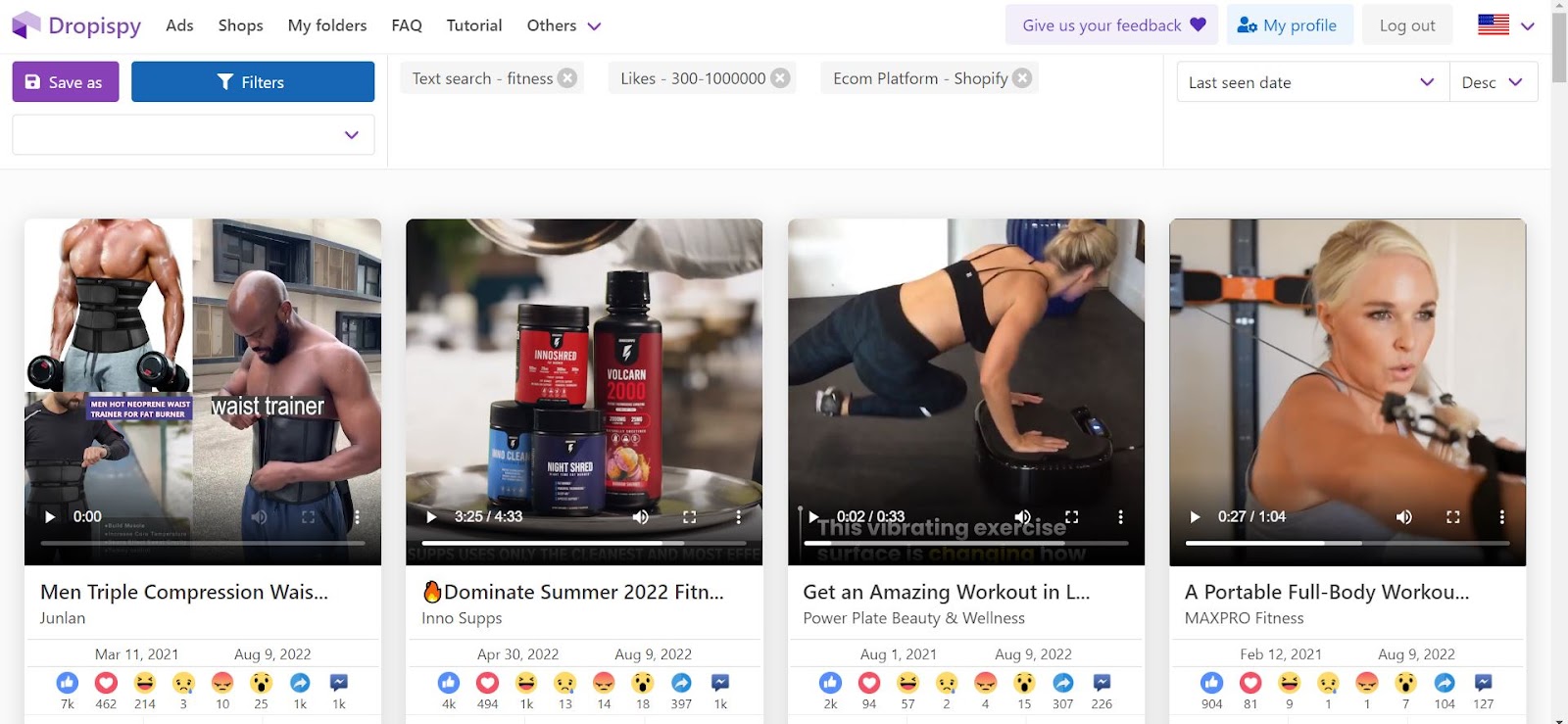 Start your
Winning Products Search

Now on Dropispy 🚀
Do you want to find the best winning products on social networks like Facebook? Try Dropispy, the most effective solution with the largest database of Facebook e-commerce ads
How to sell your sports products in dropshipping?
It is good to have an idea and find a potential winning product. Now, you have to sell well to make a profit. In this chapter, we are going to discuss the main ways you can promote and sell your fitness products in dropshipping.
Your online store is where your prospects will discover your product and make a purchase. It is therefore in your interest that it be attractive and very convincing. I recommend that you start with a niche store that requires less work and less investment.
If you don't have technical skills, you will need a web developer to build your site. I also recommend that you take inspiration from other dropshipping shops that are already making money in the fitness niche.
It doesn't mean copying their design or their content, but rather being inspired by them to create your own store. For this, you can use Dropispy which allows you to identify all the best shops in a given dropshipping niche.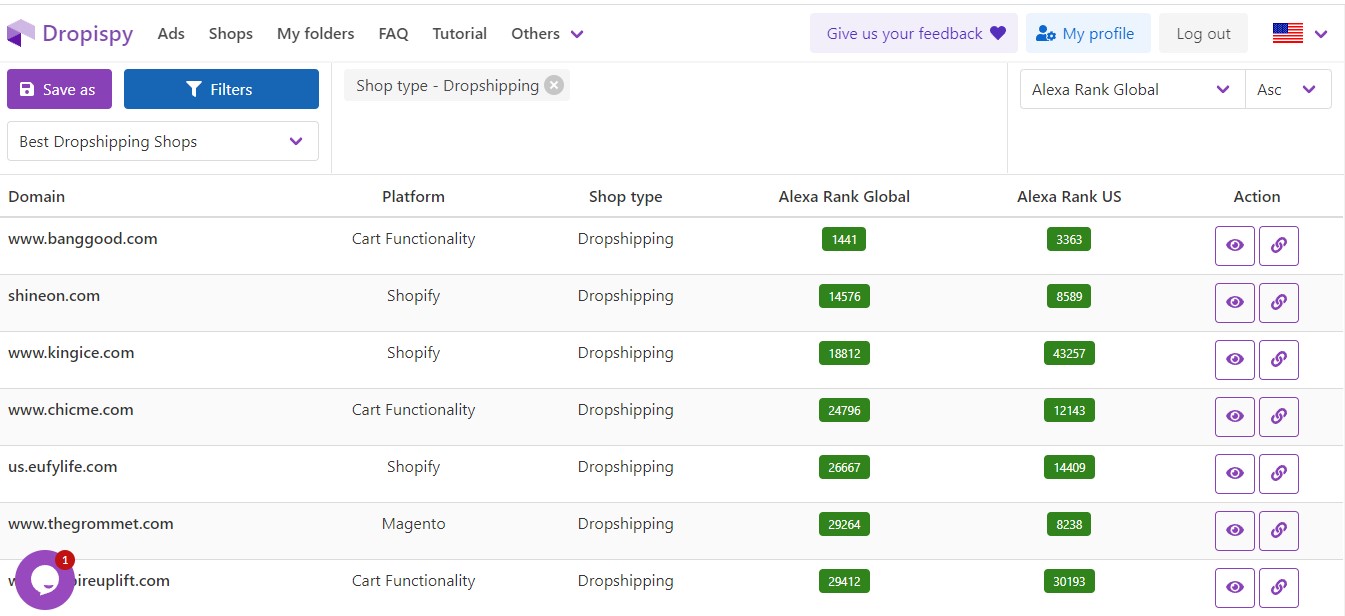 Put special emphasis on your landing page or sales page. This is the most important page on your website. This is where the vast majority of prospects who visit your site will land.
You must therefore take care of it and use the right words to trigger conversion very quickly. Do not hesitate to consult a copywriter who can help you in creating the content of your website.
Now that you have created your store, you have to find a way to send traffic to it.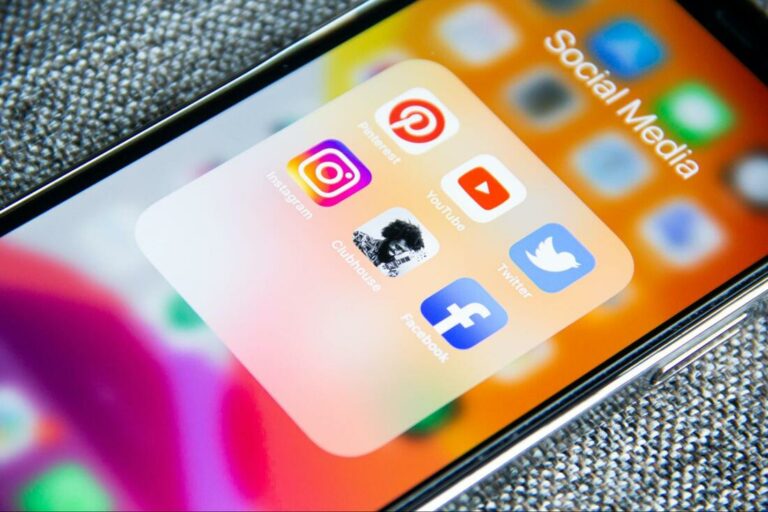 Paid advertising on social networks and search engines is the fastest way to start selling your dropshipping products. With an average budget, you can already start testing products and see which ones work before putting more budgets into them.
Moreover, you can also do targeting by targeting a group of people. Your ad will only be seen by people who belong to your target. For the sports niche, I recommend starting with paid advertising on Instagram, Facebook, or TikTok.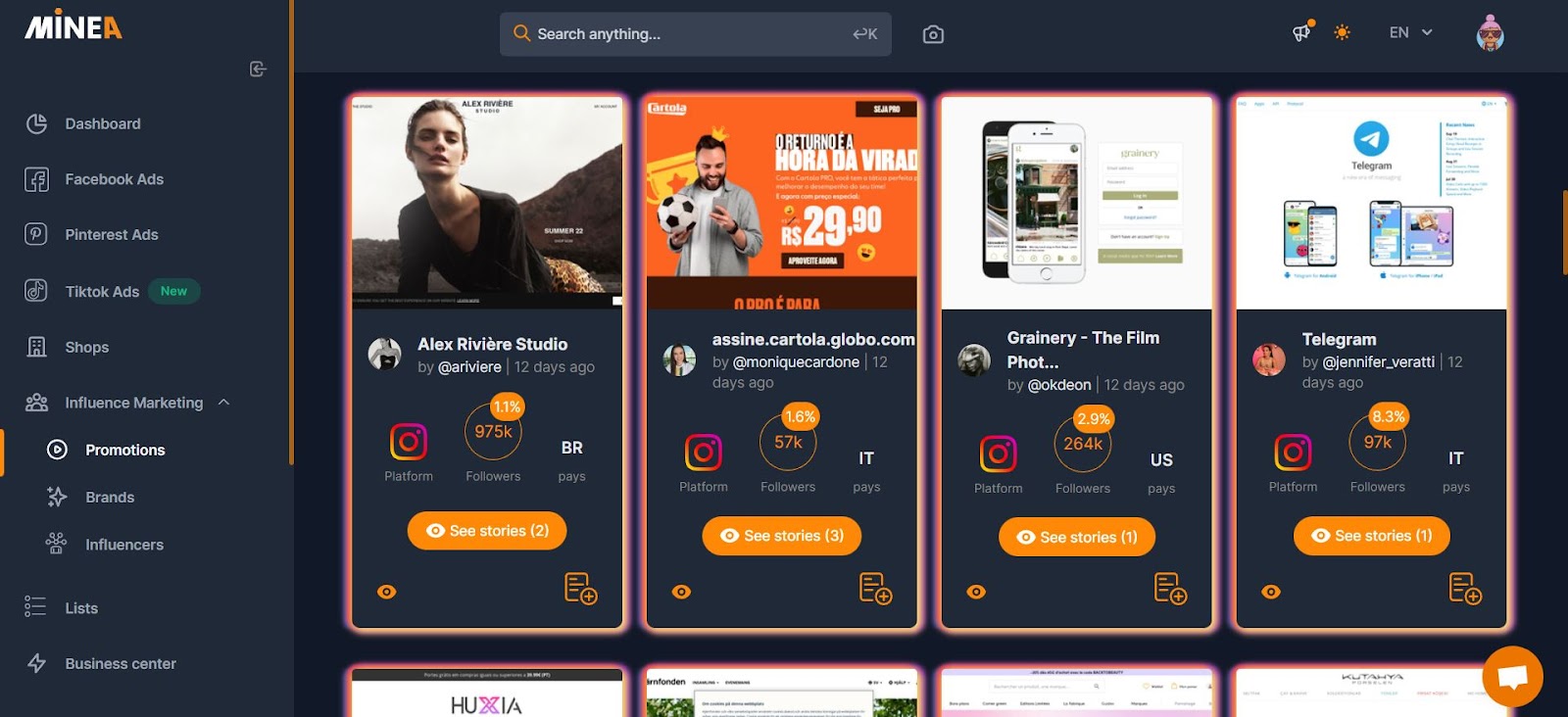 As mentioned at the beginning of this article, many people got into sports because of the influence of other people. This, therefore, represents an opportunity, because you can promote your products through these influencers who will suggest them to their audience. The principle is quite simple. You find influencers who are specialized in the sports niche, then you offer them partnerships for the promotion of your products.
It's a marketing strategy that works very well because prospects feel more confident when it's someone they know who recommends a product to them. The majority buy without thinking too much.
This doesn't mean you have to choose an influencer at random. Indeed, to find the right influencer who will allow you to make your investment profitable, you can use Minea which allows you to search for influencers according to your product.
After your search, the tool provides you with a list of influencers with data such as their audience, their profitability on product placements, their country, and their language. All this information combined will allow you to choose the best influencer.
In addition, influencer marketing is quite expensive, and it is not recommended for a beginner.
Create a community around your product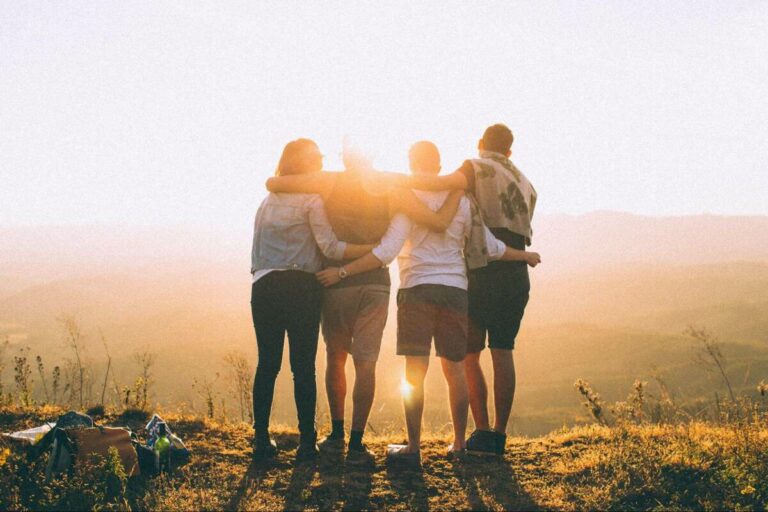 You can also build a community around your product. It is a marketing strategy that takes quite a long time to implement, but is very profitable in the long run. Your community will be a free source of traffic for you, and you will no longer need to spend money on advertising before selling products to them.
It can be a page or a Facebook group in which you will share sports tips and advice. Above all, do not promote your products in the first place. Instead, prioritize bringing value to your community through your tips and tricks. The more value you bring, the more the community will grow.
When you have gained the trust of your audience, you can start by gradually offering them your products that they will buy without hesitation.
It is a process that is very difficult to set up, but which can be very profitable in the long term.
Create a blog on our store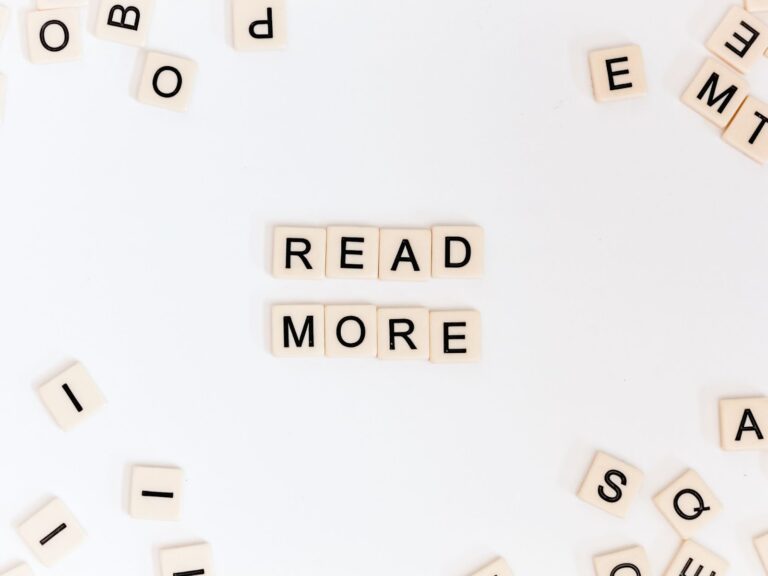 Creating a blog is also a good way to get your prospects to take action. The blog will be associated with your dropshipping store, and you will share sports tips and advice (how to lose weight quickly, how to develop the glutes, how to work the abs…).
These tips will be articles published on your blog, in which you can insert links to your products. Don't forget to properly reference your articles. This is what will allow users to find you on search engines.
Blogging is also a long-term investment that requires enough work. You can either write the blog posts yourself or hire a writer. Anyway, it takes between 3 and 6 months to start having the results of the SEO of your articles.
But once your articles are well referenced, these will bring you qualified free traffic every day.
Be on the lookout for new product trends
The sports niche is in full development and innovations are continuous. New products come to market frequently. You need to watch these new trends and position yourself before they become saturated.
In dropshipping, one of the major characteristics of a winning product is novelty.
From all the above, we can remember that the sports niche is a niche with high potential for dropshipping. You can sell sports products throughout the year. It is also a sustainable niche with which you can create a community that you will make profitable later.
For a start, I recommend creating a niche store and focusing on a single product. You will be able to develop your store and expand it as you make sales.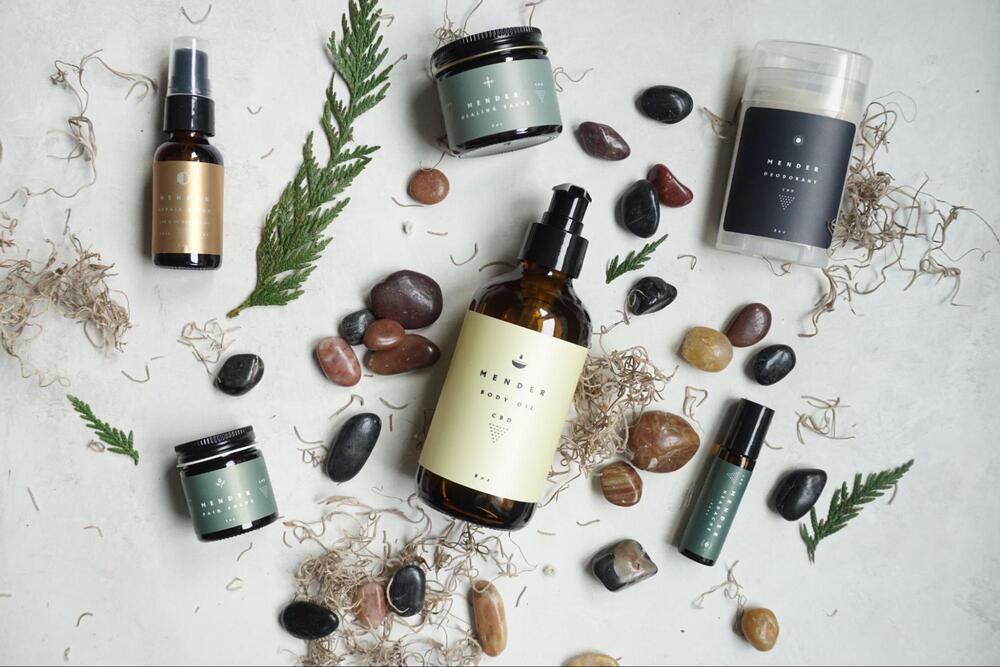 In e-commerce, there are several niches in which you can sell products and be profitable. Among all these niches, beauty products have experienced a...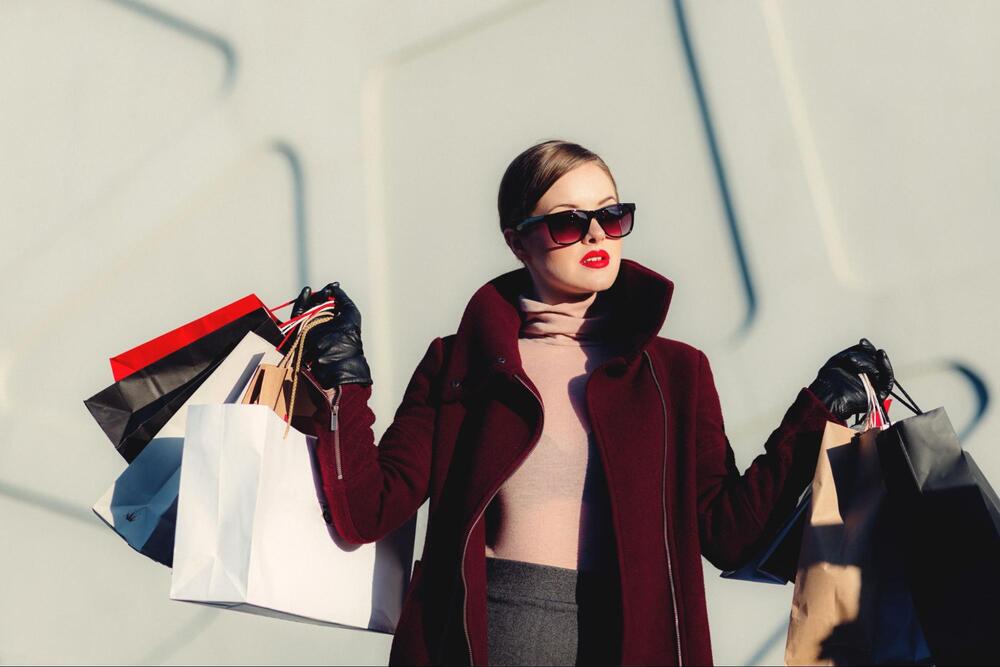 In the world of online sales, the clothing niche occupies the very first place. The products of this niche are the most sold in...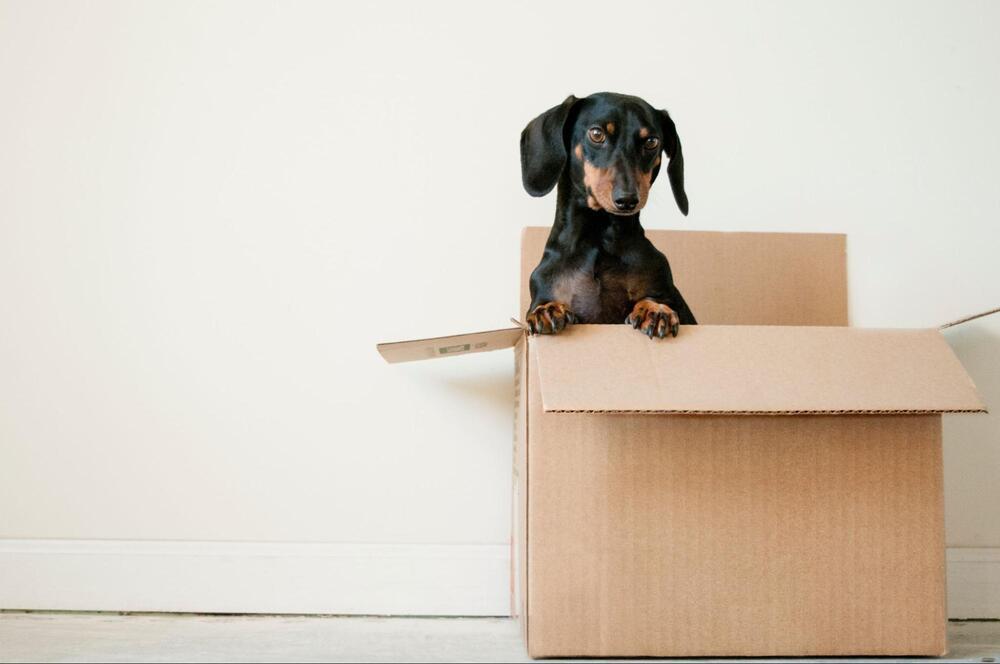 Most French people love pets. Indeed, the expenses related to the support of these animals are not negligible. Pet owners spend huge amounts on...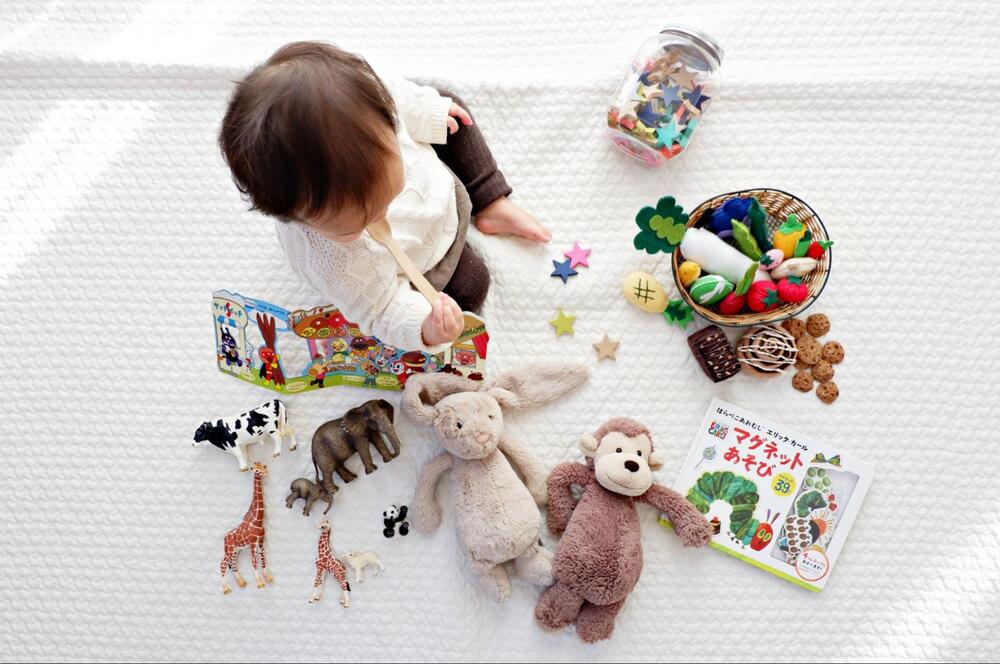 More than 385,000 babies are born worldwide every day, and parents spend a lot on the well-being of their babies. It is therefore a...