The field of Dropshipping is becoming more and more difficult due to the growing competition. So, finding winning products on Facebook can become a headache if you don't master effective methods to get there.
It is therefore common for dropshippers to invest time and money in the search for a winning product without succeeding. This situation is really distressing and pushes many e-merchants to use up their budget unnecessarily. Many end up giving up.
I also encourage you to read our article on the best ways to find products on social networks like SnapChat or Pinterest.
In this article, you'll learn the easiest and most effective ways to find winning products on Facebook.
As a bonus, at the end of the article, you will have 5 winning products that you can start testing on your online sales store.
1. What is a winning product on Facebook ?
A winning product is a product that sells easily. It solves a particular problem among its users, which makes them buy it without thinking. So you don't need an ultra skilled or highly advanced marketing strategy to sell a winning product.
In general, sales of a winning product represent more than 85% of the store's turnover. It is therefore a product that allows the seller to remain profitable.
The publication date of the ad
The region targeted by the ad
The 4 Characteristics of a winning Facebook product
Even if it remains a bit difficult to recognize a winning product on Facebook at first sight, without doing additional research, it is still possible to select potential winning products that can be tested on an online store.
Here are some features to consider when finding a winning product on Facebook:
Ad engagement:  Represents Facebook users' reactions to that ad. These are likes, shares and comments. An ad with very high engagement is already a good sign. It means that users are interested in the product.
Comments: the comments made by users on an ad provide a great deal of information about the type of product. These comments can give you clues about the price and quality of the product, the delivery time and the user experience. A product with several negative comments is to be avoided.
The publication date of the ad: the older the publication date of an ad, the more likely it is that the product promoted will be saturated. The growing competition in the field of dropshipping is proof that a product can be saturated in a few days
The region targeted by the ad. Aside from an ad's post date and engagement, it's important to know where an ad gets its engagement from. Remember that the fact that a product is loved in France does not necessarily mean that it will be so in Canada. In this case, to know if the product is specific to a particular region or to know the region of origin of its many buyers.
2. Method to find Winning Products on Facebook
There are several methods to find winning products on Facebook. Among other methods, here are the ones that will really help you find your Winners:
To find winning products on Facebook, one method you can use is to scroll through your News Feed. This simply means scrolling on your screen, the different ads that will be displayed one after the other. Then you can simply identify which ones are trending and have more interactions.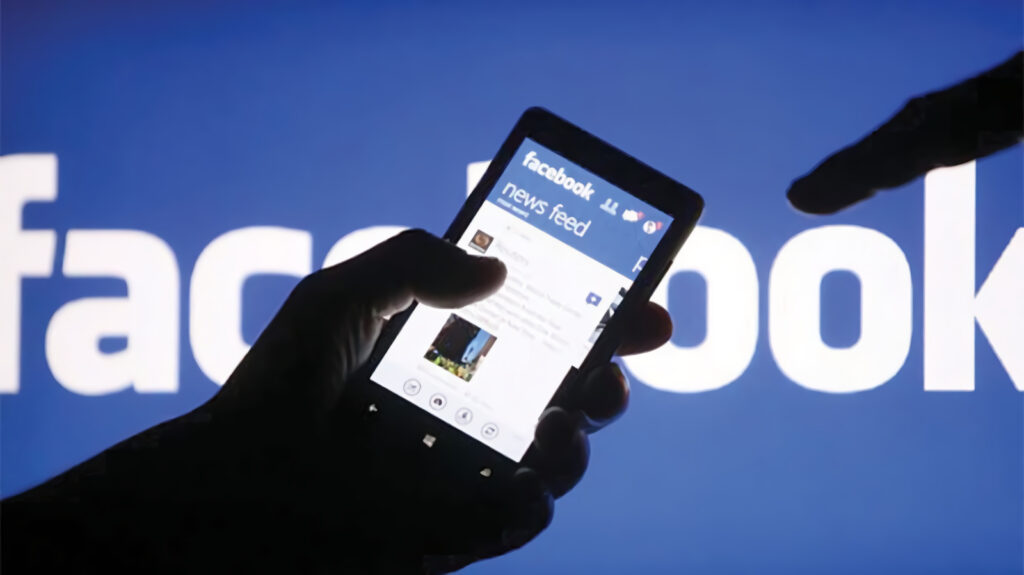 However, be aware that this method does not allow you to see a large number of ads. Indeed, on Facebook, the information displayed on your news feed relates to your user profile and also to the various actions you take (gender, preferences, ages, passions, etc.). In addition, Facebook's algorithms offer each user content tailored to their interests. As a result, you will be very limited in the ads you see in your News Feed. This can slow down your searches.
Another very interesting fact to point out is that the ads you see on your News Feed may be old ads. If they are still running on Facebook, it is probably because they are still working well for the advertiser, but for you this product will surely not work, because many other Dropshippers have had time to launch it in turn.
Later in this article, we will see extensions that make it much easier to find a winning product by scrolling the news feed.
Searching for winning products by keywords is the most used method to find winning products on Facebook. If you are a user of the social network, it is sure that you have already used this method of keyword research to find friends or publications.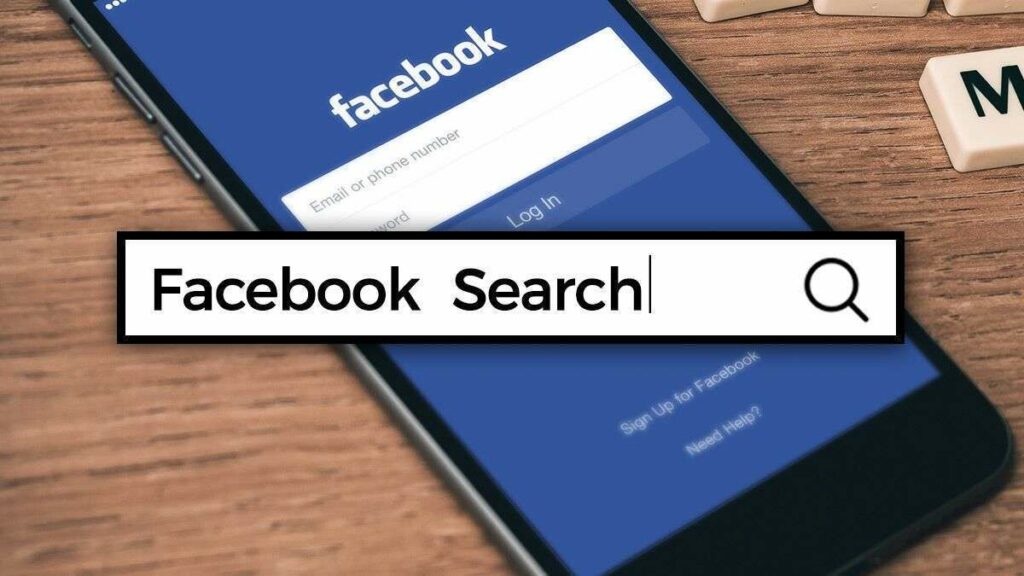 In fact, there are several keywords that are very frequently used in dropshipping product ads: limited stock, buy yours, get it here, Free shipping, 50% / 20% off, shops now, etc.
Take for example the keyword "free shipping". By typing it in the search bar of Facebook, here is what is displayed: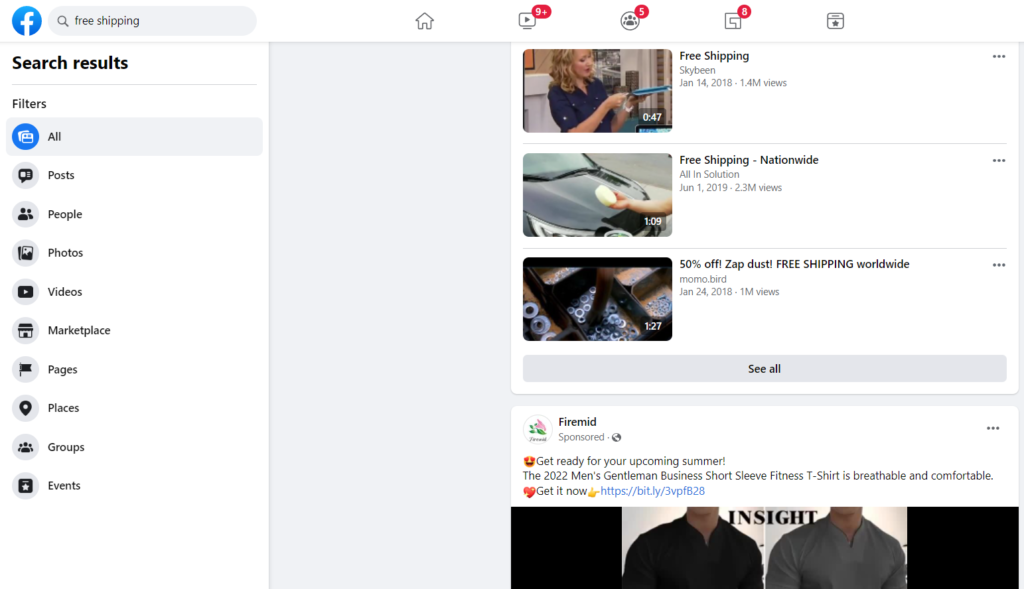 It is also possible to display only videos related to your search topic by choosing this option in the bar on the left: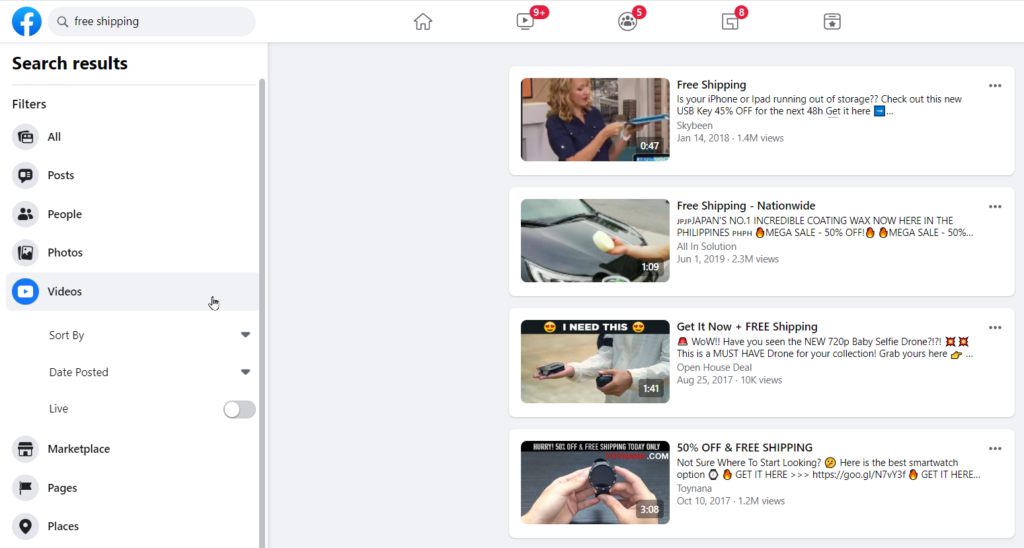 In addition, you can also refine your search results by choosing the filter criteria offered such as the year, the month of publication of the ad.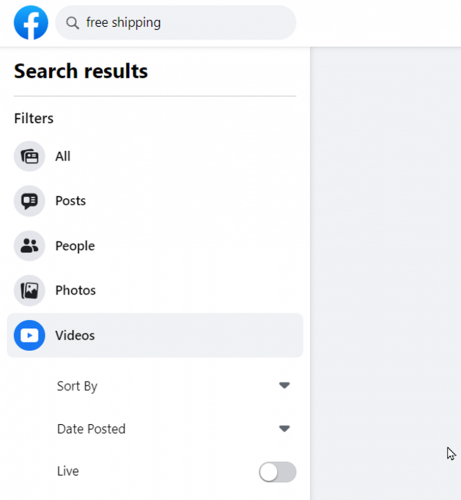 This method is much more efficient than the previous one
Find Facebook pages of other Dropshipping stores
Another great way to find winning dropshipping products on Facebook is to identify dropshipping store Facebook pages. In addition to allowing you to discover what the competition offers in terms of product, you will also learn about their winning strategies.
Researching competitors' Facebook pages can be tedious. But if you use the different tools that you will discover below, you can achieve this very easily.
Myip.ms is a website that allows you to search for online sales shops. Since the majority of dropshipping stores are created on platforms such as Shopify or WooCommerce, you can search for only this type of store on the website.
As soon as you find a good dropshipping store, you can easily find their Facebook.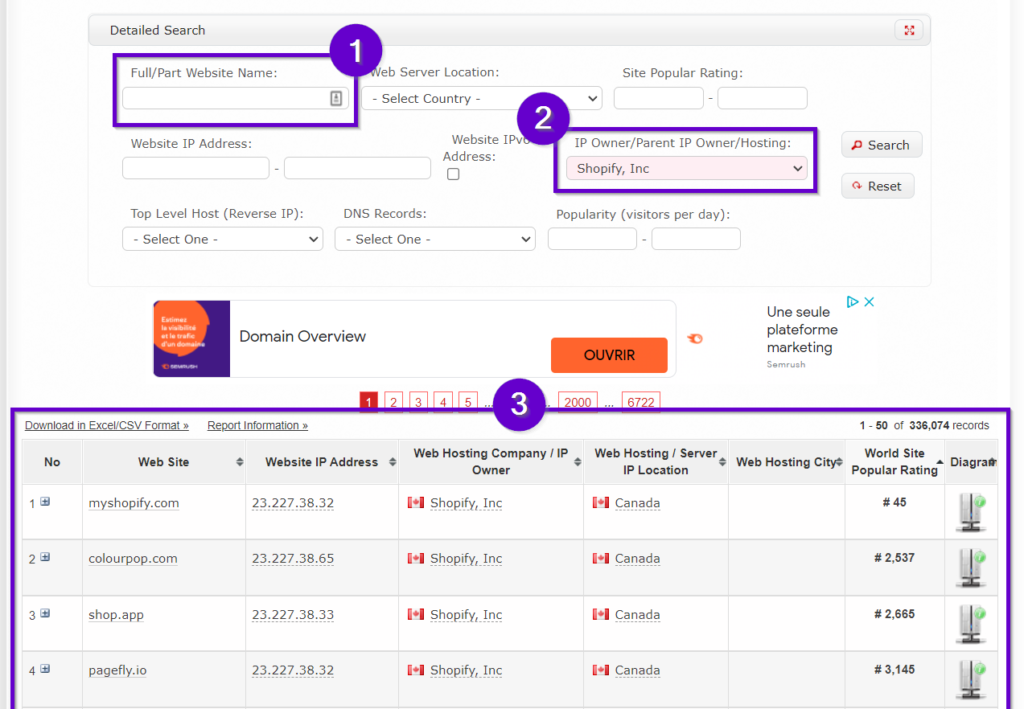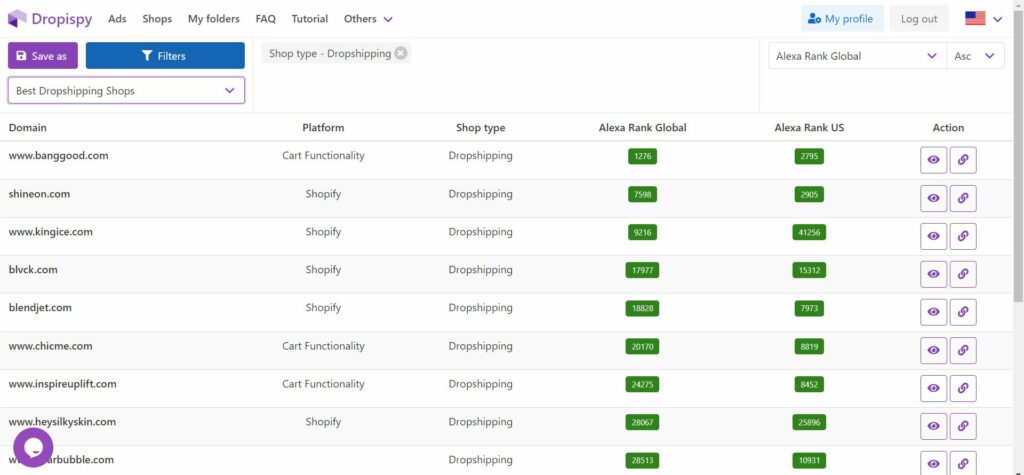 "Related Pages" is a Facebook feature that suggests pages similar to the one you are browsing.
When you find the Facebook page of a Dropshipping designer, you can go to the "Related Pages" section. Indeed, Facebook provides 3 similar pages. This is an additional way to discover even more Facebook pages for the purpose of studying them!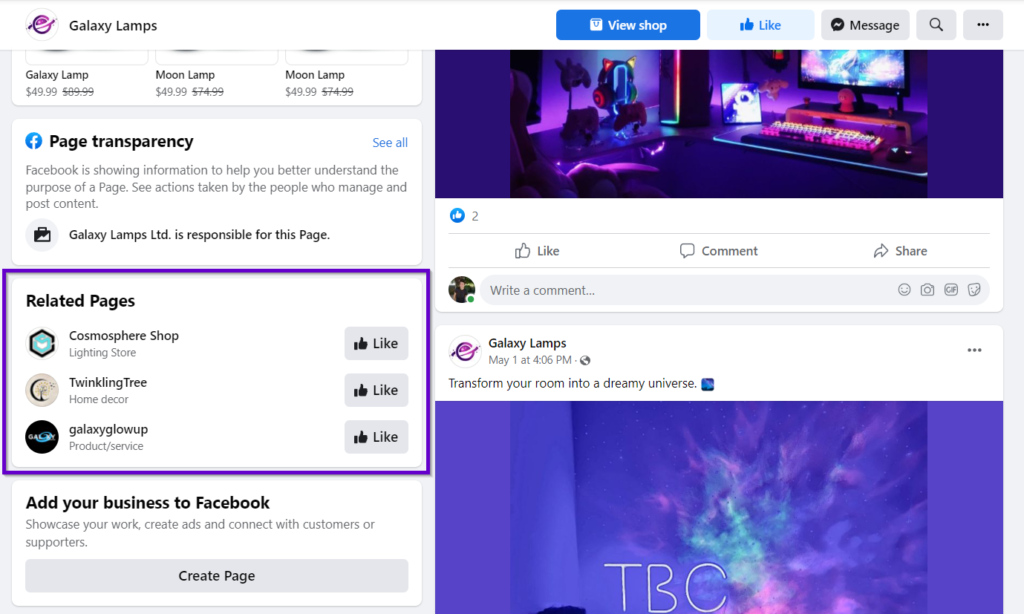 Facebook Ad library (Meta)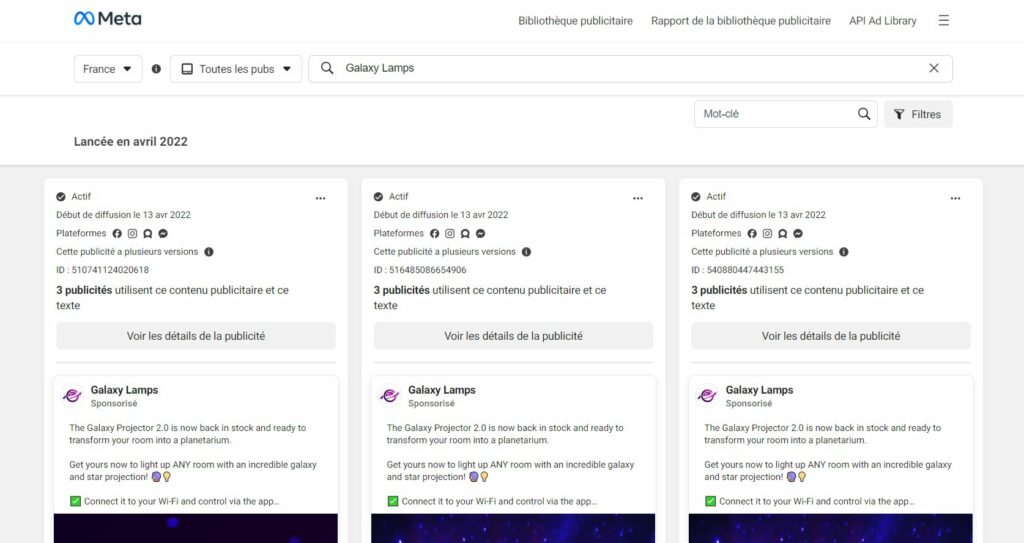 Facebook's Ads Library is another way to study its competitors. You now understand the importance of being able to identify their Facebook page. Thanks to the Ad library, you can find winning products on Facebook easily. Indeed, Facebook initiated a recent update to its platform by adding an ad library.
This new feature allows you to easily access the ads published on the platform in order to draw important information from them.
Thanks to Facebook Ad library, you can:
search for ads by keyword;
view and analyze a brand's active ads;
access information related to the relevance and transparency of an ad (the date the ad was created, the budget, the target country, etc.)
3. Some extensions that make it easier to find a winning product on Facebook
You are not unaware of the importance of extensions to make it easier for you to perform certain jobs. In this specific case, if you dream of coming across ads in your News Feed faster in order to find winning products on Facebook, using an extension would be a better option. Besides, if you choose this path, you might as well choose the best extensions.
Here are 2 extensions that allow you to have more ads in your newsfeed.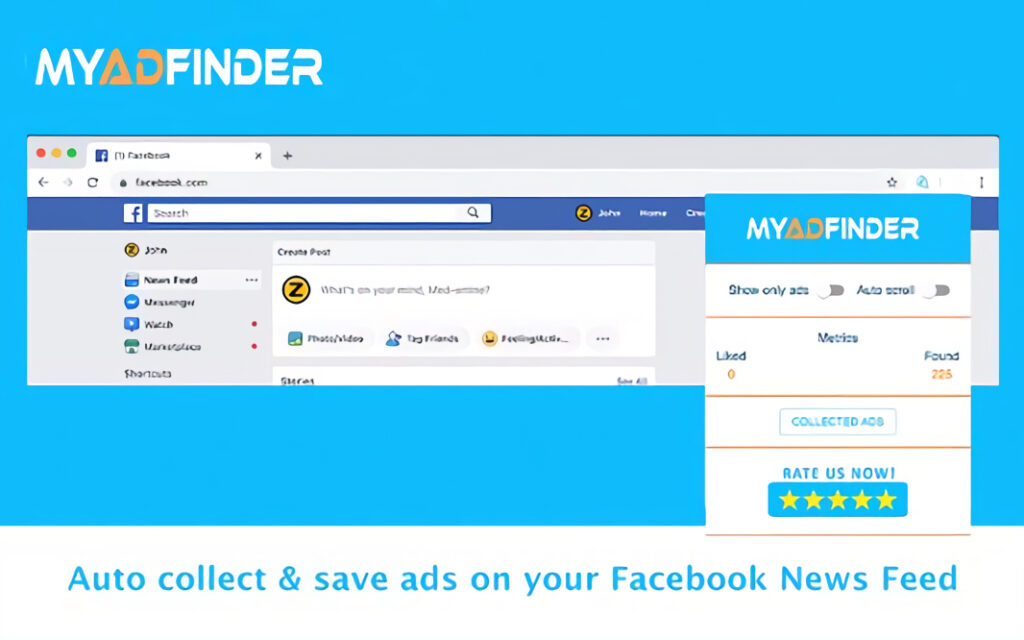 If you are looking for a quick extension to quickly collect, save and search, MY AD FINDER chrome extension is a good option to find trending ads on Facebook. The plugin saves all ads from your News Feed and also allows you to hide all organic posts from your profile.
This way, you can display all the ads that end up in your newsfeed, and monitor the various reactions and comments on the ads you have tagged.
The trick here to access more ads is to scroll your news feed and especially to update it frequently.
The other advantage of using the My Ad Finder extension is that it is free.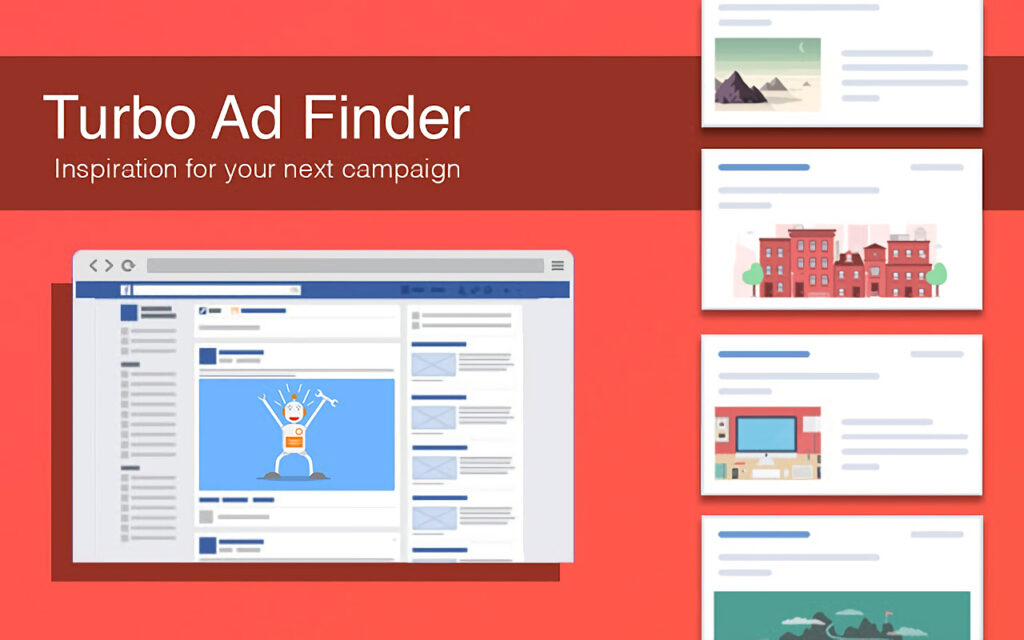 To find winning products on Facebook, there is no better than the Turbo Ad Finder extension. The tool is also very useful to inspire you with new trendy ideas.
Turbo Ad Finder has a very suitable and very simple interface. So whether you are a dropshipper or a marketer, it will be easy for you to find Winners that you can sell profitably.
In one click, the extension hides all existing organic content on your news feed and gives you access only to ads that might interest you: Dropshipping ads
All the winning product research methods on Facebook that we have seen so far are free and help you find winning products. Nevertheless, we can see that they all require enough research time, perseverance and do not necessarily guarantee results.
Indeed, there is a much more effective method that can find winning products on Facebook faster. This is the use of Facebook ads spyware.
As spy tools for ads on social networks, adspy tools are powerful software that provide you with thousands of ads collected daily and stored on their platform. They therefore offer you on a platter the best ads present on these networks. So you can check them out and find out the trending products and understand the marketing strategy used by the competitors.
To learn more about the usefulness of these software to find winning products on Facebook, discover below some details on the 3 of the best existing Adspy tools: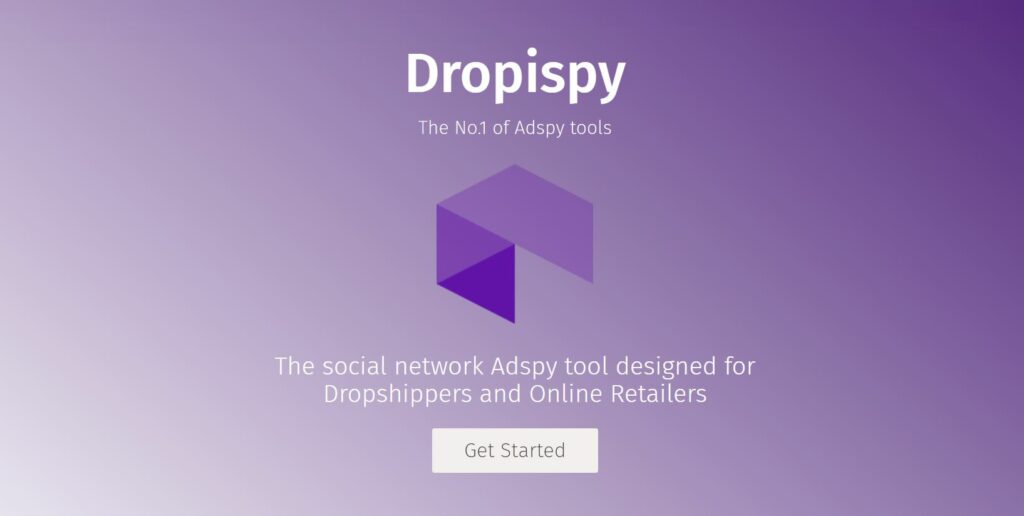 The most convenient ad spy tool that is easy to learn and has a lot of features to help you find winning Facebook products in a short time is Dropispy.
The software alone has an Adspy tool and a shop analysis tool (Shops spy tool). Thus, it is able to spy, collect and store the various ads present on social networks. Therefore, finding the winning product in its well-stocked database becomes child's play.
Moreover, with the store analytics tool, you can monitor the activities of stores performing well in e-commerce and dropshipping. Thus, it is easy for you to find the winning products that are placed on these shops.
Another great news is that the tool is accessible for free. However, there is a paid version with more advanced features than the free option.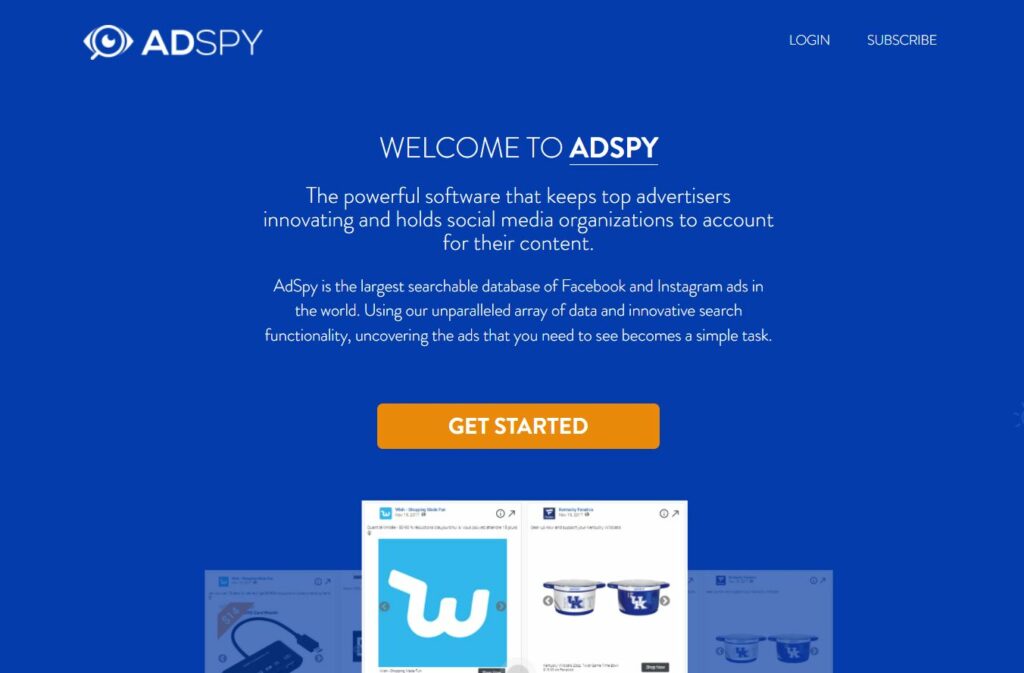 The adSpy tool is known to all as the leader in advertising spy tools on social networks like Facebook. The tool has a database of millions of stored ads. This database is updated daily.
With such a database and its many features, each as effective as the next, it is easy to find winning products. AdSpy, on the other hand, is very expensive. It is therefore better to turn to equally effective solutions that are at more affordable prices like Dropispy. Do not hesitate to take a look at our comparison between Dropsiy and Adspy (See the Best adspy tool category of our blog).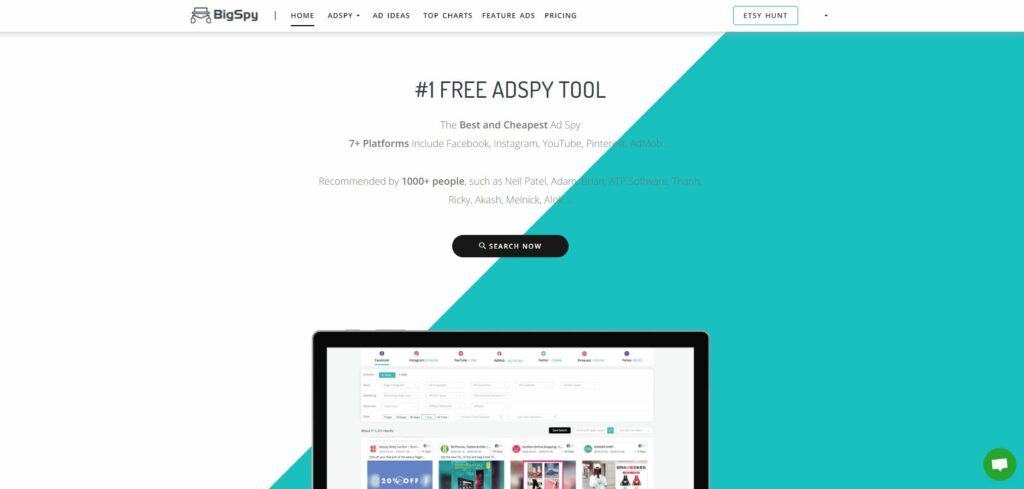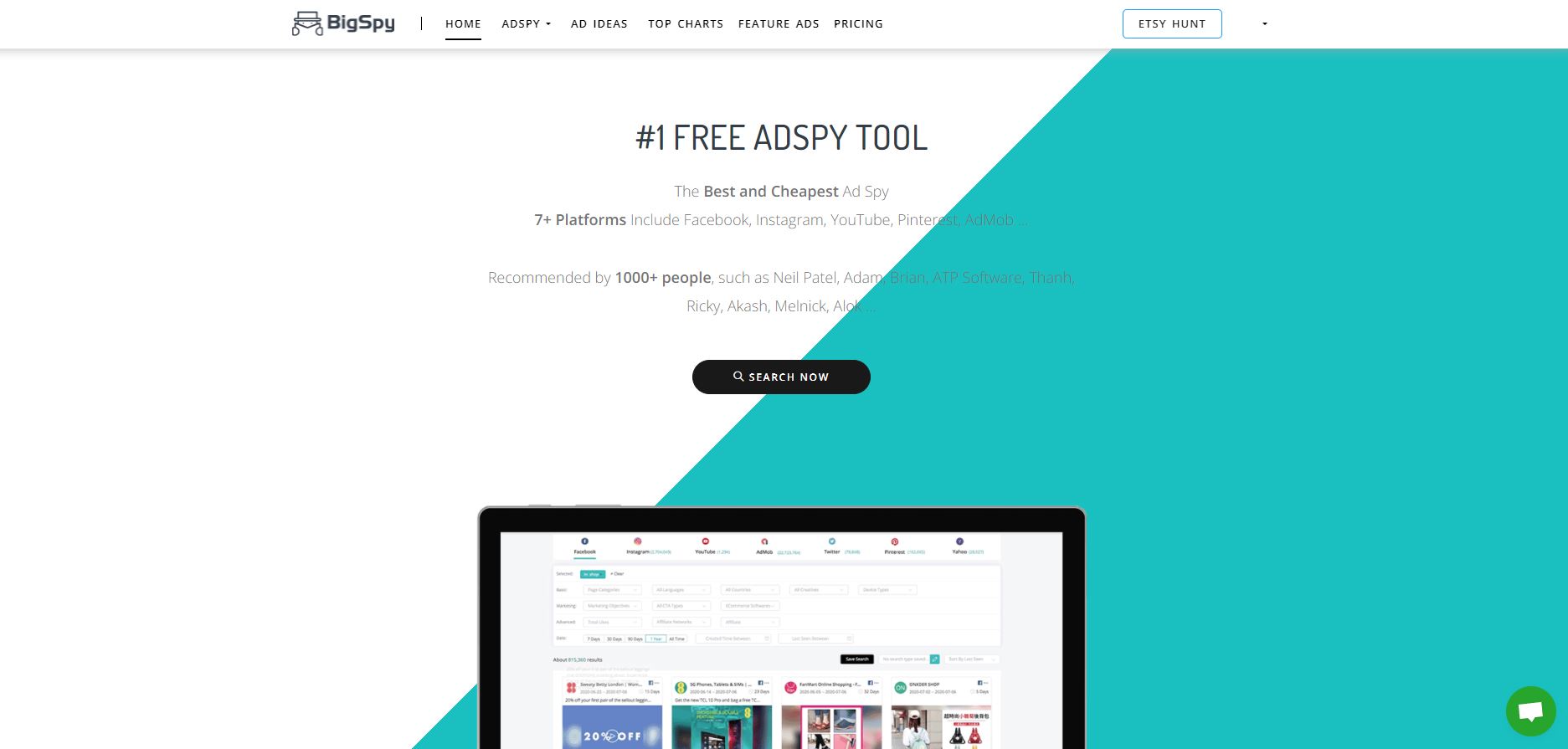 BigSpy is also a very capable ad spy tool. The tool provides you with all the daily trends in the field of dropshipping and also allows you to monitor the performance of the ads placed online. It also provides you with information about the ads so that you can judge their relevance.
Although BigSpy is not as developed as Dropispy or AdSpy in terms of functionality, the tool is one of the few Adspy tools to collect data such as domain name, Alexa rank and number of products on the site of the advertiser. It is therefore a great tool that will help you find a winner on Facebook.
Bonus: List of 5 winning products found on Facebook
Now, we will try to present to you 5 winning products. These products were also found on Facebook using the search methods described in this article.
Product's name : Invisible Storage Box
Product Description: This drawer is incorporated into the cabinet so that it is invisible, and therefore your personal belongings will not be easily found.
In the screenshot below, you will see that this item is a Dropshipping winning product, due to the number of 'Likes', 'Shares', 'Reactions' and 'Orders'.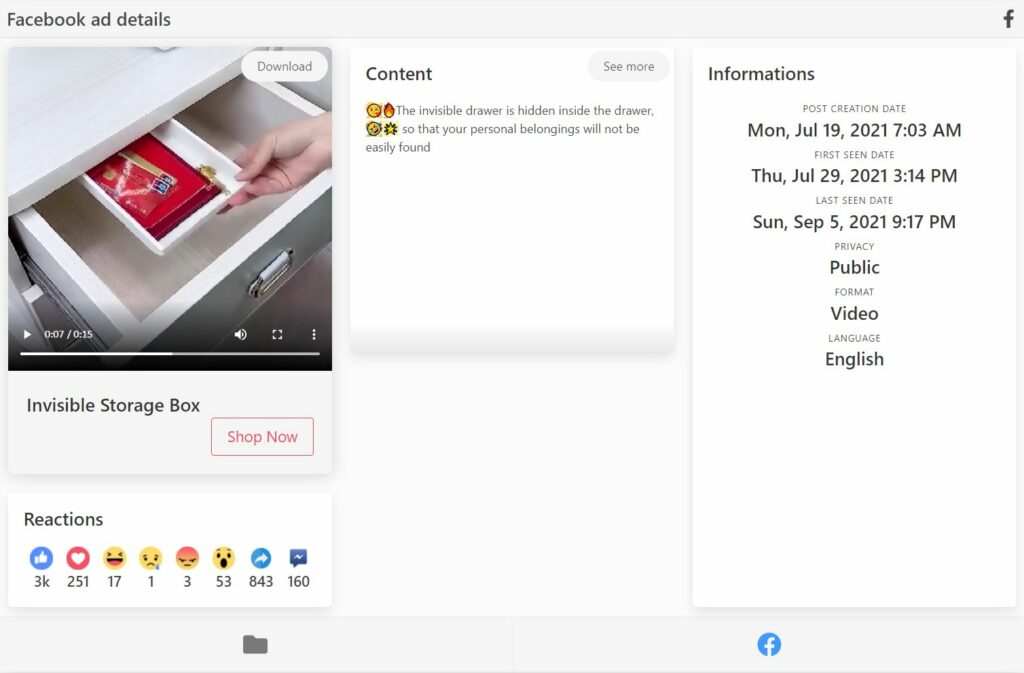 Additionally, when you consider the creation date (07/19/2021) of the ad through the first view date and last view date (07/29/2021 and 09/5/2021), you know that the product is trending on the web.
Product's name : Fingerprint-Proof Screen Cleaner
Product Description: Two-in-one tool for cleaning the screen of phones, tablets, laptops, monitors and TVs.
When we look at the image below, we see that, given the reactions of Internet users, the product is a trendy item that is a hit.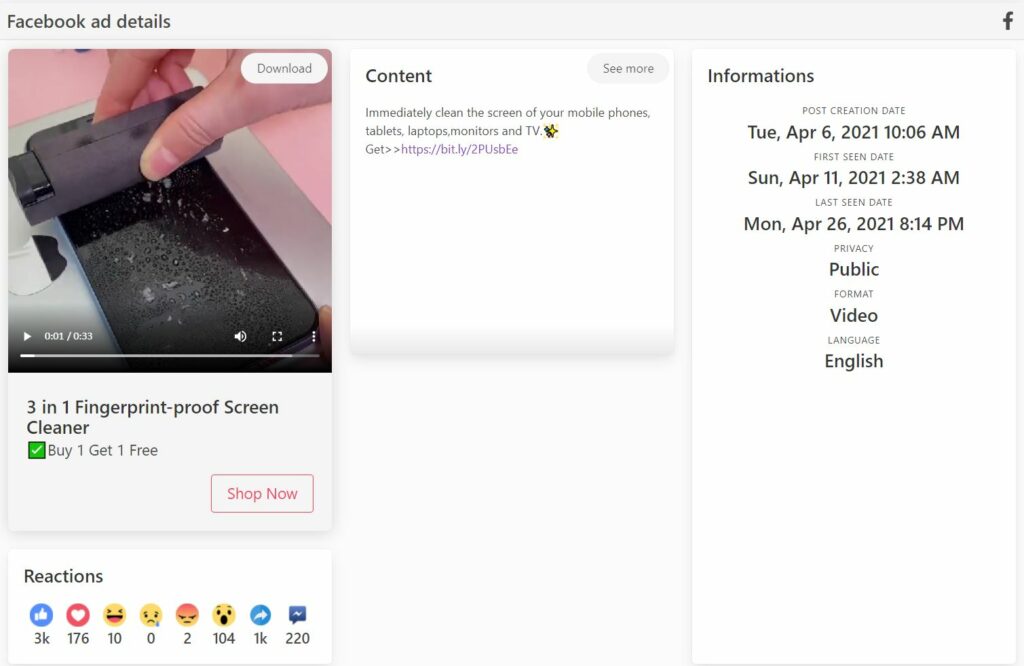 Product's name : Gooseneck Bed Phone Holder
Product Description: A flexible mounting bracket for phone or tablet, very convenient in the office or at home.
This third article, the screenshot of which is below, is a trending winner product, due to a few clues: the number of "Likes", "Shares", "Reactions" or " Ordered".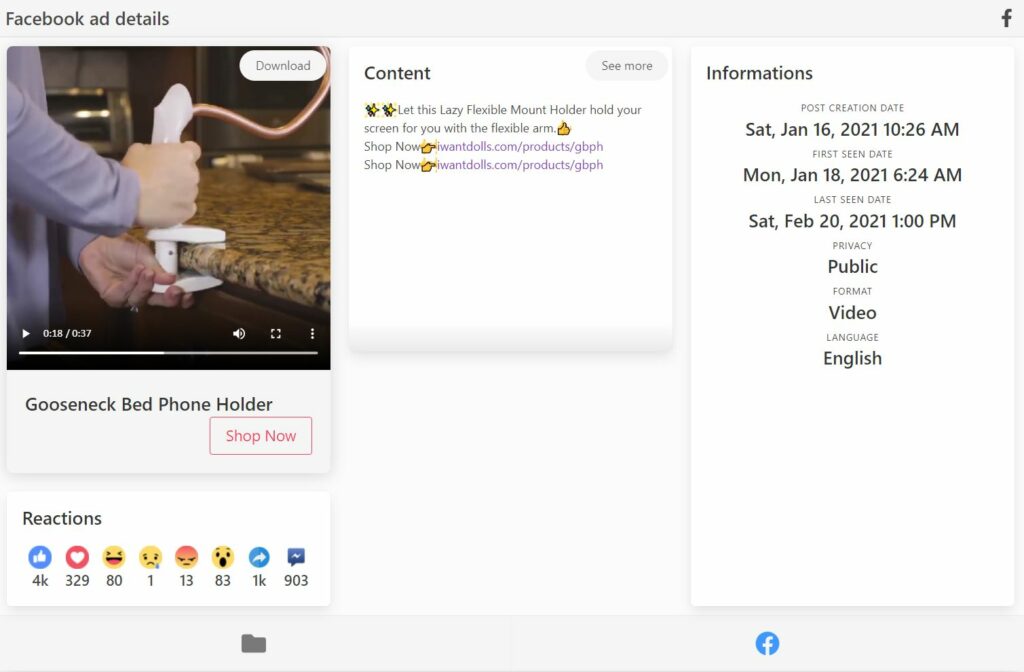 Similarly, when we look at the interval between the ad creation date (01/18/2021) and the first view and last view dates (02/01/2021 and 03/07/2021) , the product carries great chances. Because in about three months, advertising had several decisive reactions.
Product's name : Secure RFID Wallet
Product description: Practical and waterproof pocket or wallet that blocks RFID (system that allows an exchange of information, by means of an identifier and a reader)
The screenshot below of the ad also reveals the trendy aspect of the product.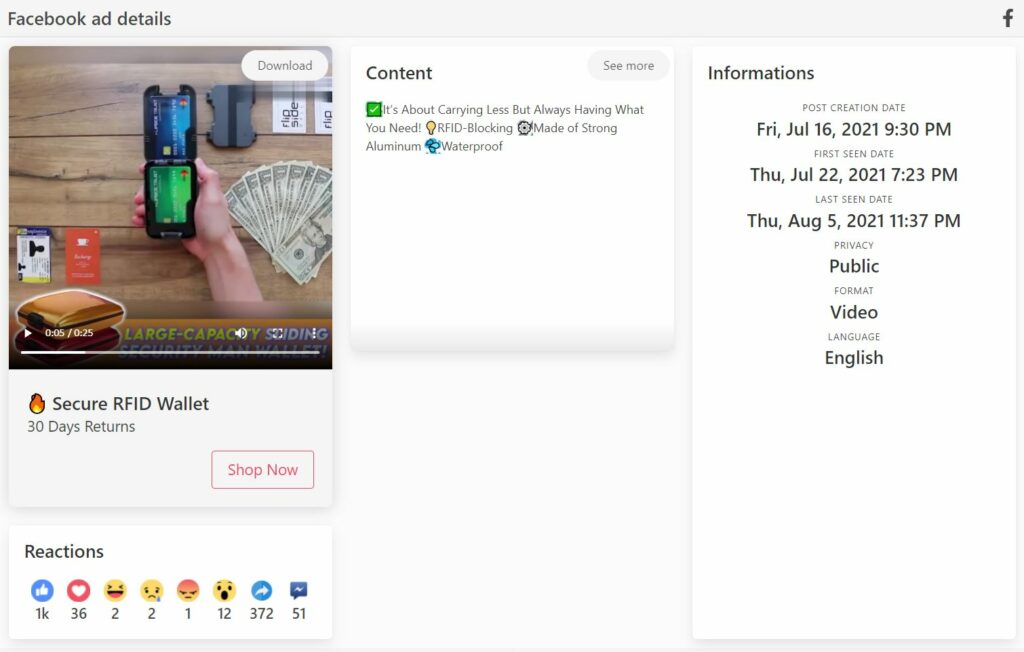 Product's name : Shot Dispenser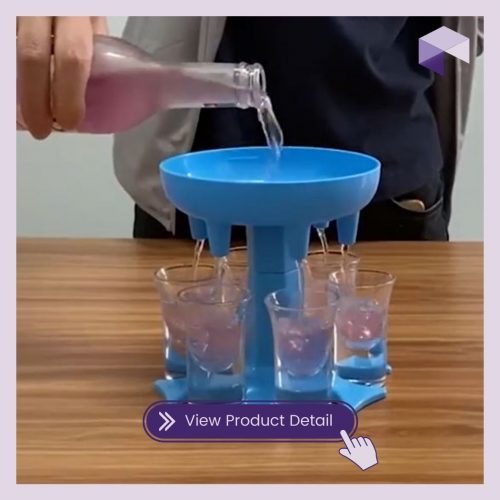 Product Description: This product conveniently pours 6 shots in one go.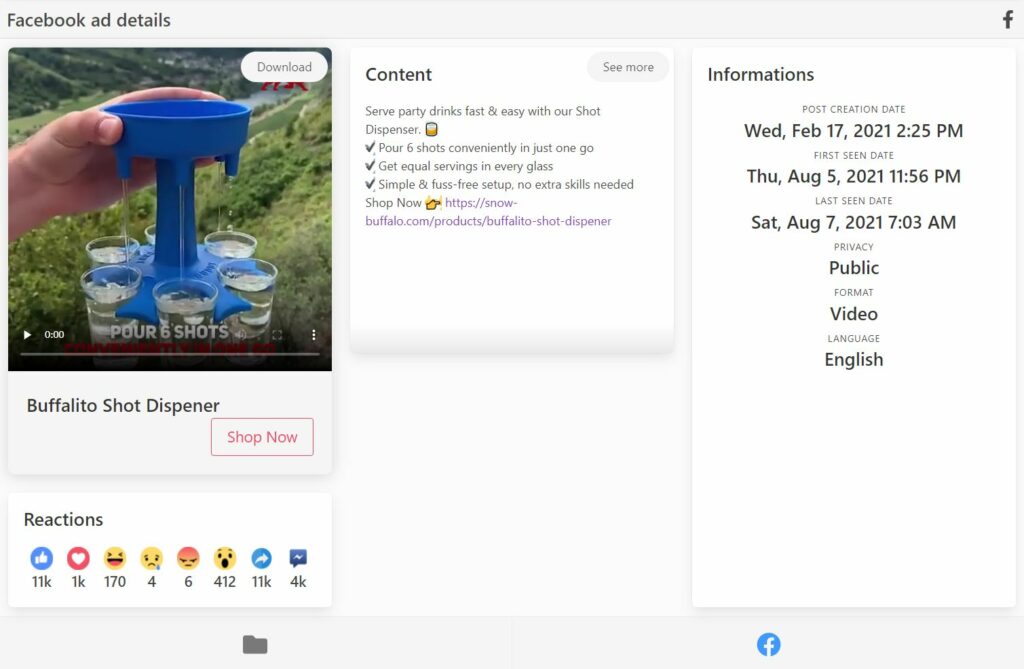 When we look at the interval from the ad creation date (02/17/2021) to the ad first view and last view dates (08/05/2021 – 08/07/2021), we realize that in less than 5 months of the duration of the online ad, it has had this large number of reactions. Which confirms that this product is one of the winning products of Dropshipping.
We have just discovered that your success in dropshipping is primarily dependent on your ability to find a winning product. And to make it easy, we have shared with you several free methods and extensions that you can use to find winning products on Facebook.
However, to avoid wasting your time in long processes that may not lead to the expected result, it is better to opt for Adspy tools. These are very effective ad spy tools that make it easy to find winning products on Facebook. Your success in dropshipping strongly depends on your use of these Adspy tools.
Frequently asked questions
How do I search for winning products on Facebook?
You can find winning products on Facebook by using the free research methods which consist of spying on the Facebook News Feed and manually researching keywords. You can also save time by opting for Adspy tools which are tools for spying on ads.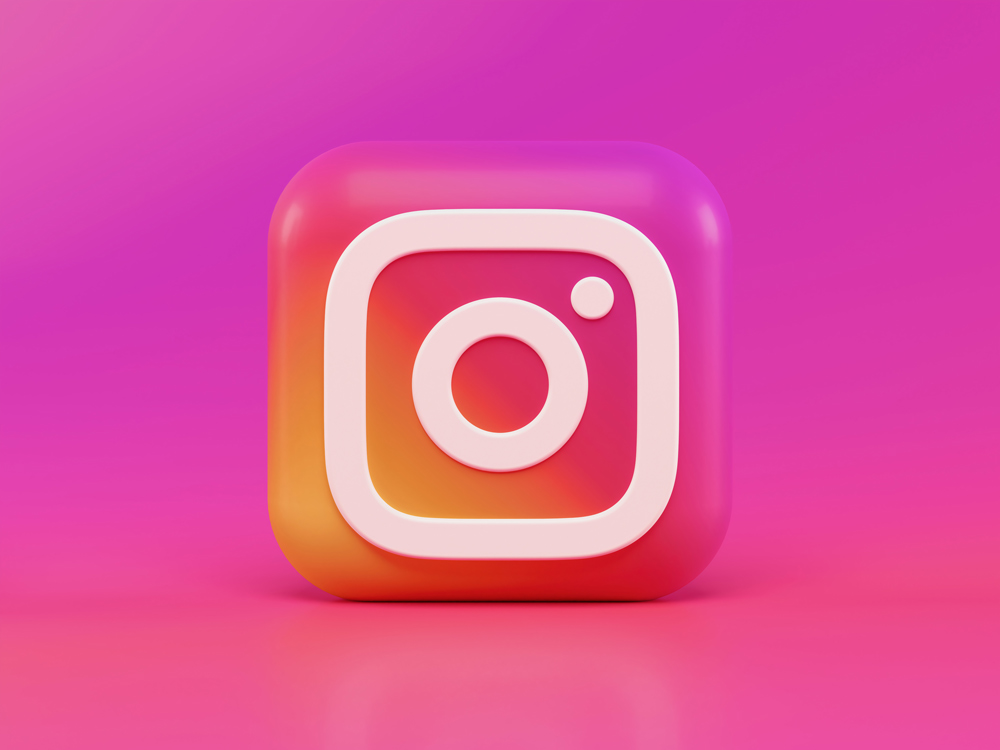 Product research is a crucial step in any business. Whether you have an online or physical business, finding the ideal product that will meet...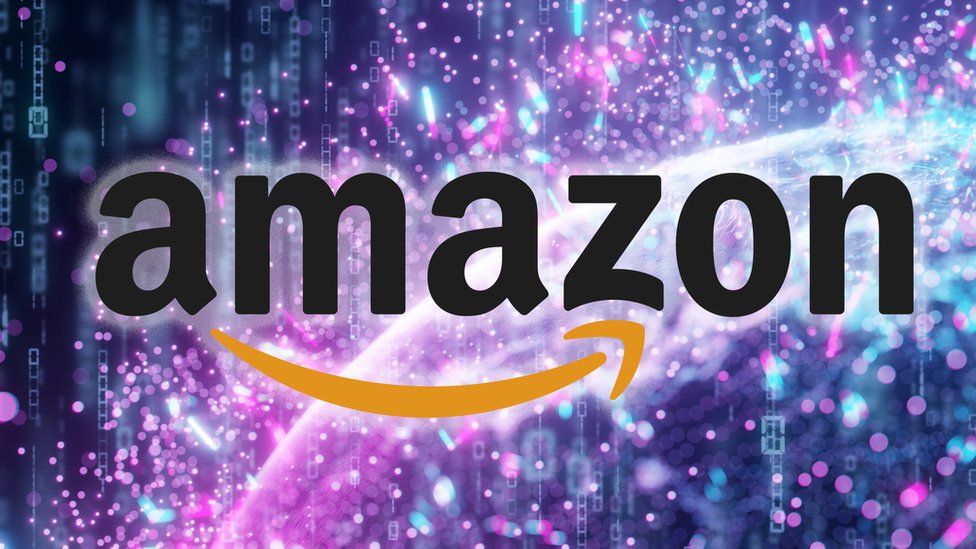 We cannot talk about e-commerce without mentioning the giant Amazon, which represents the mirror of online sales. In the United States alone, more than...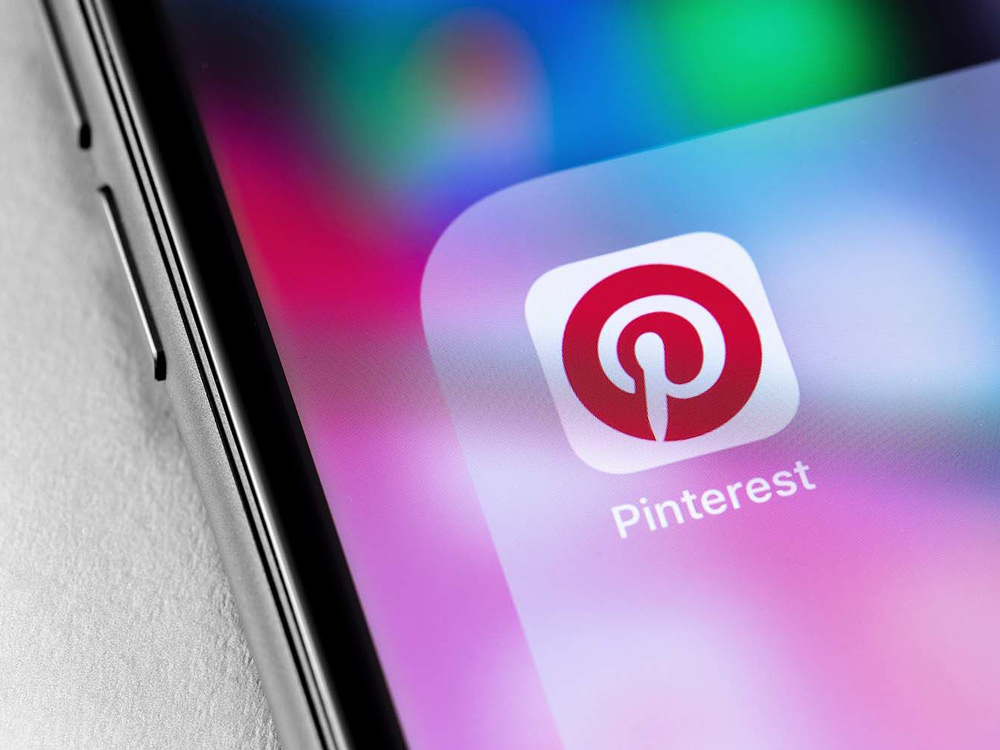 Almost all dropshippers and e-retailers focus solely on social networks like Facebook, and Instagram for searching for winning products or even promoting products. Indeed,...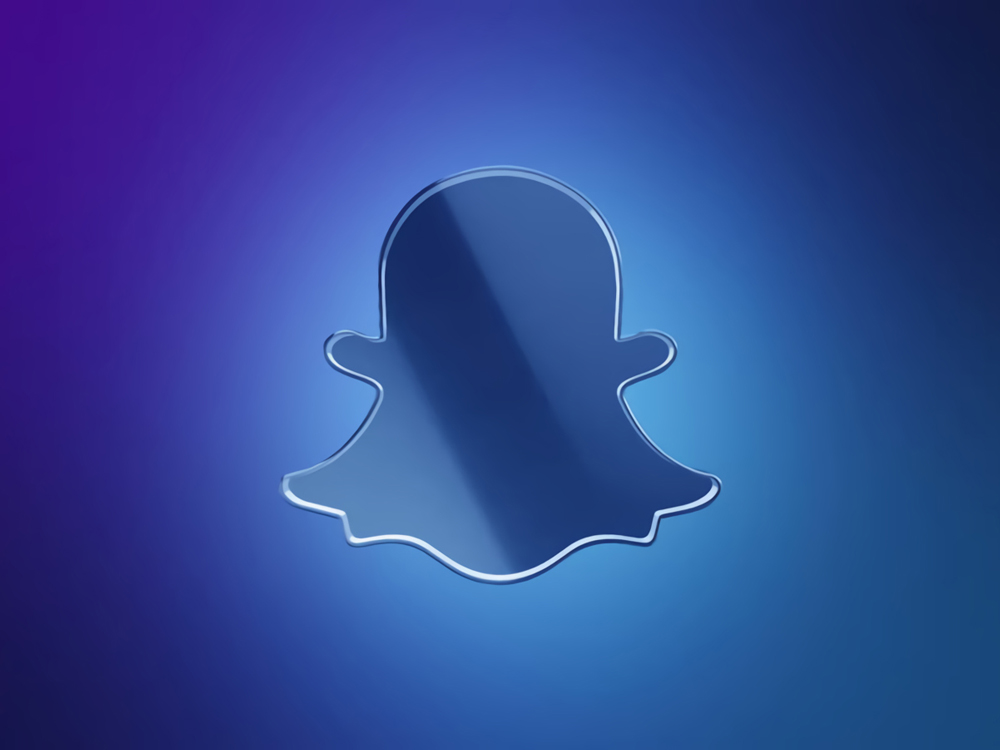 Over 10 years old, the Snapchat social network is one of the most popular social interaction platforms of the moment. It has over 500...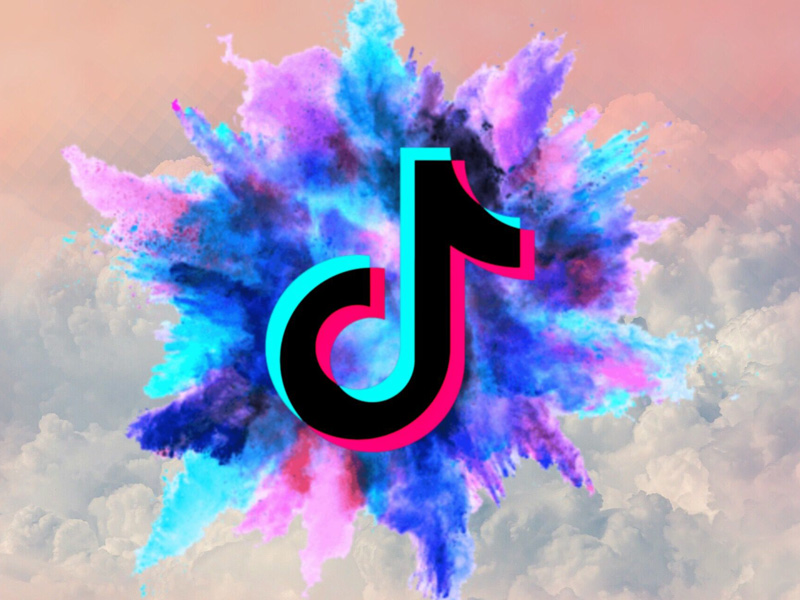 The meteoric evolution of the TikTok social network represents an incredible opportunity for web entrepreneurs. The social network now has nearly a billion active...